Hitachi Ex120 Operators Manual
FILE DETAILS:
LANGUAGE:ENGLISH
PAGES:138
DOWNLOADABLE:YES
FILE TYPE:PDF
VIDEO PREVIEW OF THE MANUAL:
IMAGES PREVIEW OF THE MANUAL: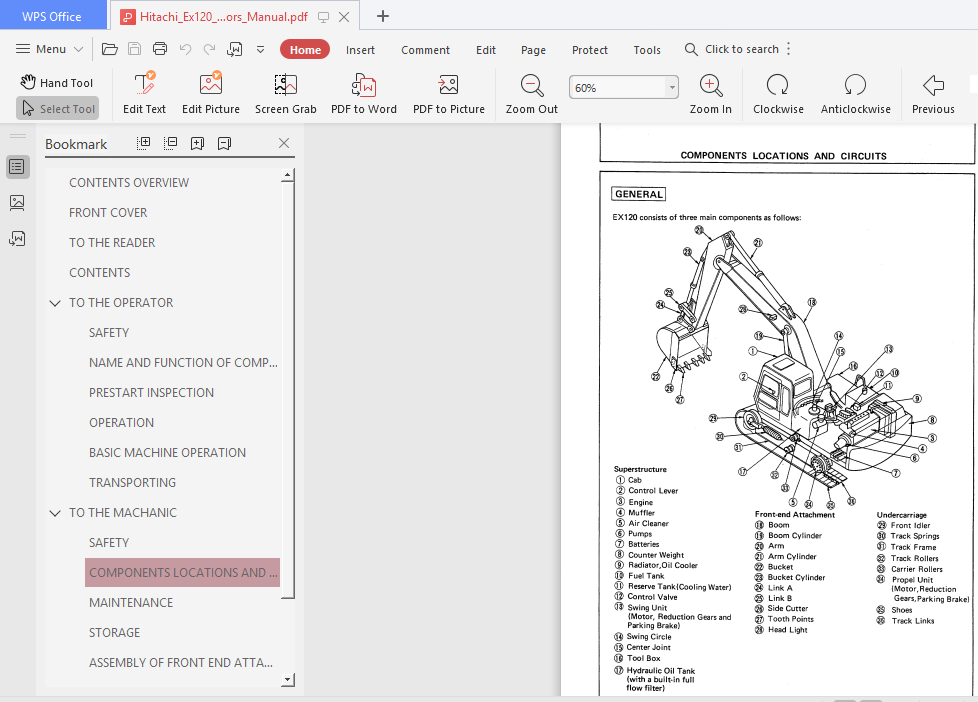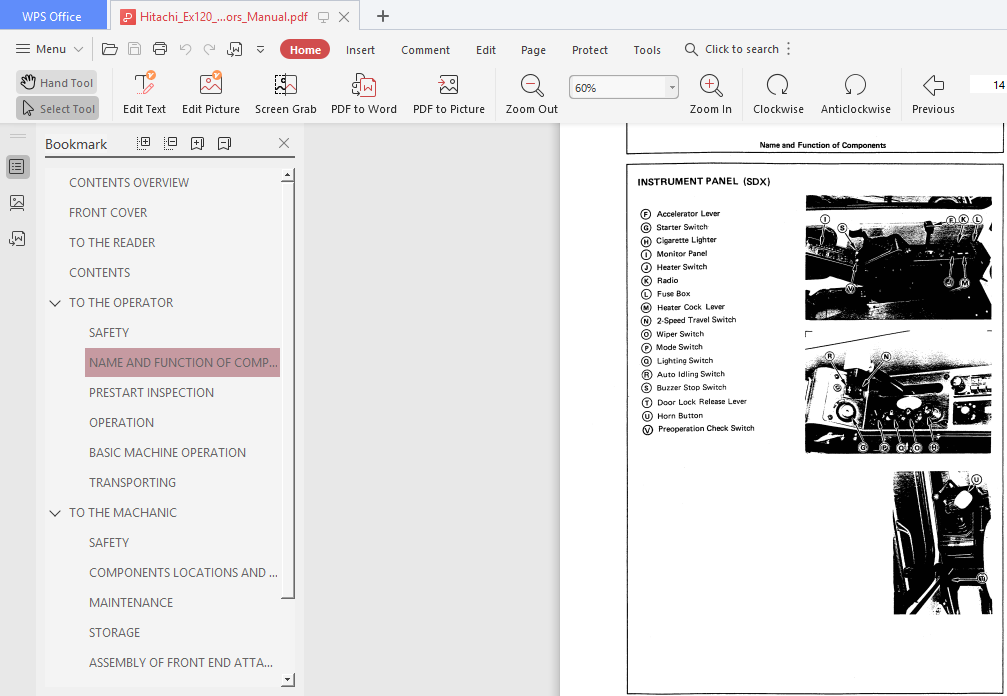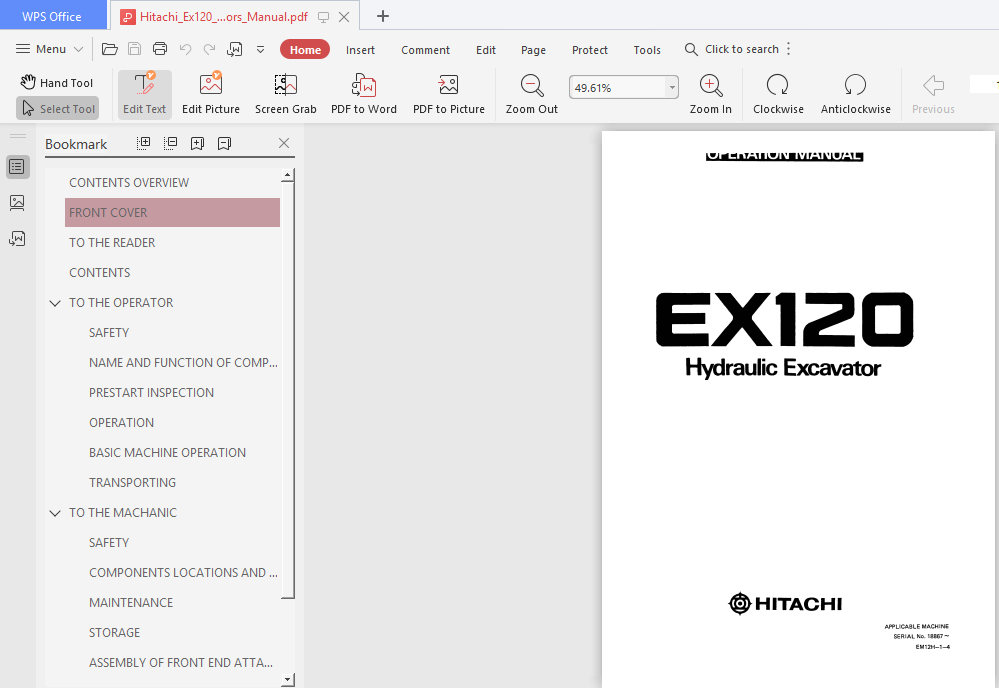 DESCRIPTION:
Hitachi Ex120 Operators Manual
This manual is designed to serve as a reference for HITACHI customers and distributors who wish to gain basic product knowledge on Hitachi EX120 Hydraulic Excavator. To maintain it in optimum condition and retain maximum performance over a long period of time, CORRECT OPERATION and PROPER MAINTENANCE are essentail. PART ONE describes the operation procedures, PART TWO details the inspection and maintenance, and PART THREE covers handing optional attachments. Please read through this manual, and utilize it to attain the maximum performance. The descriptions in this manual may be subject to changes without prior notice.
The warranty on this excavator appears on your copy of the purchase order which you should have received from your dealer when making your purchase. This warranty provides you the assurance that HITACHI will back its products where defects caused by faulty work- manship appear within the warranty period. In some circumstances, HITACHI also provides field improvements, often without charge to the customer, even if the product is out of warrarity.
Warranty and field improvements are a part of HITACHI's product support program for customers who operate and maintain their equipment as described in this manual. Should the equipment be abused, or modified to change its performance beyond the original factory specifications, the warranty will become void and field improvements may be denied. Setting fuel delivery above specifications or otherwise overpowering machines will result in such action.
TABLE OF CONTENTS:
Hitachi Ex120 Operators Manual
PART ONE: TO THE OPERATOR
anddealer'sservicepersonnel
NAMEANDFUNCTIONOFCOMPONENTS
PRESTARTINSPECTION
OPERATION
BASIC MACHINE OPERATION
TRANSPORTING
PART TWO: TO THE MECHANIC
anddealer'sservicepersonnel
COMPONENTS LOCATIONS AND CIRCUITS
HYDRAULIC SYSTEM
ELECTRICAL CIRCUIT
MAINTENANCE
MAINTENANCE GUIDE
A GREASING
B ENGINE OIL
C GEAR OIL
0 HYDRAULIC SYSTEM
E FUELSYSTEM
F AIR INTAKE
G COOLING SYSTEM
H ELECTRICALSYSTEM
l OTHERS
MAINTENANCE SERVICES UNDER VARIOUS CONDITIONS
ASSEMBLY OF FRONT-END ATTACHMENT
TROUBLESHOOTING
SPECIFICATION-
PART THREE: HANDLING OPTIONAL ATTACHMENTS
PLEASE NOTE:
This is the SAME manual used by the dealers to troubleshoot any faults in your vehicle. This can be yours in 2 minutes after the payment is made.
Contact us at [email protected] should you have any queries before your purchase or that you need any other service / repair / parts operators manual.