Hagie Hi-Tractor STS 14 Sprayer Operator's Manual 493477 – PDF DOWNLOAD
FILE DETAILS:
Hagie Hi-Tractor STS 14 Sprayer Operator's Manual 493477 – PDF DOWNLOAD
Language : English
Pages : 818
Downloadable : Yes
File Type : PDF
Size: 219 MB
DESCRIPTION:
Hagie Hi-Tractor STS 14 Sprayer Operator's Manual 493477 – PDF DOWNLOAD
SAFETY:
Most accidents occur as the result of failure to follow simple and fundamental safety rules. For this reason, most accidents can be prevented by recognizing the real cause and doing something about it before the accident occurs.
Many conditions cannot be completely safeguarded against without interfering with efficient operation and/or reasonable accessibility. Therefore, you must study this Operator's Manual and learn how to use the sprayer controls for safe operation. Likewise, do not let anyone operate without instruction.
Do not make modifications such as weldments, add-ons, adaptations, or changes from the original design of sprayer. Such changes and/or modifications may become safety hazards to you and to others and will void all warranties.
Operate Safely:
• Before moving sprayer, make sure there are no obstacles or persons in the path of travel.
• Never operate a machine in the same field as walking personnel.
• Always drive at a reasonable field speed.
• Never operate sprayer on roadway with any solution in the tank. Additional weight caused from partially full or full solution tanks may cause erratic or increased stopping distance.
• Never operate the sprayer at transport speeds with a full tank. The wheel motors and planetary gear hubs are not rated to with stand high speeds under full loads and may over heat or blow out.
• Pull over to the side of the road before stopping.
• Always come to a complete stop before reversing directions.
• Keep a fire extinguisher close at all times.
• Keep all shields in place.
• Keep clear of all moving parts and keep others away when operating.
• Do not wear loose fitting clothing that may be blown or drawn into moving parts.
• Do not activate parking brake while machine is in motion.
• Stop slowly to avoid "nose diving".
• Reduce speed for icy, wet, graveled or soft roadway surfaces.
• Use flashers/hazard warning lights, day or night, unless prohibited by law.
TABLE OF CONTENTS:
Hagie Hi-Tractor STS 14 Sprayer Operator's Manual 493477 – PDF DOWNLOAD
Introduction i-ii
Table of Contents iii
Safety 05-1
Decals 10-1
Identification 15-1
Specifications 20-1
Operator's Station 25-1
MD3 Operating Instructions 30-1
Hydrostatic System 35-1
Hydraulic System 40-1
Spray System 45-1
Foam Marker System 50-1
Quick-Tach System 55-1
All Wheel Steer 60-1
Raven Spray Control Console 65-1
Transporting 70-1
Service Intervals 75-1
Service: Fluids 80-1
Service: Filters 85-1
Service: Lubrication 90-1
Service: Electrical System 95-1
Service: Belts 100-1
Service: Bolt Torque 105-1
Service: Toe-In 110-1
Service: Misc 115-1
Storage 120-1
Troubleshooting 125-1
Warranty 130-1
Index 135-1
211-Diagnostic􀀍Trouble􀀍Codes 􀀍1-6
240-Electrical 1-13
250-Drivetrain 1-245
270-Hydraulics 1-261
280-Solution􀀜System 1-97
VIDEO PREVIEW OF THE MANUAL:
IMAGES PREVIEW OF THE MANUAL: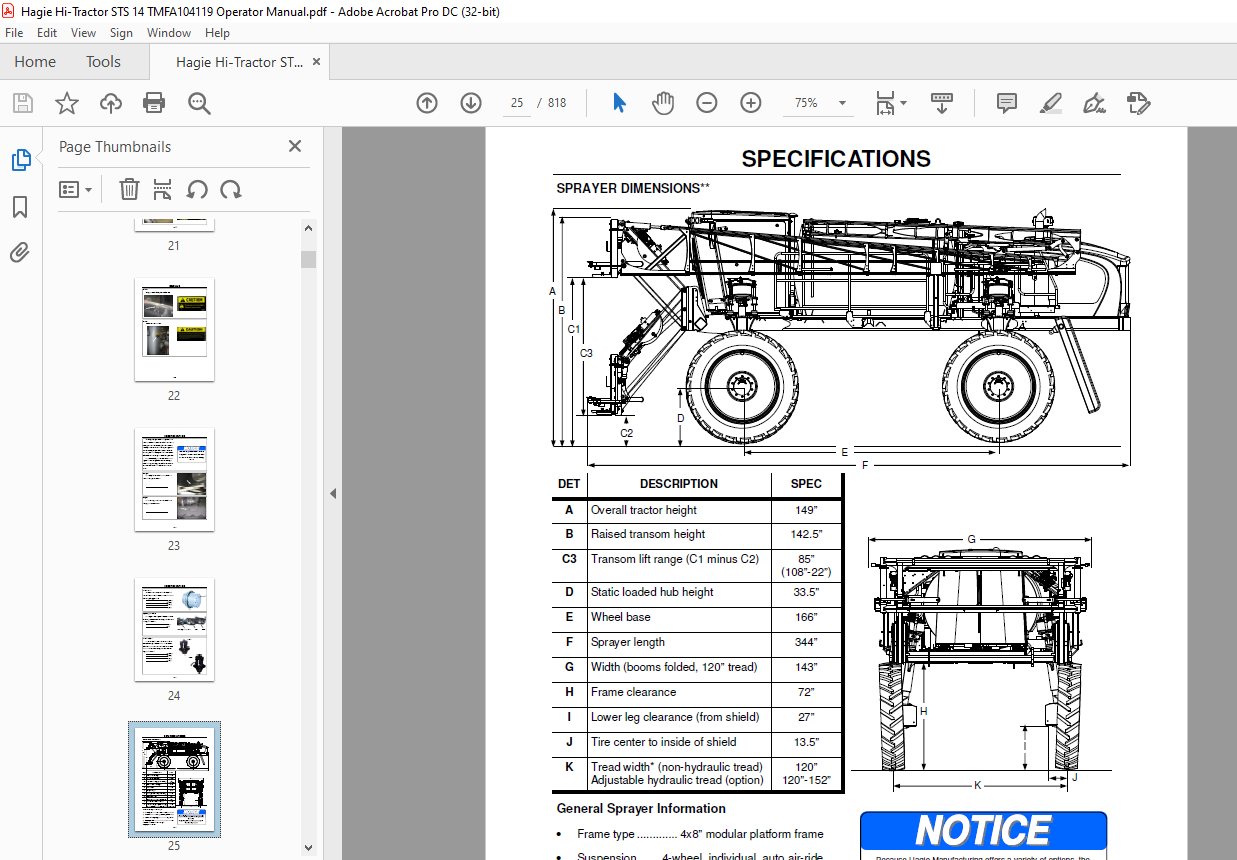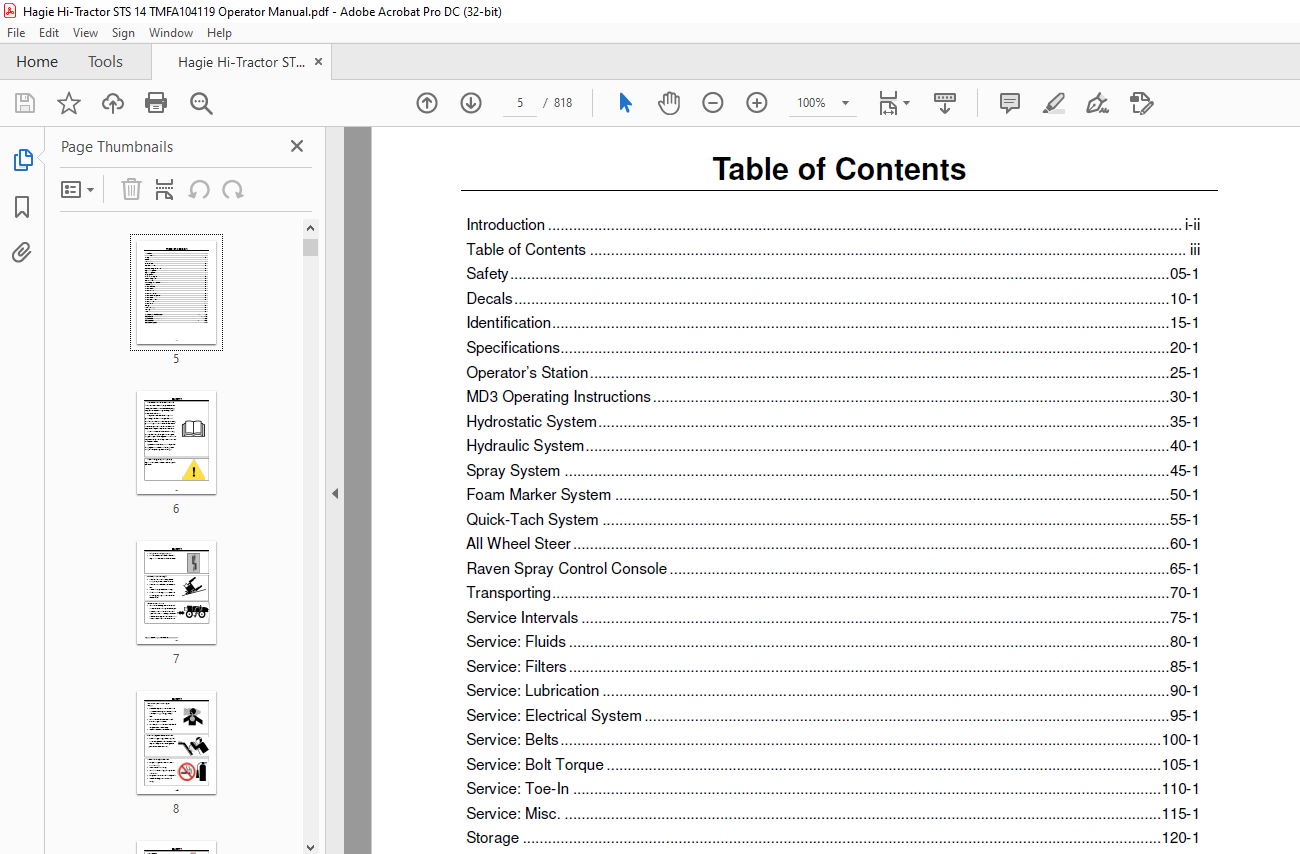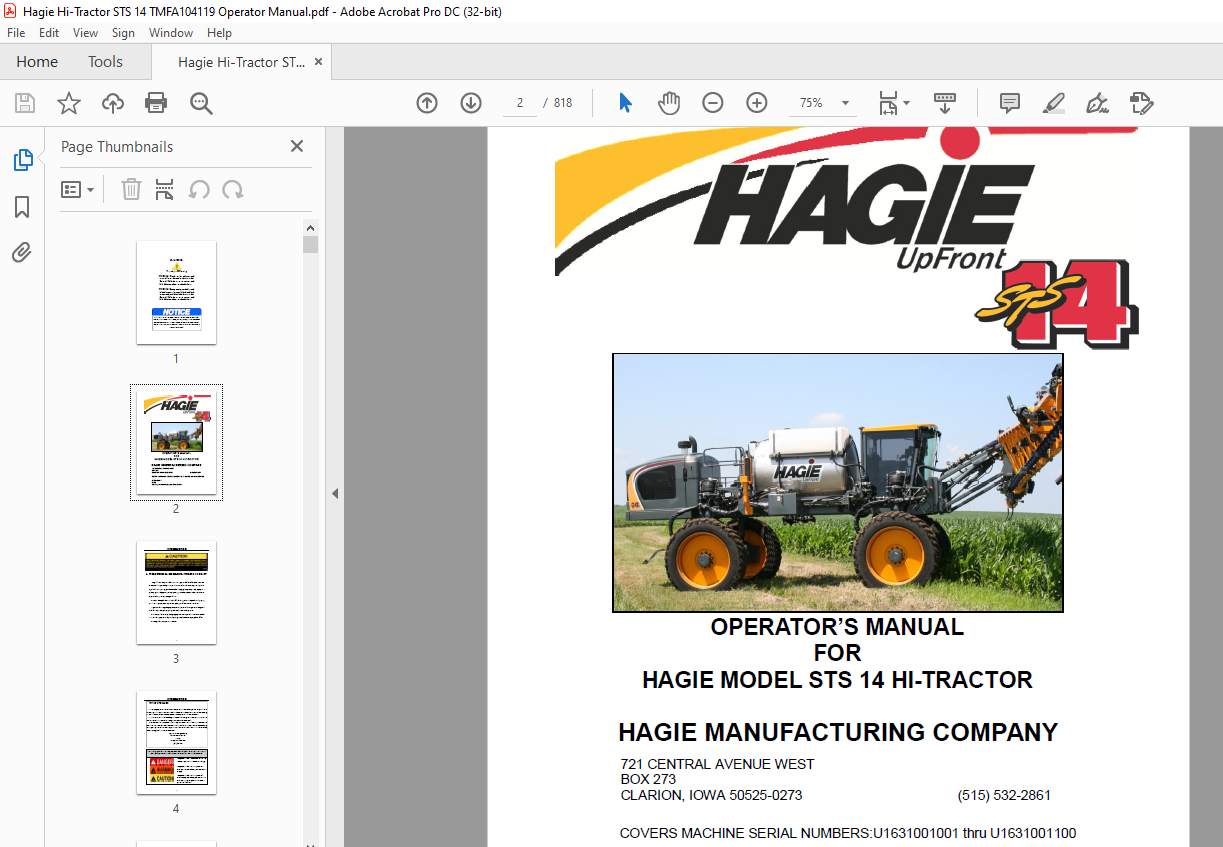 PLEASE NOTE:
This is the SAME manual used by the dealers to troubleshoot any faults in your vehicle. This can be yours in 2 minutes after the payment is made.
Contact us at [email protected] should you have any queries before your purchase or that you need any other service / repair / parts operators manual.
S.V