Hagie Hi-Tractor STS 14 Sprayer Operator's Manual 493453 – PDF DOWNLOAD
FILE DETAILS:
Hagie Hi-Tractor STS 14 Sprayer Operator's Manual 493453 – PDF DOWNLOAD
Language : English
Pages : 895
Downloadable : Yes
File Type : PDF
Size: 223 MB
DESCRIPTION:
Hagie Hi-Tractor STS 14 Sprayer Operator's Manual 493453 – PDF DOWNLOAD
COVERS MACHINE SERIAL NUMBERS:U1630990001 thru U1630990100
TO THE OPERATOR:
The following pages and illustrations will help you operate and service your new sprayer. It is the responsibility of the user to read the Operator's Manual and comply with the safe correct operating procedures and lubricate and maintain the product according to the maintenance schedule.
The user is responsible for inspecting the machine and having parts repaired or replaced when continued use of the product causes damage or excessive wear to other parts.
Keep this manual in a convenient place for easy reference when problems arise. This manual is considered a permanent fixture with this machine. In the event of resale, this manual should accompany the sprayer.
SAFETY PRECAUTIONS:
Most accidents occur as the result of failure to follow simple and fundamental safety rules. For this reason, most accidents can be prevented by recognizing the real cause and doing something about it before the accident occurs.
Many conditions cannot be completely safeguarded against without interfering with efficient operation and/or reasonable accessibility.
Therefore, you must study this Operator's Manual and learn how to use the sprayer controls for safe operation. Likewise, do not let anyone operate without instruction.
Tread Width
Select the widest tread setting that fits between the crop rows.
Sprayer Booms
Securely cradle booms when leaving the sprayer unattended.
Ensure booms are folded when cradled.
Select a safe area before unfolding booms, avoiding power lines and overhead structures.
General Operation Safety
Do not adjust the factory engine RPM settings.
Operate the engine at recommended RPMs to ensure proper charge pressure for the hydrostatic drive system, which controls braking performance.
Start the engine from the operator's seat only. Do not bypass the safety-start switch.
Never use starting fluid to assist in engine startup.
Never run the sprayer engine in a closed building. Proper exhaust ventilation is required.
If equipped with ground speed sensing radar, do not look directly into the radar beam. It emits a very low-intensity microwave signal which may cause possible eye damage.
TABLE OF CONTENTS:
Hagie Hi-Tractor STS 14 Sprayer Operator's Manual 493453 – PDF DOWNLOAD
I SAFETY/DECALS 1 1-1 9
II SPRAYER IDENTIFICATION 2 1-2 2
III SPECIFICATIONS 3 1-3 7
IV OPERATING INFORMATION 4 1-4 47
CAB 4 1-4 14
HYDROSTATIC SYSTEM 4 15-4 18
HYDRAULIC SYSTEM 4 19-4 28
SPRAY SYSTEM 4 29-4 39
QUICK ATTACH SYSTEM 4 40-4 47
V CALIBRATION 5 1-5 11
VI TRANSPORTING 6 1-6 4
VII SERVICE AND MAINTENANCE 7 1-7 23
SERVICE POINT REFERENCES 7 1-7 5
FLUIDS 7 6-7 9
FILTERS 7 10-7 13
LUBRICATION 7 14
ELECTRICAL 7 15-7 16
BELTS 7 17
BOLT TORQUES 7 18-7 19
TOE-IN 7 20-7 21
AIR PRESSURE 7 22
OTHER SYSTEMS 7 23
VIII STORAGE 8 1-8 2
IX TROUBLE SHOOTING 9 1-9 9
X LIMITED WARRANTY 10 1
IX INDEX Index 1-Index 6
211 – DIAGNOSTIC TROUBLE CODES
240 – ELECTRICAL
245 – ELECTRICAL CONTROL UNITS
250 – DRIVETRAIN
270 – HYDRAULICS
280 – SOLUTION SYSTEM
VIDEO PREVIEW OF THE MANUAL:
IMAGES PREVIEW OF THE MANUAL: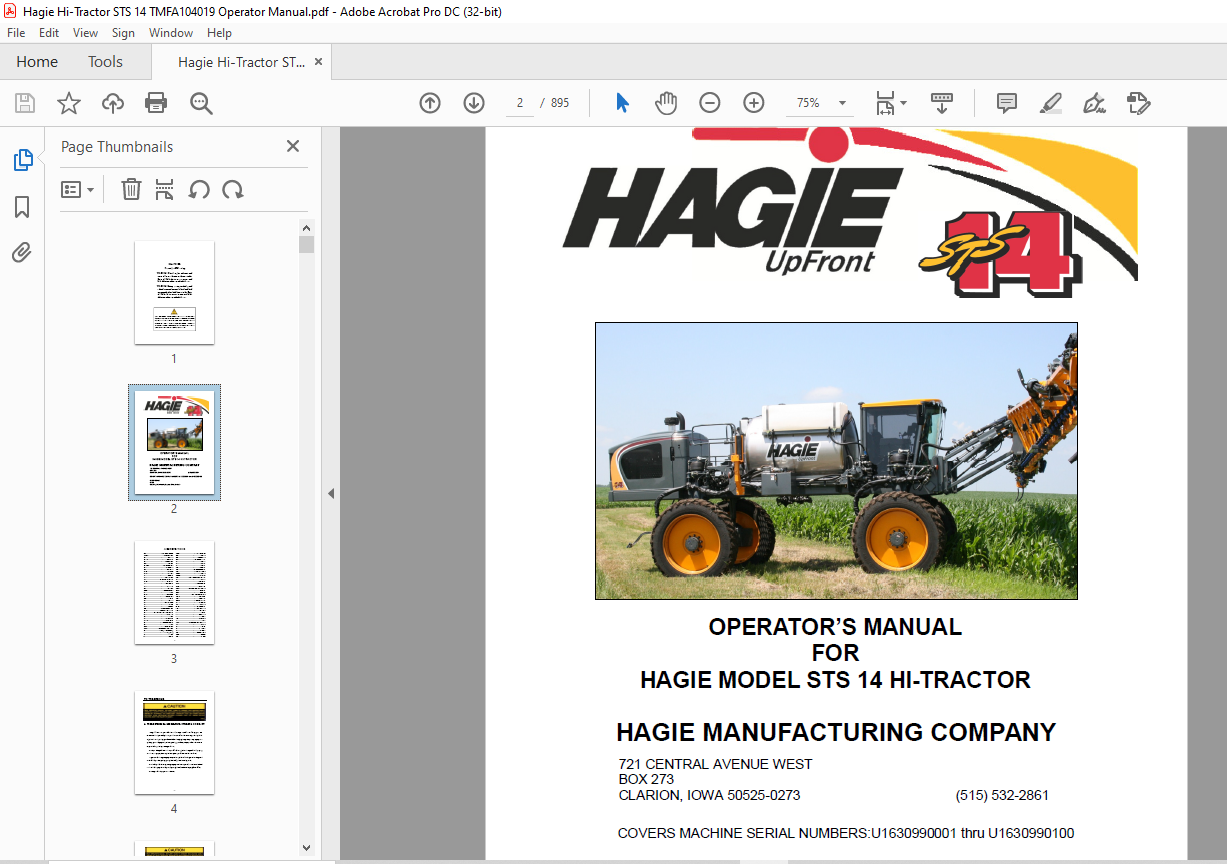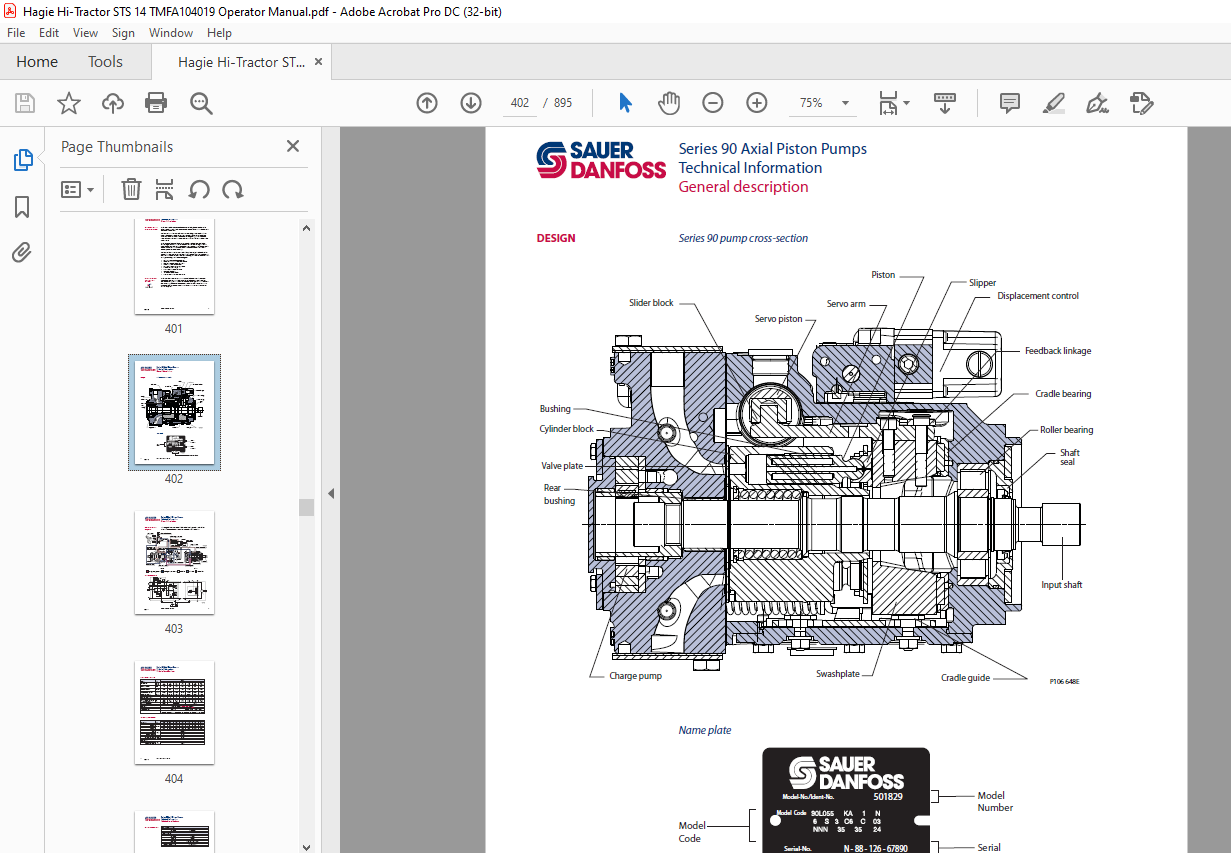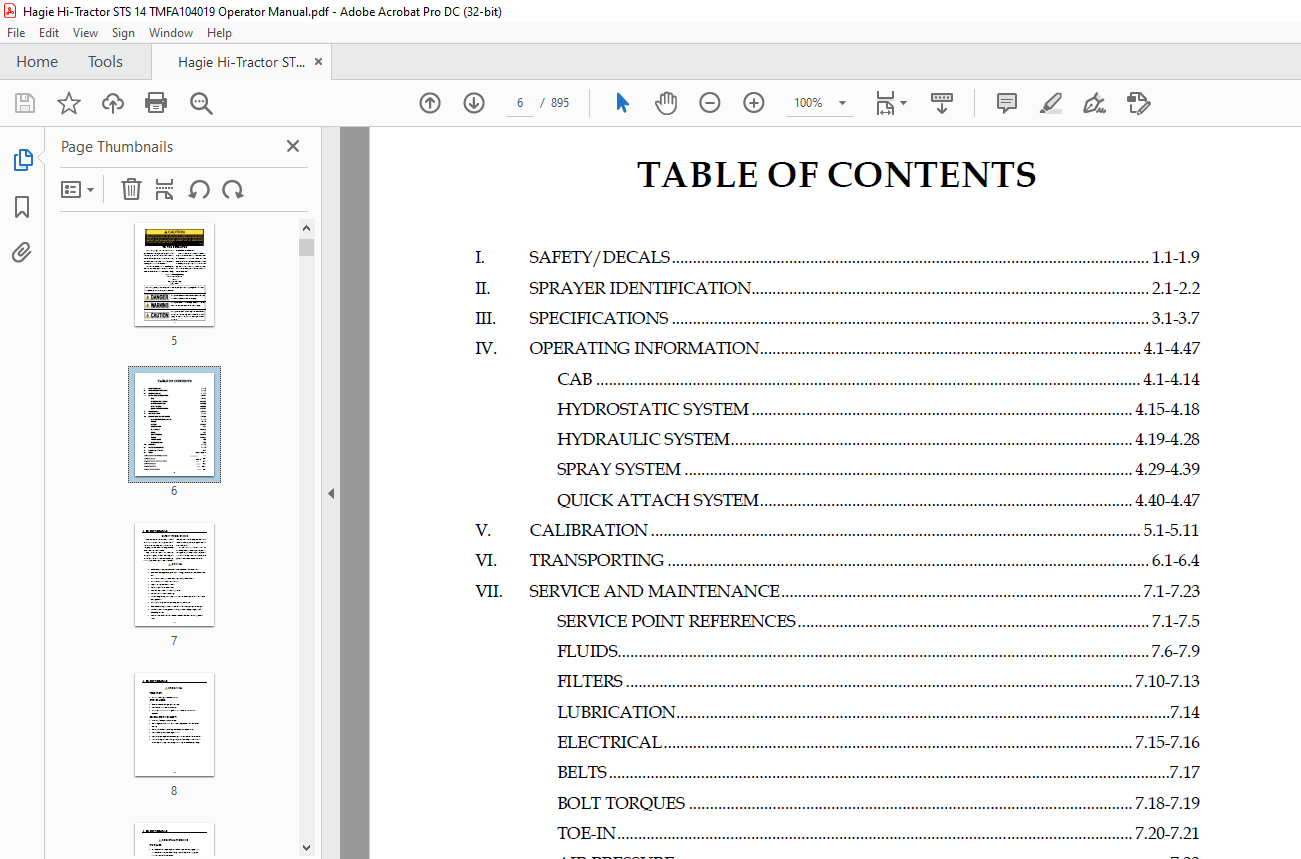 PLEASE NOTE:
This is the SAME manual used by the dealers to troubleshoot any faults in your vehicle. This can be yours in 2 minutes after the payment is made.
Contact us at [email protected] should you have any queries before your purchase or that you need any other service / repair / parts operators manual.
S.V