Hagie Hi-Tractor STS 12i Technical Manual 493689 – PDF DOWNLOAD
FILE DETAILS:
Hagie Hi-Tractor STS 12i Technical Manual 493689 – PDF DOWNLOAD
Language : English
Pages : 427
Downloadable : Yes
File Type : PDF
Size: 40.5 MB
DESCRIPTION:
Hagie Hi-Tractor STS 12i Technical Manual 493689 – PDF DOWNLOAD
Serial Numbers: STS12i 17001 – 17500
INTRODUCTION:
This manual will aid you in the proper operation and service of your machine. It is the responsibility of the user to read the operator's manual and comply with the correct and safe operating procedures, as well as maintain the product according to the service information provided in the elsewhere in this manual.
Photographs and illustrations used in this manual are of general nature only. Some of the equipment and features shown may not be available on your machine. Information described in this manual was correct at the time of printing.
Because of Hagie Manufacturing Company's continuous product improvement, certain information may not be included in this manual. To obtain the most current operator's manual for your machine, please visit .
Keep this manual in a convenient place for easy reference. This manual is considered a permanent fixture of the product. In the event of resale, this manual must accompany the machine. If you do not understand any part of this manual or require additional information or service, contact your local John Deere dealer for assistance.
TABLE OF CONTENTS:
Hagie Hi-Tractor STS 12i Technical Manual 493689 – PDF DOWNLOAD
1-INTRODUCTION
A Word From Hagie Manufacturing Company About This Manual
Safety Messages Used In This Manual
Service and Assistance Identification
Specifications
2017 Product Warranty
2-SAFETY AND PRECAUTIONS
Intended Use
Safety Precautions Seat Belt
Rotating Beacons Emergency Stop Emergency Exit
Fire Extinguisher First Aid Kit
Roll-Over Protection Structure (ROPS)
Safety Decals
3-CAB
Seat Operator (Deluxe)
Seat Operator (Premium)
Seat Instructor
Operator's Station
Machine Display
4-ENGINE AND DRIVE SYSTEMS
Engine – Starting
Engine Aftertreatment – Tier 4 Final
Hydrostatic Drive
All-Wheel Steer (AWS)
5-HYDRAULIC SYSTEMS
Hydraulic System Components
Reversible Fan
Tread Adjustment – Hydraulic Ladder
Pressure Washer
6-ELECTRICAL SYSTEMS
Batteries
Battery Disconnect Switch
Battery Tender
Fuses and Relays
Fuse and Relay Ratings Video Camera Input Connections 7- SPRAY SYSTEMS
Spray Boom Hose Ring Installation Spray Booms-90/100′
Spray Booms 120/132′
Spray Boom – Rear
Solution System Components.
Solution System – Operation
Fence Row Applicator.
Filling Your Solution Tank Draining Your Solution Tank Rinse System.
Foam Marker System
Chemical Injection System
Cover Crop Interseeder (CCI) Application
8- MAINTENANCE AND STORAGE
Service – Fluids
Service – Filters
Service – Lubrication
Service – Engine Drive Belt
Service – Bolt Torque
Service – Toe-In
Service – Miscellaneous
Service Intervals
Storage
9- MISCELLANEOUS
Transporting
Lifting Your Machine
Quick-Tach System – Spray Booms Air Suspension Exhaust
Hand Wash System
Hood Operation
Tall Crop Package – Installation
Troubleshooting
Technical Information
211 – Fault Codes
240 – Electrical
250 – Drivetrain..
270 Hydraulics.
280 Solution System..
VIDEO PREVIEW OF THE MANUAL:
IMAGES PREVIEW OF THE MANUAL: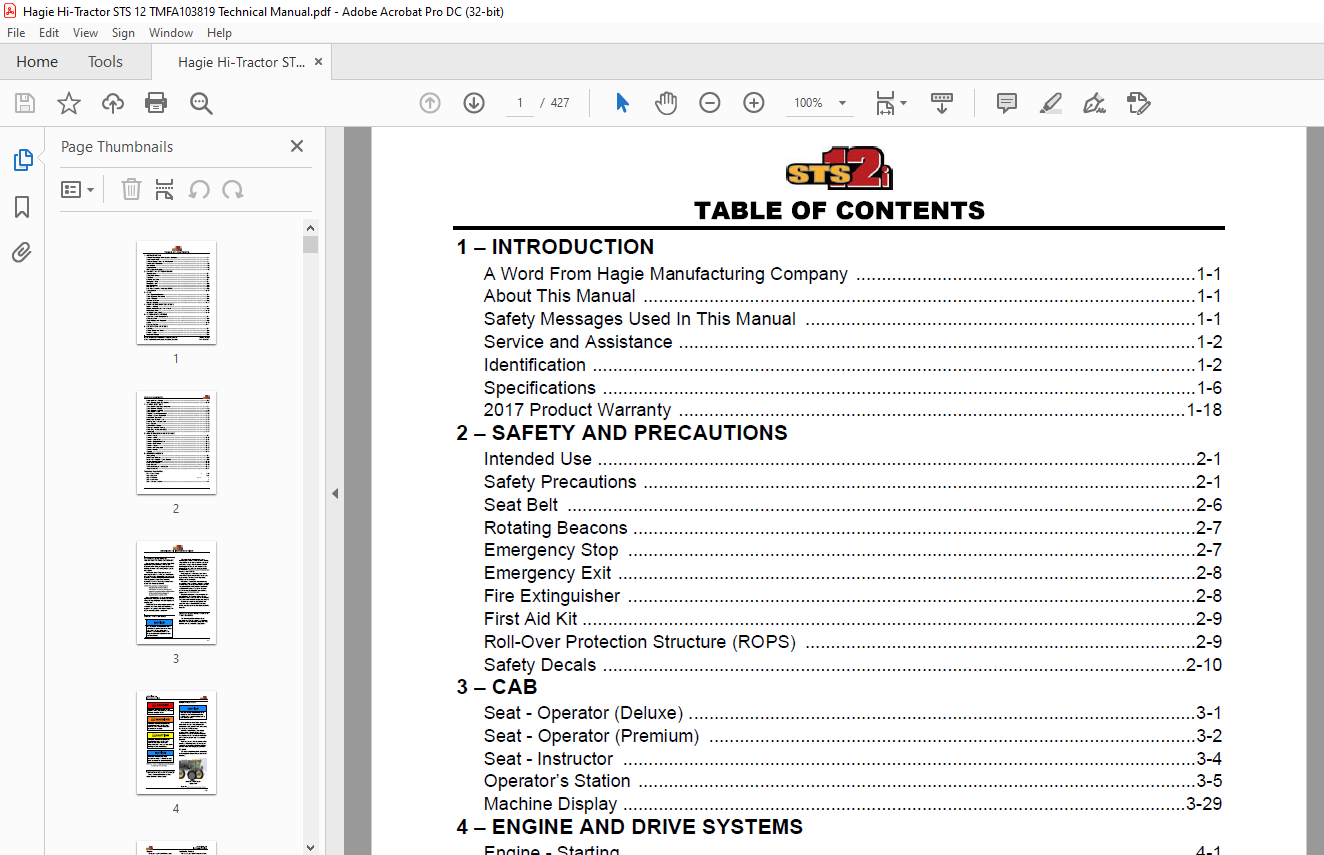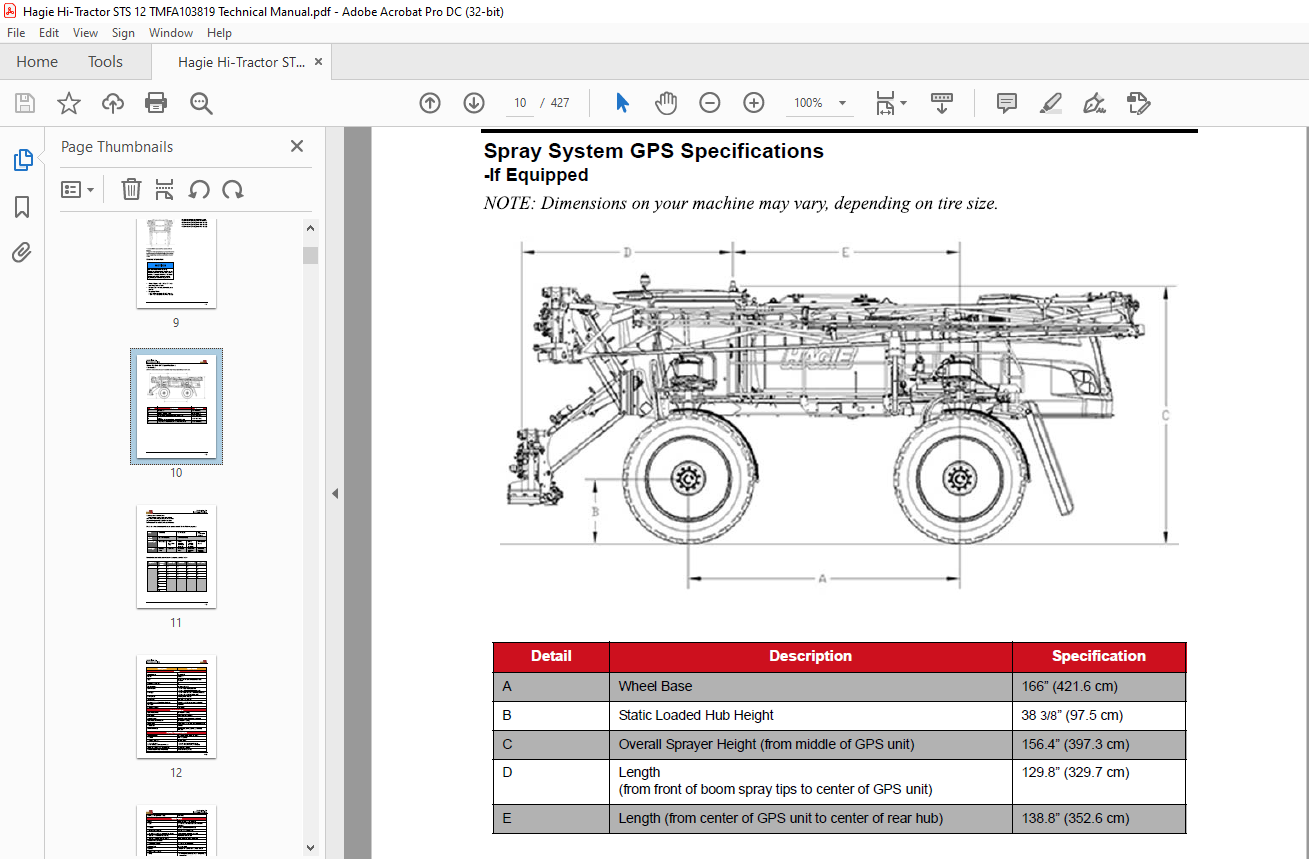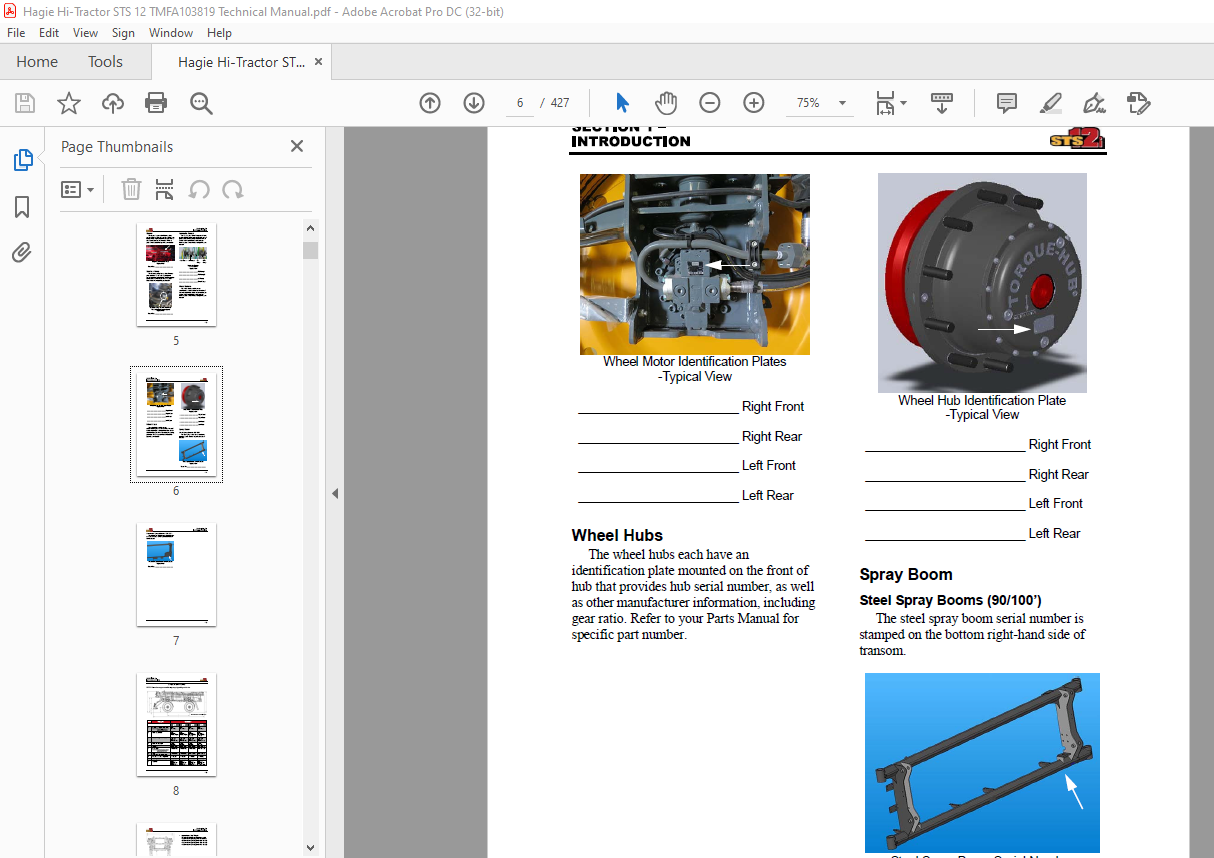 PLEASE NOTE:
This is the same manual used by the dealers to diagnose and troubleshoot your vehicle
You will be directed to the download page as soon as the purchase is completed. The whole payment and downloading process will take anywhere between 2-5 minutes
Need any other service / repair / parts manual, please feel free to contact [email protected] . We still have 50,000 manuals unlisted
S.V