Grove Crane TMS500E Operator's Manual – PDF DOWNLOAD
FILE DETAILS:
Grove Crane TMS500E Operator's Manual – PDF DOWNLOAD
Language : English
Pages : 108
Downloadable : Yes
File Type : PDF
Size: 1.72 MB
DESCRIPTION:
Grove Crane TMS500E Operator's Manual – PDF DOWNLOAD
GENERAL:
This Operator Manual has been compiled to assist you in properly operating and maintaining your TMS500E Manitowoc/Grove Crane. Before placing the crane in service, take time to thoroughly familiarize yourself with the contents of this manual. After all sections have been read and understood, retain the manual for future reference in a readily accessible location.
The Grove Crane has been designed for maximum performance with minimum maintenance. With proper care, years of trouble-free service can be expected. Constant improvement and engineering progress makes it necessary that we reserve the right to make specification and equipment changes without notice.
Grove Manitowoc and our Dealer Network want to ensure your satisfaction with our products and customer support. Your local dealer is the best equipped and most knowledgeable to assist you for parts, service and warranty issues. They have the facilities, parts, factory trained personnel, and the information to assist you in a timely manner.
We request that you first contact them for assistance. If you feel you need factory assistance, please ask the dealer's service management to coordinate the contact on your behalf. Engine operating procedures and routine maintenance procedures are supplied in a separate manual with each crane, and should be referred to for detailed information.
Information in this manual does not replace federal, state, or local regulations, safety codes, or insurance requirements The mobile crane carrier incorporates an all welded steel frame. The 6x4x2 carrier utilizes two drive axles and a single steer axle. Axle steering is provided by a power steering pump, gearbox and control valve.
The engine is mounted in the front of the carrier and provides power through a pushbutton six speed foward and one reverse speed automatic transmission Hydraulic, single stage double box telescopic beams with inverted stabilizer (jack) cylinder outriggers are integral with the carrier frame.
The outriggers are utilized in three positions; fully extended, intermediate (50%) extended, and fully retracted. The carrier is also equipped with a center front stabilizer that has a permanently stowed pad. The superstructure is capable of 360 degree rotation in either direction. All crane functions are controlled from the fully enclosed cab. The crane is equipped with a four section boom with an optional swingaway. Lifting is provided by a main and optional auxiliary hoist.
IMAGES PREVIEW OF THE MANUAL: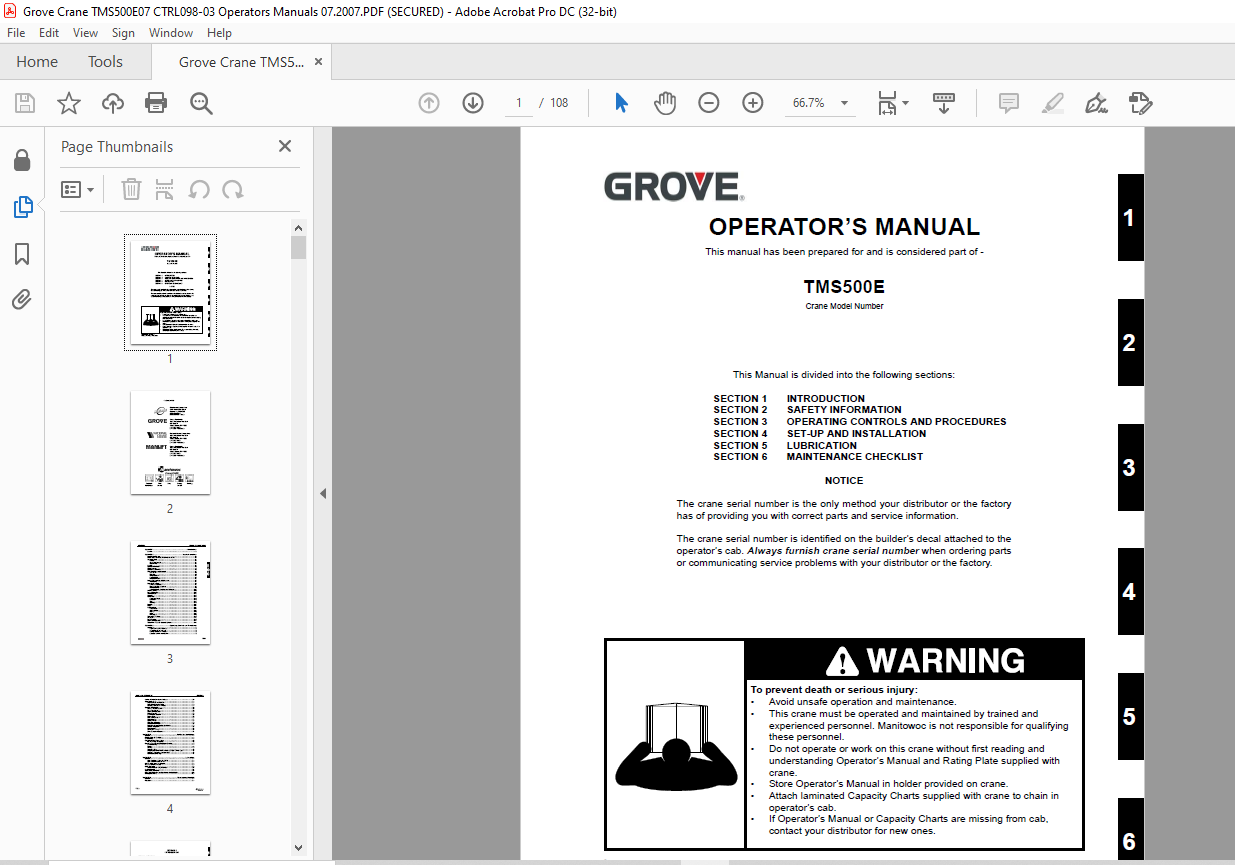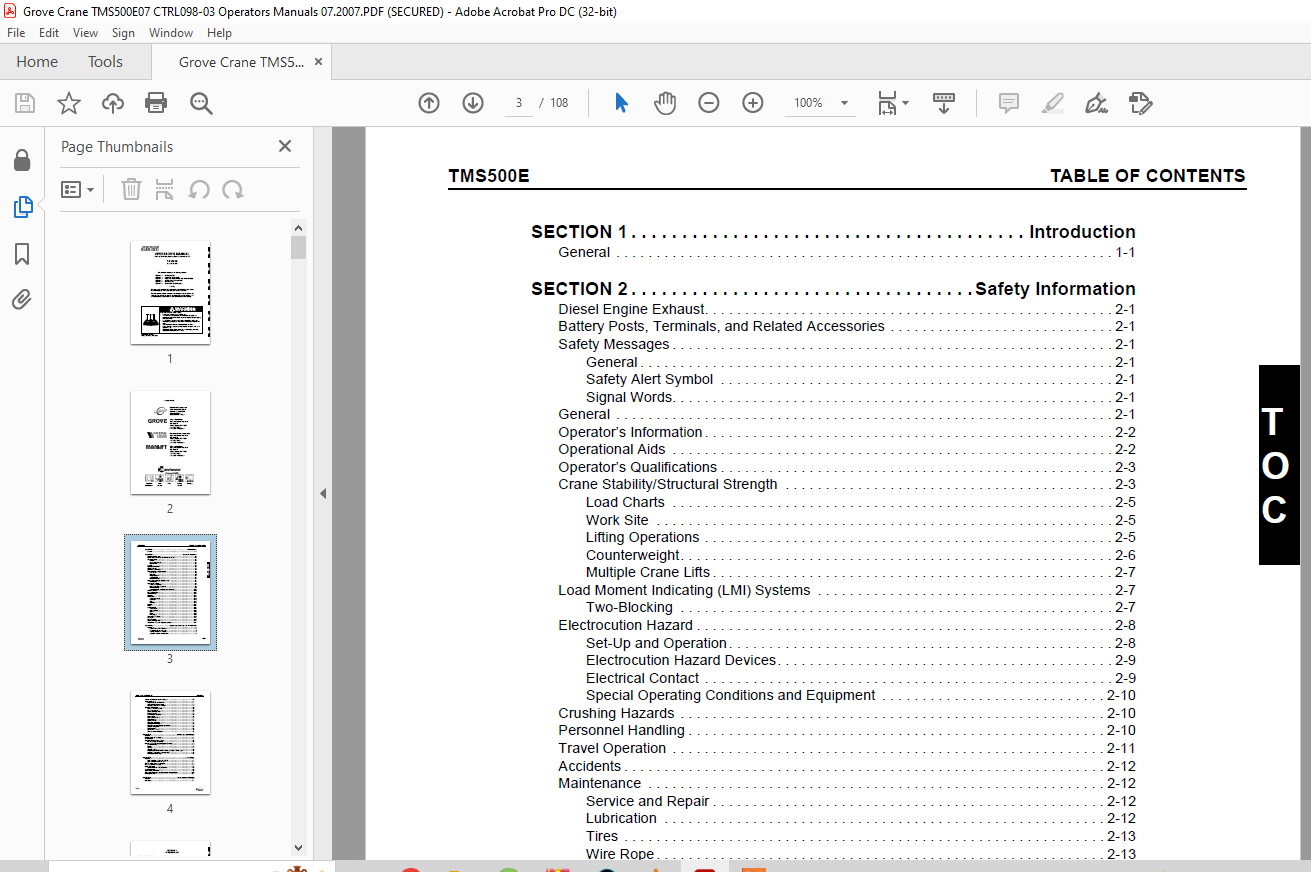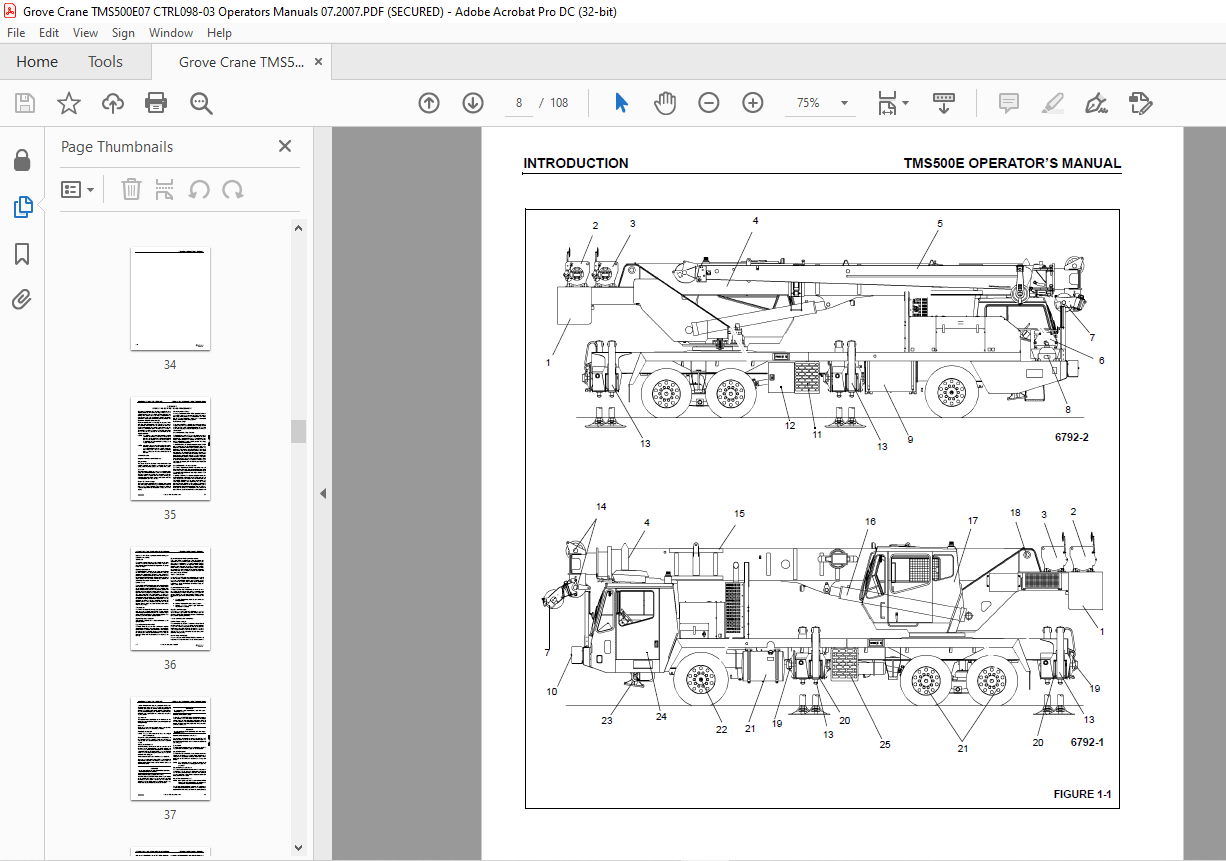 TABLE OF CONTENTS:
Grove Crane TMS500E Operator's Manual – PDF DOWNLOAD
SECTION 1 5
SECTION 1 7
Introduction 7
General 7
SECTION 2 11
SECTION 2 13
Safety Information 13
Diesel Engine Exhaust 13
Battery Posts, Terminals, and Related Accessories 13
Safety Messages 13
General 13
Safety Alert Symbol 13
Signal Words 13
General 13
Operator's Information 14
Operational Aids 14
Operator's Qualifications 15
Crane Stability/Structural Strength 15
Load Charts 17
Work Site 17
Lifting Operations 17
Counterweight 18
Multiple Crane Lifts 19
Load Moment Indicating (LMI) Systems 19
Two-Blocking 19
Electrocution Hazard 20
Set-Up and Operation 20
Electrocution Hazard Devices 21
Electrical Contact 21
Special Operating Conditions and Equipment 22
Crushing Hazards 22
Personnel Handling 22
Travel Operation 23
Accidents 24
Maintenance 24
Service and Repair 24
Lubrication 24
Tires 25
Wire Rope 25
Batteries 26
Engine 26
Work Practices 26
Crane Access 26
Job Preparation 27
Working 27
Lifting 28
Hand Signals 28
Transporting The Crane 29
Shut-Down 29
Boom Extension 29
Cold Weather Operation 29
Temperature Effects On Hydraulic Cylinders 30
SECTION 3 31
SECTION 3 35
Operating Controls and Procedures 35
Carrier Cab 35
Engine Controls and Indicators 35
Travel Controls and Indicators 36
Craning Controls and Indicators 42
Accessory Controls and Indicators 42
Additional Carrier Controls and Indicators 43
Superstructure Cab 45
Engine Controls and Indicators 45
Crane Controls and Indicators 46
Accessory Controls and Indicators 51
Operational Procedures 53
Breaking-In A New Carrier 53
Pre-Starting Checks 53
Cold Weather Operation 54
Engine Operation 54
General Crane Operation 56
Preload Check 56
Using Your Load Chart 57
Crane Functions 58
Operational Aids 62
Crane Travel Operation 63
Automatic Transmission 64
Rear Tandem Inter-Axle/Cross-Axle Locks 66
Service/Parking Brakes 67
Engine Braking 67
Stowing And Parking 67
Crane Shutdown Procedures 68
SECTION 4 69
SECTION 4 71
Set-Up And Installation 71
General 71
Installing Cable On The Hoist 71
Cable Reeving 71
Dead-End Rigging/Wedge Sockets 75
Installing Wedge and Socket 76
Erecting and Stowing the Bi-Fold Boom Extension 77
General Warnings 77
Erecting 78
Stowing 82
Setting the Offset 83
Changing Boom Extension From Telescope Type To Fixed Type 83
Setting the Telescoping Extension Length 83
Removable Counterweight 84
SECTION 5 87
SECTION 5 89
Lubrication 89
General 89
Arctic Conditions – Below -18C (0F) 89
Arctic Conditions Down To -40F 89
ALL Weather Package & Lubricants 89
Standard Lubricants Package 90
Lubrication Points 90
Surface Protection for Cylinder Rods 91
Carrier Lubrication 92
Superstructure Lubrication 96
Boom, Boom Extension, and Boom Accessories Lubrication 98
Wire Rope Lubrication 100
SECTION 6 103
SECTION 6 105
Maintenance Checklist 105
General 105
Instructions 105
VIDEO PREVIEW OF THE MANUAL:
PLEASE NOTE:
This is not a physical manual but a digital manual – meaning no physical copy will be couriered to you. The manual can be yours in the next 2 mins as once you make the payment, you will be directed to the download page IMMEDIATELY.
This is the same manual used by the dealers inorder to diagnose your vehicle of its faults.
Require some other service manual or have any queries: please WRITE to us at [email protected]
S.V