Grove Crane Manitowoc TMS800E Operator's Manual – PDF DOWNLOAD
FILE DETAILS:
Grove Crane Manitowoc TMS800E Operator's Manual – PDF DOWNLOAD
Language : English
Pages : 142
Downloadable : Yes
File Type : PDF
Size: 26.3 MB
DESCRIPTION:
Grove Crane Manitowoc TMS800E Operator's Manual – PDF DOWNLOAD
GENERAL:
This manual provides important information for the operator of the TMS800E Series Grove Crane. Before placing the crane in service, take time to thoroughly familiarize yourself with the contents of this manual. After all sections have been read and understood, retain the manual for future reference in a readily accessible location.
The Grove crane has been designed for maximum performance with minimum maintenance. With proper care, years of trouble-free service can be expected. Constant improvement and engineering progress makes it necessary that we reserve the right to make specification and equipment changes without notice.
Grove and our Dealer Network want to ensure your satisfaction with our products and customer support. Your local dealer is the best equipped and most knowledgeable to assist you for parts, service and warranty issues. They have the facilities, parts, factory trained personnel, and the information to assist you in a timely manner.
We request that you first contact them for assistance. If you feel you need factory assistance, please ask the dealer 's service management to coordinate the contact on your behalf. Engine operating procedures and routine maintenance procedures are supplied in a separate manual with each crane, and should be referred to for detailed information.
The mobile crane carrier incorporates an all welded steel frame. The 8x4x4 carrier utilizes two drive axles and two steer axles. Steering is provided by a power steering pump, gearbox and control valve. The engine is mounted in the front of the carrier and provides power through a 10 speed forward and 2 speed reverse UltraShift™ transmission.
IMAGES PREVIEW OF THE MANUAL: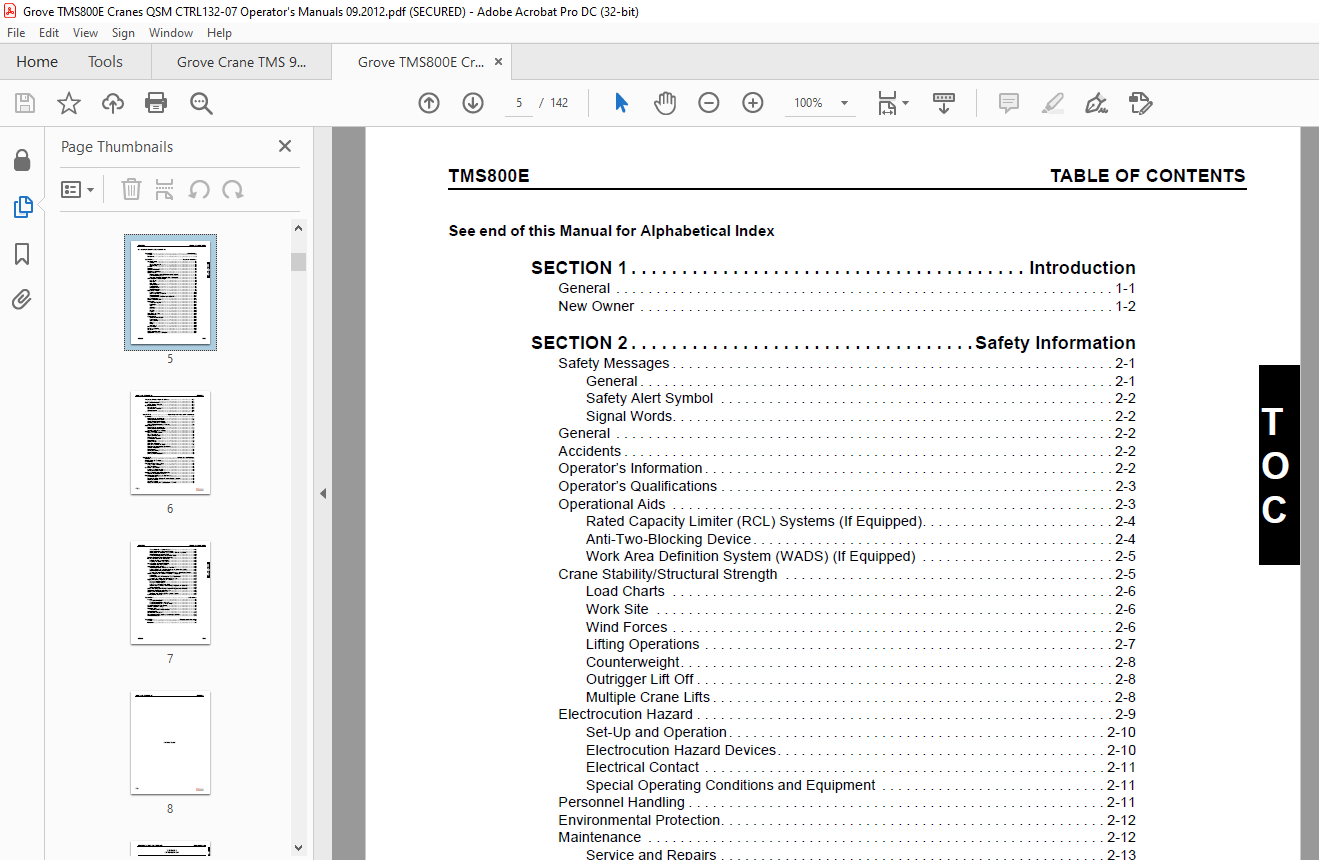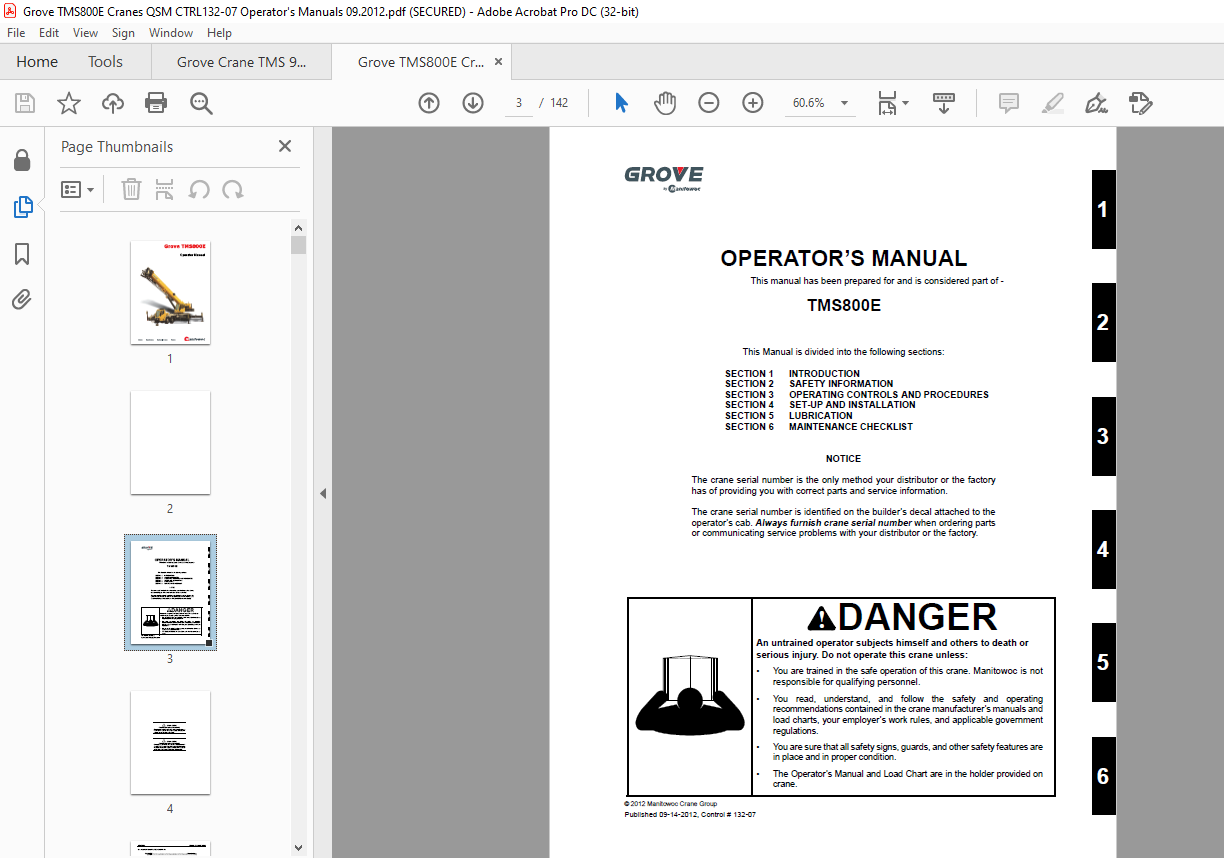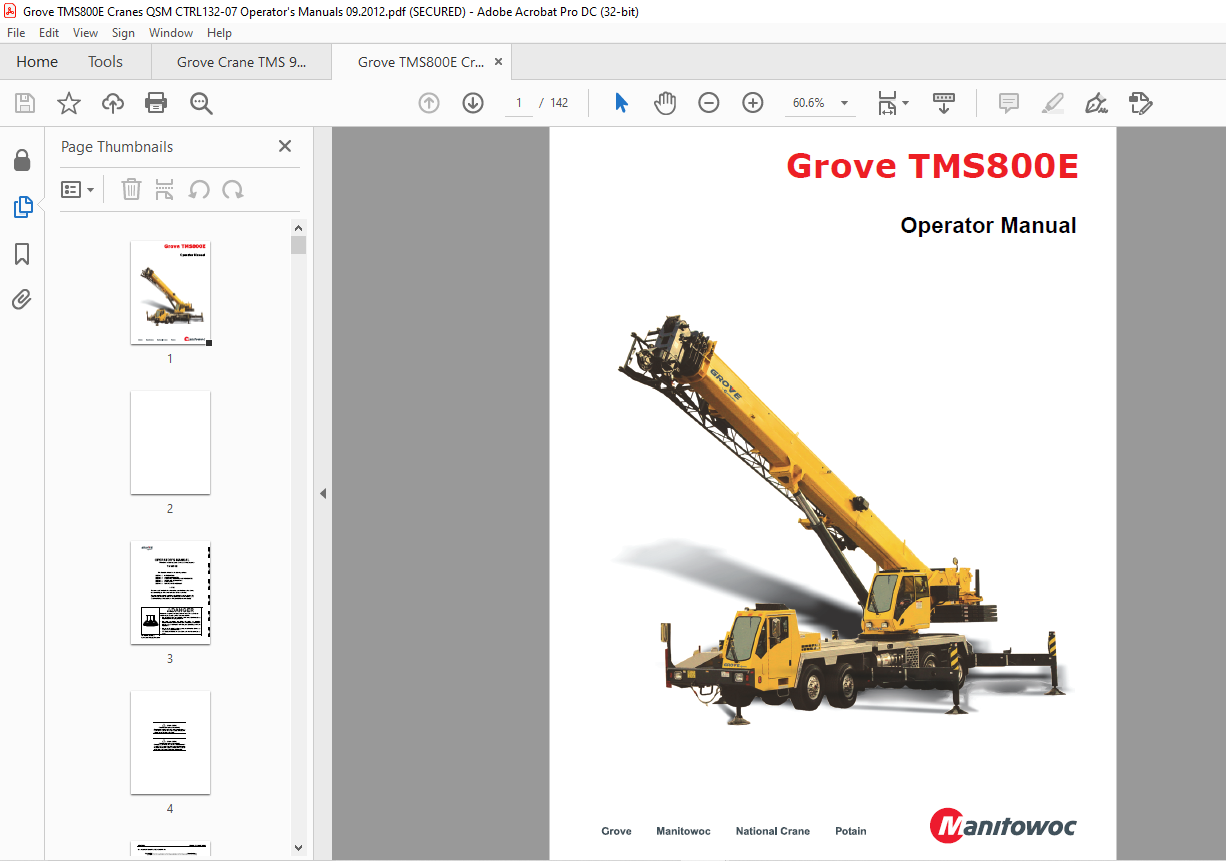 TABLE OF CONTENTS:
Grove Crane Manitowoc TMS800E Operator's Manual – PDF DOWNLOAD
SECTION 1 9
Introduction 9
General 9
New Owner 10
SECTION 2 13
Safety Information 13
Safety Messages 13
General 13
Safety Alert Symbol 14
Signal Words 14
General 14
Accidents 14
Operator's Information 14
Operator's Qualifications 15
Operational Aids 15
Rated Capacity Limiter (RCL) Systems (If Equipped) 16
Anti-Two-Blocking Device 16
Work Area Definition System (WADS) (If Equipped) 17
Crane Stability/Structural Strength 17
Load Charts 18
Work Site 18
Wind Forces 18
Lifting Operations 19
Counterweight 20
Outrigger Lift Off 20
Multiple Crane Lifts 20
Electrocution Hazard 21
Set-Up and Operation 22
Electrocution Hazard Devices 22
Electrical Contact 23
Special Operating Conditions and Equipment 23
Personnel Handling 23
Environmental Protection 24
Maintenance 24
Service and Repairs 25
Lubrication 26
Tires 26
Wire Rope 26
Sheaves 27
Batteries 28
Engine 28
Transporting the Crane 28
Travel Operation 28
Work Practices 30
Personal Considerations 30
Crane Access 30
Job Preparation 30
Working 30
Lifting 31
Hand Signals 32
Boom Extension 34
Parking and Securing 34
Shut-Down 34
Cold Weather Operation 34
Temperature Effects on Hook Blocks 35
Temperature Effects on Hydraulic Cylinders 35
Model Specific Information 37
Access Platform Hand Rail 37
Overload Inspection 37
Boom Inspection 38
Superstructure Inspection 40
Carrier Inspection 42
SECTION 3 45
Operating Controls and Procedures 45
Carrier Cab 45
Engine Controls and Indicators 45
Gauge Cluster 45
Voltmeter 45
Engine Oil Pressure Gauge 45
Water Temperature Gauge 45
Fuel Quantity Gauge 46
Engine Stop/Module Off Line Indicator 46
Engine Warning/Electrical System Diagnostic Indicator 46
Engine Coolant Temperature Indicator 46
Tachometer 46
Engine Brake On/Off Switch 46
Engine Brake High/Low Switch 46
Ignition Switch 46
Throttle Pedal 46
Engine Idle Switch 46
Travel Controls and Indicators 47
Dual Air Pressure Gauge 47
Low Air Pressure/Tire Inflation On Indicator 47
Speedometer 47
Odometer 47
Parking Brake Control 47
Park Brake Engaged Indicator 47
Cross-Axle Differential Locked Indicator (Optional) 47
Cross-Axle Differential Lock Switch (Optional) 47
Inter-Axle Differential Lock Switch 47
Inter-Axle DIfferential Lock Indicator 47
Brake Pedal 47
Clutch Pedal 47
Transmission Shift Lever 47
Trailing Boom Trailer Emergency Brake Control (Optional) 48
Swing Brake Engaged Indicator (Optional) 48
Suspension Inflation Control Switch 48
Suspension Deflated Indicator 48
Craning Controls and Indicators 51
Park Brake Engaged/Swing Brake Engaged Indicator 51
Accessory Controls and Indicators 51
High Beam/Lamp Malfunction Indicator 51
Heater On/Off Switch 51
Heater Control Switch 51
Heater /Air Conditioner Fan Switch 51
Air Conditioner Switch (Optional) 51
Windshield Wiper/Washer Switch 51
Headlights Switch 52
Beacon Light Switch (Optional) 52
Dimmer Switch 52
Headlights Dimmer Switch 52
Turn Signal Lever 52
Cruise Control 52
Hazard Light Switch 52
Left Turn Signal Indicator 52
Right Turn Signal Indicator 52
Steering Column Tilt/Telescope Lever 52
Horn Button 52
Fire Extinguisher 52
Cab Circulating Fan 52
Tire Inflation Switch 52
12 VDC Accessory Outlet 52
Cab Dome Light (Not Shown) 52
Air Horn (Not Shown) 53
Fuse and Relay Panel (Not Shown) 53
Carrier Electrical Diagnostic Connector 53
Additional Carrier Controls and Indicators 53
Outrigger Control Summary 53
Outrigger Control Panel 53
Outrigger Beam Selector Switch 53
Extend/Retract Switch 53
Center Front Stabilizer Switch 53
Stabilizer Selector Switch 53
Daytime Running Lights 53
Superstructure Cab 55
Engine Controls and Indicators 55
Engine Increment/Decrement Switch 55
Gauge Cluster 55
Voltmeter 55
Engine Oil Pressure Gauge 55
Water Temperature Gauge 55
Fuel Quantity Gauge 55
Ignition Switch 55
Tachometer 55
Hourmeter 55
Engine Stop/Module Off Line Indicator 55
Engine Warning/Electrical System Diagnostic Indicator 56
Foot Throttle Pedal 56
Craning Controls and Indicators 56
Telescope/Auxiliary Hoist/Swing Controller (Dual Axis Option) 56
Swing Controller (Single Axis Option) 56
Telescope or Auxiliary Hoist Controller (Single Axis Option) 56
Boom Lift/Main Hoist Controller (Dual Axis Option) 56
Boom Lift Controller (Single Axis Option) 56
Main Hoist Controller (Single Axis Option) 56
Swing Horn Button (Dual Axis Option) 56
Telescope Control Pedal 57
Main Hoist Speed Selector Switch 57
Auxiliary Hoist Speed Selector Switch 57
Hoist Rotation Indicators (Main and Auxiliary Hoist) 57
Crane Function Power Switch 57
Outrigger Extend/Retract Switch 57
Center Front Stabilizer Switch 57
Left Front Outrigger Switch 57
Right Front Outrigger Switch 57
Left Rear Outrigger Switch 58
Right Rear Outrigger Switch 58
Center Front Stabilizer Overloaded Indicator 58
Bubble Level Indicator 58
Swing Brake Selector Switch 58
Swing Brake Pedal 58
Swing Lock Control (Pin Type) 58
360° Swing Lock Control (Positive Lock Type) (Optional) 58
Swing Brake Engaged Indicator 59
Swing Speed Switch 59
Cab Tilt Switch 59
Jib Stowage Controller 59
Accessory Controls and Indicators 64
Dimmer Switch 64
Work Lights Switch 64
Boom Lights Switch (Optional) 64
Cab Circulating Fan 64
Cab Dome Light 64
Fire Extinguisher 64
Windshield Wiper/Washer Switch and Motor 64
Skylight Wiper Switch 64
Heater On/Off Switch 64
Heater Control Switch 64
Heater /Air Conditioner Fan Switch 64
Air Conditioner Switch (Optional) 64
Beacon Light 64
Crane's Electrical System Diagnostic Connector 64
Fuse Panel 64
Operating Procedures 65
Breaking In A New Carrier 65
Pre-Starting Checks 65
Fuel Supply 65
Engine Oil 65
Engine Coolant 65
Batteries 65
Hydraulic Reservoir and Filter 65
Wire Rope 65
Hook Block and Headache Ball 65
Seats and Mirrors 65
Seat Belts 65
Seat Belt Maintenance 65
Cleaning Seat Belt Webbing 65
Signal and Running Lights 66
Service and Parking Brakes 66
Tires 66
Wheels 66
Safety Equipment 66
Daily Lubrication 66
Cold Weather Operation 66
Operation Below -40°C 66
Operation Below -40°F 66
Engine Operation 66
Start-Up Procedure 66
Warm Engine 66
Cold Engine 67
Idling the Engine 67
Racing the Engine 67
Shutdown Procedure 68
General Crane Operation 68
Pump Drive 68
Control Lever Operation 68
Preload Check 68
Using Your Load Chart 68
Proper Leveling of the Crane 69
Bubble Level Adjustment 69
Crane Functions 70
Setting the Outriggers 70
Engaging the Mid Extend Lock Pin 71
Stowing the Outriggers 71
Stowing the Mid-Extend Lock Pin 72
Setting the Center Front Stabilizer 73
Stowing the Center Front Stabilizer 73
Swinging the Boom 73
Elevating and Lowering the Boom 73
Elevating the Boom 73
Lowering the Boom 73
Telescoping the Boom 74
Extending the Boom (with Single Hoist) (Optional) 74
Retracting the Boom (with Single Hoist) (Optional) 74
Telescope Control Pedal 74
Lowering and Raising the Hoist Cable 74
Lowering the Cable 74
Hoist Speed Range Selection 74
Operational Aids 74
Rated Capacity Limiter (RCL) System 74
Control Lever Lockout System 75
Crane Travel Operation 75
Active Restraints 75
Seat Belts 75
Traveling – General 76
Traveling With Boom Extension and/or Inserts Erected 76
10 m (33 ft)/17 m (56 ft) Extension 76
10 m (33 ft)/17 m (56 ft) Extension Plus One or Two 6 m (20 ft) Insert(s 77
Manual Transmission and Clutch 78
Clutch Operation 78
Shifting Gears 78
Crane Transmission 79
Initial Start-Up 79
Upshifting 79
Downshifting 80
Shifting To Reverse 80
Driving Tips 81
Rear Tandem Inter-Axle/Cross-Axle Locks 81
Service/Parking Brakes 81
Engine Braking 82
Stowing and Parking 82
Unattended Crane 82
Crane Shutdown Procedures 83
SECTION 4 85
Set-up And Installation 85
General 85
Installing Cable On The Hoist 85
Cable Reeving 86
Dead-End Rigging/Wedge Sockets 87
Wedge Socket Installation 87
Dead-end Rigging 88
Removable Counterweight 93
Mounting the Counterweight 93
Stowing the Counterweight 93
Installing the Bi-Fold Manual Boom Extension 95
Checking the Transport Condition 95
Transport condition with lattice extension folded at the side 95
If 23 ft (7 m) section and 33 ft (10 1 m) section are folded at the side: 95
If the 23 ft (7 m) section only is folded at the side: 95
Boom Extension Erecting and Stowing Procedure 97
General Warnings 97
Preparing the Crane for Boom Extension Erection Procedure 97
Requirements for Boom Extension Erection 97
Requirements for Stowing the Boom Extension 97
Securing Lattice Extension With Tag Line (Rope) 97
Erecting Procedure 97
33 ft (10 1 m) Boom Extension 97
Relieving the Load on Bearing Points 101
56 ft (17 1 m) Boom Extension 102
Stowing Procedure 103
56 ft (17 1 m) Boom Extension 103
33 ft (10 1 m) Boom Extension 104
Raising and Lowering the Hydraulic Boom Extension 106
When erecting 107
During operation 107
Transportation on a Separate Vehicle 107
Lifting Limit Switch on the Lattice Extension 107
Overriding Connection on Main Boom 107
On 33 ft (10 1 m) swingaway lattice extension 107
On the 56 ft (17 1 m) Two-Stage Swingaway Lattice Extension 108
Folding Out/In the Deflection Sheaves on the 33 ft (10 1 m) Section 108
Folding Rear Deflection Sheave 108
Folding Out Deflection Sheave 108
Folding In Deflection Sheave 108
Positioning/Remove the Hoist Cable 109
Removing Hoist Cable 109
Setting the Folding Swingaway Extension Offset 109
Removing the Bi-Fold Manual Boom Extension 110
Installing/Removing 16 ft (4 9 m) Sections 111
Installing the 16 ft (4 9 m) Sections 111
Removing the 16 ft (4 9 m) Sections 111
Boom Extension (Additional Equipment) 111
Identification and Slinging Points 111
Identification 111
Serial numbers on the 16 ft (4 9 m) sections 112
Slinging Points 112
Assembly Of Boom Extensions 112
Electrical Connection at the Boom Extension 113
Transport Condition of the Connection 113
At the 72 ft (22 0 m) Boom Extension 114
At the 89 ft (27 1 m) Boom Extension 114
Unfolding/Folding the Deflection Sheave on the 16 ft (4 9 m) Section 114
Folding Out Deflection Sheave 114
Folding In Deflection Sheave 115
Positioning/Removing the Hoist Cable 115
Positioning Hoist Cable 115
Removing Hoist Cable 115
Traveling with Manually Offsettable Boom Extension and/or Inserts Erected 116
33 ft (10 1 m)/56 ft (17 1 m) Extension Plus 16 ft (4 9 m) or 32 ft (10 m) Inserts 116
Auxiliary Single-Sheave Boom Nose (Additional Equipment) 116
Identification 116
Installing/Removing Auxiliary Single-Sheave Boom Nose 116
Installing Auxiliary Single-Sheave Boom Nose 116
Removing the Auxiliary Single-Sheave Boom Nose 117
Rigging The Auxiliary Single-Sheave Boom Nose 117
Rigging in Transport Position 117
Rigging in Working Position 118
Attaching and Removing Hoist Cable 119
Possible Reeving Methods on the Auxiliary Single-Sheave Boom Nose 119
Lifting Limit Switch 119
In Operation 119
During Transport 120
Raising And Setting Down The Main Boom With Rigged Lattice Extension 120
Telescoping With Rigged Lattice Extension 120
Operating With The Lattice Extension 120
Procedure if the Permissible Wind Speed is Exceeded 120
Monthly Maintenance Work 121
Pins 121
SECTION 5 123
Lubrication 123
General 123
Hydraulic Oil Inspection 123
Arctic Conditions Below -18°C (0°F) 123
Arctic Conditions Down To -40°C (- 40°F) All Weather Package & Lubricants 124
Standard Lubricants Package 124
Lubrication Points 126
Surface Protection for Cylinder Rods 126
Carrier Lubrication 127
Superstructure Lubrication 132
Boom, Boom Extension, and Boom Accessories Lubrication 133
Wire Rope Lubrication 134
SECTION 6 137
Maintenance Checklist 137
General 137
Instructions 137
Alphabetical Index 139
VIDEO PREVIEW OF THE MANUAL:
PLEASE NOTE:
This is the same manual used by the dealers to diagnose and troubleshoot your vehicle
You will be directed to the download page as soon as the purchase is completed. The whole payment and downloading process will take anywhere between 2-5 minutes
Need any other service / repair / parts manual, please feel free to contact [email protected] . We still have 50,000 manuals unlisted
S.V