Fiatallis 65 Motor Grader Operation & Maintenance Instruction Manual 70677548 – PDF DOWNLOAD
IMAGES PREVIEW OF THE MANUAL: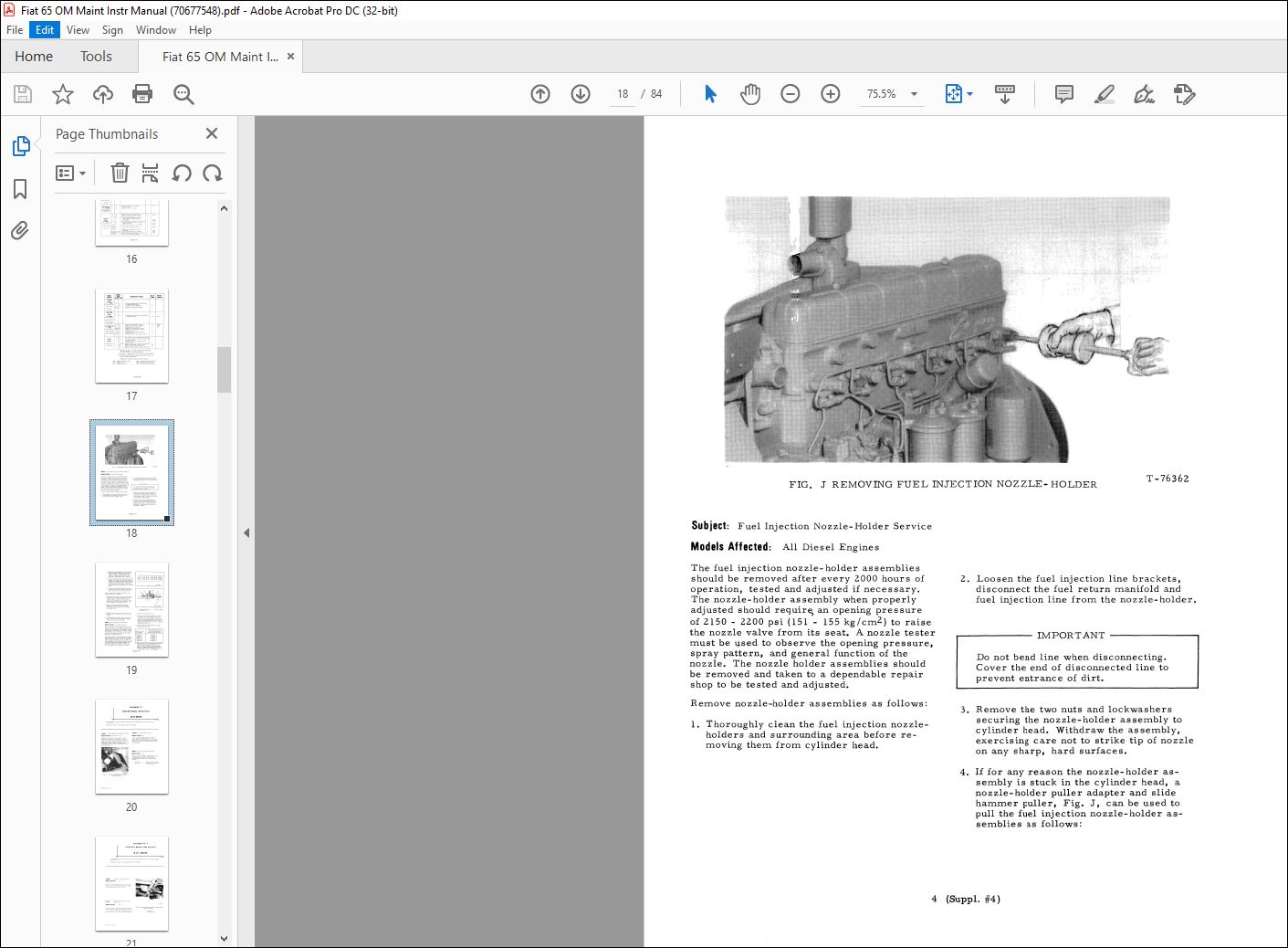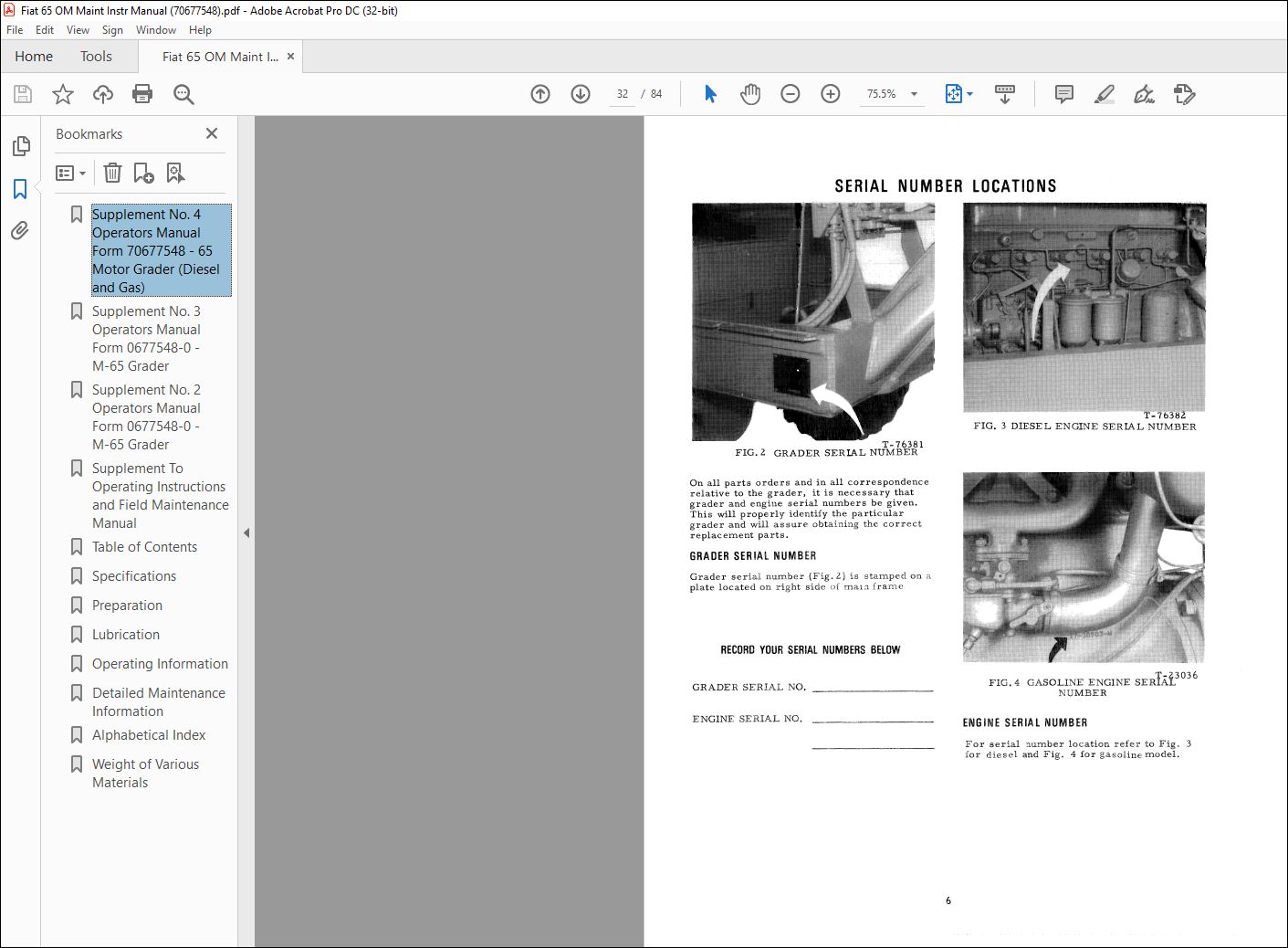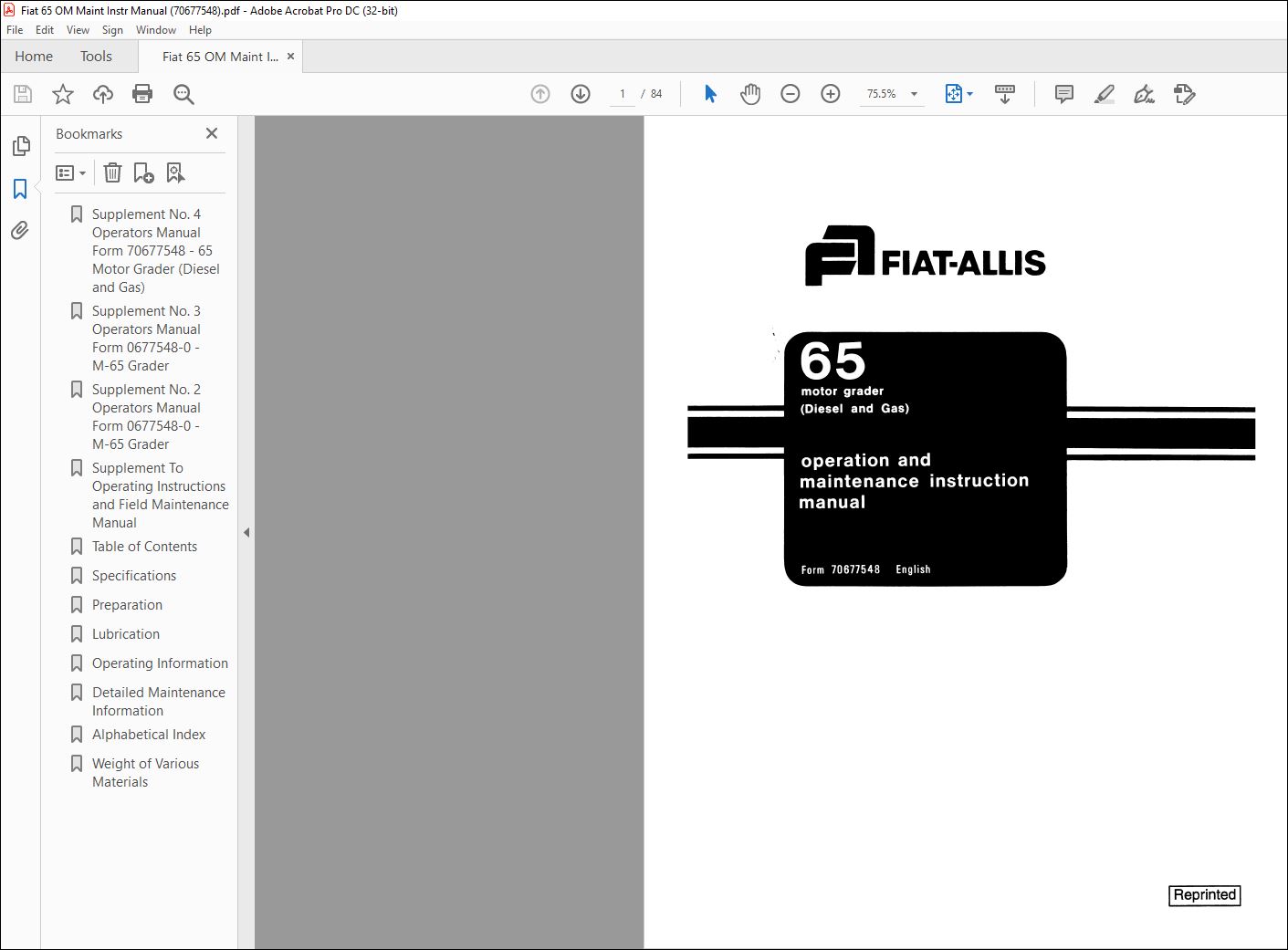 DESCRIPTION:
Fiatallis 65 Motor Grader Operation & Maintenance Instruction Manual 70677548 – PDF DOWNLOAD
GENERAL:
Study the Operatiot, and Maintenance Instruction Manual before starting, operating, maintaining,
fueling, or servking machinti.
Read and heed all rnachine-mounted safety signs before starting, operating, maintaining, fueling
or servicing machine.
Machine-mounted safety signs have been color coded yellow with black borders and lettering for
warning and red with white borders and lettering for danger points.
No unauthorized personnel should be allowed to operate, service or rnaintain this machine.
Do not wear rings, wrist watches, jewelry, loose or hanging apparel, such as ties, torn clothing,
scarves, unbuttoned, or unzipped jackets that can catch on moving parts. Wear proper safety
equipment as authorized for the job. Examples: hard hats, safety shoes, heavy gloves, ear
protectors, safety glasses or goggles, reflector vests, or respirators, Consult your employer
for specific safety equipment requirements.
Remember the rules of the road: Obey all traffic regulations. Use extra care at all intersections
and rail crossings. Stop and look both ways at all railway crossings. Do not park in traffic areas.
When traffic backs up, pull to side of road and allow vehicles to pass safely. Use hand signals or
turn signals, if so equipped, when turning.
Keep operator's compartment, stepping points, grab rails and handles clean and free from
foreign objects, oil, grease, mud or snow accumulation to minimize the danger of slipping or
stumbling.
Keep your windshield clear for maximum visibility – use wipers. Be alert for snow covered
obstructions.
Do not jump on or off machine. Keep two hands and one foot, or two feet and one hand, in contact
with steps and grab rails and handles at all times.
Do not use controls or hoses as handholds when climbing on or of£ machine. Hoses and controls
are movable and do not provide a solid support, Controls also may be moved inadvertently causing
accidental machine or equipment movement.
Never 'attempt to operate the machine or its tools from any other position than seated in the
operator's seat, Keep head, body, limbs, hands and feet inside operator's compartment at all
times to reduce exposure to hazards outside the. operator's compartment,
Be careful of slippery conditions on stepping points, hand rails, and on the ground.
Get off machine only when it is fully stopped.
TABLE OF CONTENTS:
Fiatallis 65 Motor Grader Operation & Maintenance Instruction Manual 70677548 – PDF DOWNLOAD
SPECIFICATIONS
General Specifications
Serial Number Locations
Fuel Specifications and Storage
Lubricant Specifications
Engine Crankcase Lubricating Oil Recommendations
PREPARATION
Preparation For Use
Preparation For Storage
LUBRICATION
Lubrication and Service Guide
Lubrication and Service Instruction
Periodic Services and Adjustments
OPERATING INFORMATION
Operating Controls and Instruments
Operating Instructions
DETAILED MAINTENANCE INFORMATION
Engine Cooling System
Engine Lubrication System
Fuel System
Electrical System
A ir Gleaner
Engine Control Linkage
Engine Clutch
Transmission and Rear Axle
Steering System
Moldboard Drawbar and Circle Adjustments
Hydraulic System
Brakes
Front Wheel Alignment and Tires
Seat
_Alphabetical Index  51
Weight Of Various Materials Back Cover
VIDEO PREVIEW OF THE MANUAL:
PLEASE NOTE:
This is not a physical manual but a digital manual – meaning no physical copy will be couriered to you. The manual can be yours in the next 2 mins as once you make the payment, you will be directed to the download page IMMEDIATELY.
This is the same manual used by the dealers inorder to diagnose your vehicle of its faults.
Require some other service manual or have any queries: please WRITE to us at [email protected]
S.V