Fiat Hitachi D180 Dozer Service Repair Manual
FILE DETAILS:

FILE TYPE:PDF
DOWNLOADABLE:YES
MANUAL LANGUAGE:ENGLISH
PAGES:259
DESCRIPTION:
The transmission is of a "power-shift" type with three forward and three reverse speeds. The system is powered by a dual pump feeding the transmission and the torque converter (1). The pump sucks oil from the transmission housing through filter (6) and circulates it purifying further through filter (2). A valve (set at 2.5 bar) protects filter (2) against over pressures due to the clogging of the cartridge or excessively thick oil.
The feeding pump of the hydraulic system steering clutches sucks the oil accumulated in the torque converter support housing, through a mesh filter (14) and returns it to the transmission housing. The oil delivered by feeding pump (1) after being purified by filter (2) reaches pressure relief valve (3) establishing and maintaining the pressure setting of the oil controlling the transmission clutches.
Safety valve (16) protects the torque converter and the heat exchanger against accidental pressure increments, normally due to cold and excessively thick oil, discharging the flow excess into the pump delivery line (1). The oil flowing out the torque converter, passes through the heat exchanger, the manifold and it is distributed to the lube and cooling ducts of the transmission clutches.
The maximum lube pressure is limited by valve (15) set at 3 bar. Modulating valves (9) make the engagement of the clutches progressive, regulating the pressure increment in the control circuits. A low engine lube oil pressure or an excessive lube oil temperature are indicated on the dashboard in the cab. Quick discharge valves on the 2nd and 3rd speed clutches, during the speed engagement phase, are in closed position, under the action of pressurised oil.
When shifting from one speed to another, the relevant control cylinder is connected to the discharge and the pressure drop causes the centrifugal force to prevail over the action of the oil, moving the balls outwards, facilitating a quick discharge.
TABLE OF CONTENTS:
Fiat Hitachi D180 Dozer Service Repair Manual
GENERALITIES
ENGINE
TRANSMISSION
FINAL DRIVES
STEERING CLUTCHES – BRAKES
UNDERCARRIAGE
DOZER EQUIPMENT
HYDRAULIC SYSTEM
ELECTRICAL SYSTEM
SCREENSHOT OF THE MANUAL: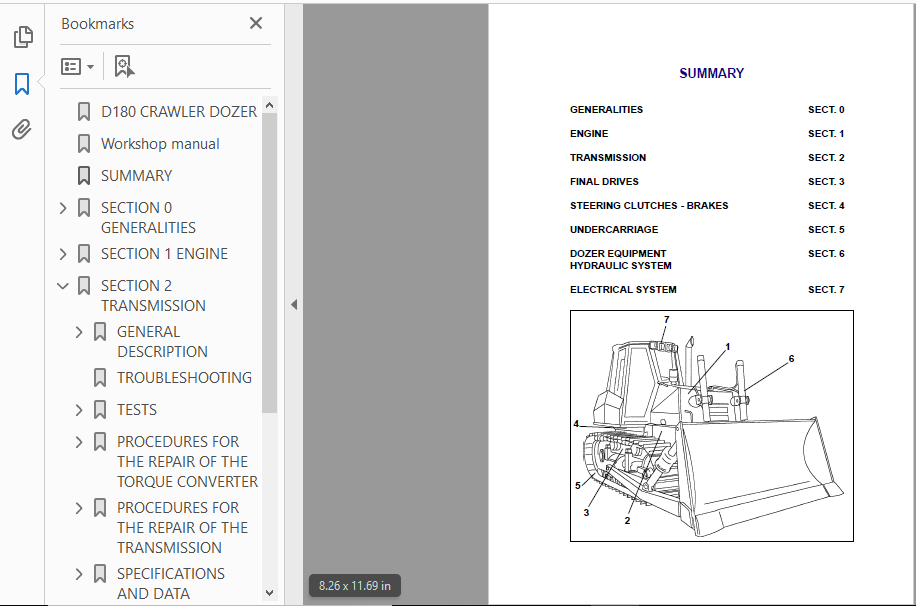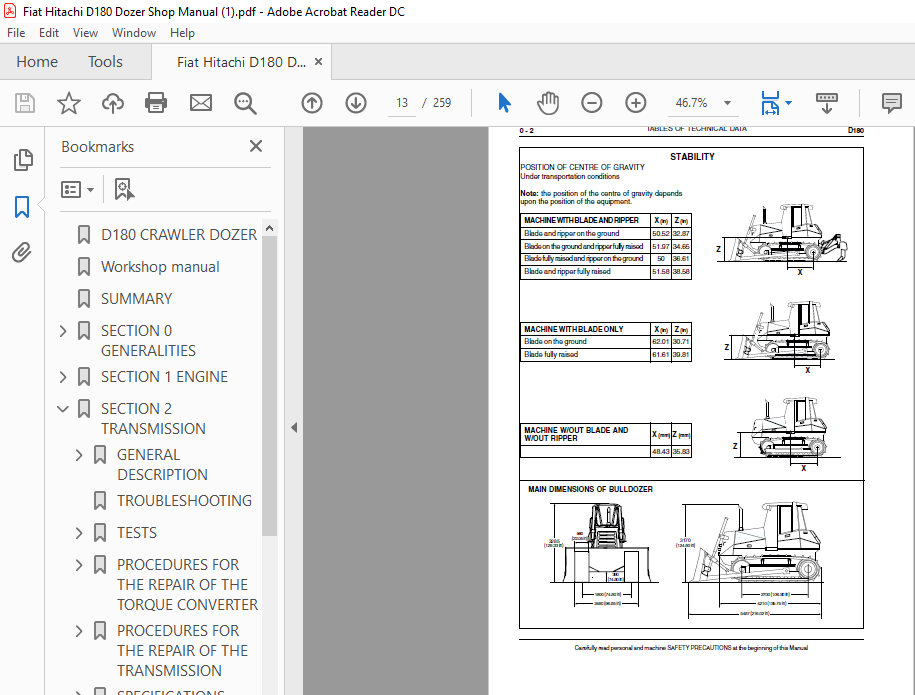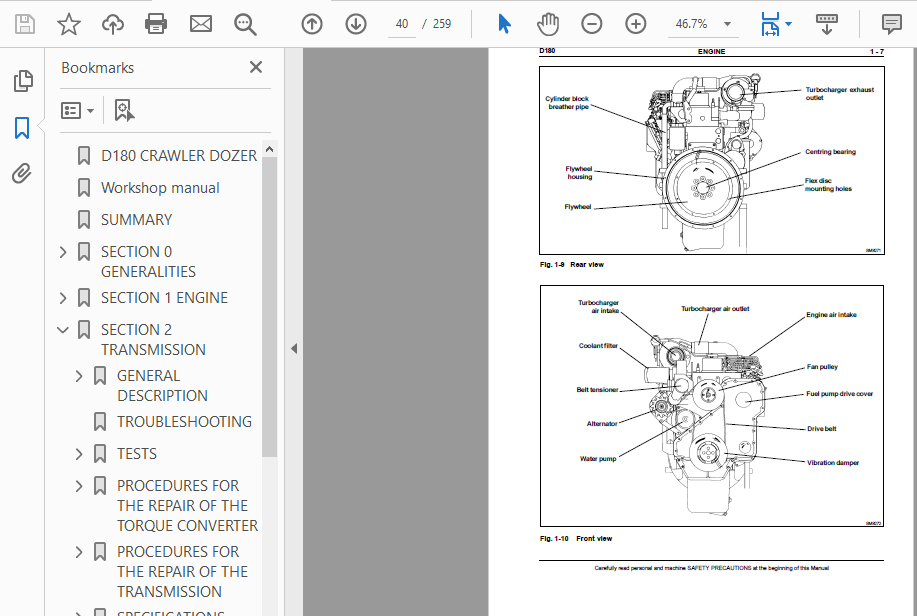 VIDEO PREVIEW:
PLEASE NOTE:
⦁ This is the SAME manual used by the dealers to troubleshoot any faults in your vehicle. This can be yours in 2 minutes after the payment is made.
⦁ Contact us at [email protected] should you have any queries before your purchase or that you need any other service / repair / parts operators manual.