Fiat Allis 260 B 261 B 262 B 263 B TRACTOR SCRAPERS HYDRAULIC SYSTEMS
FILE DETAILS:
Fiat Allis 260 B 261 B 262 B 263 B TRACTOR SCRAPERS HYDRAULIC SYSTEMS
Size : 39.1 MB
Format : PDF
Language : English
Brand: Fiat
Type of machine: Tractor
Type of document: Service Manual
Model: Fiat Allis 260-B,261-B 262-B,263-B tractor scrapers service manual
DESCRIPTION:
Fiat Allis 260 B 261 B 262 B 263 B TRACTOR SCRAPERS HYDRAULIC SYSTEMS
GENERAL INFORMATION:
Study the Operation and Maintenance Instruction Manual before starting, operating, maintaining, fueling, or servicing machine. Read and heed all machine-mounted safety signs before star- ting, operating, maintaining, fueling or servicing machine. Machine-mounted safety signs have been color coded yellow with black border and lettering for WARNING and red with white border and lettering for DANGER points.
Never attempt to operate the machine or its tools from any position other than seated In the operator's seat. Keep head, body, limbs, hands and feet inside operator's compartment at all times to reduce exposure to hazards outside the operator's compartment. Do not allow unauthorized personnel to operate, service or maintain this machine. Always check work area for dangerous features.
The following are examples of dangerous work areas: slopes, overhangs, timber, demolitions, fire, high walls, dropoff, backfills, rough terrain, ditches, ridges, excavations, heavy traffic, crowded parking, crowded maintenance and closed areas. Use extreme care when in areas such as these.
An operator must know the machine's capabilities. When working on slopes or near dropoffs be alert to avoid loose or soft conditions that could cause sudden tipping or loss of con- trol. Do not jump on or off machine. Keep two hands and one foot, or two feet and one hand, in contact with steps, grab rails and handles at all times. Do not use controls or hoses as handholds when climbing on or off machine.
Hoses and controls are movable and do not provide a solid support. Controls also may be inadvertently moved causing accidental machine or equipment movement. Keep operator's compartment, stepping points, grab-rails and handles clear of foreign objects, oil, grease, mud or snow accumulation to minimize the danger of slipping or stumbling. Clean mud or grease from shoes before attempting to mount
Be.careful of slippery conditions on stepping points, hand rails, and on the ground. Wear safety boots or shoes that have a high slip resistant sole material. For your personal protection, do not attempt to climb on or off machine while machine is in motion. Never leave the machine unattended with the engine running. Always lock up machine when leaving it unattended' Return keys to authorized security.
Heed ail shutdown procedures of the Operation and Maintenance Instruction Manual. Always set the parking brake when leaving the machine for any reason. Do not wear rings, wrist watches, jewelry, loose or hanging apparel, such as ties, torn clothing, scarves, unbuttoned, or unzipped jackets that can catch on moving parts.
Wear proper safety equipment as authorized for the Job. Examples: hard hats, safety shoes, heavy gloves, ear .protectors, safety glasses or goggles, reflector vests, or respirators. Consult your employer for specific safety equipment requirements. Do not carry loose objects in pockets that might fall unnoticed into open compartments.
VIDEO PREVIEW OF THE MANUAL:
IMAGES PREVIEW OF THE MANUAL: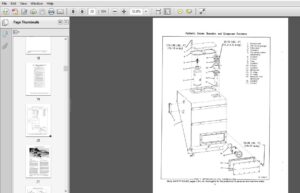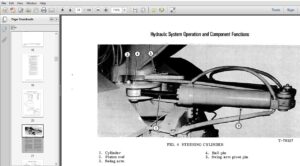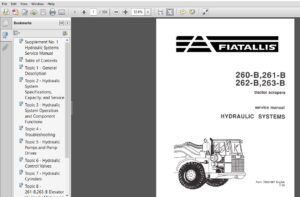 TABLE OF CONTENTS:
Fiat Allis 260 B 261 B 262 B 263 B TRACTOR SCRAPERS HYDRAULIC SYSTEMS
Supplement No 1 Hydraulic Systems Service Manual 5
Table of Contents 12
Topic 1 – General Description 13
Topic 2 – Hydraulic System Specifications, Capacity, and Service 17
Topic 3 – Hydraulic System Operation and Component Functions 19
Topic 4 – Troubleshooting 28
Topic 5 – Hydraulic Pumps and Pump Drives 32
Topic 6 – Hydraulic Control Valves 50
Topic 7 – Hydraulic Cylinders 68
Topic 8 – 261-B,263-B Elevator Hydraulic Motor and Transmission 93
Topic 9 – Torque Values 102
Topic 10 – Service Tools 103
Alphabetical Index 104
 PLEASE NOTE:
⦁ This is the same manual used by the DEALERSHIPS to SERVICE your vehicle.
⦁ The manual can be all yours – Once payment is complete, you will be taken to the download page from where you can download the manual. All in 2-5 minutes time!!
⦁ Need any other service / repair / parts manual, please feel free to contact us at heydownloadss @gmail.com . We may surprise you with a nice offer