Fiat Allis 100C 150C 200C Motor Graders Service Manual
FILE DETAILS:
Fiat Allis 100C 150C 200C Motor Graders Service Manual
Size : 130 MB
Format : PDF
Language : English
Brand: Fiat
Type of machine: Motor Graders
Type of document: Service Manual
Model: Fiat Allis 100-C 150-C 200-C Motor Graders
Number of Pages: 893 pages
Set Form No.: 70697310
DESCRIPTION:
Fiat Allis 100C 150C 200C Motor Graders Service Manual
GENERAL INFORMATION:
Study the Operation and Maintenance Instruction Manual be- fore starting, operating, maintaining, fusing, or servicing machine. Read and heed all machine-mounted safety signs before starting, operating, maintaining, fueling or servicing machine. Machine-mounted safety signs have been color coded yellow with blade border and lettering for WARNING and red with white border and lettering for DANGER points.
Never attempt to operate the machine or its tools from any position other than seated in the operator's seat. Keep head, body, limbs, hands and feet inside operator's compartment at all times to reduce exposure to hazards outside the operator's compartment. Do not allow unauthorized personnel to operate service or maintain this machine. Always check work area for dangerous features. The follow- ing are examples of dangerous work areas: slopes, over hangs, timber, demolitions, fire, high walls, drop off, back (Bis, rough terrain, ditches, ridges, excavations, heavy traffic, crowded parking,
crowded maintenance and dosed areas. Use extreme care when in areas such as these. An operator must know the machine's capabilities. When working on slopes or near drop offs be alert to avoid loose or soft conditions that could cause sudden tipping or loss of control. Do not jump on or off machine. Keep two hands and one foot or two feet and one hand, in contact with steps grab rails and handles at aB times. Do not use controls or hoses as hand holds when dimbing on or off machine.
Hoses and controls are movable and do not provide a solid support Controls also may be inadvertently moved causing acddsrrtal machine or equipment movement Keep operator's compartment stepping points, grab-rails and handles dear of foreign objects, oil, grease, mud or snow accumulation to minimize the dangerof slipping or stumbling. Clean mud or grease from shoes before attempting to mount or operate the machine.
Be careful of slippery conditions on stepping points, hand rails, and on the ground. Wear safety boots or shoes that have a high sGp resistant sole material. For your personal protection. Do not attempt to climb on or off machine while machine is in motion. Never leave the machine unattended with the engine running. Always lock up machine when leaving it unattended. Return keys to authorized security. Heed all shut down procedures of the Operation and Maintenance Instruction Manual Always set the parking brake when leaving the machine for any reason.
Do not wear rings, wrist watches, jewelry, loose or hanging apparel, such as ties, tom clothing, scarves, unbuttoned or unzipped jackets that can catch on moving parts. Wear proper safety equipment es authorized for the job. Examples: hard hats, safety shoes, heavy gloves, ear protectors, safety glasses or goggles, reflector vests, or respirators. Consult your employer for specific safety equipment requirements. Do not carry loose objects in pockets that might fall unnoticed into open compartments. Do not use machine to carry loose objects by means other than attachments for canying such OOJ6CXS.
DO NOT CARRY RIDERSunioia the machine is equipped for carrying people to reduce personal exposure to being thrown off. Do not operate machinery in a condition of extreme fatigue or illness. Be especially careful towards the end of the shift Roll Over Protective Structures are required on wheel load- ers. dozer tractors, track type loaders, graders and scrapers by local or national requirements.
DO NOT operate this machine without a Roll Over Protective Structure. Do not operate a machine without a falling object protective structure (FOPS). Do not operate this machine without a rear canopy screen when machine is equipped with rear mounted towing winch. Seat belts sue required to be provided with rod over protective structures or roll protection cabs by local or national regula- tions. Keep the safety belt fastened around you during opera- tion. Where noise exposure exceeds 90 dBA for 8 hours, wear authorized ear protective equipment per local or national requiremants that apply.
Keep dutches and brakes on machine and attachments such as power control units, winches and master dutches adjusted according to Ope rat ion and Maintenance Instruction Manuals of the manufacturers at all times. DO NOT adjust machine with engine running except as specified.
Do not operate a machine with brakes out of adjustment. See the Operation and Maintenance Instruction Manual. Move carefully when under, in or near machine or imple- ments. Wear required protective equipment, such as hard hat, safety glasses, safety shoes, ear protectors. To move a disabled machine, use a trailer or low boy truck U available.
If towing is necessary, provide warning signals as required by local rules and regulations and follow Operation and Maintenance Instruction Manual recommendations. Load and unload on a level area that gives full support to the trailer wheels. Use ramps of adequate strength, low angle and proper height Keep trailer bed dean of day, oB and all mate- rials that become slippery. Tie machine down securely to truck or trailer bed and block tracks (or wheels) as required by the carrier.
VIDEO PREVIEW OF THE MANUAL:
IMAGES PREVIEW OF THE MANUAL: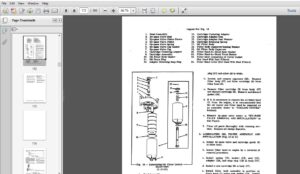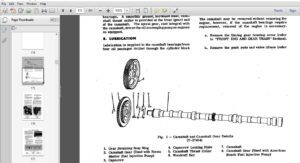 TABLE OF CONTENTS:
Fiat Allis 100C 150C 200C Motor Graders Service Manual
Index 1
70645121-1000, 11000, 11000 MKII, 685T Engines 3
Supplement No 6 Service Manual Form 70645121 10000, 11000, 11000 MKII, 685T Engines 7
Supplement No 5 Service Manual Form 70645121 10000, 11000, 11000 MKII Engines 8
Supplement No 4 Service Manual Form 70645121 10000, 11000, 11000 MKII Engines 9
Supplement No 3 Service Manual Form 0645121-5 (7-66) 10000, 11000 Engines Construction Machinery Division 12
Section 1 – Description and Specifications 23
Section 2 – Cooling System 27
Section 3 – Electrical System 57
Section 4 – Fuel System (With American Bosch Fuel Injection Pump) 63
Section 5 – Fuel System (With Roosa Master Fuel Injection Pump) 85
Section 5A – Fuel System (With Bosch (Germany) Fuel Injection Pump) 103
Section 6 – Air Cleaner and Intake Manifold 115
Section 7 – Exhaust Manifold and Turbocharger 121
Section 8 – Valves, Valve Operating Mechanism, and Cylinder Heads 125
Section 9 – Front End and Gear Train 141
Section 10 – Flywheel and Ring Gear; Flywheel Housing and Crankshaft Rear Oil Seal 149
Section 11 – Lubrication System 155
Section 12 – Camshaft and Camshaft Bearings 175
Section 13 – Pistons, Piston Rings, Connecting Rods, and Connecting Rod Bearings 179
Section 14 – Crankshaft and Crankshaft Gear, Main Bearings, and Main Bearing Caps 187
Section 15 – Cylinder Block and Cylinder Sleeves 199
Section 16 – Engine Removal and Installation 205
Section 17 – Engine Disassembly and Assembly 207
Section 18 – Fits and Tolerances; Bolt, Capscrew, and Nut Torque Wrench Specifications; Stud Gauge Heights 211
Section 19 – Troubleshooting 231
Section 20 – Service Tools 241
70687805-TurboCharger 243
Table of Contents 253
Description and Operation 254
Maintenance 256
Removal and Disassembly 259
Cleaning and Insspection 261
Reassembly and Installation 263
Troubleshooting 265
Service Tools 267
70646138-Engine Clutch, and Clutch Brake 269
Table of Contents 281
Topic 1 – General Description/ Topic 2 – Troubleshooting 282
Topic 3 – Engine Clutch Oiling System 283
Topic 4 – Clutch Brake 284
Topic 5 – Engine Clutch 286
Topic 6 – Engine Clutch, Clutch Brake, and Shifting Lock Mechanism Adjustments 291
Topic 7 – Fits and Tolerances 293
Conversion Tables 295
70693862-100C, 100B, M100, m70 Motor Grader Transmission 297
Table of Contents 305
General Description/ Trouble Shooting 306
Lubricating System 307
Transmission 313
Drive Shaft Universal Joint 338
Fits and Tolerances 340
Service Tools 345
70690696-150C, 200C Mortor Graders Transmission 347
Table of Contents 358
Topic 1 – General Description and Oil Flow Schematics 359
Topic 2 – Lubricant Specifications, Capacity and Service 370
Topic 3 – Trouble-Shooting 371
Topic 4 – Pressure Checking 373
Topic 5 – Flow Checking 381
Topic 6 – Hydraulic System Components 388
Topic 7 – Engine Clutch 411
Topic 8 – Range Transmission 423
Topic 9 – Main Transmission 433
Topic 10 – Drive Shaft Universal Joint 459
Topic 11 – Fits and Tolerances 461
Topic 12 – Service Tools 464
Alphabetical Index 465
70641623-Tandems and Rear Axles 469
Supplement No 1 Service Manual Form 70641623 Tandems and Rear Axle M-100, 100-B, 100-C, 150-C, 200-C Motor Graders 473
Replacement Pages For 641623 (6-67) Service Manual for Tandems, Rear Axle M100 Motor Grader 474
Safety Rules 475
Table of Contents 483
Topic 1 – General Description/ Topic 2 – Trouble Shooting/ Topic 3 – Lubricant Specifications, Capacity and Service 484
Topic 4 – Tandems 485
Topic 5 – Rear Axle 497
Topic 6 – General Inspection 508
Topic 7 – Fits and Tolerances 510
Topic 8 – Service Tools 511
Topic 9 – Conversion Tables 512
70657712-Rear Wheels and Brakes 515
Notice of Change To Service Manual 657712 (10-66) Rear Wheels and Brakes M100 Motor Grader 519
Table of Contents 529
Topic 1 – General Description, Fluid Specifications, and Operation 530
Topic 2 – Trouble Shooting 532
Topic 3 – Adjustments 533
Topic 4 – "Bleed" Brake Lines 535
Topic 5 – Rear Wheels 537
Topic 6 – Brakes 539
Topic 7 – Wheel Cylinders 545
Topic 8 – Master Cylinder 546
Topic 9 – Fits and Tolerances 549
Topic 10 – Service Tools 549
Conversion Tables 551
70693124-Front Wheels, Axle and Wheel Lean 553
Table of Contents 562
Topic 1 – General Information 563
Topic 2 – Trouble-Shooting 564
Topic 3 – Lubricant Specifications and Service 565
Topic 4 – Procedure For Raising Wheels 566
Topic 5 – Steering Control 567
Topic 6 – Front Wheels and Tires 569
Topic 7 – Spindles and Drag Links 574
Topic 8 – Wheel Lean 578
Topic 9 – Front Axle 582
Topic 10 – Fits and Tolerances 585
Topic 11 – Service Tools 586
Alphabetical Index 587
70690857-Power Control Box, Vertical Drive and Power Take off 589
Supplement No 2 – Service Manual Form 70690857 Power Control Box, Vertical Drive & Power Take Off 100-C, 150-C, 200-C, Motor Graders 593
Supplement No 1 – Service Manual Form 70690857 Power Control Box, Vertical Drive & Power Take Off 100-C, 150-C, 200-C, Motor Graders 594
Table of Contents 600
Topic 1 – General Description 601
Topic 2 – Lubrication Specifications 601
Topic 3 – Trouble-Shooting 602
Topic 4 – Power Take-Off 604
Topic 6 – Control Box Assembly With Mechanically Actuated Shifting Fork and Housing Assembly 621
Topic 7 – Fits and Tolerances 625
Topic 8 – Service Tools 626
Alphabetical Index 627
70693744-Moldboard 629
Table of Contents 638
Topic 1 – General Description 639
Topic 2 – Lubricant Specifications and Capacities 642
Topic 3 – Troubleshooting 643
Topic 4 – Moldboard Lift Gear Housing and Links 645
Topic 5 – Side Shift Gear Housing And Links 660
Topic 6 – Circle Turn Gear Housing 674
Topic 7 – Moldboard, Circle, and Drawbar 679
Topic 8 – Bevel Gear Housing Assemblies 684
Topic 9 – Circle Turn and Side Shift Controls 686
Topic 10 – Scarifier 689
Topic 11 – Fits and Tolerances 693
Topic 12 – Service Tools 697
Alphabetical Index 698
73146366-Electrical Systems 701
Safety Rules 702
Table of Contents 709
General Description 710
Troubleshooting 711
Changing Circuit 714
Starting Circuit 722
Ignition Circuit 724
Accessory Ciruits 728
Batteries 730
Electrical System Schematics 735
PLEASE NOTE:
⦁ This is not a physical manual but a digital manual – meaning no physical copy will be couriered to you. The manual can be yours in the next 2 mins as once you make the payment, you will be directed to the download page IMMEDIATELY.
⦁ This is the same manual used by the dealers inorder to diagnose your vehicle of its faults.
⦁ Require some other service manual or have any queries: please WRITE to us at [email protected]