Case Cx470b Hydraulic Excavator Operators Manual
IMAGES PREVIEW: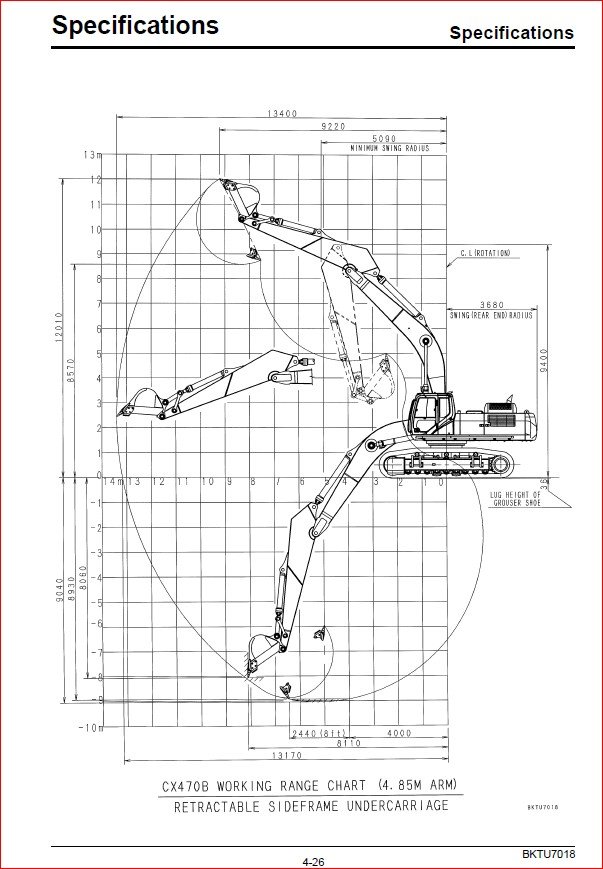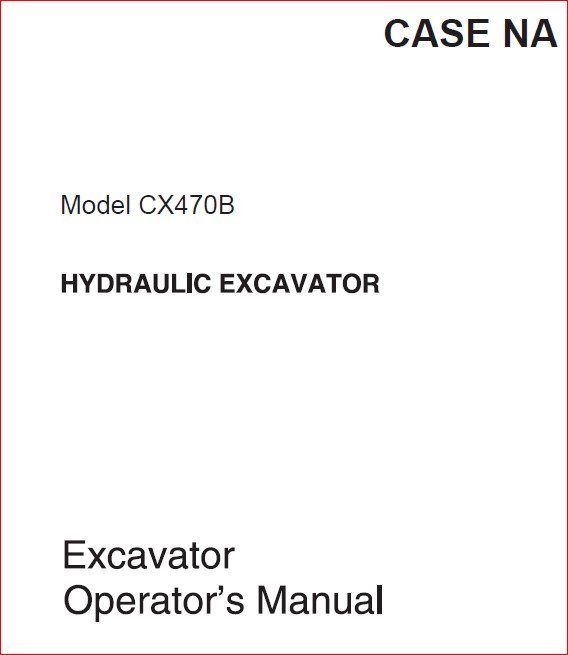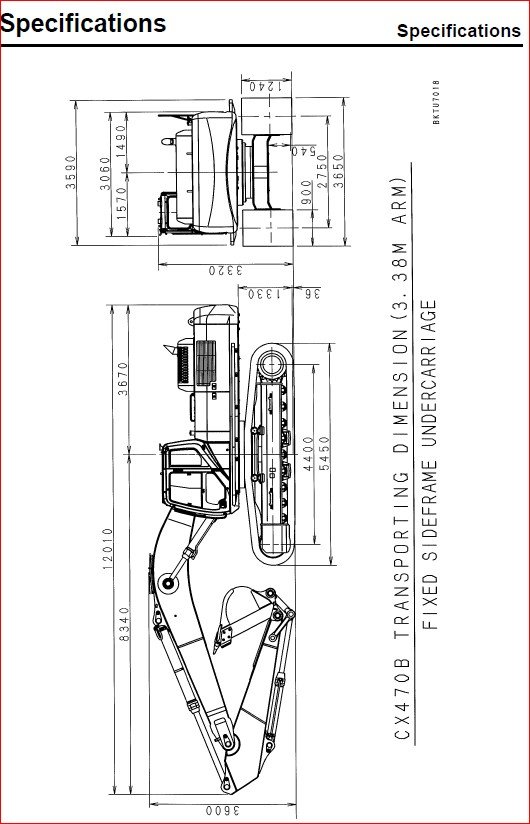 To the Owner:

Your machine has been designed and built to the highest standards of quality. It conforms to all current safety
regulations. See "Official documents". However, the risk of accidents can never be completely excluded. That
is why it is essential to observe elementary safety rules and precautions.
Read this manual carefully, paying particular attention to the instructions concerning safety, operation and
maintenance so as to avoid the risk of injury while operating or servicing the machine.
Use this manual as a guide. Your machine will remain a reliable working tool provided it is kept in good working
condition and serviced properly.
The standard attachments and equipment available for use with this machine are intended for general earthmoving
purposes, material rehandling, boring, ditch cleaning, etc. If the machine is to be used for handling
loads, (concrete pipe sections, shoring material, etc.), make sure the machine is suitably equipped for this type
of work. For this type of application, the machine must be equipped with safety valves, an overload indicator,
a load handling chart corresponding to the type of machine and its attachment and a load fixing point. All legal
requirements must also be strictly observed.
Do not use this machine for any application or purpose other than those described in this manual. If the
machine is to be used for work involving the use of special attachments, accessories or equipment, consult
your CASE Dealer in order to make sure that any adaptations or modifications made are in keeping with the
machine's technical specifications and with prevailing safety requirements.
Any modification or adaptation which is not approved by the manufacturer may invalidate the machine's initial
conformity with safety requirements.
The machine must undergo regular inspections, the frequency of which varies according to the type of use.
Consult your CASE Dealer.
Before permitting a new operator on this machine, make sure:
1. That the operator has received the necessary training on how to operate the machine correctly and safely
in one of our training centers or from an approved organization.
2. That the operator has read and understood the instructions given in this manual.
Always keep this manual in the operator's compartment (in the seat back, behind the operator's seat). Make
sure it is always complete and in good condition. If you wish to obtain additional manuals, or manuals in another
language, consult your CASE Dealer.
Your CASE Dealer is at your disposal for any further information. He will also provide any after-sales service
you may require, and genuine CASE spare parts, your guarantee of quality and match.
VIDEO PREVIEW OF THE MANUAL
TABLE OF CONTENTS:
Table of Contents
To the Owner 0-1
Safety Labels 0-2
For Safe Driving 0-3
Safety Section 0-7
Precaution Identification Plates (DECALS) 0-8
Identification Plates inside the Cabin 0-8
Outside Identification Plate 0-12
Precaution Identification Plates on Parts (Examples)
0-17
Prior to Operation 0-18
Confirmation of Safety items 0-20
During Operation 0-23
While Traveling 0-27
After Operating 0-28
While Transporting 0-29
Before Regular Inspection & Maintenance 0-30
Inspection and Maintenance 0-31
Instruments and Controls 1-0
Location of Components 1-1
Overall View 1-1
Operator's Cab 1-2
Seat and Console 1-3
Right Panel 1-4
Console right side front 1-4
Explanation of device 1-5
Console right side front 1-5
Right Console 1-6
Left Console 1-9
Right Panel 1-12
Control Levers 1-19
Operator's Seat 1-22
Operator's Cab 1-24
Radio 1-29
Air Conditioner 1-31
Fuses 1-38
Battery 1-39
Starting the Engine by Using Booster Cables 1-40
Anti-theft Protection 1-42
Anti-theft Protection 1-42
Using the Anti-theft Protection Function 1-43
Operating Instructions 2-0
Operation of New Machine 2-1
Using a New Machine 2-1
Daily Inspections 2-2
Daily Inspections 2-2
Starting and Stopping the Engine 2-4
Inspections before Starting the Engine 2-4
Starting the Engine 2-5
Inspections after Starting the Engine 2-6
Stopping the Engine (Normal Operation) 2-7
Warm-up Operation 2-8
Warm-up Operation 2-8
Operations (Traveling) 2-10
Operations (Swing) 2-18
Swing Operation 2-18
Operations (Attachment) 2-19
Operations 2-20
Characteristics of Hydraulic Excavator 2-20
Cautions for operations 2-20
Cautions for Interference 2-21
Special Attachments 2-22
Operating Instructions (Cautions) 2-24
Operating Instructions (Procedures) 2-25
Bucket: Turning Over and Replacement 2-27
Bucket: Turning Over and Replacement 2-27
On Completion of Daily Operations 2-29
On Completion of Daily Operations 2-29
Operating in Cold Climates 2-31
Operating under Extreme Conditions 2-32
Transportation 2-33
Loading and Unloading 2-33
Switch settings during loading and unloading 2-33
Transportation 2-33
Disassembling before transporting 2-34
How to Remove the Counterweight 2-35
Storing 2-44
Inspections and Maintenance 3-0
General Cautions 3-1
Periodic Maintenance Check List 3-2
Daily Inspections (Prior to Operation) 3-2
Periodic Maintenance Check List 3-3
Fuel / Lubricants for Different Ambient Temperature
Settings 3-4
Genuine CASE Company LLC Parts and Elements 3-5
Disposable Items 3-6
Grease / Oil and Elements 3-7
Inspection Prior to Operation 3-9
Inspections Prior to Operation 3-9
Greasing Attachments 3-13
Greasing Front Attachment Pins 3-13
Fuel System 3-15
Fuel 3-15
Fuel Refilling and Fuel Level Checking 3-18
Drainage of Water and Sediments in the Fuel Tank
3-18
Draining Water from the Pre Fuel Filter 3-19
Pre Fuel Filter Replacement 3-20
Draining Water from the Fuel Filter (Main) 3-21
Fuel Filter (Main) Replacement 3-22
Bleeding Air from the Fuel System 3-23
Engine 3-24
Engine Oil Replacement 3-24
Engine Oil Filter Replacement 3-24
Cooling System 3-26
Inspecting and Refilling Coolant 3-26
Replacing the Coolant 3-27
Cleaning and Inspecting the Radiator Net and Fin
3-29
Cleaning and Replacing the Air Cleaner (double elements)
3-30
Inspection and Adjustment of Alternator Drive Belt3-32
Bolt Torque 3-33
Bolt and Nut Torque 3-33
0-6-2
Table of Contents
Hydraulic Oil 3-37
Hydraulic Oil Level Inspection 3-37
Refilling Hydraulic Oil 3-37
Draining Water and Sediment from the Hydraulic Oil
Tank 3-38
Hydraulic Oil Management 3-39
Hydraulic Oil Replacement 3-39
Bleeding Air from the Hydraulic Components 3-40
Air Bleeding Procedures 3-40
Air Bleeding from Hydraulic Pump 3-40
Air Bleeding from Cylinder 3-41
Air Bleeding from Swing Motor 3-41
Cleaning and Replacing Suction Filter 3-42
Replacing Return Filter 3-42
Replacing Air Breather Element 3-43
Replacing Pilot Oil Filter Element 3-43
Replacement Intervals for Hydraulic Oil and Filters when
Using Breaker 3-44
Checking Hoses and Lines 3-44
Battery 3-45
Battery Inspection and Charge 3-45
Upper Frame 3-47
Turntable Bearing Greasing 3-47
Greasing Swing Ring Gear 3-47
Swing Unit 3-48
Oil Level Inspection and Refilling of Swing Reduction
Gear 3-48
Oil Replacement for Swing Reduction Gear 3-48
Greasing Swing Reduction Gear 3-49
Travel Unit 3-50
Travel Reduction Gear 3-50
Oil Level Inspection and Refilling of Travel Reduction
Gear 3-50
Oil Replacement for Travel Reduction Gear 3-50
Inspecting Upper/Lower Take-up Roller (Idler Wheel)
3-51
Inspection and Tightening of Shoe Plate 3-51
Cleaning Crawler 3-51
Inspection and Adjustment of Track Shoe Tension
3-52
Bucket 3-53
Replacing Bucket Teeth: Heavy Digging Type 3-53
Adjustment of Bucket Backlash 3-54
Air Conditioner 3-55
Inspection and Care of Air Conditioner
3-55
Routine Replacement Safety Parts 3-59
Troubleshooting 3-60
Contacting Us 3-65
Specifications4-0
Conversion Factors 4-1
CONVERSION FACTORS 4-1
Specifications 4-2
Optional Components5-0
Selector Valve 5-1
Selector valve (2-way) 5-1
Breakers 5-2
Handling the Breaker (Attachment)5-2
When Using a Hydraulic Breaker5-3
Importance of Hydraulic oil Control5-6
Crusher 5-8
Using the Crusher (Attachment) 5-8
Special Attachments 5-11
Controlling Rocker switch 5-13
Position of control pedal5-14
Operating the Special attachment5-15
CTWT 5-15
How to fit counter weight (CTWT)5-15
How to remove counter weight (CTWT)5-18
PLEASE NOTE:
This is the SAME MANUAL used by the dealerships to diagnose your vehicle
No waiting for couriers / posts as this is a PDF manual and you can download it within 2 minutes time once you make the payment.
Your payment is all safe and the delivery of the manual is INSTANT – You will be taken to the DOWNLOAD PAGE