Deutz-Fahr AGROSUN 100 AGROSUN 120 AGROSUN 140 Use & Maintenance Manual – PDF DOWNLOAD
DESCRIPTION:
Deutz-Fahr AGROSUN 100 AGROSUN 120 AGROSUN 140 Use & Maintenance Manual – PDF DOWNLOAD
PREFACE
The manual describes options and equipment levels available throughout
the various markets and therefore some of the items covered may not
apply to your tractor.
Follow the instructions carefully.
Same Service Centres are always at your disposal with advice and
assistance to help you use and maintain your tractor correctly.
No liability can be accepted for any injury or damage resulting from
operations that are perfomed in a manner other than that described in this
publication, or from the improper use of the tractor, or from poor
workmanship in the carrying out of maintenance operations or from failure
to observe the instructions given.
This Manual must always be kept with the tractor. Keep it with care. If in the
future you will sell your tractor, please forward this Manual to the new
tractor owner.
IMPORTANT
1 -DONOT use the tractor before having read and understood this manual
in its entirety. The purchaser and user is in fact responsible for reading this
Use and Maintenance manual and for following the safety precautions and
the instructions for use and maintenance herein.
2 – Make sure that you are familiar with all the safety instructions on the
warning notices represented in this manual and on the tractor. If you do not
understand any of the instructions, contact your authorised dealer to
obtain further clarification.
3 – If this tractor is to be lent or hired out to anyone, it is the owner's
responsibility to ensure that any prospective users have read and fully
understood the Use and Maintenance manual before using the tractor,
and that they have received suitable instruction on the safe and correct
use of the vehicle.
4 – The operator is responsible for the daily inspection of the tractor and its
maintenance. He must make sure that any parts that could render
continued use of the tractor unsafe or cause excessive wear or damage of
other components are repaired or replaced. NEVER attempt to carry out
repairs or adjustments unless qualified to do so.
IMAGES PREVIEW OF THE MANUAL: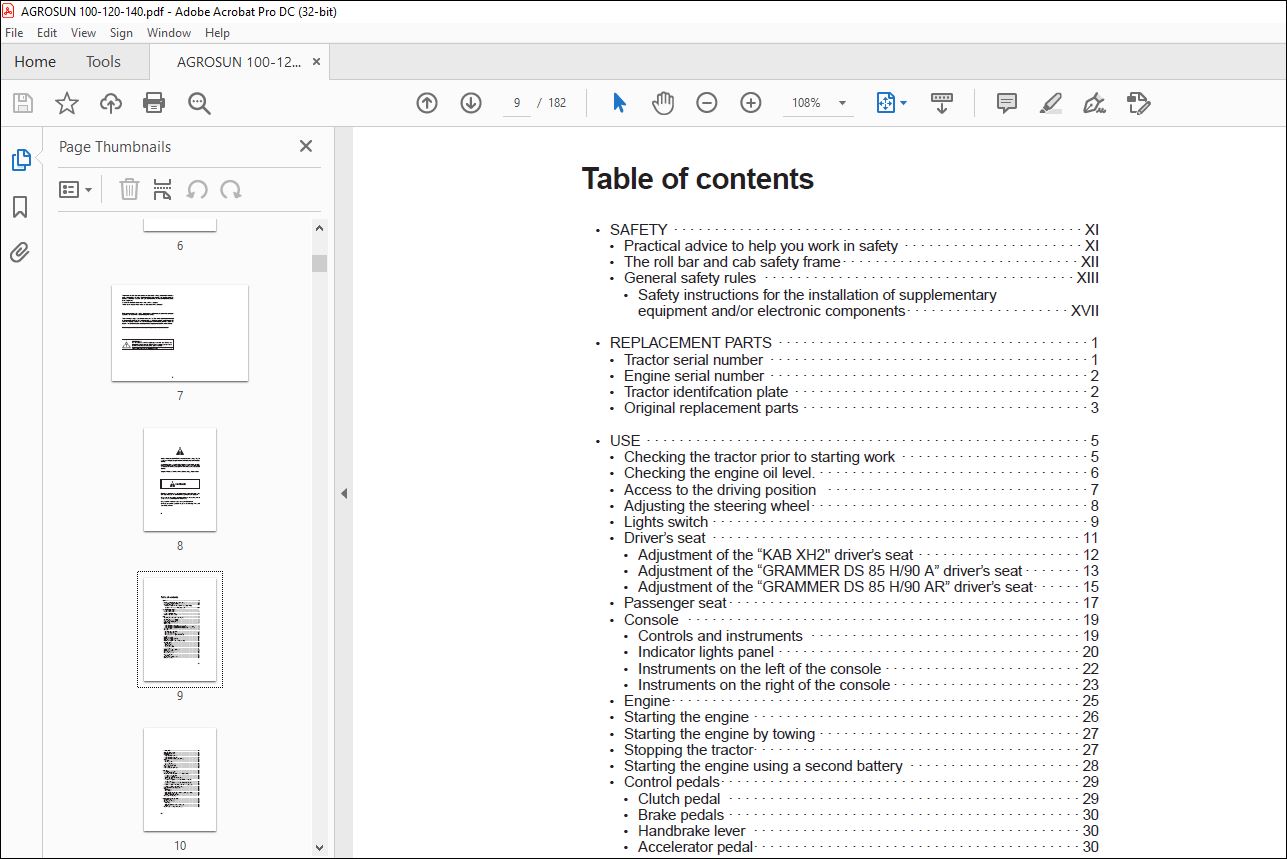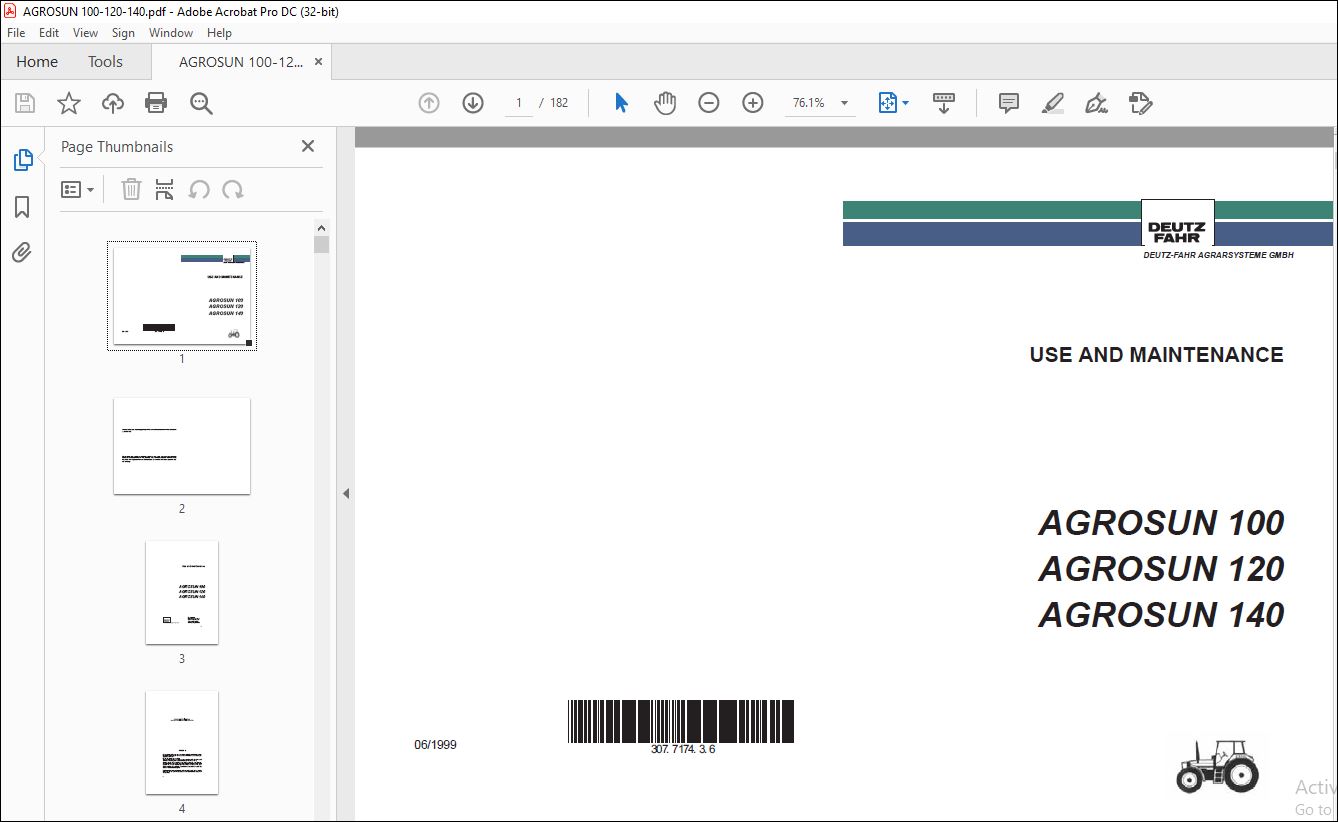 TABLE OF CONTENTS:
Deutz-Fahr AGROSUN 100 AGROSUN 120 AGROSUN 140 Use & Maintenance Manual – PDF DOWNLOAD
• SAFETY · · · · · · · · · · · · · · · · · · · · · · · · · · · · · · · · · · · · · · · · · · · · · · · · · · XI
• Practical advice to help you work in safety · · · · · · · · · · · · · · · · · · · · · · XI
• The roll bar and cab safety frame· · · · · · · · · · · · · · · · · · · · · · · · · · · · · XII
• General safety rules · · · · · · · · · · · · · · · · · · · · · · · · · · · · · · · · · · · · · · XIII
• Safety instructions for the installation of supplementary
equipment and/or electronic components· · · · · · · · · · · · · · · · · · · · XVII
• REPLACEMENT PARTS · · · · · · · · · · · · · · · · · · · · · · · · · · · · · · · · · · · · · · 1
• Tractor serial number · · · · · · · · · · · · · · · · · · · · · · · · · · · · · · · · · · · · · · · 1
• Engine serial number · · · · · · · · · · · · · · · · · · · · · · · · · · · · · · · · · · · · · · · 2
• Tractor identifcation plate · · · · · · · · · · · · · · · · · · · · · · · · · · · · · · · · · · · · 2
• Original replacement parts · · · · · · · · · · · · · · · · · · · · · · · · · · · · · · · · · · · 3
• USE · · · · · · · · · · · · · · · · · · · · · · · · · · · · · · · · · · · · · · · · · · · · · · · · · · · · · · 5
• Checking the tractor prior to starting work · · · · · · · · · · · · · · · · · · · · · · · 5
• Checking the engine oil level. · · · · · · · · · · · · · · · · · · · · · · · · · · · · · · · · · 6
• Access to the driving position · · · · · · · · · · · · · · · · · · · · · · · · · · · · · · · · 7
• Adjusting the steering wheel· · · · · · · · · · · · · · · · · · · · · · · · · · · · · · · · · · 8
• Lights switch · · · · · · · · · · · · · · · · · · · · · · · · · · · · · · · · · · · · · · · · · · · · · · 9
• Driver's seat · · · · · · · · · · · · · · · · · · · · · · · · · · · · · · · · · · · · · · · · · · · · · 11
• Adjustment of the "KAB XH2″ driver's seat · · · · · · · · · · · · · · · · · · · · 12
• Adjustment of the "GRAMMER DS 85 H/90 A" driver's seat · · · · · · · 13
• Adjustment of the "GRAMMER DS 85 H/90 AR" driver's seat· · · · · · 15
• Passenger seat · · · · · · · · · · · · · · · · · · · · · · · · · · · · · · · · · · · · · · · · · · · 17
• Console · · · · · · · · · · · · · · · · · · · · · · · · · · · · · · · · · · · · · · · · · · · · · · · · 19
• Controls and instruments · · · · · · · · · · · · · · · · · · · · · · · · · · · · · · · · · 19
• Indicator lights panel · · · · · · · · · · · · · · · · · · · · · · · · · · · · · · · · · · · · · 20
• Instruments on the left of the console · · · · · · · · · · · · · · · · · · · · · · · · 22
• Instruments on the right of the console · · · · · · · · · · · · · · · · · · · · · · · 23
• Engine· · · · · · · · · · · · · · · · · · · · · · · · · · · · · · · · · · · · · · · · · · · · · · · · · · 25
• Starting the engine · · · · · · · · · · · · · · · · · · · · · · · · · · · · · · · · · · · · · · · · 26
• Starting the engine by towing · · · · · · · · · · · · · · · · · · · · · · · · · · · · · · · · 27
• Stopping the tractor· · · · · · · · · · · · · · · · · · · · · · · · · · · · · · · · · · · · · · · · 27
• Starting the engine using a second battery · · · · · · · · · · · · · · · · · · · · · 28
• Control pedals· · · · · · · · · · · · · · · · · · · · · · · · · · · · · · · · · · · · · · · · · · · · 29
• Clutch pedal · · · · · · · · · · · · · · · · · · · · · · · · · · · · · · · · · · · · · · · · · · · 29
• Brake pedals · · · · · · · · · · · · · · · · · · · · · · · · · · · · · · · · · · · · · · · · · · · 30
• Handbrake lever · · · · · · · · · · · · · · · · · · · · · · · · · · · · · · · · · · · · · · · · 30
• Accelerator pedal· · · · · · · · · · · · · · · · · · · · · · · · · · · · · · · · · · · · · · · · 30
• Transmission· · · · · · · · · · · · · · · · · · · · · · · · · · · · · · · · · · · · · · · · · · · · · 31
• Front and rear differential locks· · · · · · · · · · · · · · · · · · · · · · · · · · · · · · · 34
• Front and rear brakes · · · · · · · · · · · · · · · · · · · · · · · · · · · · · · · · · · · · · · 34
• Four wheel drive · · · · · · · · · · · · · · · · · · · · · · · · · · · · · · · · · · · · · · · · · · 35
• Rear power take-off · · · · · · · · · · · · · · · · · · · · · · · · · · · · · · · · · · · · · · · 36
• Load sensing lift · · · · · · · · · · · · · · · · · · · · · · · · · · · · · · · · · · · · · · · · · · 37
• Controls · · · · · · · · · · · · · · · · · · · · · · · · · · · · · · · · · · · · · · · · · · · · · · · 38
• Auxiliary hydrualic control valve · · · · · · · · · · · · · · · · · · · · · · · · · · · · · · 43
• Class "A" drawbar · · · · · · · · · · · · · · · · · · · · · · · · · · · · · · · · · · · · · · · · · 45
VII
• Towing hitch · · · · · · · · · · · · · · · · · · · · · · · · · · · · · · · · · · · · · · · · · · · · · 46
• Class "C" towing hitch · · · · · · · · · · · · · · · · · · · · · · · · · · · · · · · · · · · · · · 47
• CRAMER towing hitch · · · · · · · · · · · · · · · · · · · · · · · · · · · · · · · · · · · · · 48
• 3-point linkage · · · · · · · · · · · · · · · · · · · · · · · · · · · · · · · · · · · · · · · · · · · 49
• Adjustment of the lift rods · · · · · · · · · · · · · · · · · · · · · · · · · · · · · · · · · 50
• Adjustment of the top link · · · · · · · · · · · · · · · · · · · · · · · · · · · · · · · · · 50
• Adjustment of the telescopic stabilisers · · · · · · · · · · · · · · · · · · · · · · 51
• Cab · · · · · · · · · · · · · · · · · · · · · · · · · · · · · · · · · · · · · · · · · · · · · · · · · · · · 52
• Ventilation · · · · · · · · · · · · · · · · · · · · · · · · · · · · · · · · · · · · · · · · · · · · · 59
• Heating system · · · · · · · · · · · · · · · · · · · · · · · · · · · · · · · · · · · · · · · · · 60
• Air conditioning system · · · · · · · · · · · · · · · · · · · · · · · · · · · · · · · · · · · 62
• Rear hatch· · · · · · · · · · · · · · · · · · · · · · · · · · · · · · · · · · · · · · · · · · · · · 64
• Hazard warning triangle · · · · · · · · · · · · · · · · · · · · · · · · · · · · · · · · · · · · 64
• Wheel chock · · · · · · · · · · · · · · · · · · · · · · · · · · · · · · · · · · · · · · · · · · · · · 65
• Exterior lights for night work · · · · · · · · · · · · · · · · · · · · · · · · · · · · · · · · · 65
• WHEELS · · · · · · · · · · · · · · · · · · · · · · · · · · · · · · · · · · · · · · · · · · · · · · · · · 66
• Tyre inflation pressures · · · · · · · · · · · · · · · · · · · · · · · · · · · · · · · · · · · · · 66
• Tyres for 4WD tractors · · · · · · · · · · · · · · · · · · · · · · · · · · · · · · · · · · · · · 66
• Modification of the track width and tractor ballasting · · · · · · · · · · · · · · 67
• Track width modification· · · · · · · · · · · · · · · · · · · · · · · · · · · · · · · · · · · 68
• Track width adjustment · · · · · · · · · · · · · · · · · · · · · · · · · · · · · · · · · · · 68
• Front track width (for 4WD tractors)· · · · · · · · · · · · · · · · · · · · · · · · · · 69
• Rear track width · · · · · · · · · · · · · · · · · · · · · · · · · · · · · · · · · · · · · · · · 69
• Track width adjustment for wheels with rims welded to
the wheel discs · · · · · · · · · · · · · · · · · · · · · · · · · · · · · · · · · · · · · · · · · 70
• Track width adjustment for wheels with detachable rims · · · · · · · · · · 71
• Tyres · · · · · · · · · · · · · · · · · · · · · · · · · · · · · · · · · · · · · · · · · · · · · · · · · 73
• Track width adjustment for half-shafts with moveable hubs · · · · · · · · · 75
• Track width adjustment for 2WD tractors · · · · · · · · · · · · · · · · · · · · · · · 76
• Adjustment of the steering angle · · · · · · · · · · · · · · · · · · · · · · · · · · · · · 77
• Ballast · · · · · · · · · · · · · · · · · · · · · · · · · · · · · · · · · · · · · · · · · · · · · · · · · 78
• Front ballast· · · · · · · · · · · · · · · · · · · · · · · · · · · · · · · · · · · · · · · · · · · · 78
• Rear ballast · · · · · · · · · · · · · · · · · · · · · · · · · · · · · · · · · · · · · · · · · · · · 79
• Ballasting by filling the tyres with water/antifreeze solution · · · · · · · · 79
• Filling the tyre with water · · · · · · · · · · · · · · · · · · · · · · · · · · · · · · · · · · 80
• Draining water from the tyre · · · · · · · · · · · · · · · · · · · · · · · · · · · · · · · 80
• Hydraulic trailer braking · · · · · · · · · · · · · · · · · · · · · · · · · · · · · · · · · · · · 81
• MAINTENANCE OPERATIONS· · · · · · · · · · · · · · · · · · · · · · · · · · · · · · · · 82
• Lubricants and fluids· · · · · · · · · · · · · · · · · · · · · · · · · · · · · · · · · · · · · · · 83
• Maintenance intervals· · · · · · · · · · · · · · · · · · · · · · · · · · · · · · · · · · · · · · 84
• Fuel storage · · · · · · · · · · · · · · · · · · · · · · · · · · · · · · · · · · · · · · · · · · · · · 85
• Refueling · · · · · · · · · · · · · · · · · · · · · · · · · · · · · · · · · · · · · · · · · · · · · · 85
• Refueling at the end of the working day · · · · · · · · · · · · · · · · · · · · · · 85
• Drain plug · · · · · · · · · · · · · · · · · · · · · · · · · · · · · · · · · · · · · · · · · · · · · 85
• Maintenance and inspection schedule · · · · · · · · · · · · · · · · · · · · · · · · · 86
VIII
• Engine maintenance · · · · · · · · · · · · · · · · · · · · · · · · · · · · · · · · · · · · · · · 88
• Opening the side panels · · · · · · · · · · · · · · · · · · · · · · · · · · · · · · · · · · 88
• Cleaning the front grille · · · · · · · · · · · · · · · · · · · · · · · · · · · · · · · · · · · 89
• Removal of the hood · · · · · · · · · · · · · · · · · · · · · · · · · · · · · · · · · · · · 89
• Cleaning the engine cooling air cowling · · · · · · · · · · · · · · · · · · · · · · 92
• Checking the engine oil level · · · · · · · · · · · · · · · · · · · · · · · · · · · · · · · 93
• Changing the engine oil· · · · · · · · · · · · · · · · · · · · · · · · · · · · · · · · · · · 93
• Changing the engine oil filter (m)· · · · · · · · · · · · · · · · · · · · · · · · · · · · 94
• Fuel filter renewal · · · · · · · · · · · · · · · · · · · · · · · · · · · · · · · · · · · · · · · 95
• Draining water from the fuel pre-filter · · · · · · · · · · · · · · · · · · · · · · · · 95
• Maintenance of the lift pump · · · · · · · · · · · · · · · · · · · · · · · · · · · · · · · 96
• Bleeding air from the fuel system
and the injection pump · · · · · · · · · · · · · · · · · · · · · · · · · · · · · · · · · · · 96
• Fuel · · · · · · · · · · · · · · · · · · · · · · · · · · · · · · · · · · · · · · · · · · · · · · · · · · 97
• Air cleaner maintenance · · · · · · · · · · · · · · · · · · · · · · · · · · · · · · · · · · · 98
• Removal of the main filter element · · · · · · · · · · · · · · · · · · · · · · · · · · 98
• Cleaning the main filter element · · · · · · · · · · · · · · · · · · · · · · · · · · · · 98
• Renewal of the inner filter element · · · · · · · · · · · · · · · · · · · · · · · · · · 99
• Dust unloader valve· · · · · · · · · · · · · · · · · · · · · · · · · · · · · · · · · · · · · · 99
• Engine cooling system · · · · · · · · · · · · · · · · · · · · · · · · · · · · · · · · · · · · 100
• Cleaning the oil cooler· · · · · · · · · · · · · · · · · · · · · · · · · · · · · · · · · · · 100
• Cleaning the cylinder cooling fins (according to operating
conditions) · · · · · · · · · · · · · · · · · · · · · · · · · · · · · · · · · · · · · · · · · · · · 100
• Adjusting the tension of the drive belts · · · · · · · · · · · · · · · · · · · · · · · · 101
• Adjusting the tension of the compressor drive belt · · · · · · · · · · · · · 101
• Adjusting the tension of the compressor and air conditioning
drive belt · · · · · · · · · · · · · · · · · · · · · · · · · · · · · · · · · · · · · · · · · · · · · 101
• Adjusting the tension of the alternator and cooling fan belts · · · · · · 102
• Checking the Bowden control cables · · · · · · · · · · · · · · · · · · · · · · · 102
• Cleaning the oil cooler · · · · · · · · · · · · · · · · · · · · · · · · · · · · · · · · · · · · 103
• Clutch maintenance · · · · · · · · · · · · · · · · · · · · · · · · · · · · · · · · · · · · · · 104
• Bleeding air from the hydraulic system · · · · · · · · · · · · · · · · · · · · · · 104
• Maintenance of the gearbox, differential and rear reduction units · · · 105
• Procedure for oil filter renewal · · · · · · · · · · · · · · · · · · · · · · · · · · · · · 105
• Checking the oil level· · · · · · · · · · · · · · · · · · · · · · · · · · · · · · · · · · · · 106
• Changing the oil · · · · · · · · · · · · · · · · · · · · · · · · · · · · · · · · · · · · · · · 106
• Maintenance of the rear axle · · · · · · · · · · · · · · · · · · · · · · · · · · · · · · · 107
• Greasing · · · · · · · · · · · · · · · · · · · · · · · · · · · · · · · · · · · · · · · · · · · · · 107
• Power take-off · · · · · · · · · · · · · · · · · · · · · · · · · · · · · · · · · · · · · · · · · · · 107
• Maintenance of the hydrostatic power steering · · · · · · · · · · · · · · · · · 108
• Bleeding air from the hydraulic system · · · · · · · · · · · · · · · · · · · · · · 108
• Greasing the steering cylinders · · · · · · · · · · · · · · · · · · · · · · · · · · · 108
• Maintenance of the front wheel drive · · · · · · · · · · · · · · · · · · · · · · · · · 109
• Differential · · · · · · · · · · · · · · · · · · · · · · · · · · · · · · · · · · · · · · · · · · · · 109
• Hub reduction units · · · · · · · · · · · · · · · · · · · · · · · · · · · · · · · · · · · · · 110
• Front axle oscillation bushes · · · · · · · · · · · · · · · · · · · · · · · · · · · · · · 111
• Checking operation of the differential lock controls· · · · · · · · · · · · · · · 112
IX
• Maintenance of the front and rear brakes · · · · · · · · · · · · · · · · · · · · · · 112
• Checking the braking action · · · · · · · · · · · · · · · · · · · · · · · · · · · · · · 112
• Bleeding air from the hydraulic braking system
(workshop operation)· · · · · · · · · · · · · · · · · · · · · · · · · · · · · · · · 191, 112
• Adjusting the handbrake · · · · · · · · · · · · · · · · · · · · · · · · · · · · · · · · · 114
• Maintenance of the 3-point linkage· · · · · · · · · · · · · · · · · · · · · · · · · · · 115
• Rear 3-point linkage · · · · · · · · · · · · · · · · · · · · · · · · · · · · · · · · · · · · 115
• Greasing · · · · · · · · · · · · · · · · · · · · · · · · · · · · · · · · · · · · · · · · · · · · · 115
• Windscreen washer · · · · · · · · · · · · · · · · · · · · · · · · · · · · · · · · · · · · · · 116
• Windscreen wiper · · · · · · · · · · · · · · · · · · · · · · · · · · · · · · · · · · · · · · · · 116
• Maintenance of the heating system · · · · · · · · · · · · · · · · · · · · · · · · · · 117
• Cab air filter · · · · · · · · · · · · · · · · · · · · · · · · · · · · · · · · · · · · · · · · · · · 117
• Maintenance of the air conditioning system · · · · · · · · · · · · · · · · · · · · 119
• Inspecting the radiator-condenser · · · · · · · · · · · · · · · · · · · · · · · · · · 119
• Air conditioning system check · · · · · · · · · · · · · · · · · · · · · · · · · · · · · 120
• Air conditioning system compressor · · · · · · · · · · · · · · · · · · · · · · · · 121
• Air conditioning system service valves · · · · · · · · · · · · · · · · · · · · · · 121
• General cleaning of the tractor · · · · · · · · · · · · · · · · · · · · · · · · · · · · · · 122
• Cleaning with detergents · · · · · · · · · · · · · · · · · · · · · · · · · · · · · · · · 122
• Cleaning with compressed air · · · · · · · · · · · · · · · · · · · · · · · · · · · · · 122
• ELECTRICAL SYSTEM · · · · · · · · · · · · · · · · · · · · · · · · · · · · · · · · · · · · · 123
• Battery · · · · · · · · · · · · · · · · · · · · · · · · · · · · · · · · · · · · · · · · · · · · · · · · 123
• Checking the battery · · · · · · · · · · · · · · · · · · · · · · · · · · · · · · · · · · · · 123
• Fuse box · · · · · · · · · · · · · · · · · · · · · · · · · · · · · · · · · · · · · · · · · · · · · · · 124
• Lights · · · · · · · · · · · · · · · · · · · · · · · · · · · · · · · · · · · · · · · · · · · · · · · · · 128
• Cleaning the headlights and sidelights · · · · · · · · · · · · · · · · · · · · · · 128
• Bulb replacement · · · · · · · · · · · · · · · · · · · · · · · · · · · · · · · · · · · · · · 128
• Headlight alignment · · · · · · · · · · · · · · · · · · · · · · · · · · · · · · · · · · · · · · 132
• Horizontal adjustment · · · · · · · · · · · · · · · · · · · · · · · · · · · · · · · · · · · 133
• Vertical adjustment · · · · · · · · · · · · · · · · · · · · · · · · · · · · · · · · · · · · · 133
• STORAGE OF THE TRACTOR · · · · · · · · · · · · · · · · · · · · · · · · · · · · · · · 135
• Operations prior to garaging the tractor for a long period · · · · · · · · · · 135
• Preparing the tractor for use after a long period of storage · · · · · · · · 136
• TECHNICAL SPECIFICATIONS · · · · · · · · · · · · · · · · · · · · · · · · · · · · · · 137
• Engine· · · · · · · · · · · · · · · · · · · · · · · · · · · · · · · · · · · · · · · · · · · · · · · · · 137
• Trasmission · · · · · · · · · · · · · · · · · · · · · · · · · · · · · · · · · · · · · · · · · · · · · 137
• Rear PTO · · · · · · · · · · · · · · · · · · · · · · · · · · · · · · · · · · · · · · · · · · · · · · 138
• Brakes· · · · · · · · · · · · · · · · · · · · · · · · · · · · · · · · · · · · · · · · · · · · · · · · · 139
• Steering · · · · · · · · · · · · · · · · · · · · · · · · · · · · · · · · · · · · · · · · · · · · · · · 139
• Rear hydraulic lift · · · · · · · · · · · · · · · · · · · · · · · · · · · · · · · · · · · · · · · · 139
• Cab and electrical system· · · · · · · · · · · · · · · · · · · · · · · · · · · · · · · · · · 139
• Dimensions and weights · · · · · · · · · · · · · · · · · · · · · · · · · · · · · · · · · · · 140
• Speed tables · · · · · · · · · · · · · · · · · · · · · · · · · · · · · · · · · · · · · · · · · · · · 141
• Attachment of implements to the tractor · · · · · · · · · · · · · · · · · · · · · · · 143
X
• FAULT DIAGNOSIS · · · · · · · · · · · · · · · · · · · · · · · · · · · · · · · · · · · · · · · · 144
• Engine· · · · · · · · · · · · · · · · · · · · · · · · · · · · · · · · · · · · · · · · · · · · · · · · · 144
• Transmission· · · · · · · · · · · · · · · · · · · · · · · · · · · · · · · · · · · · · · · · · · · · 146
• Rear power take-off · · · · · · · · · · · · · · · · · · · · · · · · · · · · · · · · · · · · · · 147
• Front wheel drive · · · · · · · · · · · · · · · · · · · · · · · · · · · · · · · · · · · · · · · · 147
• Brakes· · · · · · · · · · · · · · · · · · · · · · · · · · · · · · · · · · · · · · · · · · · · · · · · · 148
• Hydraulic lift · · · · · · · · · · · · · · · · · · · · · · · · · · · · · · · · · · · · · · · · · · · · 148
• Auxiliary hydraulic systems · · · · · · · · · · · · · · · · · · · · · · · · · · · · · · · · · · 149
PLEASE NOTE:
This is the same manual used by the DEALERSHIPS to SERVICE your vehicle.
The manual can be all yours – Once payment is complete, you will be taken to the download page from where you can download the manual. All in 2-5 minutes time!!
Need any other service / repair / parts manual, please feel free to contact us at heydownloadss @gmail.com . We may surprise you with a nice offer
S.V