Deutz-Fahr Agrokid 30 40 50 Use & Maintenance Manual – PDF DOWNLOAD
DESCRIPTION:
Deutz-Fahr Agrokid 30 40 50 Use & Maintenance Manual – PDF DOWNLOAD
IMPORTANT
1 – DO NOT use the tractor before having read and understood this
manual in its entirety. The purchaser and user is in fact responsible for
reading this Use and Maintenance manual and for following the safety
precautions and the instructions for use and maintenance herein.
2 – Make sure that you are familiar with all the safety instructions on the
warning notices represented in this manual and on the tractor. If you do not
understand any of the instructions, contact your authorised dealer to
obtasin further clarification.
3 – If this tractor is to be lent or hired out to anyone, it is the owner's
responsibility to ensure that any prospective users have read and fully
understood the Use and Maintenance manual before using the tractor,
and that they have received suitable instruction on the safe and correct
use of the vehicle.
4 – The operator is responsible for the daily inspection of the tractor and its
maintenance. He must make sure that any parts that could render
continued use of the tractor unsafe or cause excessive wear or damage of
other components are repaired or replaced. NEVER attempt to carry out
repairs or adjustments unless qualified to do so.
5 – When new parts are required, it is important that only genuine parts are
used.
Extensive damage may occur as a result of the fitment of parts of inferior
quality. Customer are advised that warranty expires immediately if not
genuine parts are used.
IMAGES PREVIEW OF THE MANUAL: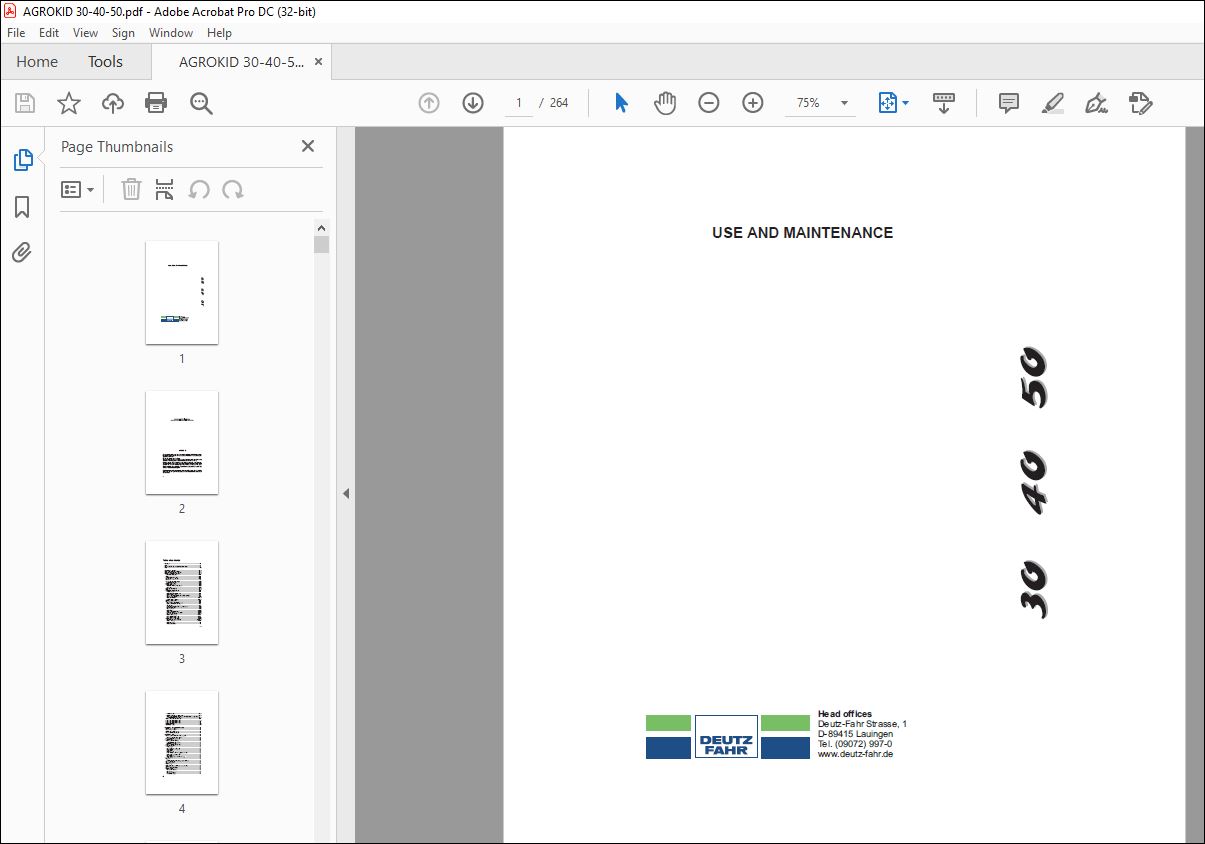 TABLE OF CONTENTS:
Deutz-Fahr Agrokid 30 40 50 Use & Maintenance Manual – PDF DOWNLOAD
• Important IX
• Note X
• To the owner of the new DEUTZ-FAHR tractor X
• CE XI
• SECTION 1 – SAFETY XIII
• Safety Alert Symbol and Terms XIII
• Why is SAFETY important to you? XIII
• Tractor and Implement Safety XIII
• Introduction to Safety XIV
• Safety XIV
• AWord to the Operator XIV
• Danger, Warning, Caution XIV
• Decals XV
• Follow a Safety Programme XVI
• For Safe Operation XVI
• General safety rules XVI
• Protective Structures XXII
• Roll Over Protective Structures XXII
• Operation XXII
• Damage to the ROPS XXIII
• Cab XXIII
• Prepare for Safe Operation XXIV
• Protect Yourself XXIV
• Risks from exposure to noise XXIV
• Know Your Equipment XXV
• Use all Available Protective and Safety Devices XXV
• Check the Equipment XXVI
• Clean the Tractor XXVIII
• Protect the Environment XXVIII
• Servicing the Tractor XXIX
• Starting XXIX
• Warn Personnel before Starting XXIX
• Mount and Dismount Safely XXX
• Start Safely XXX
• Follow Recommended Starting Procedures XXXI
• Test the Controls XXXI
• Starting Fluid XXXI
• Work Safely XXXII
• Making the Right Moves XXXII
• Follow Safe Operating Practices XXXII
• Watch out for Others XXXIII
• Risk of Overturning XXXV
• To Avoid Side Overturns XXXV
• To Avoid Rear Overturns XXXVI
• General Operating Hazards XXXVII
• Implements and Attachments XXXVIII
• Safety – Towing XXXIX
• Road Transport XL
• Rules of the Road XL
III
• After Operation XLII
• Welding work on the tractor body XLII
• Safety instructions for the installation of supplementary equipment
and/or electronic components XLIII
• Safety and operational decals XLIV
• International symbols (Part 1) LIII
• International symbols (Part 2) LIV
• International symbols (Part 3) LV
• Metric conversion LVI
• Conversion tables LVII
• SECTION 2 – REPLACEMENT PARTS 1
• Tractor serial number 1
• Engine serial number 2
• Tractor identification plate 2
• Original replacement parts 3
• SECTION 3 – USE 5
• Checking the tractor prior to starting work 5
• Checking the engine oil level 7
• Access to the driving position 8
• Lights' switch 9
• Adjusting the driver's seat 10
• " BOSTROM XL2" type seat 10
• KAB XH2 type seat 11
• Adjusting the rearview mirrors 13
• Instrument panel 14
• Fuel gauge 15
• Engine temperature gauge 15
• Tachometer 16
• Pilot lights' 17
• Spia di allarme 19
• Front differential lock engagement control 19
• Emergency flashers control 19
• Hand throttle 19
• Controls located in the cab roof lining 20
• Ignition switch 21
• Engine 22
• Precautions for optimum engine performance 22
• Starting the engine 24
• Engine shut down 25
• Cold starting 26
• Emergency starting through auxiliary battery 27
• Turbocharging 28
• Manual emergency stop 29
• Control pedals 30
• Clutch control pedal 30
• Brake pedal 31
• Handbrake lever 32
• Accelerator pedal 32
IV
• Gearbox and P T O clutch 33
• Controls located to the right of the driver 34
• Gearbox controls 35
• Transmission speed selection 36
• Rear and front differential lock 37
• Front-wheel drive 38
• Power take-off 39
• Power take offs rear and underside 40
• Rear pto 540/1000 rpm selector 41
• Synchronized power take-off 42
• Underside P T O for control of implements mounted underside 43
• Rear brakes 43
• Load sensing – mechanical lift 44
• Controls 46
• Positions of the power-lift levers under the different working
conditions 47
• Hydraulic system 50
• Auxiliary hydraulic services control valve 53
• Nomenclature 54
• Types of auxiliary hydraulic service control valve 55
• The controls 56
• Example connection and operation of a double-acting cylinder 58
• Connection of an implement to the auxiliary hydraulic service
couplers 59
• Converting a control valve from double-acting to single-acting 62
• Example of connection to a single-acting cylinder 63
• Class "A" drawbar (optional) 64
• Towing hitch 65
• Class "C" towing hitch 66
• Cramer towing hitch 68
• Three-point linkage 70
• Adjustment of the telescopic stabilisers 71
• Adjustment of the top link 71
• Adjustable vertical link 72
• Mid mount implements with lifting arms 73
• Bodywork 74
• Cab 77
• Heating system 80
• Active carbon air filter 83
• SECTION 4 – WHEELS 85
• Track adjustment 85
• Tyre inflation pressures 86
• Row crop tires 87
• Running direction of tires 88
• Adjusting steering stops 88
• Adjustable track wheels 89
• Permissible tyre combinations 90
• Track width adjustment for wheels with adjustable rims 91
• Front wheels 91
V
• Rear wheels 92
• Track width adjustment for wheels with fixed rims 96
• Rear ballast 97
• Ballasting by filling the tyres with water + antifreeze solution 97
• Filling the tyre with water 98
• Draining water from the tyre 98
• SECTION 5 – MAINTENANCE OPERATIONS 101
• Lubricants and fluids 103
• Maintenance intervals 104
• Maintenance and inspection schedule 106
• Refueling at the end of the day 110
• Engine maintenance 111
• Raising the engine hood 112
• Cleaning the front grille 112
• Checking the engine oil level 113
• Changing the engine oil 113
• Changing the engine oil filters 115
• Cleaning and replacement of the fuel filter 115
• Bleeding air from the fuel system 115
• Electro-magnetic fuel pump 119
• Filter periodic maintenance 120
• Filter replacement 120
• Filter inspection and cleaning 120
• Fuel 121
• Air filter 122
• Cleaning the air filter 123
• Engine cooling system 125
• Checking the level of coolant in the expansion tank 125
• AKROS FREEZE liquid coolant 125
• Changing the coolant/antifreeze mixture and flushing the cooling
system 126
• Thermostat 126
• Cleaning the oil cooler 127
• Adjusting belt tension 128
• Gearbox clutch 129
• Rear and underside P T O clutch 129
• Maintenance of the gearbox, differential and rear reduction units 130
• Checking the transmission oil level 132
• Changing the oil 133
• Maintenance of the hydrostatic power steering 134
• Bleeding air from the hydraulic system 134
• Checking operation of the differential lock controls 135
• Maintenance of the front and rear brakes 136
• Checking the braking action 136
• Front differential lock (if installed) 136
• Maintenance of the front driving axle 137
• Front axle and final reduction gear hubs (4WD) 137
• Front axle bushes 137
• Hydraulic power-lift 139
VI
• Maintenance of the 3-point linkage 139
• Rear 3-point linkage 139
• Windscreen washer 141
• Windscreen and rear screen wipers 141
• Maintenance of the climate control system 142
• General cleaning of the tractor 143
• Cleaning with detergents 144
• Cleaning with compressed air 144
• SECTION 6 – ELECTRICAL SYSTEM 145
• Battery 145
• Checking the battery 145
• Fuse box 147
• List of electrical system components 150
• Lights 158
• Cleaning the headlights and sidelights 158
• Bulb replacement 158
• Headlight alignment 163
• Horizontal adjustment 164
• Vertical adjustment 164
• SECTION 7 – STORAGE OF THE TRACTOR 165
• Operations prior to garaging the tractor for a long period 165
• Preparing the tractor for use after a long period of storage 166
• SECTION 8 – TECHNICAL SPECIFICATIONS 167
• Engine 167
• Clutch 168
• Power take-off 168
• Gearbox 170
• Front driving axle 174
• Hydrostatic steering system 174
• Dimensions and weights 177
• Unladen weight of tractor (without ballast) 178
• Unladen weight of tractor (with ballast) 178
• Maximum permissible loads 179
• Maximum trailerable loads 179
• Ballast weights 179
• Attachment of implements to the tractor 180
• SECTION 9 – FAULT DIAGNOSIS 185
• Engine 185
• Gearbox 187
• Rear power take-off 188
• Front driving axle 188
• Brakes 188
• Hydraulic lift 188
• Auxiliary hydraulic systems 189
VII
• APPENDIX A
• IMPORTANT! ADDITIONAL INFORMATION
Combination of tractor and mounted implement A
• Combination of tractor and mounted implement B
• Determination of the total weight, the axle loads, the tyre load carrying
capacity and the necessary minimum ballasting B
• Consideration of rear mounted implement and front/rear
combinations C
• Front mounted implement C
• NOTES F
PLEASE NOTE:
This is the same manual used by the DEALERSHIPS to SERVICE your vehicle.
The manual can be all yours – Once payment is complete, you will be taken to the download page from where you can download the manual. All in 2-5 minutes time!!
Need any other service / repair / parts manual, please feel free to contact us at heydownloadss @gmail.com . We may surprise you with a nice offer
S.V