Deutz-Fahr AGROCOMPACT F60 70F3 70F4 F80 F90 Operating & Maintenance Manual – PDF DOWNLOAD
DESCRIPTION:
Deutz-Fahr AGROCOMPACT F60 70F3 70F4 F80 F90 Operating & Maintenance Manual – PDF DOWNLOAD
IMPORTANT RULES
To correctly set the tractor at work, it is necessary to strictly follow the
instructions given in this "OPERATING AND MAINTENANCE" handbook.
These instructions should be followed for your own safety as well as
for the environmental aspect. In fact, inexperience in the use of the
tractor may cause severe accidents, besides giving rise to bothersome
noise and being damaging to the surroundings.
After starting the engine in particularly cold weather conditions, it is
necessary to let it run at about half its speed for a few minutes to allow
it to warm up correctly before being submitted to heavy work.
During the first 100 hours' work, the tractor should be used by fully
observing the instructions given in the "running-in" rules of this book.
Should it be necessary to immediately operate the hydraulic power-lift
after starting the engine, it is recommended to first bring the latter
to about half its speed.
Before starting the engine, always verify that there is no one within
the tractor's operating range or that of any mounted implement.
Should it be necessary to tow the tractor, even for a short distance,
start the engine to ensure the operation of the gearbox lubrication
pump. (If the tractor cannot be started, it is suggested to have the
tractor transported on another vehicle).
Never leave the tractor unattended while the engine is running
inproximity to haylofts or other flammable materials.
No passenger should be carried on tractor unless a proper "passenger
seat" is provided.
Mounted or towed implements should be hitched to the proper
hitchpoints only.
Attention and respect of the safety rules help prevent many accidents.
The law prescribes that the tractor always be equipped with either an
approved safety frame or cab.
After performing P.T.O. work and before disengaging the clutch, let
the engine idle to prevent harmful P.T.O. brake overheating due to
shaft drag through implement inertia.
IMAGES PREVIEW OF THE MANUAL: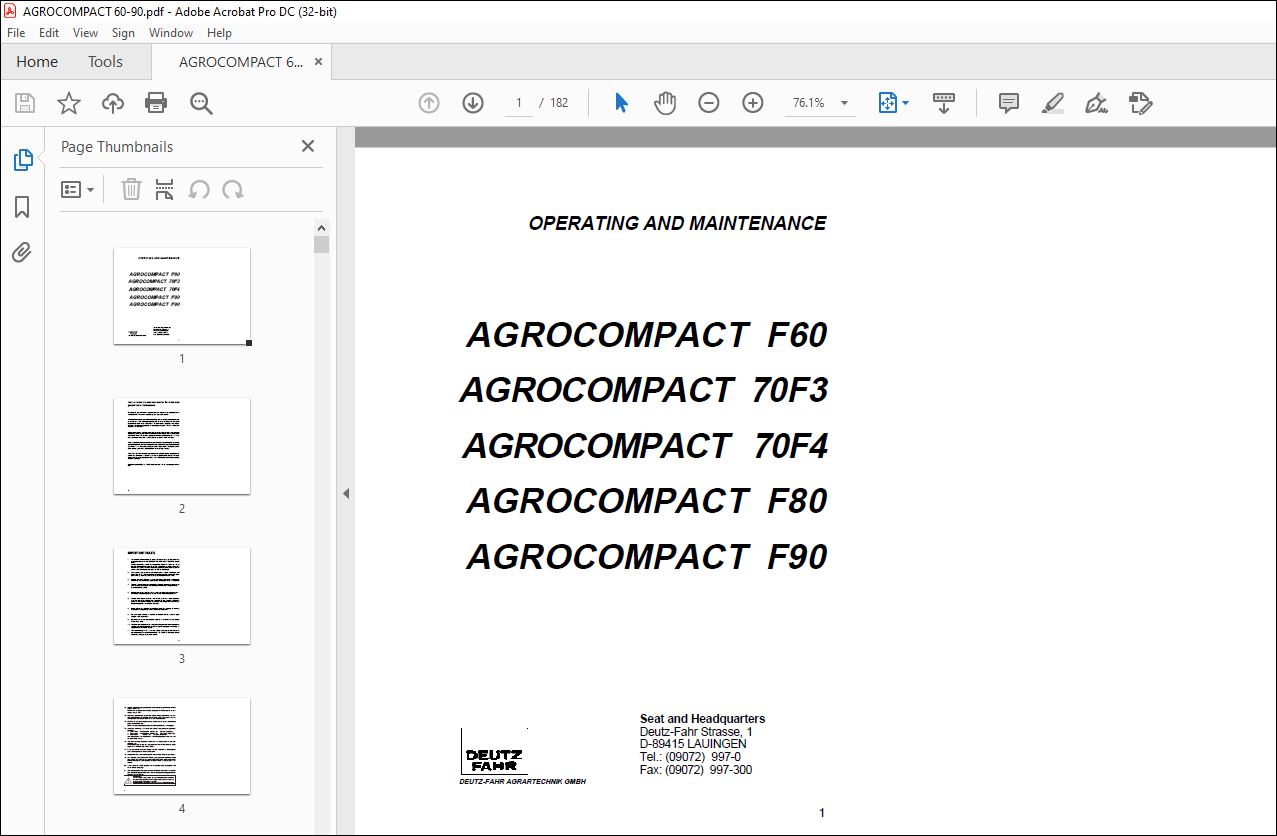 TABLE OF CONTENTS:
Deutz-Fahr AGROCOMPACT F60 70F3 70F4 F80 F90 Operating & Maintenance Manual – PDF DOWNLOAD
Important rules…………………………………………………………………..3
Accident prevention……………………………………………………………5
Spare parts orders……………………………………………………………10
Authorized assistance ………………………………………………………11
Warranty rules …………………………………………………………………11
Prescribed lubricants and fuels ………………………………………….12
Operating instructions……………………………………………… 13
Checking the tractor before starting a new work day…………….13
Fuel tank …………………………………………………………………………14
Driver's seat ……………………………………………………………………15
Engine…………………………………………………………………………….37
Clutch……………………………………………………………………………..41
Gearbox………………………………………………………………………….42
Rear and front differential lock …………………………………………..48
Front-wheel drive……………………………………………………………..48
Front and rear brakes……………………………………………………….49
Rear power take-off ………………………………………………………….51
Syncro P.T.O. …………………………………………………………………52
"Economical P.T.O. 750 r.p.m."………………………………………….53
Front power take-off (1000 r.p.m.)………………………………………54
Mechanical lift………………………………………………………………….55
Electronic lift ……………………………………………………………………60
Hydraulic system……………………………………………………………..67
Auxiliary hydraulic distributor……………………………………………..68
3-point hitch …………………………………………………………………….72
3 point hitch right tie rod and stabilizers with
hydraulic adjustment (Optional) ………………………………………….74
Towing hook ……………………………………………………………………78
Front ballast ……………………………………………………………………80
Front hydraulic power-lift …………………………………………………..81
Cab ………………………………………………………………………………..84
Ventilation……………………………………………………………………….89
Heating system………………………………………………………………..91
Air conditioning system …………………………………………………….93
Maintenance instructions…………………………………………. 96
Engine…………………………………………………………………………….96
Air filter……………………………………………………………………………98
Cooling system………………………………………………………………102
Lubrication system………………………………………………………….106
Injection system……………………………………………………………..109
Electrical equipment ……………………………………………………….110
Clutch……………………………………………………………………………115
Gearbox, differential and rear reducers …………………………….116
Hydrostatic steering………………………………………………………..119
2 W.D. front axle…………………………………………………………….120
Front-wheel drive……………………………………………………………122
Differential lock ………………………………………………………………123
Front and rear brakes……………………………………………………..123
Front power take-off ……………………………………………………….124
Trailer hydraulic braking ………………………………………………….126
Hydraulic power-lift …………………………………………………………127
Cab ………………………………………………………………………………128
Wheels………………………………………………………………………….132
Lubrication points …………………………………………………………..133
Maintenance operations schedule ……………………………………135
Technical data ………………………………………………………. 137
Ground speeds ………………………………………………………………145
Tyres inflating pressures …………………………………………………155
Wheel tread adjustments…………………………………………………156
Dimensions and weights …………………………………………………161
Electrical system…………………………………………………………….163
Mounting implements onto the tractor……………………………….169
PLEASE NOTE:
This is the same manual used by the DEALERSHIPS to SERVICE your vehicle.
The manual can be all yours – Once payment is complete, you will be taken to the download page from where you can download the manual. All in 2-5 minutes time!!
Need any other service / repair / parts manual, please feel free to contact us at heydownloadss @gmail.com . We may surprise you with a nice offer
S.V