Daewoo Doosan WHEEL LOADER DL550-3 SHOP MANUAL 950106-00434E – PDF DOWNLOAD
DESCRIPTION:
Daewoo doosan WHEEL LOADER DL550-3 SHOP MANUAL 950106-00434E – PDF DOWNLOAD
GENERAL
Safe Operation is Operator's Responsibility Only trained and authorized personnel should operate and maintain the machine. Follow all safety rules, regulations and instructions when operating or performing maintenance on machine.
• Do not operate machine if you are under the influence of drugs or alcohol. An operator who is taking prescription drugs must get medical advice to determine if he or she can safely operate the machine.
• When working with other personnel on a work site, be sure that all personnel know the nature of work and understand all hand signals that are to be used.
• Be sure that all guards and shields are installed in their proper location. Have guards and shields repaired or replaced immediately if damaged.
• Be sure that you understand the use and maintenance of all safety features such as pilot cutoff switch and seat belt. Use them always.
• Never remove, modify or disable any safety features. Always keep them in good operating condition.
• Always check for and know the location of underground and overhead utility lines before working.
• Failure to use and maintain safety features according to instructions in this manual, Safety Manual and Shop Manual can result in death or serious injury
Know Your Machine
Know how to operate your machine. Know the purpose of all controls, gauges, signals, indicators and monitor displays. Know the rated load capacity, speed range, braking and steering characteristics, turning radius and operating clearances. Keep in mind that rain, snow, ice, loose gravel, soft ground, slopes, etc., can change operating capabilities of your machine.
Proper Work Tools and Attachments
Only use work tools and attachments that are recommended by DOOSAN for use on DOOSAN machines. When installing and using optional attachments, read instruction manual for attachment, and general information related to attachments in this manual. Because DOOSAN cannot anticipate, identify or test all attachments that owners may want to install on their machines, contact DOOSAN for written authorization and approval of attachments, and their compatibility with optional kits.
Attachments and attachment control systems that are compatible with the machine are required for safe and reliable machine operation. Do not exceed maximum operating weight (machine weight plus attachment) that is listed on ROPS certification plate.
Make sure that all guards and shields are in place on machine and on work tool. Depending on type or combination of work equipment, there is a potential that work equipment could interfere with the cabin or other parts of machine. Before using unfamiliar work equipment, check if there is any potential for interference, and operate with caution.
While you are performing any maintenance, testing, or adjustments to attachments, stay clear of the following areas: cutting edges, pinch points, and crushing surfaces. Never use attachment as a work platform or manlift. Contact your DOOSAN distributor about auxiliary hydraulic kits for attachments installation. If you are in doubt about the compatibility of a particular attachment with the machine, consult your DOOSAN distributor.
Pressurized Fluids
Pressurized air or fluids can cause debris and/or fluids to be blown out. This could result in death or serious injury. Immediately after operation is stopped, coolant, engine oil, and hydraulic oil are at their highest temperatures and the radiator and hydraulic tank are still under pressure. Always wait for temperature to cool down. Follow specified procedures when attempting to remove caps, drain oil or coolant, or replacing filters.
Always wait for temperature to cool down, and follow specified procedures when performing these operations. Failure to do so can result in death or serious injury. When pressurized air and/or pressurized water is used for cleaning, wear protective clothing, protective shoes, and eye protection. Eye protection includes goggles or a protective face shield.
Pressure can be trapped in a hydraulic system and must be relieved before maintenance is started. Releasing trapped pressure can cause sudden machine movement or attachment movement. Use caution if you disconnect hydraulic lines or fittings. High-pressure oil that is released can cause a hose to whip or oil to spray. Fluid penetration can result in death or serious injury.
If fluid enters skin or eyes, get immediate medical attention from a physician familiar with this injury. Obey all local laws and regulations for disposal of liquids. To prevent hot coolant from spraying out, stop engine and wait for coolant to cool. Using gloves, slowly loosen cap to relieve pressure.
TABLE OF CONTENTS:
Daewoo doosan WHEEL LOADER DL550-3 SHOP MANUAL 950106-00434E – PDF DOWNLOAD
Safety
Wheel Loader Safety …………………………………………………………………. SP002397
Specifications
Specification for DL550-3 …………………………………………………………… SP002593
General Maintenance
General Maintenance Instructions……………………………………………….. SP002454
Standard Torques……………………………………………………………………… SP002404
Engine
Engine……………………………………………………………………………………… SP002399
Engine Coolant Heater (Option) ………………………………………………….. SP002328
Drivetrain
Transmission and Torque Converter (ZF 4WG-310) ………………………. SP000786
Transmission and Torque Converter (ZF 5WG) …………………………….. SP002401
Axle ZF – Multitrac (MT – L 3115 II / 3125 II)………………………………….. SP002657
Transmission Error Codes (ZF) …………………………………………………… SP002423
Driveshaft…………………………………………………………………………………. SP002424
Brake
Parking Brake …………………………………………………………………………… SP002429
Charging Block …………………………………………………………………………. SP002428
Supply Valve…………………………………………………………………………….. SP002427
Service Brake …………………………………………………………………………… SP002426
Brake Pedal Valve …………………………………………………………………….. SP002430Steering
Power Steering System ……………………………………………………………… SP002465
Steering Unit …………………………………………………………………………….. SP002425
Steering Pump………………………………………………………………………….. SP002480
Flow Amplifier …………………………………………………………………………… SP002434
Jerk Softener and Accumulator …………………………………………………… SP002658
Emergency Steering ………………………………………………………………….. SP002436
Frame
Articulation Center …………………………………………………………………….. SP002542
Counterweight…………………………………………………………………………… SP002437
Tank
Oil Tank …………………………………………………………………………………… SP002725
Fuel Tank…………………………………………………………………………………. SP002439
Hydraulics
Main Pump……………………………………………………………………………….. SP002486
Main Control Valve ……………………………………………………………………. SP002441
3rd Control Valve (Option)………………………………………………………….. SP002442
Load Isolation System ……………………………………………………………….. SP002443
Cooling System…………………………………………………………………………. SP002444
Pilot System……………………………………………………………………………… SP002445
Hydraulic Schematic (DL550-3)…………………………………………………… SP002659
Electrical System
Air Conditioner………………………………………………………………………….. SP002447
Electrical System………………………………………………………………………. SP002448
Electrical Schematic (DL450-3 / DL550-3) ……………………………………. SP002449
VIDEO PREVIEW OF THE MANUAL:

IMAGES PREVIEW OF THE MANUAL: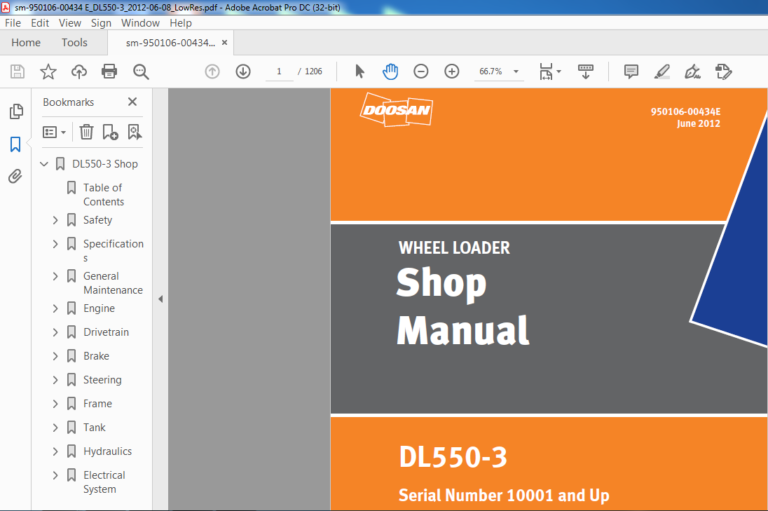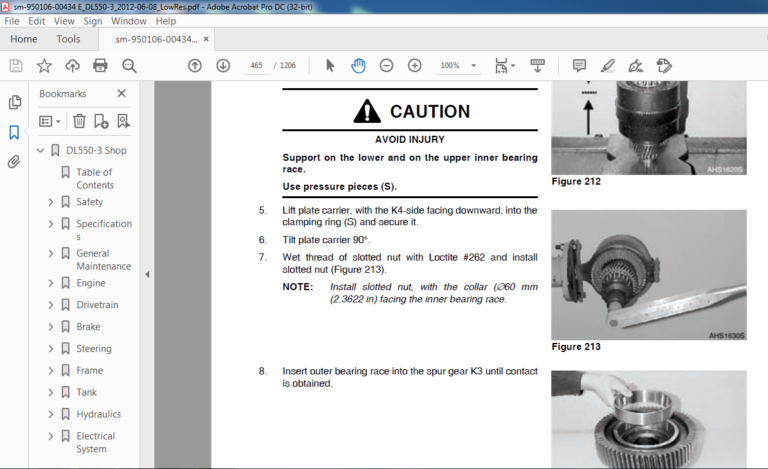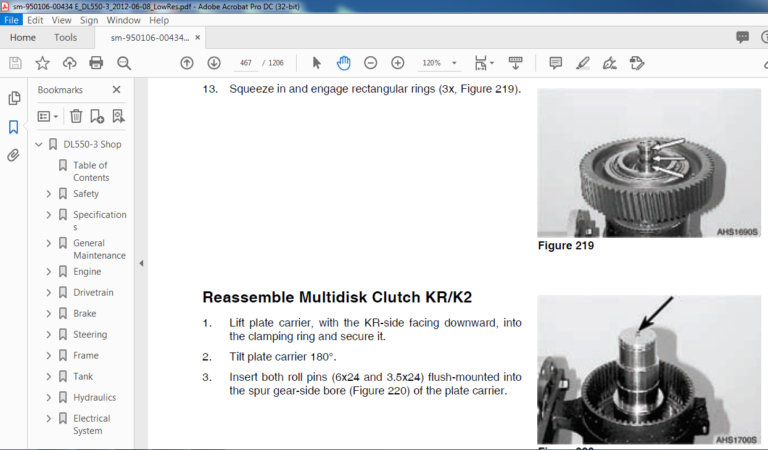 PLEASE NOTE:
This is the SAME exact manual used by your dealers to fix your vehicle.
The same can be yours in the next 2-3 mins as you will be directed to the download page immediately after paying for the manual.
Any queries / doubts regarding your purchase, please feel free to contact [email protected]
S.M