Daewoo Doosan Solar 220LC-III Shop Manual 2023-7100E – PDF DOWNLOAD
DESCRIPTION:
Daewoo Doosan Solar 220LC-III Shop Manual 2023-7100E – PDF DOWNLOAD
Solar 220LC-III
Shop Manual
2023-7100E
Serial Number 0001 thru 1038
March 1996
Basic Excavator:
Operating Safety:
The safety information on the following pages is organized into five topic sections:
I. General Safety Essentials
II. Operation
Ill. Equipment
IV. Maintenance
V. Shipping and Transportation
General Safety Essentials:
Accessory Applications:
The excavator has been primarily designed for moving earth with a bucket.
For use as a grapple or for other object handling, contact Daewoo. Liftingwork applications are permitted in approved lift configuration, to rated capacity only, with no side-loading.
DO NOT use the machine for activities for which it was not intended.
DO NOT use the bucket for lifting work, unless lift slings are used in the approved configuration.
Lifting:
Lifting Mode capacity ratings that are printed at the end of this safety section are based on the machine being level, on a firm supporting surface, with hooks and slings attached in approved configuration.
Loads must be balanced and supported evenly. Use taglines to keep the load steady if wind conditions and large surface area are a problem.
Work crew hand signals, individual tasks and safe procedures should all be universally understood before the lift is made.
Locations of Safety Labels:
Always keep these labels clean.
If they are lost or damaged, attach them again or replace them with a new label.
There are other labels in addition to the safety labels that follow so handle them in the same way.
Safety labels may be available in languages other than English.
To find out what labels are available, contact your Daewoo distributor.
TABLE OF CONTENTS:
Daewoo Doosan Solar 220LC-III Shop Manual 2023-7100E – PDF DOWNLOAD
To the Operator of a Daewoo Excavator . . . . . . . . . . . . . . . . . . . . . . . . . . . . . . . . . . . . . . . . . . . . . . 1-1
Basic Excavator Operating Safety . . . . . . . . . . . . . . . . . . . . . . . . . . . . . . . . . . . . . . . . . . . . . . . . . . 1-1
General Safety Essentials . . . . . . . . . . . . . . . . . . . . . . . . . . . . . . . . . . . . . . . . . . . . . . . . . . . . . . . . 1-1
Locations of Safety Labels . . . . . . . . . . . . . . . . . . . . . . . . . . . . . . . . . . . . . . . . . . . . . . . . . . . . . . . . 1-1
Summary of Safe "Lifting Mode" Precautions . . . . . . . . . . . . . . . . . . . . . . . . . . . . . . . . . . . . . . . . . . 1-5
Operation . . . . . . . . . . . . . . . . . . . . . . . . . . . . . . . . . . . . . . . . . . . . . . . . . . . . . . . . . . . . . . . . . . . . . 1-7
Equipment . . . . . . . . . . . . . . . . . . . . . . . . . . . . . . . . . . . . . . . . . . . . . . . . . . . . . . . . . . . . . . . . . . . . 1-10
Maintenance . . . . . . . . . . . . . . . . . . . . . . . . . . . . . . . . . . . . . . . . . . . . . . . . . . . . . . . . . . . . . . . . . . 1-11
Shipping and Transportation . . . . . . . . . . . . . . . . . . . . . . . . . . . . . . . . . . . . . . . . . . . . . . . . . . . . . . . 1-12
Solar 220LC-III Excavator Rated Lift Capacity Tables ……………………………… 1-13
SPECIFICATIONS
Excavator Machinery Plan ……………………………………………….. 2-1
Solar 220LC-III Excavator Engine Specifications …………………………………. 2-2
Engine Performance Curves ………………………………………………. 2-3
Hydraulic System Component Specifications …………………………………… 2-4
Hydraulic Pump Performance Characteristics …………………………………… 2-5
General Dimensions ……………………………………………………. 2-6
Solar 220LC-III Specifications …………………………………………….. 2-7
Working Range Diagram ………………………………………………… 2-9
Load Weight, Bucket Size and Approved Arm Length Table …………………………. 2-10
Approximate Weight of Workload Materials …………………………………….. 2-11
Solar 220LC-I I I Excavator Rated Lift Capacity Tables . . . . . . . . . . . . . . . . . . . . . . . . . . . . . . . . . . . . 2-13
Summary of Safe "Lifting Mode" Precautions . . . . . . . . . . . . . . . . . . . . . . . . . . . . . . . . . . . . . . . . . . 2-22
Performance Tests . . . . . . . . . . . . . . . . . . . . . . . . . . . . . . . . . . . . . . . . . . . . . . . . . . . . . . . . . . . . . . 2-23
Excavator Performance Standards . . . . . . . . . . . . . . . . . . . . . . . . . . . . . . . . . . . . . . . . . . . . . . . . . . 2-24
UPPER STRUCTURE
Operator's Cab Removal Procedure ………………………………………… 3-1
Falling Object Protective Structures (F.O.P.S.) ………………………………….. 3-3
Front Attachment Pin Specifications . . . . . . . . . . . . . . . . . . . . . . . . . . . . . . . . . . . . . . . . . . . . . . . . 3-4
Bucket Tooth Inspection and Replacement ……………………………………. 3-5
Shimming Bucket Linkage ………………………………………………. 3-6
Bucket Attachment, Removal and Reversal . . . . . . . . . . . . . . . . . . . . . . . . . . . . . . . . . . . . . . . . . . 3-7
Removal and Installation of the Front Attachment ……………………………….. 3-8
Attachment Cylinders, Disassembly and Reassembly …………………………….. 3-11
Operation of Hydraulic Cylinders ………………………………………….. 3-12
Cylinder Assembly and Disassembly . . . . . . . . . . . . . . . . . . . . . . . . . . . . . . . . . . . . . . . . . . . . . . . 3-13
Cylinder Reassembly ………………………………………………….. 3-17
Welding Precautions and Guidelines ……………………………………….. 3-19
Accumulator ………………………………………………………… 3-20
Engine Components and Accessories ………………………………………. 3-22
Counterweight Removal and Installation ……………………………………… 3-23
Fuel Tank Removal and Installation ………………………………………… 3-24
Engine Cooling System: Radiator/Oil Cooler …………………………………… 3-25
220LC-III Shop Manual SAFETY
Swing Bearing Maintenance ……………………………………………… 3-28
Center Joint (Swivel) Overhaul/Repair ………………………………………. 3-29
Hydraulic System General Notes ………………………………………….. 3-33
Operation of Working Components . . . . . . . . . . . . . . . . . . . . . . . . . . . . . . . . . . . . . . . . . . . . . . . . . 3-35
Main Pump Assembly Description …………………………………………. 3-39
Pump Regulator Description . . . . . . . . . . . . . . . . . . . . . . . . . . . . . . . . . . . . . . . . . . . . . . . . . . . . . . 3-42
Hydraulic System General Precautions ………………………………………. 3-47
Maintenance Service and Repair Procedure …………………………………… 3-48
Main Pump Parts List ………………………………………………….. 3-49
Main Pump Disassembly and Reassembly ……………………………………. 3-50
Reassembly of Main Pumps and Valve Block ………………………………….. 3-53
Pump Regulator Parts List . . . . . . . . . . . . . . . . . . . . . . . . . . . . . . . . . . . . . . . . . . . . . . . . . . . . . . . 3-56
Pump Regulator Disassembly and Reassembly . . . . . . . . . . . . . . . . . . . . . . . . . . . . . . . . . . . . . . . 3-58
Swing Motor Basic Operation …………………………………………….. 3-62
Swing Motor Parts List …………………………………………………. 3-65
Rebuilding the Swing Motor Disassembly …………………………………… 3-66
Swing Motor Reassembly ……………………………………………….. 3-71
Swing Motor Final Drive (Gearbox) Parts List ………………………………….. 3-77
Swing Motor Final Drive (Gearbox) Disassembly ……………………………….. 3-79
Swing Motor Final Drive (Gearbox) Reassembly ………………………………… 3-83
Control Valve Operation . . . . . . . . . . . . . . . . . . . . . . . . . . . . . . . . . . . . . . . . . . . . . . . . . . . . . . . . . 3-90
Control Valve Disassembly ………………………………………………. 3-100
Pump Flow Control Regulator ……………………………………………. 3-105
Electronic Proportional Control Valve ……………………………………….. 3-106
LOWER STRUCTURE
General Description . . . . . . . . . . . . . . . . . . . . . . . . . . . . . . . . . . . . . . . . . . . . . . . . . . . . . . . . . . . . 4-1
Travel Motor and Reduction Gearbox ……………………………………….. 4-2
Track Frame Gearbox Assembly . . . . . . . . . . . . . . . . . . . . . . . . . . . . . . . . . . . . . . . . . . . . . . . . . . . 4-3
Travel Motor Assembly . . . . . . . . . . . . . . . . . . . . . . . . . . . . . . . . . . . . . . . . . . . . . . . . . . . . . . . . . . 4-4
Travel Motor Assembly Parts List . . . . . . . . . . . . . . . . . . . . . . . . . . . . . . . . . . . . . . . . . . . . . . . . . . 4-5
Travel Motor Operation . . . . . . . . . . . . . . . . . . . . . . . . . . . . . . . . . . . . . . . . . . . . . . . . . . . . . . . . . . 4-6
Travel Motor Final Drive (Gearbox) …………………………………………. 4-9
Travel Motor and Gearbox Disassembly, Overhaul and Reassembly . . . . . . . . . . . . . . . . . . . . . . . . 4-12
Front Idler Roller . . . . . . . . . . . . . . . . . . . . . . . . . . . . . . . . . . . . . . . . . . . . . . . . . . . . . . . . . . . . . . 4-34
Lower Roller ……………………………………………………….. 4-37
Upper Roller . . . . . . . . . . . . . . . . . . . . . . . . . . . . . . . . . . . . . . . . . . . . . . . . . . . . . . . . . . . . . . . . . 4-39
Track Spring and Track Adjusting Cylinder ……………………………………. 4-42
Service Standards for Lower Travel Frame Components . . . . . . . . . . . . . . . . . . . . . . . . . . . . . . . . . 4-43
Track Tensioning …………………………………………………….. 4-45
ELECTRICAL SYSTEM
General Description ……………………………………………………. 5-1
24 Volt Operation . . . . . . . . . . . . . . . . . . . . . . . . . . . . . . . . . . . . . . . . . . . . . . . . . . . . . . . . . . . . . . . 5-2
Engine Start-up and Shutdown …………………………………………….. 5-3
Cylinder Preheat – Intake Air Electrical Heater ………………………………….. 5-4
Alternator Circuit ……………………………………………………… 5-5
Low Current Electrical Circuits …………………………………………….. 5-7
Climate Control (Air Conditioning) Circuit ……………………………………… 5-9
Power Mode System Operating Components …………………………………… 5-11
Instrument Panel ……………………………………………………… 5-12
Instrument Panel LED Displays and Input Terminal Connections ………………………. 5-14
Instrument Panel Connector Arrangement …………………………………….. 5-14
Instrument Panel Selector Switches …………………………………………. 5-15
Instrument Panel Coolant Overheating Circuit …………………………………… 5-15
ii SAFETY 220LC-III Shop Manual
Instrument Panel Indicator Lights …………………………………………… 5-15
Instrument Panel Engine Oil Pressure Circuit …………………………………… 5-16
Start-up Electrical Test Circuit ……………………………………………… 5-16
Interior Lighting ………………………………………………………. 5-16
Hydraulic Pump Discharge Pressure Sensor …………………………………… 5-16
Power Mode Circuit Instrument Panel Summary …………………………………. 5-18
Power Mode System Basic Operation . . . . . . . . . . . . . . . . . . . . . . . . . . . . . . . . . . . . . . . . . . . . . . . . 5-19
Power Mode Ill ……………………………………………………….. 5-20
Power Mode II ……………………………………………………….. 5-23
Power Mode I . . . . . . . . . . . . . . . . . . . . . . . . . . . . . . . . . . . . . . . . . . . . . . . . . . . . . . . . . . . . . . . . . . 5-24
Swing Priority Circuit …………………………………………………… 5-25
Swing and Arm Dump Combined Operation ……………………………………. 5-26
Swing Priority and Arm Crowd Recovery Function ……………………………….. 5-27
Loading Work Mode ……………………………………………………. 5-28
Leveling Work Mode ……………………………………………………. 5-29
Boom Up, Arm Crowd and Bucket Crowd Combined Operation . . . . . . . . . . . . . . . . . . . . . . . . . . . . 5-30
Lifting Mode: Boom Up and Arm Crowd Combined Operation ………………………… 5-31
Forward Travel: Swing During Straight Travel …………………………………… 5-32
Forward Travel: Arm Operation or Boom Operation While Traveling …………………….. 5-33
Bucket Operation While Traveling …………………………………………… 5-34
ENGINE
Engine Specifications …………………………………………………… 6-1
Wear Limits/Specification, Major Engine Components ……………………………… 6-1
Engine Oil Pump Overhaul and Rebuilding …………………………………….. 6-7
Fuel Injection Pump Installation, Alignment and Timing …………………………….. 6-9
Cylinder Headbolt Torque Requirements ………………………………………. 6-11
Engine Throttle Controller ………………………………………………… 6-12
Engine Speed Sensor ………………………………………………….. 6-14
INSPECTION, MAINTENANCE AND ADJUSTMENT
Periodic Inspection and Maintenance ………………………………………… 7-1
Maintenance Intervals ………………………………………………….. 7-2
Table of Recommended Lubricants ………………………………………….. 7-3
Inspection and Maintenance ………………………………………………. 7-4
Daily or Every 1 O Operating Hours ………………………………………… 7-4
Weekly or Every 50 Operating Hours ………………………………………. 7-10
150 Operating Hours …………………………………………………. 7-11
Monthly or Every 250 Operating Hours ……………………………………… 7-12
Three Months or Every 500 Operating Hours …………………………………. 7-13
Six Months or Every 1,000 Operating Hours ………………………………….. 7-15
Annually or Every 2,000 Operating Hours ……………………………………. 7-15
General Maintenance Procedures ………………………………………….. 7-17
Tightening Torque Specifications …………………………………………… 7-19
Torque Wrench Extension Tools ……………………………………………. 7-20
Flange and Thread Sealant Assembly Compounds ……………………………….. 7-22
Welding Precautions and Guidelines ………………………………………… 7-24
Service Standards for Lower Travel Frame Components . . . . . . . . . . . . . . . . . . . . . . . . . . . . . . . . . . 7-25
Hydraulic System Cleanliness and Oil Leaks …………………………………… 7-29
Reference Notes for Foldout Wiring Harness Illustrations …………………………… 7-30
220LC-III Shop Manual SAFETY iii
TESTING, TROUBLESHOOTING AND ADJUSTING
Procedural Troubleshooting Baseline Recommendations …………………………… 8-1
Pilot Pressure . . . . . . . . . . . . . . . . . . . . . . . . . . . . . . . . . . . . . . . . . . . . . . . . . . . . . . . . . . . . . . . . . 8-2
Power Mode Valve . . . . . . . . . . . . . . . . . . . . . . . . . . . . . . . . . . . . . . . . . . . . . . . . . . . . . . . . . . . . . . 8-3
Boom/Swing Priority ……………………………………………………. 8-4
Negacon, Negative Control . . . . . . . . . . . . . . . . . . . . . . . . . . . . . . . . . . . . . . . . . . . . . . . . . . . . . . . 8-5
Pressure Up Valve …………………………………………………….. 8-6
Pump Input Power Control ……………………………………………….. 8-7
Flow Meter and Flow Meter Kit Installation and Testing …………………………….. 8-9
Swing System Troubleshooting …………………………………………….. 8-1 O
Troubleshooting – Hydraulic Problems ……………………………………….. 8-12
Troubleshooting – Control Valve ……………………………………………. 8-20
Troubleshooting – Travel Control Valve ……………………………………….. 8-22
Troubleshooting – Joystick Control Valve ……………………………………… 8-23
Troubleshooting – Engine Problems …………………………………………. 8-24
Troubleshooting Electrical System …………………………………………. 8-28
EPOS-111 Self-diagnostic Codes ……………………………………………. 8-29
Engine Throttle Controller ………………………………………………… 8-31
Service Points and Test Port Locations . . . . . . . . . . . . . . . . . . . . . . . . . . . . . . . . . . . . . . . . . . . . . . . 8-33
Slow Return Valve . . . . . . . . . . . . . . . . . . . . . . . . . . . . . . . . . . . . . . . . . . . . . . . . . . . . . . . . . . . . . . 8-38
VIDEO PREVIEW OF THE MANUAL:
IMAGES PREVIEW OF THE MANUAL: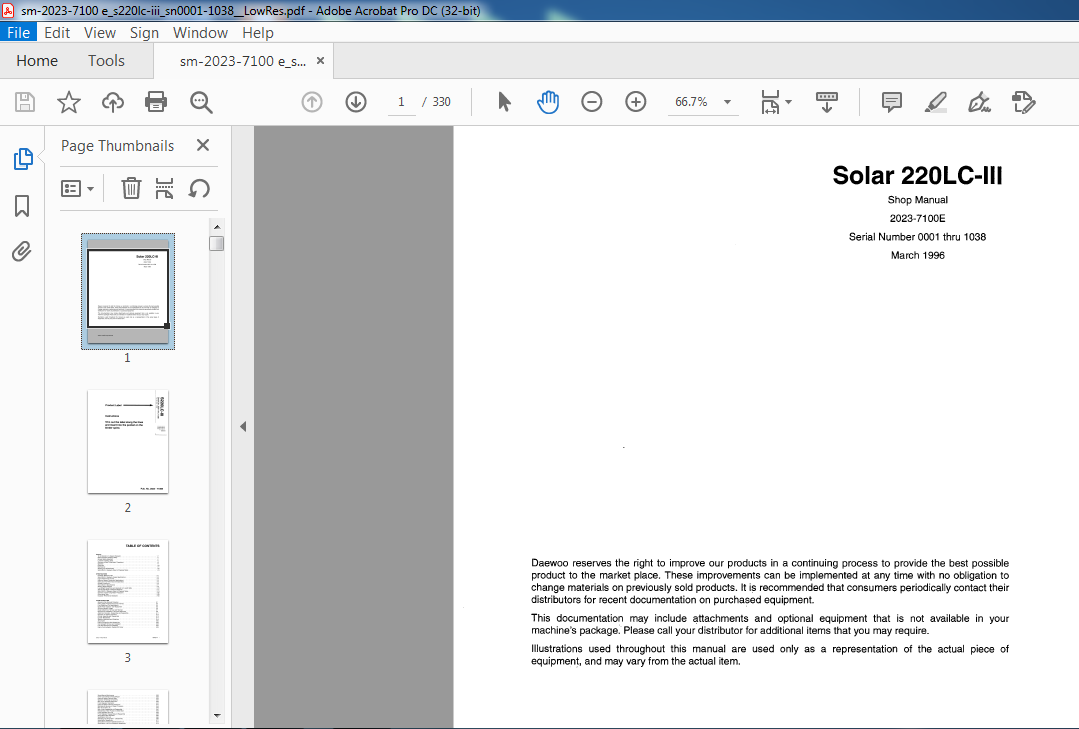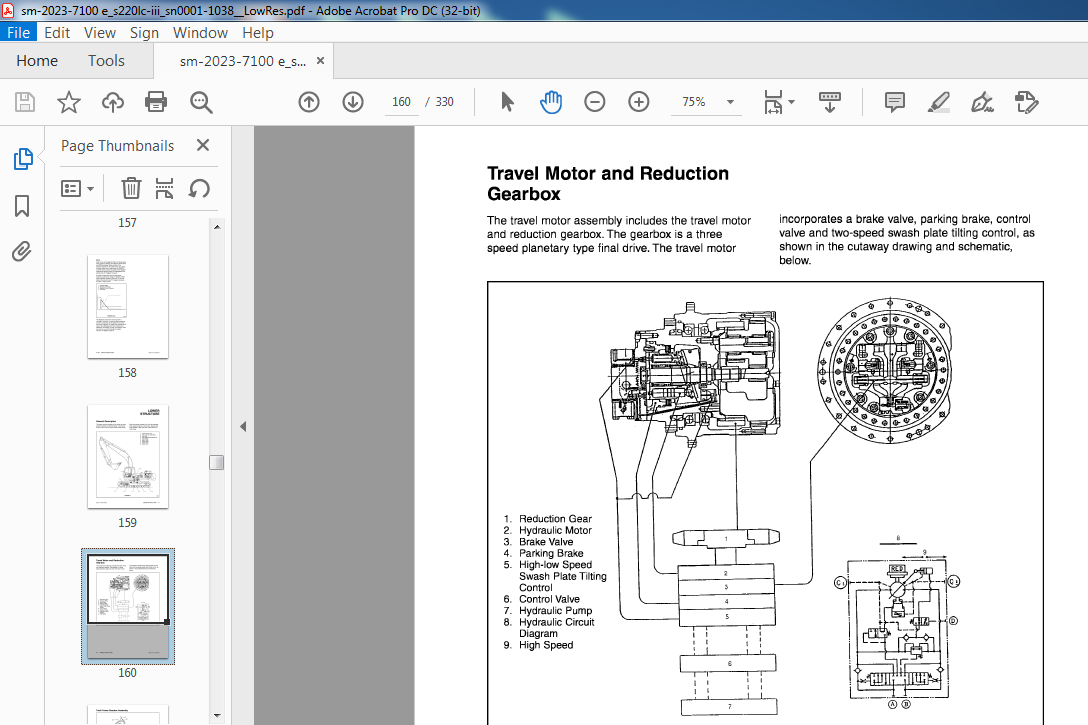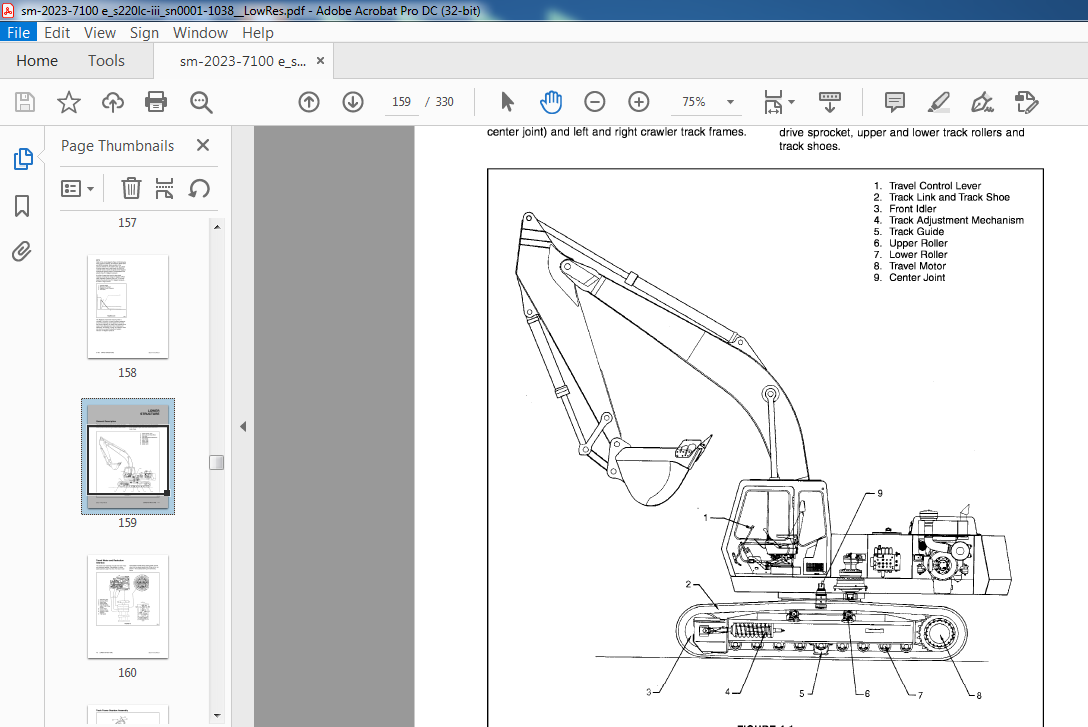 PLEASE NOTE:
This is the SAME MANUAL used by the dealerships to diagnose your vehicle
No waiting for couriers / posts as this is a PDF manual and you can download it within 2 minutes time once you make the payment.
Your payment is all safe and the delivery of the manual is INSTANT – You will be taken to the DOWNLOAD PAGE.
So have no hesitations whatsoever and write to us about any queries you may have : heydownloadss @gmail.com
M.A