Daewoo Doosan D858, DB58T & DB58TI DIESEL ENGINE Shop Manual – PDF DOWNLOAD
DESCRIPTION:
Daewoo Doosan D858, DB58T & DB58TI DIESEL ENGINE Shop Manual – PDF DOWNLOAD
Daewoo reserves the right to improve our products in a continuing process to provide the best possible product to the market place. These improvements can be implemented at any time with no obligation to change materials on previously sold products.
It is recommended that consumers periodically contact their distributors for recent documentation on purchased equipment. This documentation may include attachments and optional equipment that is not available in your machine's package.
Please call your distributor for additional items that you may require. Illustrations used throughout this manual are used only as a representation of the actual piece of equipment, and may vary from the actual item.
PREFACE
This operation and maintenance manual for DB58/T/TI, diesel engine, is explained to correctly and systematically maintain in order to accurately operate and guarantee for the life span of motors.
This manual, not only thorough overhaul drawing of numerical value for service, maintenance items and various torques but also disassembly parts, installation, overhaul, inspection and repair, principle of reassembly, is quickly and usefully understand of the service procedure to be repaired parts, and evolved services is as follows.
This manual is eligible a training aids to the trainees, and further information, please feel free to call Service Center of Engine Parts, Daewoo, at any time.
1. General
1.1. General Repair Instructions
1) Equipment shall be safely parked on the ground, and propped front and rear wheel when work.
2) Prior to maintain, disconnect the grounding cable from the battery to be prevented the damaged cable and burning due to short-circuiting.
3) Shield body and sheet with the coverlet in order to prevent of damage and getting stained.
4) All the persons handling brake oil and anti-freezing solution shall be carefully treated to be undamaged the painting parts.
5) When maintain the specially designated parts, the appropriated tools or special tools shall be of importance used to maintain the life span.
6) Changeable parts shall be rightly used the genuine parts of DAEWOO.
7) When the used cotter pins, gaskets, O-rings, oil seals, lock washer and self-lock nuts do reuse, you may need to maintain again, so that why you use the brand new products.
8) Orderly place the disassembled parts in groups to be smoothly reassembled after maintained
. 9) Prior to inspect reassemble, you must clean the parts, and also clean the perforated oil ring with the compressed pneumatic in order to prevent of inflow an alien substance.
10) Prior to assemble, lubricate the oil or grease to the rotating and sliding faces of parts.
11) Adhere to the gaskets to prevent of leakage if necessary.
12) Getting tightened the bolts and nuts torque shall be comply with a rule.
13) Finally check to make sure when the maintenance has been done. 14) The system of an aerial parts for a safety shall be removed the compressed pneumatic without fail when disassemble in a working. – 1
TABLE OF CONTENTS:
Daewoo Doosan D858, DB58T & DB58TI DIESEL ENGINE Shop Manual – PDF DOWNLOAD
1. GENERAL …………………………………………………………………………………………………………………. 1
1 .1. General Repair Instructions
1 .2. Engine Specifications
1 .3. Torque Specifications
1 .4. Main Part Fixing Nuts And Bolts
1 .5. Maintenance
1 .6. Engine Repair Parts(Standard Engine)
1.7. Recommended Lubricants
2. ENGINE ASSEMBLY AND DISASSEMBLY …………………………………………………………………. 31
2.1. External Parts Disassembly
2.2. Key Components Disassembly
2.3. Inspection and Repair
2.4. Reassembly
3. SYSTEM OF LUBRICATION ………………………………………………………………………………………. 96
3.1. General Description
3.2. Oil Pump
3.3. Oil Cooler
4. COOLING SYSTEM …………………………………………………………………………………………………. 101
4.1 . General Description
4.2. Coolant pump
4.3. Thermostat
5. FUEL SYSTEM ……………………………………………………………………………………………………….. 110
5.1. General Description
5.2. Fuel filter
5.3. Injection Nozzle
6. ENGINE ELECTRICALS ………………………………………………………………………………………….. 120
6. 1 . Starter Motor 6.2. Alternator
7. TURBO CHARGER …………………………………………………………………………………………………. 122
8. CAUSE OF TROUBLE, DIAGNOSIS AND TROUBLESHOOTING ……………………… …………. 125
· WORLDWIDE NETWORK
VIDEO PREVIEW OF THE MANUAL:
IMAGES PREVIEW OF THE MANUAL: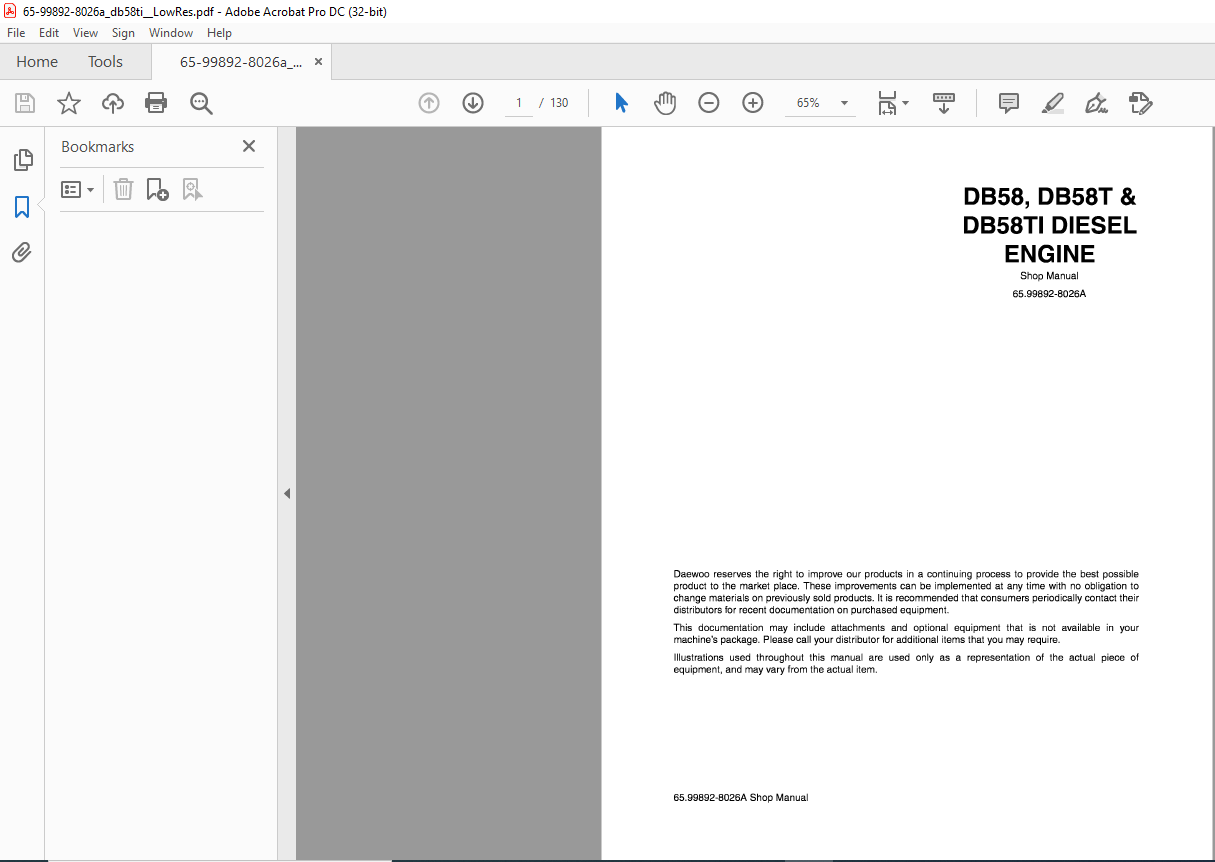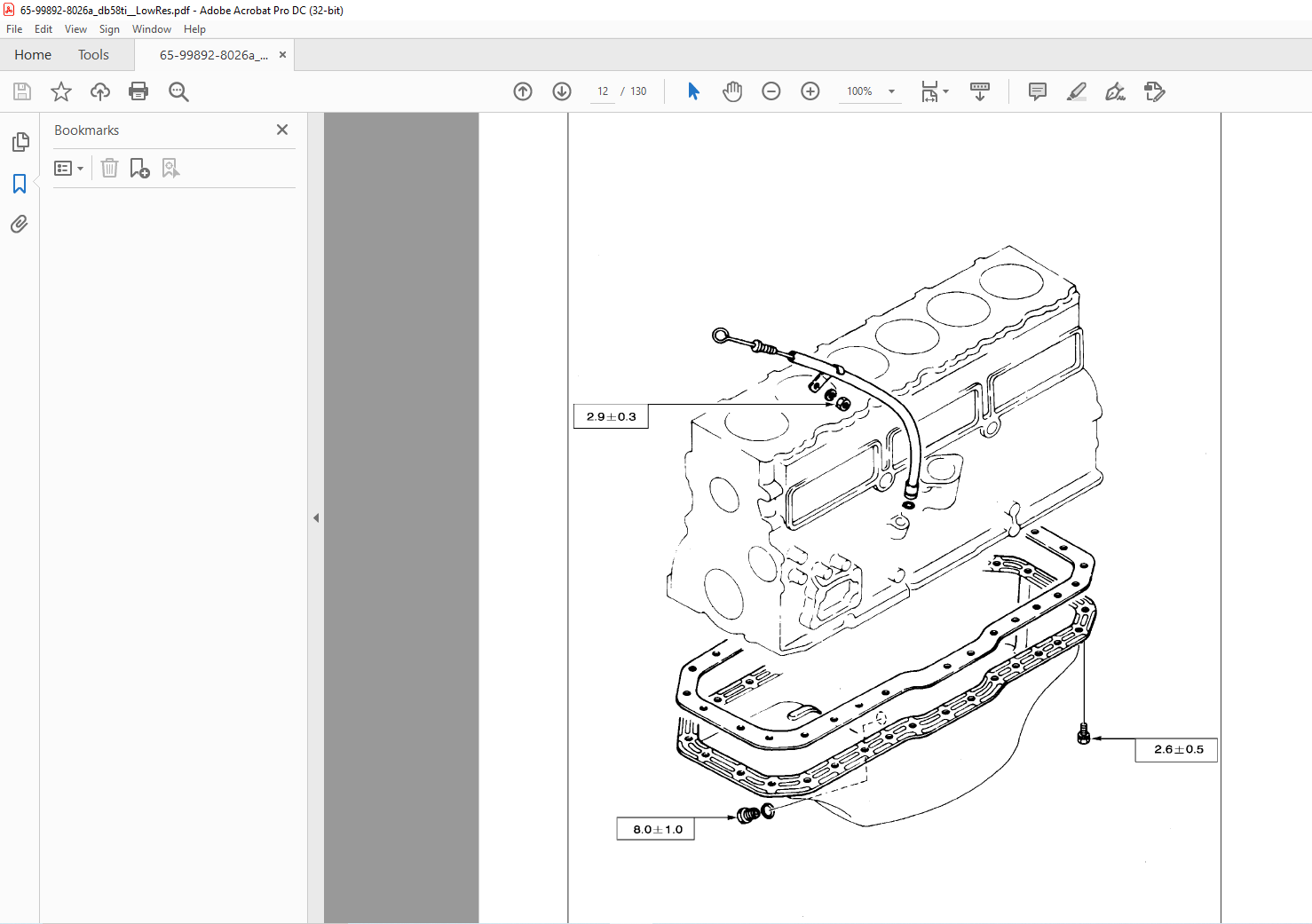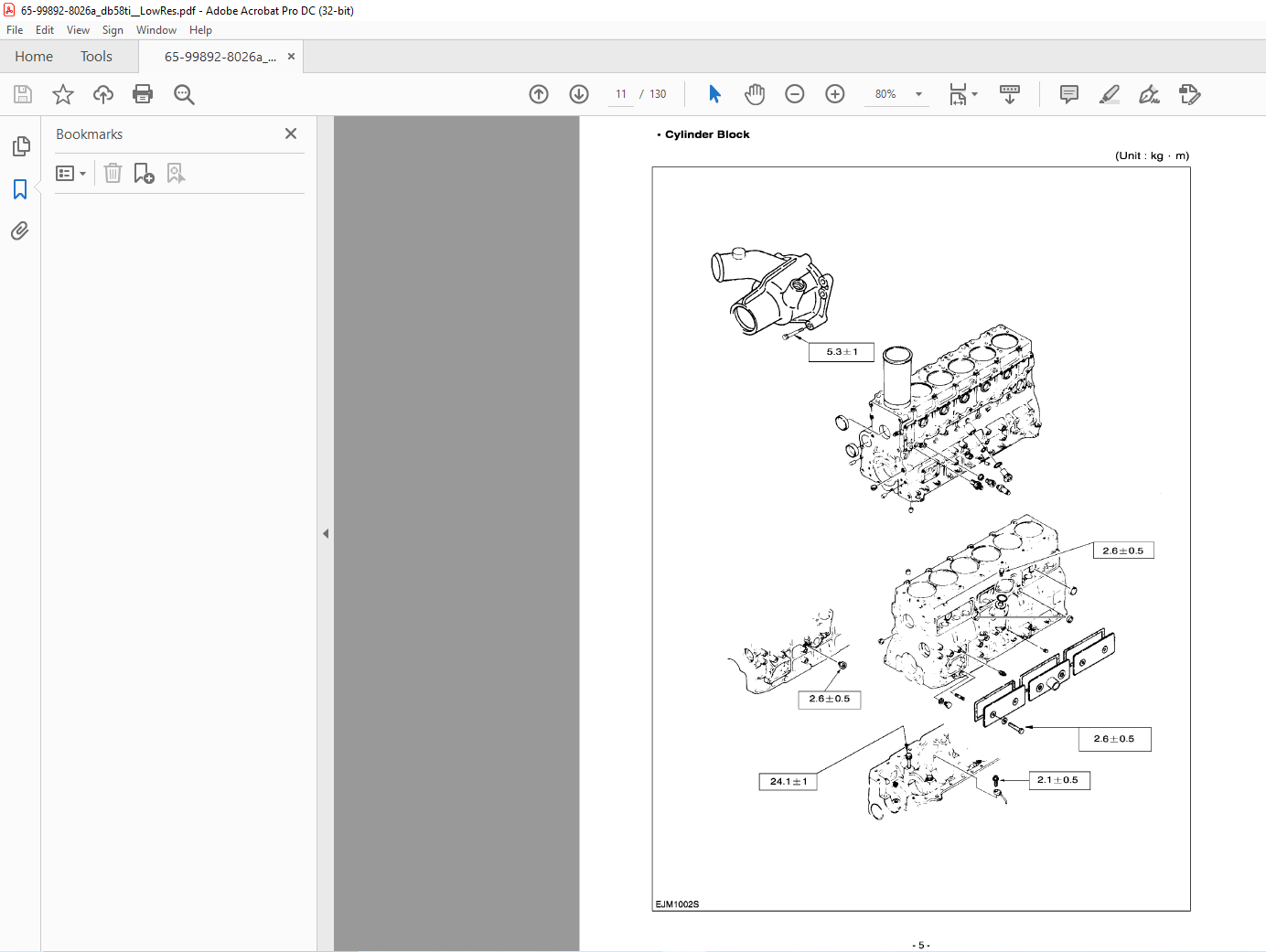 PLEASE NOTE:
This is not a physical manual but a digital manual – meaning no physical copy will be couriered to you. The manual can be yours in the next 2 mins as once you make the payment, you will be directed to the download page IMMEDIATELY.
This is the same manual used by the dealers inorder to diagnose your vehicle of its faults.
Require some other service manual or have any queries: please WRITE to us at [email protected]
S.M