Daewoo Doosan D2366 D2366T D1146 &D116T DISEL ENGINE SHOP MANUAL – PDF DOWNLOAD
DESCRIPTION:
Daewoo Doosan D2366 D2366T D1146 &D116T DISEL ENGINE SHOP MANUAL – PDF DOWNLOAD
FOREWORD
This manual includes special notes, important points, service data, precautions, etc. that are needed for the maintenance, adjustments, service, removal and installation of the components of the models titled. The Section Index on the contents page enables the user to quickly locate any desired section.
At the beginning of each section containing more than one major subject is a Table of Contents, which gives the page number on which each major subject begins. An index is placed at the beginning of each major subject within the section.
Any reference to brand names in this manual is intended merely -as an example of the types of lubricants, tools, materials, etc. recommended for use in servicing Daewoo Engine, I Ii all cases, an equivalent may be used. This manual should be kept in a handy place for ready reference.
If properly used, it will enable the technician to better serve the owners of Daewoo Engine. All information, illustrations and specifications contained in this literature are based on the latest product information available at the time of publication approval. The right is reserved to make changes at any time without notice.
1·. GENERAL REPAIR INSTRUCTIONS
1. The use of proper tools and special tools where-specified, is important to efficient and reliable service operation. 2. Use genuine Daewoo parts.
3. Used cotter pins, gaskets, O-rings, oil seals, lock washers and self lock nuts should be discarded and new ones should be prepared for installation as normal function of the parts can not be maintained if these parts are reused. 4. To facilitate proper and smooth reassembly operation, keep disassembled parts neatly in groups. Keeping fixing bolts and nuts separate is very important as they vary in hardness and design depending on position of installation.
5. Clean the parts before inspection or reassembly. Also clean oil ports, etc. using compressed air to make certain they are free from restrictions. 2
6. Lubricate rotating and sliding faces of the parts with oil or grease before · installation.
7. When necessary, use a sealer on gaskets to prevent leakage.
8. Carefully observe all specifications for bolt and nut torques.
9. When service operation is completed, make a final check to be sure service has been done properly.
GENERAL DESCRIPTION
Models D1146 and D2366 are 6-cylinder, 4- cycle, in-line, vertical type engines. They are water-cooled and use Toroidal combustion system. Both engine models are similar in appearance and construction. It may be assumed that the information and values contained in this manual is applicable to both engine type unless otherwise noted
2-1. Engine Characteristics
The engine operates according to the Toroidal combustion system developed by Daewoo Heavy Industrial Co. of Korea and AVL Co. of Austria. The main design features of this system are the combustion chamber arranged in the center of the piston and the swirling passage in the cylinder head.
Due to the swirling passage, the air entering the cylinder through the helical port designed specially during intake stroke is imparted a strong rotary motion in the combustion 2-2. Main Data and Specification Engine Models D1146 Descriptions Engine type Water 4 cycle, in-line vertical Combustion chamber Toroidal type combustion chamber Combustion type Direct injection type 1 GENERAL INFORMATION chamber and the complicated turbulence motion created by the swirl produced during compression stroke and strong squish flow makes the fuel be mixed more sufficiently with air.
During power stroke the fuel injected from a multi-orifice nozzle is mixed sufficiently with air for complete combustion, so that the improvement of performance is achieved. Engines with the Toroidal combustion system are characterized by their quiet running, high flexibility and very low specific fuel and oil consumption
TABLE OF CONTENTS:
Daewoo Doosan D2366 D2366T D1146 &D116T DISEL ENGINE SHOP MANUAL – PDF DOWNLOAD
CONTENTS PAGE
1 General Repair Instructions 2
2 General Description
2-1 Engine Characteristics • , 3
2-2 Main Data and Specification 3
2-3 Engine Performance Curve , , • 5
3 External View of Engine , , 7
3-1 D1146 Engine , ,
3-2 D1146 T Engine ,
3-3 D2366 Engine
3-4 D2366 T Engine , ,
4 Sectional View of Engine 15
4-1 Engine Section 15
4-2 Fuel System , • , 17
4-3 Lubricating System 18
4-4 Cooling System 19
VIDEO PREVIEW OF THE MANUAL:
IMAGES PREVIEW OF THE MANUAL: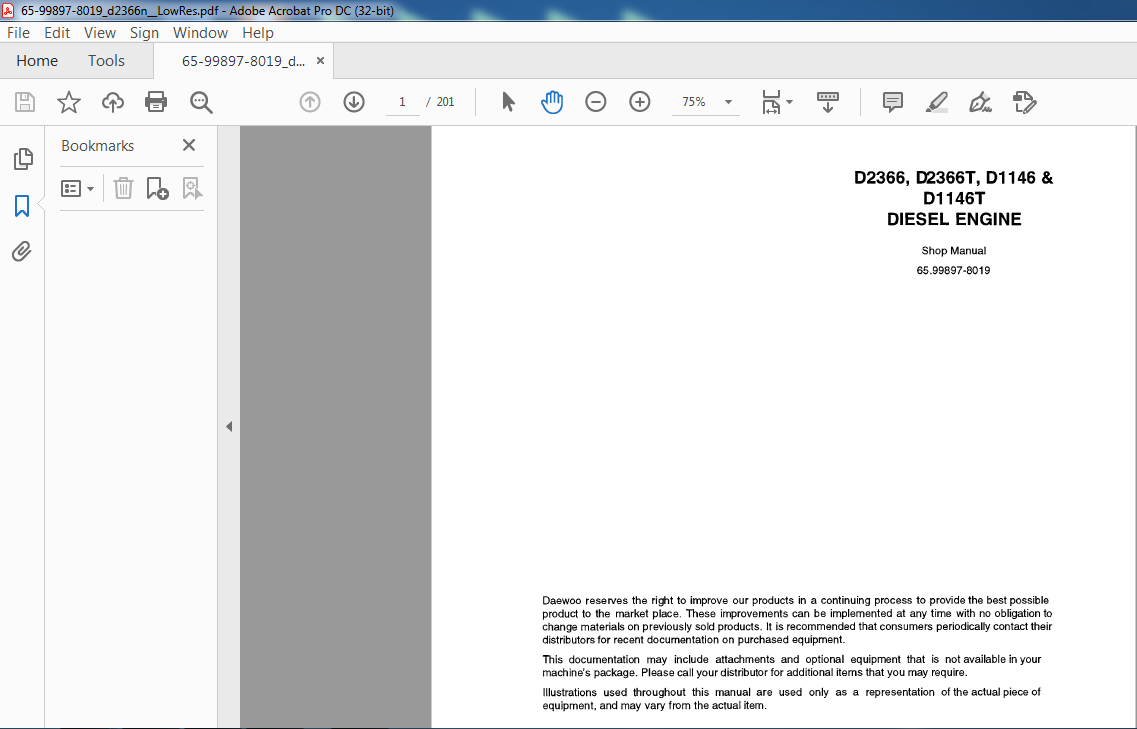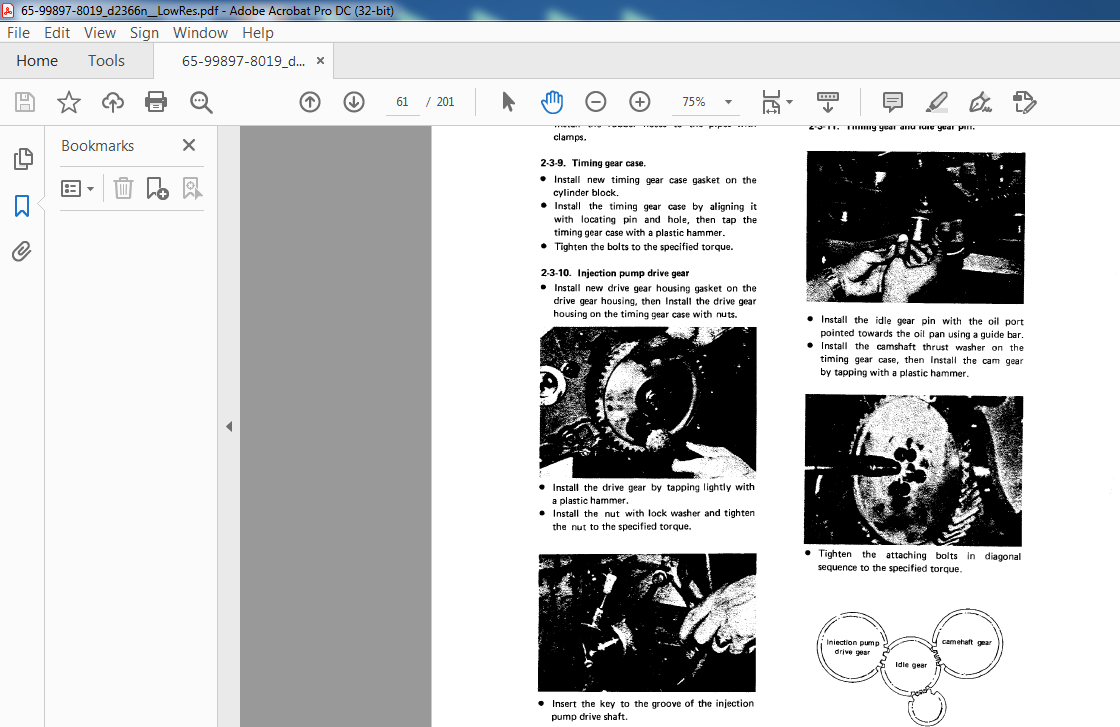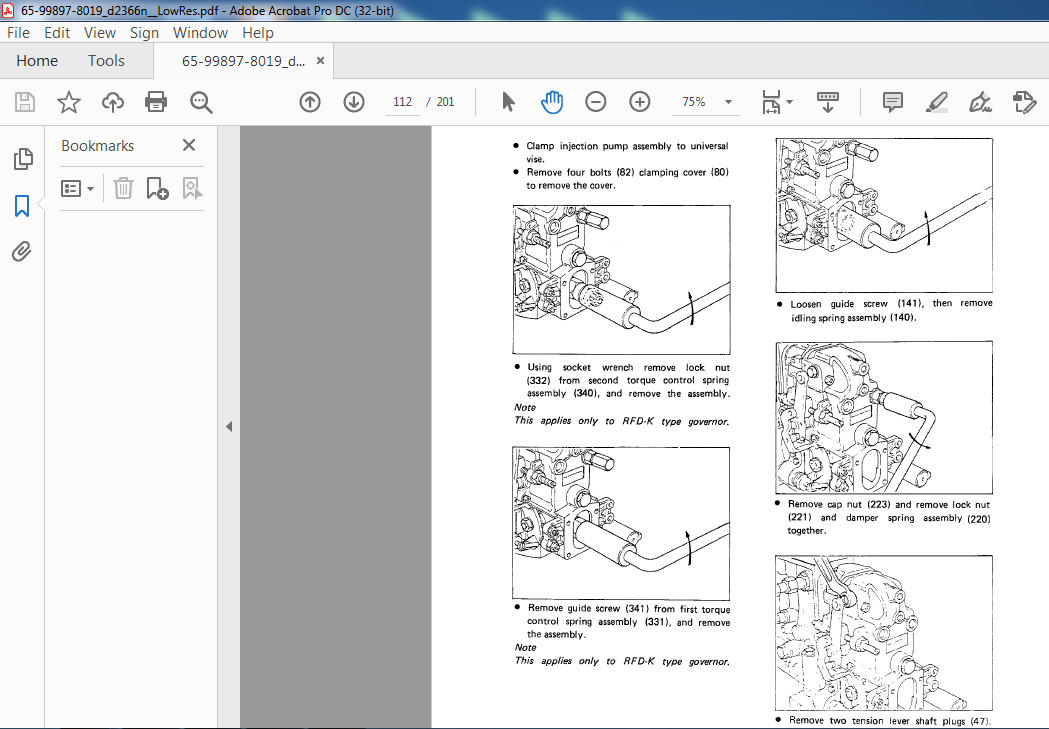 PLEASE NOTE:
This is the SAME manual used by the dealers to troubleshoot any faults in your vehicle. This can be yours in 2 minutes after the payment is made.
Contact us at [email protected] should you have any queries before your purchase or that you need any other service / repair / parts operators manual.