Daewoo Doosan 1340XL DSL602 Skid Steer Loader Vehical System Manual – PDF DOWNLOAD
DESCRIPTION:
Daewoo Doosan 1340XL DSL602 Skid Steer Loader Vehical System Manual – PDF DOWNLOAD
Vehicle Systems
For Skid Steer Loader
1340XL(DSL602)
FORWARD:
How to Use This Manual
This manual provides information for servicing the DSL 601 skid steer loader. All service procedures are broken down into detailed steps, listed in their recommended sequence. The manual uses both photographs and drawings to help locate and itemize components.
The Table of Contents on the preceding pages is your best tool for finding the service procedure you need. First locate the major component group, then turn to its Contents page in the manual. (Or, you can continue searching in the main Table of Contents.)
Scan down through the group service headings to find the specific procedure. Sections are generally organized in the following order of procedures:
• General
• Removal
• Disassembly
• Assembly
• Installation
• Adjustment
• Troubleshooting (Hydraulic, Hydrostatic, and Electricalsystems)
The service groups in this manual – their order of presentation and their leading numbering system – match that of the 1340XL/DSL602 Service Parts Manual. This is done to make it easier for you when ordering parts. The sections include:
00 Engine
01 Fuel System
02 Control System
03 Power Train
04 Hydraulic System
05 Hydrostatic System
06 Electrical System
07 Frame, Boom, and Bucket
08 Paint and Decals
09 Factory Options
10 General Information/Miscellaneous
Sections 08 and 09 do not apply to service procedures and therefore are not included in this manual. Be certain to observe all Safety information included in these pages.
TABLE OF CONTENTS:
Daewoo Doosan 1340XL DSL602 Skid Steer Loader Vehical System Manual – PDF DOWNLOAD
Table Of Contents
TABLE OF CONTENTS……………………………………………………………………………………………..i
FORWARD……………………………………………………………………………………………………………..vii
HOW TO USE THIS MANUAL………………………………………………………………………….vii
SAFETY……………………………………………………………………………………………………….viii
GENERAL PRECAUTIONS FOR DISASSEMBLY……………………………………………………xi
GENERAL PRECAUTIONS FOR ASSEMBLY……………………………………………………….xiii
00 ENGINE, 4TNE84 ………………………………………………………………………………………………….1
00.1 GENERAL ………………………………………………………………………………………………3
00.1.1 SPECIFICATIONS……………………………………………………………………….5
00.1.2 PERFORMANCE CURVES…………………………………………………………..6
00.1.3 MAINTENANCE ………………………………………………………………………….7
00.1.4 SERIAL NUMBER LOCATION………………………………………………………8
00.2 BASIC ENGINE ……………………………………………………………………………………….9
00.2.1 CYLINDER BLOCK ……………………………………………………………………11
00.2.2 CYLINDER HEAD ……………………………………………………………………..16
00.2.3 PISTON AND PISTON PINS……………………………………………………….23
00.2.4 CONNECTING ROD ………………………………………………………………….27
00.2.5 CRANKSHAFT AND MAIN BEARING ………………………………………….30
00.2.6 CAMSHAFT AND TAPPETS ……………………………………………………….33
00.2.7 TIMING GEAR…………………………………………………………………………..36
00.2.8 FLYWHEEL……………………………………………………………………………….38
00.2.9 SERVICE DATA…………………………………………………………………………40
00.2.10 OVER-SIZE AND UNDER-SIZE PARTS……………………………………….44
00.3 FUEL INJECTION EQUIPMENT………………………………………………………………45
00.3.1 FUEL SUPPLY SYSTEM…………………………………………………………….47
00.3.2 DISASSEMBLY, REASSEMBLY AND INSPECTION
OF GOVERNOR ……………………………………………………………………….59
00.3.3 DISASSEMBLY, REASSEMBLY AND INSPECTION OF FUEL
INJECTION PUMP…………………………………………………………………….68
00.3.4 ADJUSTMENT OF FUEL INJECTION PUMP AND GOVERNOR …….78
Table Of Contents
00.3.5 FUEL FEED PUMP…………………………………………………………………….84
00.3.6 FUEL INJECTION NOZZLE ………………………………………………………..86
00.3.7 TROUBLESHOOTING………………………………………………………………..92
00.3.8 FUEL FILTER ……………………………………………………………………………94
00.3.9 AIR VENTING SYSTEM……………………………………………………………..95
00.3.10 SERVICE DATA…………………………………………………………………………96
00.4 LUBRICATING SYSTEM…………………………………………………………………………97
00.4.1 LUBRICATION SYSTEM …………………………………………………………….98
00.4.2 LUBE OIL PUMP ……………………………………………………………………..100
00.4.3 LUBE OIL FILTER & OIL PRESSURE CONTROL VALVE……………..103
00.4.4 SERVICE DATA ……………………………………………………………………….105
00.5 COOLING SYSTEM ……………………………………………………………………………..107
00.5.1 COOLING SYSTEM………………………………………………………………….108
00.5.2 RADIATOR………………………………………………………………………………109
00.5.3 RADIATOR FAN BELT………………………………………………………………110
00.5.4 THERMOSTAT …………………………………………………………………………111
00.5.5 COOLING WATER PUMP………………………………………………………….112
00.5.6 SERVICE DATA ……………………………………………………………………….114
00.6 AIR INDUCTION SYSTEM …………………………………………………………………….115
00.6.1 AIR CLEANER …………………………………………………………………………116
00.7 ELECTRICAL SYSTEM…………………………………………………………………………119
00.7.1 ELECTRICAL SCHEMATIC ……………………………………………………….123
00.7.2 STARTER MOTOR …………………………………………………………………..125
00.7.3 CHARGING EQUIPMENT …………………………………………………………139
00.7.4 STARTING AIDS………………………………………………………………………150
00.7.5 BATTERY………………………………………………………………………………..151
00.7.6 SERVICE DATA ……………………………………………………………………….154
00.8 DISASSEMBLY AND REASSEMBLY……………………………………………………..155
00.8.1 DISASSEMBLY AND REASSEMBLY PRECAUTIONS ………………….156
00.8.2 DISASSEMBLY AND REASSEMBLY ………………………………………….157
00.8.3 BOLT/NUT TIGHTENING TORQUE……………………………………………170
00.8.4 TROUBLESHOOTING………………………………………………………………171
00.8.5 IDENTIFICATION OF PARTS FOR EACH APPLICATION …………….177
00.8.6 CONVERSION TABLES ……………………………………………………………178
00.9 ENGINE REMOVAL AND INSTALLATION PROCEDURES ………………………181
00.9.1 ENGINE/HYDROSTATIC PUMP REMOVAL ………………………………..182
00.9.2 ENGINE/HYDROSTATIC PUMP INSTALLATION …………………………186
Table Of Contents
01 FUEL SYSTEM…………………………………………………………………………………………………..189
01.1 GENERAL……………………………………………………………………………………………190
01.2 FUEL LINES ………………………………………………………………………………………..191
02 CONTROL SYSTEM…………………………………………………………………………………………..193
02.1 GENERAL……………………………………………………………………………………………195
02.2 CONTROL SYSTEM REMOVAL AND INSTALLATION
PROCEDURES ……………………………………………………………………………………196
02.2.1 SEAT BAR SYSTEM REMOVAL………………………………………………..196
02.2.2 SEAT BAR SYSTEM INSTALLATION AND ADJUSTMENT …………..197
02.2.3 DRIVE CONTROL SYSTEM REMOVAL……………………………………..198
02.2.4 DRIVE CONTROL SYSTEM INSTALLATION AND ADJUSTMENT…200
02.2.5 HYDRAULIC CONTROL SYSTEM REMOVAL…………………………….202
02.2.6 HYDRAULIC CONTROL SYSTEM REASSEMBLY AND
INSTALLATION ……………………………………………………………………….203
02.2.7 THROTTLE CONTROL SYSTEM REMOVAL………………………………204
02.2.8 THROTTLE CONTROL SYSTEM INSTALLATION AND
ADJUSTMENT………………………………………………………………………..205
02.2.9 PARKING BRAKE SYSTEM REMOVAL . ……………………………………205
02.2.10 PARKING BRAKE SYSTEM INSTALLATION AND
ADJUSTMENT ………………………………………………………………………..206
02.2.11 PEDAL LOCK SYSTEM REMOVAL, INSTALLATION AND
ADJUSTMENT ………………………………………………………………………..208
03 POWER TRAIN…………………………………………………………………………………………………..211
03.1 GENERAL……………………………………………………………………………………………212
03.2 POWER TRAIN DISASSEMBLY AND ASSEMBLY ………………………………….213
03.2.1 POWER TRAIN DISASSEMBLY ………………………………………………..213
03.2.2 POWER TRAIN INSTALLATION ………………………………………………..215
Table Of Contents
04 HYDRAULIC SYSTEM………………………………………………………………………………………..217
HYDRAULIC SCHEMATIC ……………………………………………………………………………..218
04.1 GENERAL……………………………………………………………………………………………219
04.1.1 HYDRAULIC SYSTEM ……………………………………………………………..219
04.1.2 HYDROSTATIC (HST) SYSTEM ………………………………………………..219
04.2 REMOVAL AND INSTALLATION PROCEDURES…………………………………….220
04.2.1 HYDRAULIC CHARGE PUMP …………………………………………………..220
04.2.2 HYDRAULIC CONTROL VALVE…………………………………………………221
04.2.3 BOOM AND BUCKET CYLINDERS ……………………………………………224
04.2.4 HYDRAULIC LINES………………………………………………………………….226
04.2.5 BOOM AND BUCKET CYLINDER LINES ……………………………………227
04.2.6 ATTACHMENT LINES……………………………………………………………….228
04.3 TROUBLESHOOTING…………………………………………………………………………..229
04.3.1 TEST EQUIPMENT…………………………………………………………………..229
04.3.2 TROUBLESHOOTING GUIDE …………………………………………………..230
05 HYDROSTATIC SYSTEM…………………………………………………………………………………….231
05.1 GENERAL……………………………………………………………………………………………232
05.1.1 HYDROSTATIC (HST) SYSTEM COMPONENTS ………………………..232
05.1.2 OVERVIEW OF OPERATION…………………………………………………….232
05.1.3 HST PUMP ……………………………………………………………………………..232
05.1.4 BASIC CLOSED CIRCUIT…………………………………………………………232
05.1.5 CHECK/HIGH PRESSURE RELIEF VALVES ………………………………232
05.1.6 PUMP CHARGE RELIEF VALVE ……………………………………………….232
05.1.7 BYPASS VALVE……………………………………………………………………….233
05.1.8 REPAIRS…………………………………………………………………………………233
05.2 REMOVAL, INSTALLATION AND TEST PROCEDURES………………………….234
05.2.1 HYDROSTATIC (HST) PUMP ASSEMBLY…………………………………..234
05.2.2 HST MOTOR……………………………………………………………………………236
05.2.3 HYDRAULIC FILTER MOUNTING………………………………………………237
05.2.4 DRAIN RELIEF VALVE……………………………………………………………..238
05.2.5 HYDROSTATIC (HST) LINES…………………………………………………….239
05.3 TROUBLESHOOTING…………………………………………………………………………..248
05.3.1 TEST EQUIPMENT………………………………………………………………….248
05.3.2 TROUBLESHOOTING GUIDE …………………………………………………..249
Table Of Content
06 ELECTRICAL SYSTEM ………………………………………………………………………………………253
ELECTRICAL WIRING DIAGRAM…………………………………………………………………..254
06.1 GENERAL……………………………………………………………………………………………255
06.2 COMPONENTS, SYSTEMS AND OPERATION ……………………………………….256
06.2.1 COMPONENT LOCATIONS ………………………………………………………256
06.2.2 STARTING SYSTEM ………………………………………………………………..258
06.2.3 CHARGING SYSTEM……………………………………………………………….259
06.2.4 LIGHTING AND AUXILIARY SYSTEM ………………………………………..260
06.2.5 INSTRUMENT PANEL………………………………………………………………261
06.3 TROUBLESHOOTING…………………………………………………………………………..267
06.3.1 TEST EQUIPMENT …………………………………………………………………267
06.3.2 TROUBLESHOOTING GUIDE …………………………………………………..268
07 STRUCTURES AND CHASSIS…………………………………………………………………………….271
07.1 GENERAL……………………………………………………………………………………………273
07.2 REMOVAL, INSTALLATION AND ADJUSTMENT PROCEDURES…………….274
07.2.1 BUCKET………………………………………………………………………………….274
07.2.2 QUICK-TACH …………………………………………………………………………..275
07.2.3 BUCKET CYLINDERS, BOOM CYLINDERS, BOOM LOCK,
AND BOOM……………………………………………………………………………..278
07.2.4 SEAT BAR AND SEAT ………………………………………………………………281
07.2.5 CANOPY…………………………………………………………………………………282
07.2.6 REAR DOOR AND ENGINE HOOD ……………………………………………283
07.2.7 UPPER PLATE AND FLOOR PLATE…………………………………………..285
07.2.8 BOTTOM PLATE AND ENGINE OIL PAN COVER………………………..286
07.2.9 TANKS ……………………………………………………………………………………287
10 GENERAL INFORMATION/MISCELLANEOUS ……………………………………………………..289
10.1 PERIODIC MAINTENANCE …………………………………………………………………..291
10.1.1 SAFETY WARNINGS ……………………………………………………………….291
10.1.2 ACCESS TO ITEMS REQUIRING SERVICE ……………………………….292
10.1.3 BOOM LOCK OPERATION………………………………………………………..294
10.1.4 DAILY PRE/POST START CHECKS …………………………………………..295
10.1.5 SERVICE SCHEDULE………………………………………………………………296
Table Of Contents
10.1.6 LUBRICATION POINTS…………………………………………………………….298
10.1.7 OPERATOR RESTRAINT LUBRICATION AND
MAINTENANCE ……………………………………………………………………….300
10.1.8 ENGINE LUBRICATION…………………………………………………………….301
10.1.9 ENGINE COOLING SYSTEM …………………………………………………….302
10.1.10 FAN BELT ……………………………………………………………………………….303
10.1.11 TWO STAGE AIR FILTER………………………………………………………….304
10.1.12 SPARK ARRESTOR………………………………………………………………….305
10.1.13 BATTERY ………………………………………………………………………………..306
10.1.14 FUEL SYSTEM/FILTERS …………………………………………………………..306
10.1.15 INJECTION PUMP PRIMING …………………………………………………….307
10.1.16 HYDRAULIC SYSTEM MAINTENANCE ……………………………………..307
10.1.17 CHAIN CASE DRAIN AND REFILL …………………………………………….308
10.1.18 PARKING BRAKE ADJUSTMENT………………………………………………308
10.1.19 PEDAL LOCK ADJUSTMENT…………………………………………………….309
10.1.20 TIRE MAINTENANCE ……………………………………………………………….311
10.2 TOWING PROCEDURES………………………………………………………………………312
10.3 DIMENSIONS……………………………………………………………………………………….313
10.4 OPERATIONAL SPECIFICATIONS…………………………………………………………316
10.4.1 PERFORMANCE ……………………………………………………………………..316
10.4.2 POWER UNIT ………………………………………………………………………….317
10.4.3 FINAL DRIVE COMPONENTS…………………………………………………..318
10.4.4 HYDROSTATIC TRANSMISSION PUMP…………………………………….319
10.4.5 HYDRAULIC SYSTEM ……………………………………………………………..320
10.4.6 ELECTRICAL COMPONENTS …………………………………………………..324
10.4.7 INSTRUMENTS ……………………………………………………………………….325
10.4.8 SEAT………………………………………………………………………………………326
10.5 FLUID SPECIFICATION AND REFILL CAPACITIES ………………………………..327
10.6 TIGHTENING SPECIFICATIONS AND PROCEDURES…………………………….328
10.6.1 TORQUES FOR MAJOR COMPONENTS …………………………………..328
10.6.2 STANDARD TORQUES FOR METRIC FASTENERS……………………329
10.6.3 LINES, HOSES, FITTINGS, AND SEALS ……………………………………330
VIDEO PREVIEW OF THE MANUAL:
IMAGES PREVIEW OF THE MANUAL: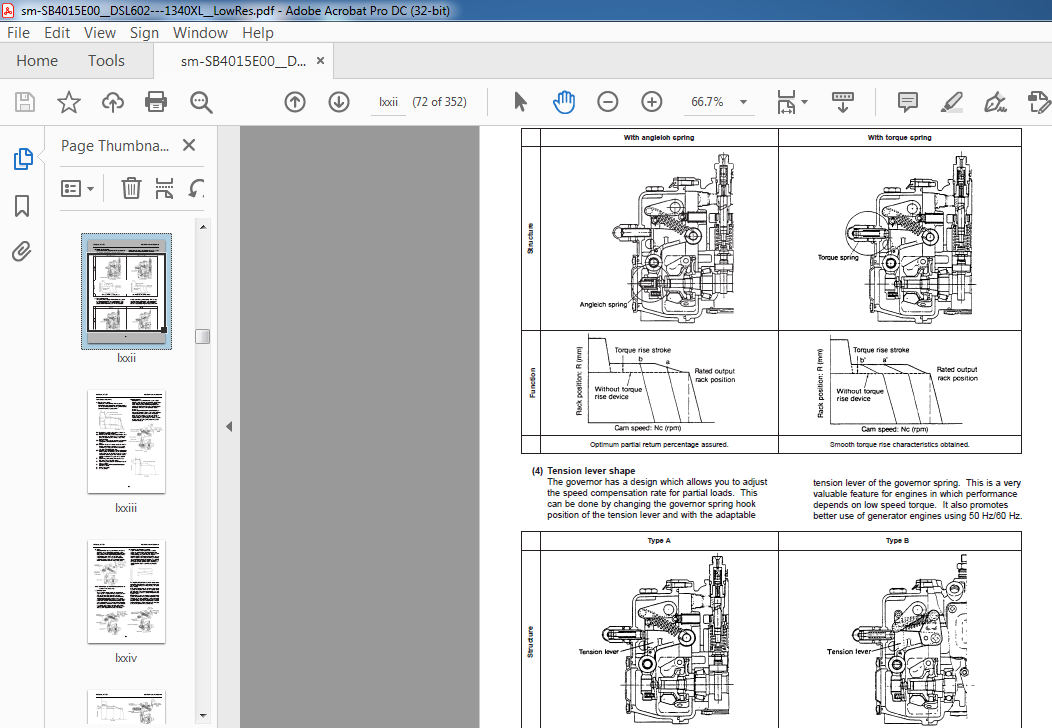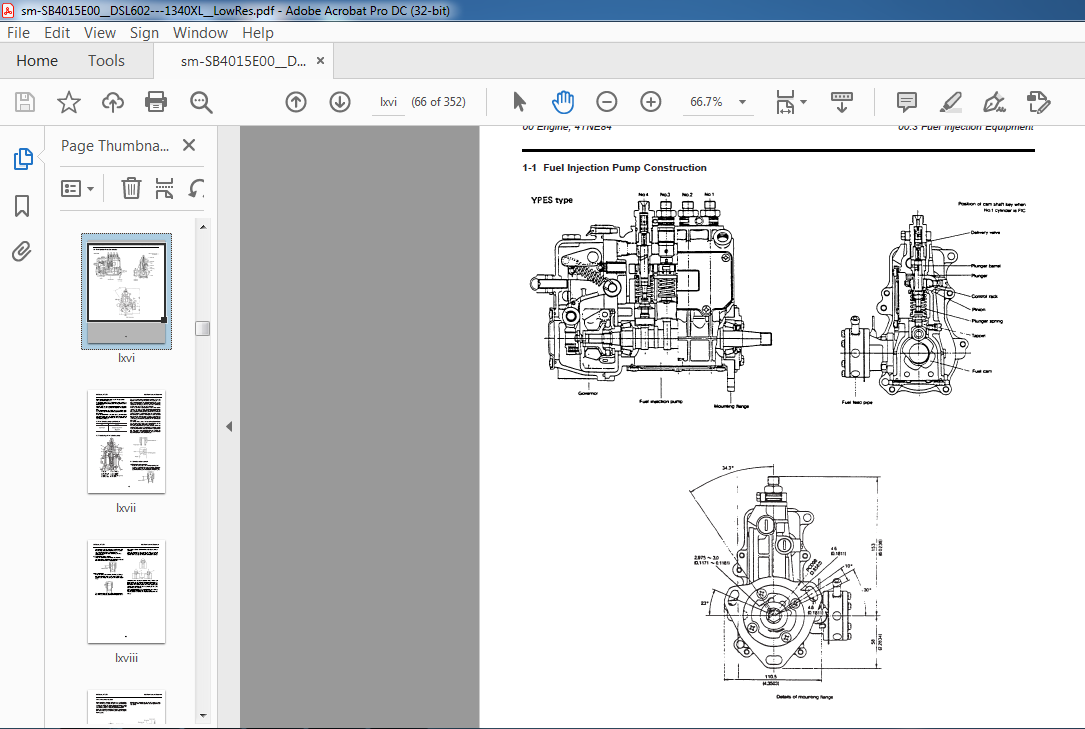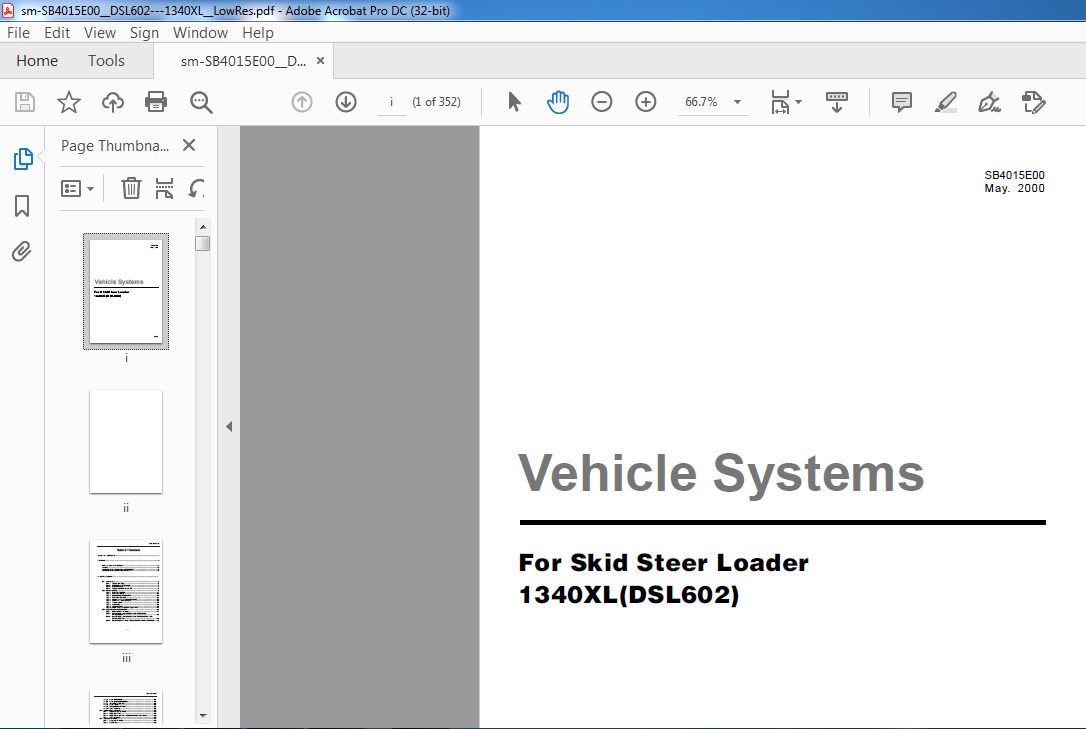 PLEASE NOTE:
This is the SAME exact manual used by your dealers to fix your vehicle.
The same can be yours in the next 2-3 mins as you will be directed to the download page immediately after paying for the manual.
Any queries / doubts regarding your purchase, please feel free to contact [email protected]
R.D