Condor 36N 46N & 60N Operation & Safety Manual – PDF DOWNLOAD
FILE DETAILS:
Condor 36N 46N & 60N Operation & Safety Manual – PDF DOWNLOAD
Size: 45.0 MB
Pages : 157
Format: PDF
Language: English
Brand: Iveco
DESCRIPTION:
Condor 36N 46N & 60N Operation & Safety Manual – PDF DOWNLOAD
INDUSTRIAL SELF-PROPELLED
AERIAL WORK PLATFORM
MODELS 36N, 46N, AND 60N
INTRODUCTION:
This Safety Manual (PIN 92260) is printed to assist the operator to better understand and operate the Industrial Self-Propelled CONDOR Aerial Work Platforms, Models 36M, 46N and 601, in a safe and proficient manner. For the operator's safety and protection, this manual MUST BE RETAINED on the CONDOR industrial work platform at ALL TIMES.
1. DESCRIPTION OF INDUSTRIAL CONDOR:
The CONDOR is a telescopic aerial work platform and is rugged, maneuverable, and safe. It is designed for work on firm level surfaces, with normal operation controlled by an operator using a control box in the platform. All operational modes can be accomplished from the platform, including drive and steer. The CONDOR provides industrial, construction, and maintenance workers the ability to safely elevate and perform installation maintenance and replacement tasks. The CONDOR Models 36N and 46N are powered by a Wisconsin Model VH4D aircooled gasoline engine rated, at 30 horsepower, at 2,150 R.P.M. As an option, a Deutz diesel engine Model F2L511 is utilized having a nominal horsepower rating of 23. The CONDOR Model 60N is utilized by a Wisconsin Model VG4D air-cooled gasoline engine rated, at 37 horsepower, at 2,400 R.P.M. Optional Oeutz diesel engine Model F2L912, 27.5 horsepower at 2,300 R.P.M.
2. OPERATOR'S QUALIFICATION:
Each INDUSTRIAL CONDOR UNIT has undergone a thorough Quality Control inspection at CALAVAR. The design incorporates built-in safety features. A person of average skill can readily become proficient and safe in the operation of the CONDOR. It is a personnel lifting device and can be potentially DANGEROUS in the hands of UNTRAINED or CARELESS OPERATORS. Knowing the characteristics of the machine and function of the controls is important to SAFE, PROPER OPERATION AND USE. Becoming familiar with the controls and practices will result in smooth, accurate positioning. It is the responsibility of all users to READ and COMPLY with the following RULES and information designed to promote SAFETY and UNDERSTANDING of the CONDOR.
• A thorough understanding of the operating characteristics and limitations of the CONDOR is always the first requirement for any user, regardless of his prior experience with similar types of equipment.
• Only QUALIFIED/TRAINED and AUTHORIZED personnel must be ALLOWED to operate the CONDOR. A QUALIFIED/TRAINED operator is one who has READ and UNDERSTOOD the instructions in this manual, and is thoroughly familiar with the operating characteristics and limitations of the unit.
VIDEO PREVIEW OF THE MANUAL:
IMAGES PREVIEW OF THE MANUAL: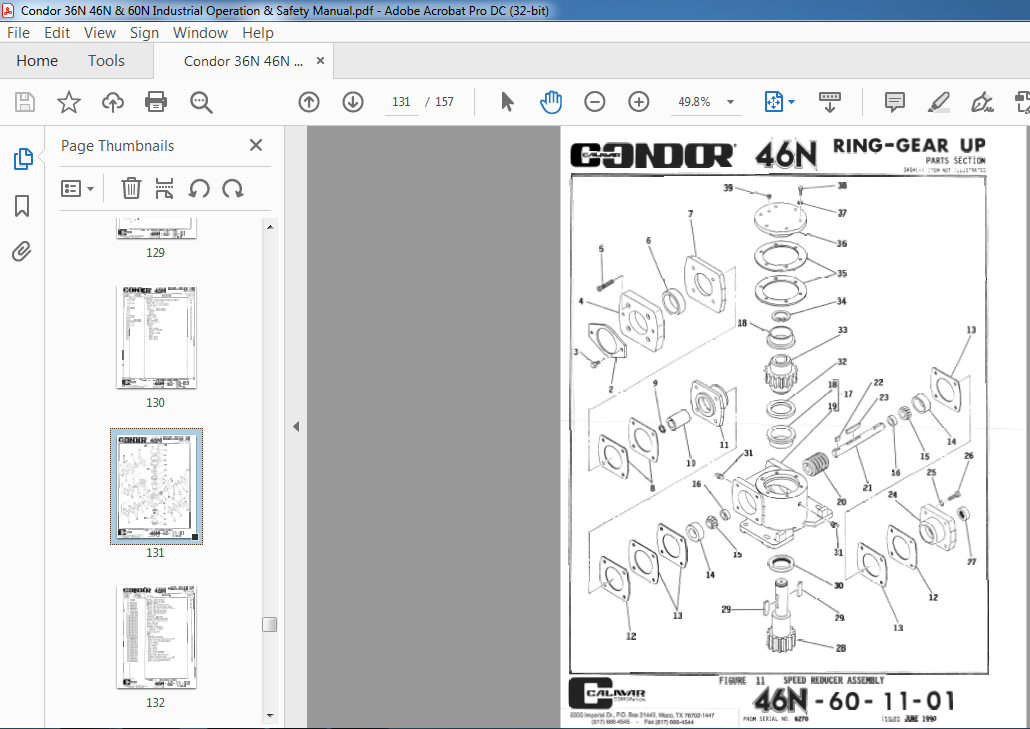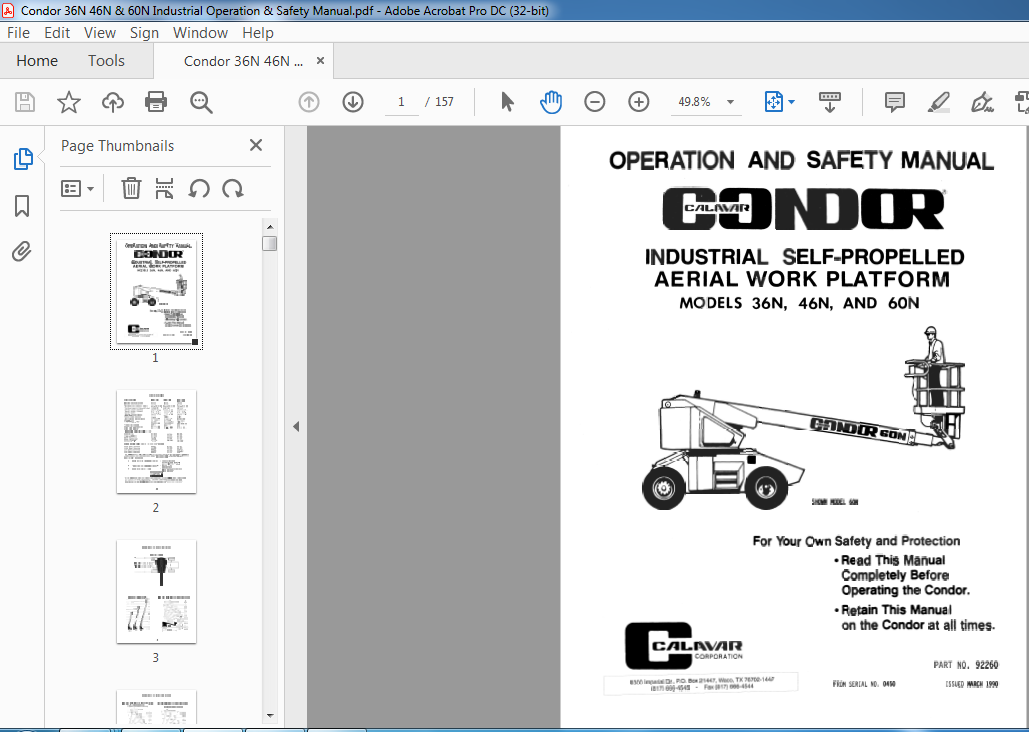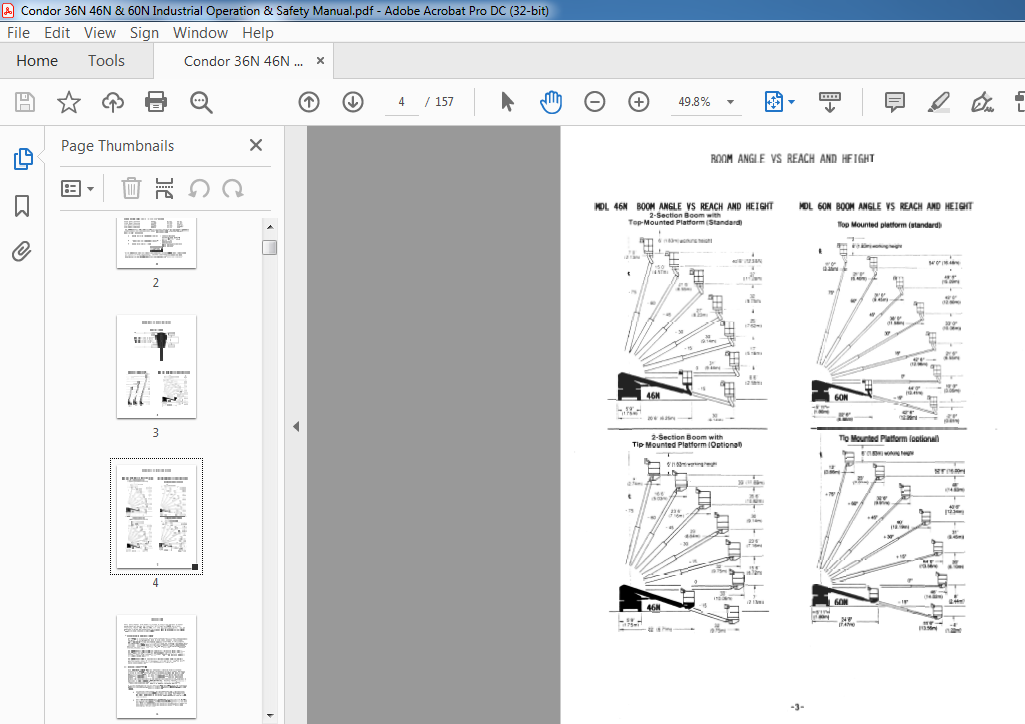 PLEASE NOTE:
This is the same manual used by the dealers to diagnose and troubleshoot your vehicle
You will be directed to the download page as soon as the purchase is completed. The whole payment and downloading process will take anywhere between 2-5 minutes
Need any other service / repair / parts manual, please feel free to contact [email protected] . We still have 50,000 manuals unlisted