CLASS LEXION 480 LEXION 470 Operator's Manual – PDF DOWNLOAD
DESCRIPTION:
CLASS LEXION 480 LEXION 470 Operator's Manual – PDF DOWNLOAD
INTRODUCTION :
This manual applies to CLAAS LEXION 480 and LEXION 470 Combine Harvesters. It is intended to give the machine operator information on setting, using and servicing the CLAAS Combine Harvester. Texts and pictures apply, in general, to all combine models covered by this manual, and the information given applies equally, except where reference is made to a particular model in captions to the pictures or in the main text.
Operation and maintenance of important ancillary equipment is also covered by this manual. A separate Operator's Manual is available for cutterbars. Please read the instructions which apply to the appropriate ancillary equipment on your combine.
Provided you follow the advice on the care and servicing of your machine you will be rewarded with reliable and long service from your Combine Harvester. We recommend that you allow your authorized CLAAS Dealer to carry out the regular maintenance.
Omissions of parts of the maintenance schedule or incorrect operation lead to a drop in performance and cost valuable time. By correct servicing and operation you can make full use of our sound experience and of the latest technical knowledge in combine harvesting with which your combine has been designed and thereby ensure reliability of your Combine Harvester.
TABLE OF CONTENTS:
CLASS LEXION 480 LEXION 470 Operator's Manual – PDF DOWNLOAD
1 Introduction
Introduction 111
2 Contents
Contents 211
3 General information
Road traffic regulations 311
Important 321
Identification plate / Serial number 331
Identification plate 332
Combine serial number 332
Engine serial number
CATERPILLAR C12 332
Engine serial number
CATERPILLAR C9 333
Straw chopper identification plate 333
Cabin serial number 333
4 Safety rules
Safety rules 411
Safety lock 415
Fire extinguisher 415
Battery master switch 416
Wheel chocks 416
Positioning the wheel chocks 416
Safety decals with pictorials 421
5 Specifications
Conversion factors 511
CLAAS LEXION 480 521
CLAAS LEXION 470 531
Safety features 541
Front attachments – weights and dimensions 551
6 Prior to operation
Perform the following steps prior to operation 611
Cabin 621
Cabin with Climatic 621
Climatic 622
Operating and display elements 622
Putting the Climatic into operation 623
Setting the cabin temperature 624
Manually setting the evaporator blower speed 624
Fully automatic heating 625
Manually setting the heating 626
Floor heating 626
REHEAT operation
(Dehumidify cab windows) 627
Displaying the outside temperature 628
Switching the temperature display to Fahrenheit 628
Display of malfunction:
error in thermometer F0 (cabin, blue) 628
Display of malfunction:
error in thermometer F1 (exhaust, yellow) 628
Display of malfunction:
error in thermometer F2 (outside, red) 628
Cabin with air conditioner
(Standard version) 629
Cabin with compressor-type air conditioning system 6210
Cabin with heating 6212
Floor heating 6212
Demister System
(Fogged windows) 6212
Problem, cause and / or remedy –
Compressor-type air conditioner 6213
Opening and closing the cabin roof 6215
Windscreen washer system 6215
Operator's platform 631
Operator's platform – Overview 631
Switch console 632
Monitor (Vehicle information display) 633
Monitor (Harvest display) 634
C-keys 637
Rotary switch D 637
Steering column 638
Ignition switch (S) 638
Multi-function switch 639
Vehicle information unit 6310
Multi-function handle 6311
Adjusting the steering column 6312
Swinging the steering column at the top 6312
Steering wheel height adjustment 6313
Central electrics 6313
Swing grain tank unloading tube out and in 6317
Safety feature 6317
Switching grain tank unloading on and off 6318
Switching threshing mechanism on and off 6318
Operator's seat 6319
Operator's seat, mechanical 6319
Operator's seat with air suspension
(Optional equipment) 6322
Ladders 6325
Front ladder 6325
Hinged ladder 6325
Access and ladder extension 6326
Side position lights in case of excess width 6332
Side lights in case of excess width 6333
Rear ladder 6334
Other uses of the rear ladder 6334
Driving the combine 641
Engine speed rotary switch 641
Manoeuvring 641
Starting the engine 642
Gear ranges 642
Servo gearshift
(Optional equipment) 643
Adjusting the binds of the ground speed control lever 643
Stopping 644
Driving behaviour 644
Steering 644
Brakes 645
Contents
212 BA LEXION 480 / 470 – 298 2471
Contents
Foot brake 645
Parking brake 646
Stopping the engine 646
CLAAS Autopilot (Maize picker head) 647
CLAAS Autopilot (Grain cutterbar) 648
Adjusting the directional stability of the combine 648
Setting the laser sensor in the field 6410
Putting the CLAAS Autopilot into operation 6412
Use in rape with left-hand side cutter 6413
Cutterbar hydraulic cylinders 651
Attaching cutterbar hydraulic cylinders 651
Third cutterbar cylinder 651
Rear wheel drive axle 661
Adjusting rear wheel drive axle
from transport to working position 661
Wheel tread adjustment – Rear wheel drive axle 664
Adjustable rear axle
LEXION 470 666
Rear axle wheels – steering angle limiter
(Adjustable rear axle) 668
8 t rear axle
LEXION 480 668
Side panels 671
Opening and closing the side panels and the rear door 671
Adjusting the side panel / rear door locks 672
Cabin and lighting 681
Headlights, worklights and mirrors 681
Towing / Crop inspection / Grain tank 691
Towing 691
Forwards 691
Backwards 691
Crop inspection 691
Grain tank 692
Closing the grain tank openings 692
Installing dual wheels
LEXION 480 6101
Operating the front ladder with dual tyres installed 6105
Additional weights
LEXION 470 6111
Installing the rear axle weights 6111
7 Installing and removing the cutterbar
Installing the cutterbar 711
Tilting the cutterbar from transport position 711
Machines equipped with CLAAS Auto Contour 712
Adjusting the hydraulic cylinder
for transverse cutterbar control 712
Machines without CLAAS Auto Contour 713
Locking cutterbars and maize pickers
(Cutterbars without Auto Contour) 715
Connecting the universal drive shaft 716
Connecting the reel drive hydraulic hoses
(Cutterbar with hydraulic reel drive) 716
Mounting the stands 717
Removing the cutterbar 721
Disconnecting the reel drive hydraulic hoses
(Cutterbar with hydraulic reel drive) 721
Removing the universal drive shaft 722
Removing the universal coupling 722
Opening the cutterbar locking 722
Laying down the cutterbar on the ground 723
Placing the cutterbar on the cutterbar trailer 724
8 Operation CEBIS
9 Operation – basic machine
Feeder housing 911
Chains 911
Cutterbar reverse drive 912
Cutterbar floatation springs 912
Checking the setting of the cutterbar
floatation springs 912
Cutting height indicator 913
Cutterbar spring pressure indicator 913
Blocking the cutterbar floatation springs 914
Adjusting drop rate of the front attachment 914
Cutterbar clutch 915
Engaging and disengaging the cutterbar 915
Threshing mechanism 921
Stone trap 921
Engaging and disengaging the threshing mechanism 922
Threshing drum 923
Cleaning the threshing parts 923
Basic concave setting 924
Learning the limit stops 929
Threshing drum speed 9210
Threshing drum drives 9210
Threshing drum two-step variable speed drive 9210
Installing and removing preconcave segments 9211
Concave segment 9212
Removing the concave segment 9212
Installing the concave segment 9213
Disawning 9214
Unslugging the threshing drum 9214
Separation rotors LEXION 480 931
Separation rotors 931
Step drive 932
Variable-speed rotor drive
(Optional equipment) 933
Removing the separation grates 934
Installing the separation grates 936
Warning signal 936
Covering the rotor separating jackets 937
Separation rotors LEXION 470 941
Separation rotors 941
Step drive 942
Variable-speed rotor drive
(Optional equipment) 943
Dummy concaves 944
Installing and removing dummy concaves 944
Installing the dummy concaves 944
Warning signal 949
Cleaning 951
Sieve pan 951
Preparation floor 951
Frogmouth sieves 952
Electrical sieve adjustment 952
298 2471 – BA LEXION 480 / 470 213
Contents
Removing the sieves
(Electric sieve adjustment system) 952
Installing the sieves 956
Tightening torques of axial mountings
for the upper and lower sieves 956
Sieves – Basic setting 957
Harvesting without finishing sieves 957
Cleaning fan 958
Electric fan speed adjustment 959
Wind-controlled cleaning step 959
Adjustment of primary wind duct 959
Wind board 9510
Fan shutters for combining grass seed
and other special crops
(Extra equipment) 9510
Dynamic sidehill levelling
(3-D cleaning system) 9511
Returns 9511
Combine performance monitor 9513
Rotary separation system 9513
Grain delivery 961
Augers and auger troughs 961
Elevators 962
Grain tank 963
Grain tank extension 963
Unloading the grain tank 964
Grain tank unloading aid
(Extra equipment) 965
Grain tank unloading tube 965
Swinging the unloading tube out and in 965
Inspection doors on the grain tank unloading tube 967
Shear bolt for grain tank unloading 967
Grain tank unloading – engaging and disengaging 968
Grain tank access 968
Automatic chain lubrication – grain tank unloading
(Extra equipment) 969
Straw chopper / Uni-Spreader
LEXION 480 971
Straw chopper 971
Before using the straw chopper
for the first time, check 972
Adjusting length of cut 972
Adjusting the cross blade 972
Putting the straw chopper into operation 973
Uni-spreader fans 974
Adjusting the spreading width 976
Setting of the range of spreader spout swing 977
Chopper 978
Putting the chopper out of operation and
converting the machine for laying swaths 978
Removing the chopper feed pan 9710
Reducing the chopper speed 9710
Straw chopper / Chaff spreader
LEXION 470 981
Straw chopper 981
Before using the straw chopper, check 982
Adjusting spreading width 982
Spreader hopper height adjustment 982
Electric deflector adjustment 983
Adjusting the length of cut 983
Adjusting cross knife 984
Putting the straw chopper into operation 984
Putting the straw chopper out of operation 985
Chopper position for cutterbar trailer hitching 985
Reducing the chopper speed 985
Chaff spreader 987
Folding the chaff spreader open 988
Straw spreader 991
Adjusting the spread pattern 991
Sieve chart and suggested combine adjustments 9101
Sieve chart 9101
Suggested combine adjustments 9102
Disawner plates 9108
Threshing segment 9108
Problem, cause and / or remedy – Basic machine 9111
10 Maintenance – basic machine
Important maintenance instructions 1011
Important maintenance instructions and safety rules 1011
Maintenance schedules and lubricants charts 1021
Maintenance schedules 1021
Lubricants charts 1024
Hydraulic system 1031
Hydraulic accumulators 1031
Checking the oil level 1031
Changing hydraulic oil 1032
Changing the hydraulic oil filter 1033
Cleaning the coarse filters 1033
Refilling the system after a hydraulic oil change
(Sauer 90 R 130 / 90 M 100) 1034
Bleeding the hydraulic cylinders
for cutterbar transverse control 1035
Transmission / Brakes 1041
Transmission gearbox 1041
Checking the oil level 1041
Oil change 1041
Final drives (2-step)
(20 t / 19 t / 20 t HD) 1042
Checking the oil level 1042
Oil change 1042
Final drives
(Planetary gear) 1043
Checking the oil level 1043
Oil change 1043
Threshing drum two-step variable speed drive 1044
Oil change 1044
Checking the oil level 1044
Transfer gearbox
(Engine) 1045
Checking the oil level 1045
Oil change 1045
Rotor drive gearboxes 1045
Checking the oil level 1045
Oil change 1045
Grain tank unloading transmission 1045
Checking the oil level 1045
Oil change 1045
214 BA LEXION 480 / 470 – 298 2471
Contents
Uni-spreader gearbox
(straw chopper) 1046
Checking the oil level 1046
Changing the oil 1046
Gear shift control adjustment 1046
Foot brake and brake fluid 1046
Parking brake 1047
Feeder housing 1051
Tension feeder chains 1051
Cleaning the suction blower
(extra equipment) 1051
Elevator chains 1061
Tensioning the grain elevator chain
(Combines without yield meter) 1061
Tensioning the grain elevator chain
(Combines with yield meter) 1062
Tensioning the returns elevator chain 1062
Drive belts / drive chains – basic machine 1071
General notes 1071
Drive system diagram, left-hand side 1072
Drive belts and chains 1072
Drive system diagram, right-hand side 1073
Drive belts 1073
Removing the cutterbar drive belt (1)
(Cutterbar drive without variable-speed drive) 1074
Installing and tensioning the cutterbar drive belt (1) 1076
Removing the cutterbar drive belt (2)
(Cutterbar drive with variable-speed drive) 1077
Installing and tensioning the cutterbar drive belt (2) 1078
Removing the cutterbar variable-speed drive belt (3) 1079
Installing the cutterbar variable-speed drive belt (3) 10710
Removing the impeller drive belt (4) 10711
Installing and tensioning the impeller drive belt (4) 10712
Removing the cutterbar intermediate drive belt (5) 10713
Installing and tensioning the
cutterbar intermediate drive belt (5) 10714
Removing the hydraulic pump drive belt (6)
for straw spreader / chaff spreader 10715
Installing and tensioning the hydraulic pump
drive belt (6) for straw spreader / chaff spreader 10715
Removing the main intermediate drive belt (7) 10716
Installing and tensioning the main intermediate
drive belt (7) 10718
Removing the intermediate drive belt for
grain tank unloading (8) 10720
Installing and tensioning the intermediate
drive belt for grain tank unloading (8) 10721
Removing the straw chopper intermediate
drive belt (9) 10722
Installing and tensioning the straw chopper
intermediate drive belt (9) 10723
Removing the straw chopper drive belt (10 and 11) 10724
Installing and tensioning the straw chopper
drive belt (10 and 11) 10726
Adjusting the uni-spreader intermediate drive
LEXION 480 10727
Removing the uni-spreader drive belt (12) 10727
Installing and tensioning the uni-spreader
drive belt (12) 10728
Adjusting the uni-spreader drive 10728
Installing and tensioning the uni-spreader
drive belt (16) 10729
Removing the sieve pan intermediate
drive belt (13) 10730
Installing and tensioning the sieve pan
intermediate drive belt (13) 10731
Removing the sieve pan intermediate
drive belt (14) 10732
Installing and tensioning the sieve pan
intermediate drive belt (14) 10732
Removing the sieve pan drive belt (15) 10733
Installing and tensioning the sieve pan drive belt (15) 10735
Adjusting the axial rotor step drive (18) 10736
Adjusting the axial rotor intermediate drive 10737
Removing and installing drive belt (19) 10737
Removing the fan intermediate drive belt (20) 10739
Installing and tensioning the fan intermediate
drive belt (20) 10740
Removing the fan drive belt (21) 10741
Installing the fan drive belt (21) 10741
Removing the threshing mechanism
variable speed drive belt (22) 10742
Installing the threshing mechanism
variable speed drive belt (22) 10743
Removing the threshing drum drive belt (23) 10744
Installing and tensioning the threshing
drum drive belt (23) 10745
Removing the accelerator drive belt (24) 10746
Installing and tensioning the accelerator
drive belt (24) 10747
Removing the rotary radiator screen suction
drive belt (28) 10748
Installing and tensioning the rotary radiator
screen suction drive belt (28) 10749
Tensioning the rotary radiator screen
drive belt (32) 10749
Tensioning the suction blower drive belt (34) 10749
Removing the grain tank unloading
drive chain (17) 10750
Installing and tensioning the grain tank
unloading drive chain (17) 10751
Cabin / Compressor-type air conditioner 1081
Cabin 1081
Cleaning the filters 1081
Cleaning the units located in the cabin roof 1081
Compressor-type air conditioning system 1082
Cleaning the condenser 1082
Checking the refrigerant level 1082
Replacing the filter receiver-drier 1083
Required refrigerant charge – refrigerant R 134 a 1083
Compressor oil 1083
Maintenance work before the harvest 1084
Combine performance monitor / Fire extinguisher 1091
Combine performance monitor 1091
Fire extinguisher 1092
298 2471 – BA LEXION 480 / 470 215
Contents
Compressed air system
(Extra equipment) 10101
Compressed air connections 10101
Draining the compressed air accumulator 10102
Pressure controller 10102
Straw chopper 10111
Removing the knives 10111
Removing the straw guide plate
(LEXION 470) 10111
Installing the straw guide plate
(LEXION 470) 10112
Removing the straw guide plate
(LEXION 480) 10112
Installing the straw guide plate
(LEXION 480) 10112
Changing the knives 10113
Replacing the stationary knives 10115
Spreading unit 10121
Installing and adjusting the toothed belt 10121
Speed monitoring 10131
Setting the magnetic pick-ups (sensors) 10131
Winter storage instructions for combines 10141
11 Maintenance – engine
Important maintenance instructions 1111
Important maintenance instructions and safety rules 1111
Maintenance schedules and lubricants charts 1121
Maintenance schedule 1121
Lubricants chart 1122
Maintenance – engine 1131
Engine overview 1131
Fuel system 1132
Fuel tank 1132
Additional fuel tank
(Extra equipment) 1132
Replaceable filter of additional fuel tank 1133
Fuel tap 1133
Water separator / fuel pre-filter
(Extra equipment – small version) 1134
Water separator / Fuel pre-filter
(Extra equipment, replaces fuel pre-filter Fig 11) 1135
Fuel filter 1136
Replacing the filter cartridge 1136
Bleeding the fuel system 1137
Checking engine oil level 1137
Engine oil change 1137
Draining the old oil 1138
Oil filter 1139
Filling in engine oil 11310
Cooling system 1141
Coolant 1141
Water drain plugs on the engine block 1141
Water cooler 1142
Filling the cooling system with coolant 1142
Overpressure 1143
Antifreeze / corrosion protection 1143
Warning notice 1143
Cooling water temperature 1143
Stopping the engine when overheated 1144
Radiator rotary screen 1144
Cleaning the radiator 1147
Dry-type air cleaner 1151
Warning device 1151
Cleaning the air cleaner intake screen 1151
Cleaning dry-type air cleaner 1152
Cleaning the air cleaner 1152
Safety filter cartridge 1154
Electrical equipment 1161
Battery 1161
Alternator 1162
Engine problems, cause and / or remedy 1171
Engine winter storage 1181
Engine preservation 1181
12 Lubrication chart
Lubricants and lubrication instructions 1211
13 Index
Index 1311
IMAGES PREVIEW OF THE MANUAL: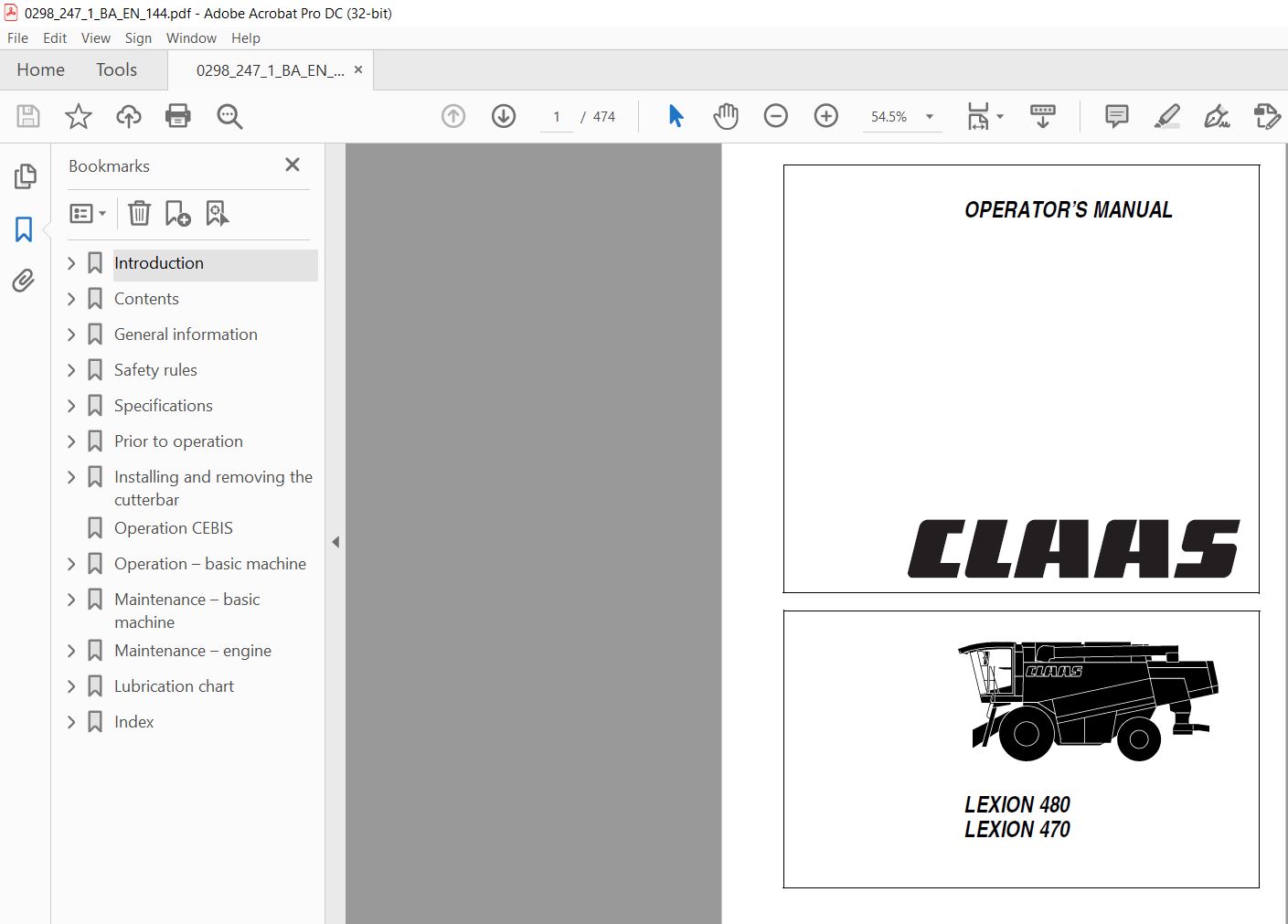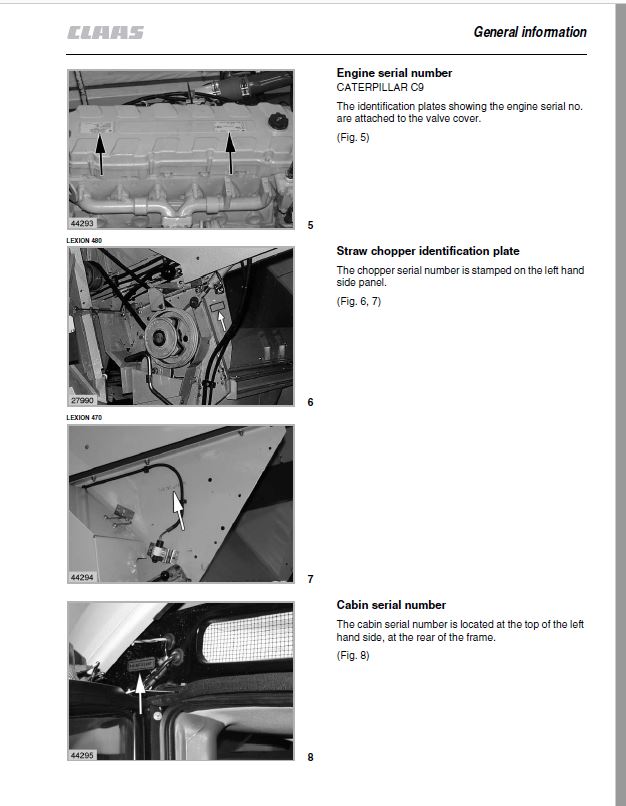 VIDEO PREVIEW OF THE MANUAL:
PLEASE NOTE:
This is the SAME exact manual used by your dealers to fix your vehicle.
The same can be yours in the next 2-3 mins as you will be directed to the download page immediately after paying for the manual.
Any queries / doubts regarding your purchase, please feel free to contact [email protected]
S.V