CLARK FORKLIFT SM 520R GCSGCS SERVICE MANUAL – PDF DOWNLOAD
Video Preview:
Image Preview:.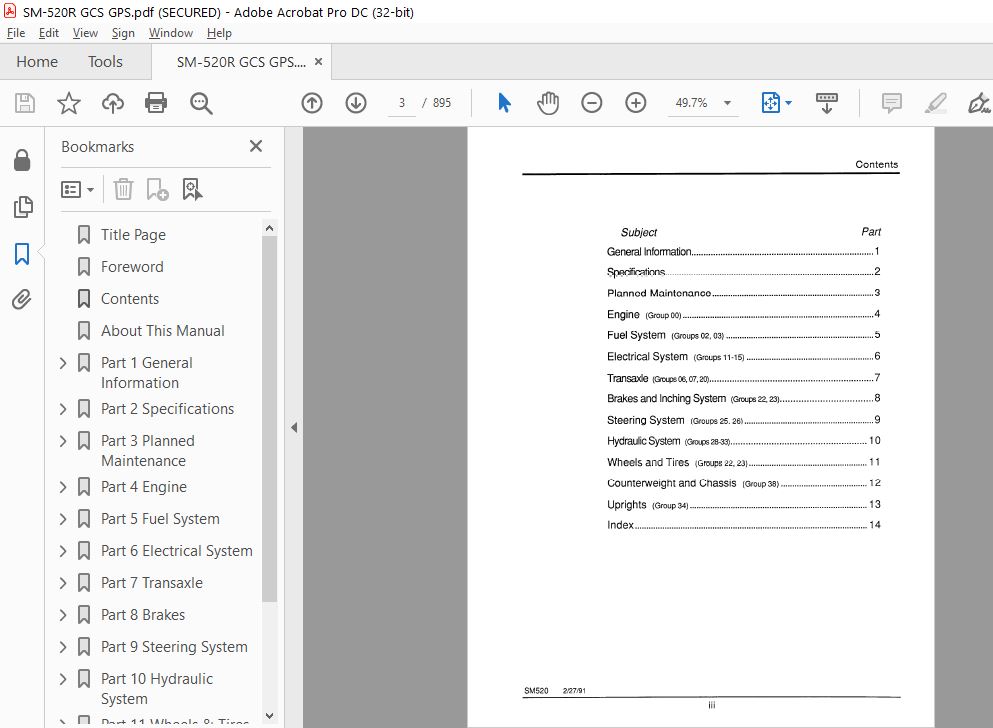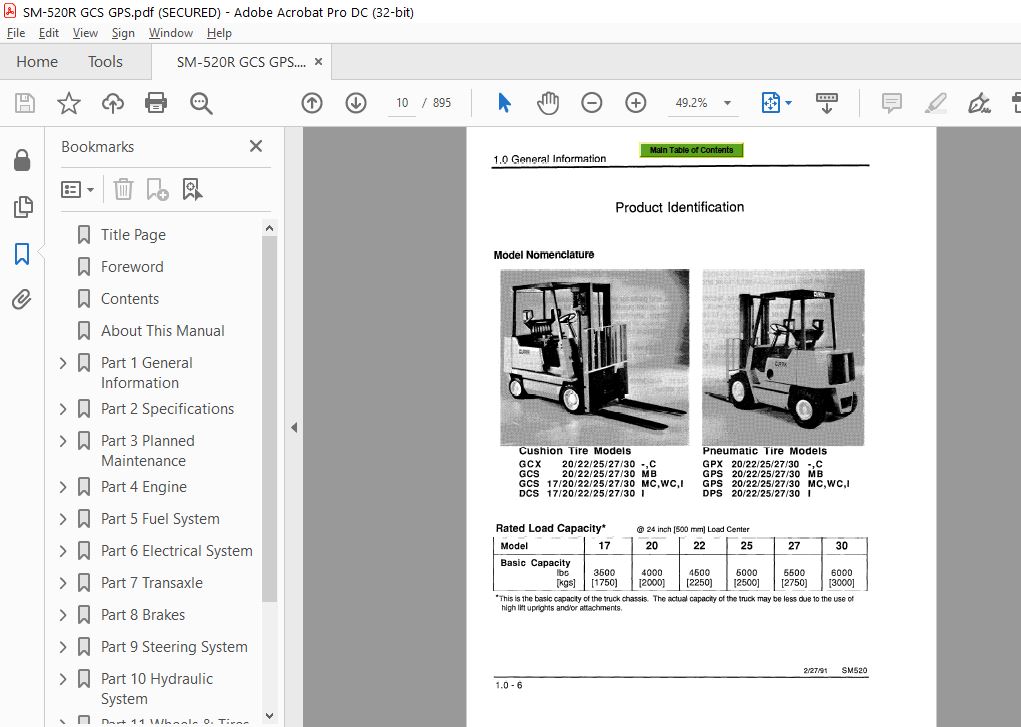 Description:
CLARK FORKLIFT SM 520R GCSGCS SERVICE MANUAL – PDF DOWNLOAD
This service publication provides information covering normal service, maintenance and repair of the Clark lift trucks noted on the cover. It has been specifically prepared to help owners and service personnel maintain these lift trucks in efficient and safe operating condition. Regular, correct maintenance and care of lift trucks is not only important for long and efficient truck life; it is essential for safe operation.
The importance of proper maintenance through planned service, inspection and qualified repairs cannot be emphasized too strongly. To assist in keeping lift trucks in good operating condition, this manual includes preventive maintenance procedures to be performed at regular intervals. These are essential to the service life and safe operation of all fork lift trucks.
Instructions for safety inspections, operational checks, cleaning, and lubrication are provided for reference in setting-up and conducting a recommended periodic Planned Maintenance (PM) program. Refer to the Operator's Manual, located on the truck, for additional information on the operation, care and maintenance of your truck.
Genuine Clark replacement parts should be used for all service and repair requirements. Substitute parts from other sources may be different than original parts and may not meet OSHA or other safety requirements. Any reference to brand names other than Clark in this manual is made simply as an example of the type of tools and materials recommended for use and, as such, should not be considered as an endorsement. Equivalents, if available, may be used. For more information on maintenance and repair of these trucks, contact your authorized Clark dealer.
NOTICE – The descriptions and specifications included in this manual were in effect at the time of printing. C/ark Equipment Company reserves the right to discontinue models at any time, or make improvements and changes in specifications or design without notice and without incurring obligation. Specifications, torques, pressures, measurements, adjustments, illustrations and other items may change at any time. Contact your authorized CLARK dealer for information on possible updates or revisions.
Table Of Contents:
CLARK FORKLIFT SM 520R GCSGCS SERVICE MANUAL – PDF DOWNLOAD
General Information ………………………………………………………………1.. .
Specifications ……………………………………………………………………….2… …
Planned Maintenance ……………………………………………………….3.. …..
Engine (Group 00) ………………………………………………………………………… 4
Fuel System (GROUPS 02,03) ……………………………………………………….. 5
Electrical System (Groups 11-15) ……………………………………………….. 6
Transaxle (stops 06,07,20) ……………………………………………………….. 7
Brakes and Inching System (GIOUPS 22,23) …………………………….. 8
Steering System (Groups 25,26) ………………………………………………… 9
Hydraulic System (Groups 28-33) …………………………………………….. IO
Wheels and Tires (Groups 22,23) ……………………………………………. 11
Counterweight and Chassis (Group 38) ……………………………….. 12
Uprights (Group 34). ………………………………………………………………….. 1 3
Index.. ……………………………………………………………………………….1..4.. …..
Please Note:
This is the SAME manual used by the dealers to troubleshoot any faults in your vehicle. This can be yours in 2 minutes after the payment is made.
Contact us at [email protected] should you have any queries before your purchase or that you need any other service / repair / parts operators manual.
sk