CLARK FORKLIFT C500 915 OH 544 OVERHAUL MANUAL – PDF DOWNLOAD
Video Preview:
Image Preview: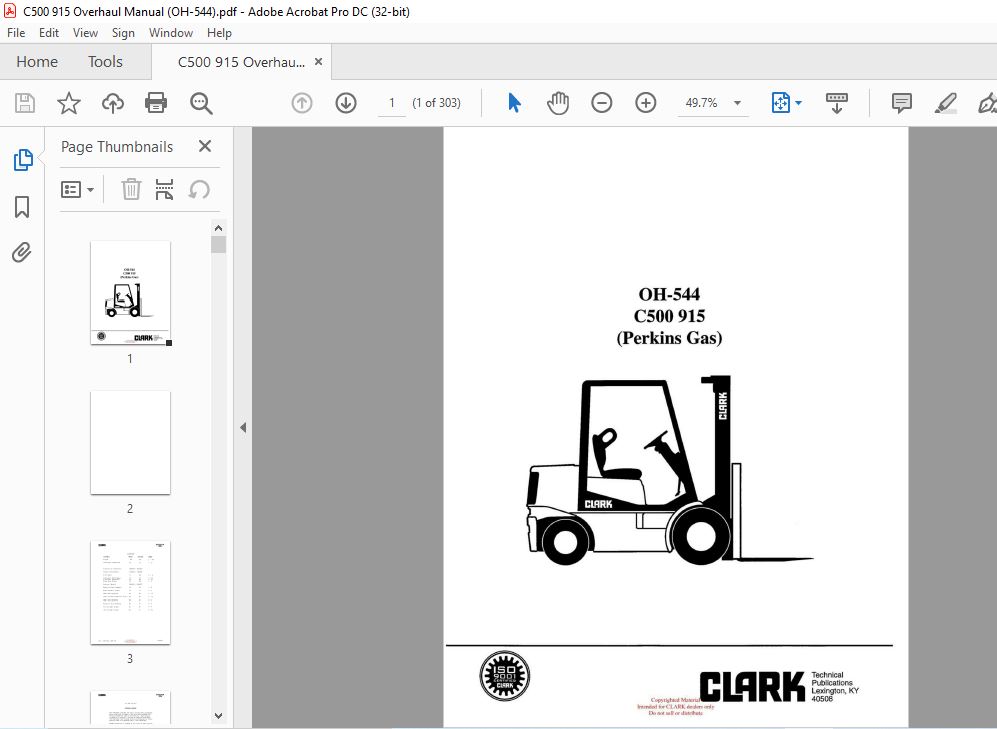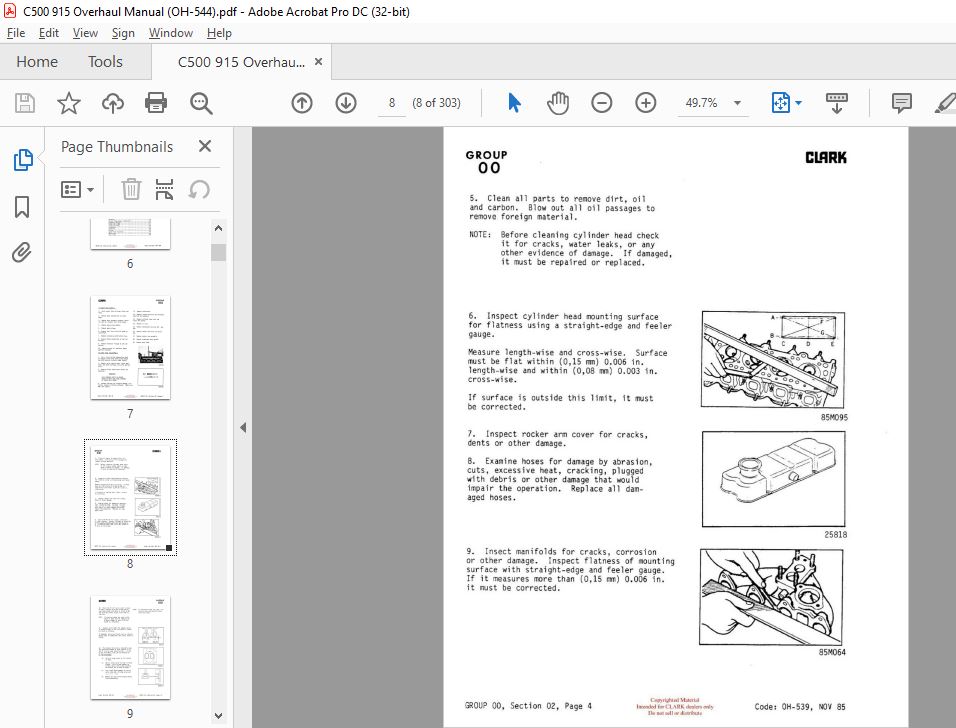 Description:
CLARK FORKLIFT C500 915 OH 544 OVERHAUL MANUAL – PDF DOWNLOAD
This handbook provides the basic step-by-step procedures which should be followed in making a bench overhaul of various assemblies used on the vehicle. Each section includes al 1 relevant illustrative material available, from exploded view through photos and drawings to crosssection views of assembled parts, when necessary. Trouble shooting is located at the front of each section, and specifications and other useful information are added at the end of each section.
Each section is selfcontained (or modular), with consecutive page numbers and publication date at the bottom of al 1 pages included therein. Where possible, general instructions are presented as applicable to a family of assemblies. Any necessary variations in specifications are given in column form with a CLARK part number on each 1 ine. Refer to your Product Identification Card to verify applications.
There may be several sections in some parts groups. For example, GROUP 16 may cover a drive motor in Section 1, a hydraulic pump motor in Section 2 and a steering pump motor in Section 3 in an Overhaul Handbook for an electric truck; or, for a gasoline engine truck, Group 12 may have a voltage regulator in one section, a generator in another, or an alternator with a built-in voltage regulator.
Refer to your Table of Contents for proper Group and Section numbers. The basic group in which a section appears bears the same group number as Service Parts Books list for most assemblies. In some cases, however, an overhaul procedure will mention a sub-assembly from another parts grouping simply because it would be impractical to attempt to overhaul the sub-assembly.
For example, a motor brake must be disassembled to get the drive motor disassembled on several electr1c trucks; and on most trucks with drive axles (GROUP 20), it is usually necessary to deal with certain brake assembly parts (GROUP 23), when overhauling the axle assembly. Any overlapping is intended to be helpful, rather than confusing. Refer to your CLARK dealer's Service Parts Book for correct part numbers when ordering parts or assemblies.
Table Of Contents:
CLARK FORKLIFT C500 915 OH 544 OVERHAUL MANUAL – PDF DOWNLOAD
Engine
Carburetor (IHPCO/LPG)
Transmission (Hydr.:itork)
Starter (De 1 co-Remy)
Distributor
Alternator (Delco-Remy)
A 1 ternator (Motorola)
Drive Ax le (Clark)
Hydrovac (Bendix)
Master Cylinder (Wagner)
Brake Assembly (CI ark)
Steer Gear (Saginaw)
Steer Cylinder (Hydrau I ic
Steer Pump (Hydreco)
Hydrau 1 i c Pump (Hydreco)
Ti It Cy 1 i nder (Clark)
Lift Cylinder (Clark)
Please Note:
This is not a physical manual but a digital manual – meaning no physical copy will be couriered to you. The manual can be yours in the next 2 mins as once you make the payment, you will be directed to the download page IMMEDIATELY.
This is the same manual used by the dealers inorder to diagnose your vehicle of its faults.
Require some other service manual or have any queries: please WRITE to us at [email protected]
sk