Chinese 110cc Atv Service Repair Manual
FILE DETAILS:
LANGUAGE:ENGLISH
PAGES:144
DOWNLOADABLE:YES
FILE TYPE:PDF
IMAGES PREVIEW OF THE MANUAL: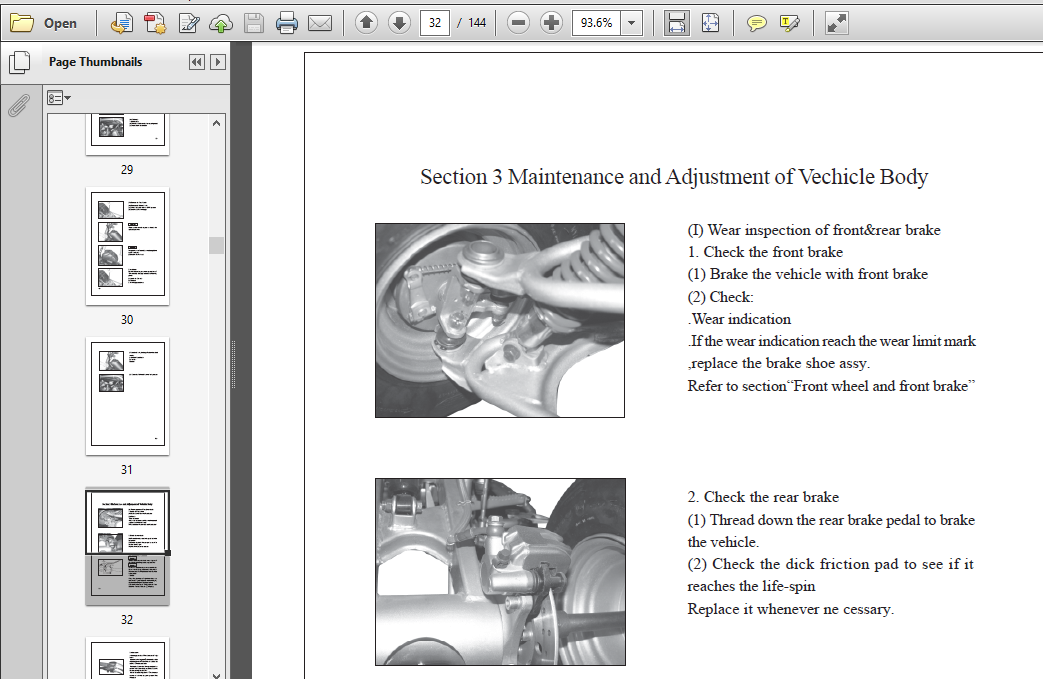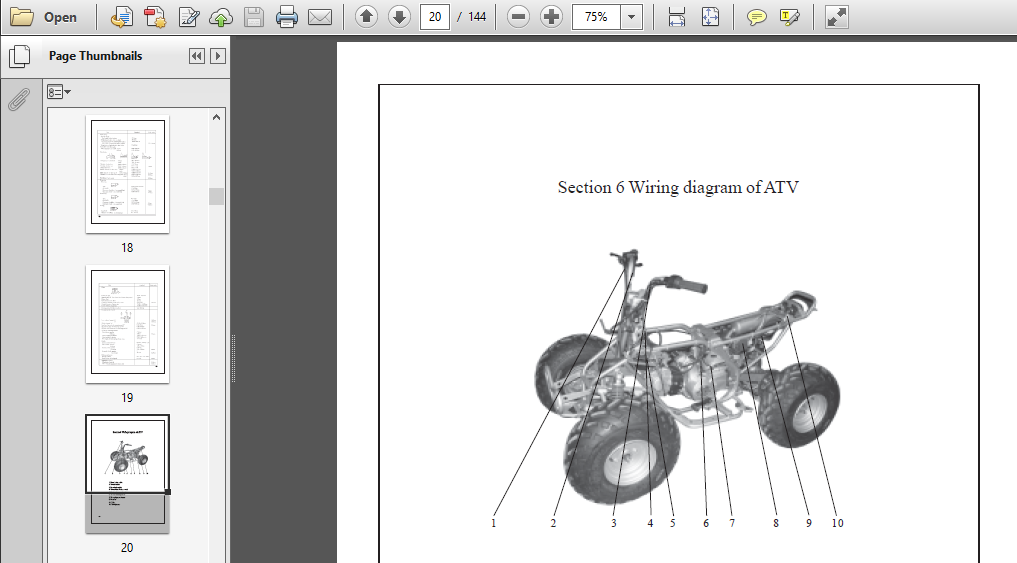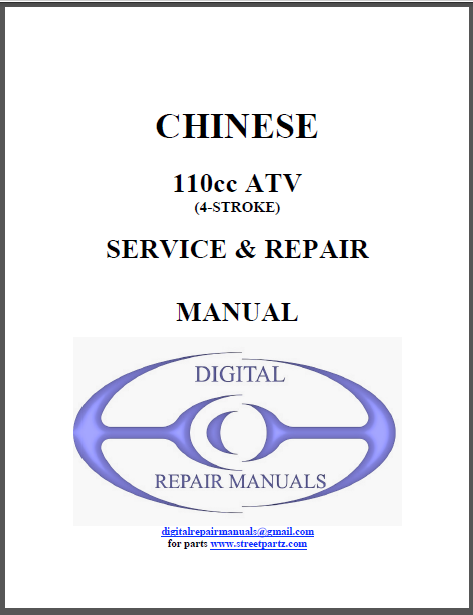 DESCRIPTION:
Chinese 110cc Atv Service Repair Manual
Four-wheeled cross -country vehicle, model ATV110-M is a full road condition vehicle which can be driven on every kinds of road conditions such as sand beach, grassland, forest, village,construction site country road , This maintenance manual of four-wheeled vehicle model ATV110-M (Hereafter called cross -country vehicle for short) compiled by Chongqing Industries Co., Ltd is specially provided for saler and technical staff of our Group.
This manual mainly introduce the maintenance, removing and repairing method of cross-country vehicle and provide some relative technology and performance data. Because this manual can't collect the whole content of cross-country vehicle, it can only help maintainer of our group and it's saler have a basic understanding on working principle, maintenance procedure and repairing technology of cross-country vehicle.
If you don't have this knowledge, when repairing cross-country vehicle, the condition of improper assembling and danger occurs after assembling are easily happened. Proper operation and maintenance are the advance of your safely driving crosscountry vehicle, it also can reduce the troubles of cross-country vehicle and keep the best performance of it.
The specification, performance and explanation stated in the manual are determined according to newly design of the vehicle, which are subject to changes without notce. In this manual, for specially important requirement, the words of "Warning " "Caution " are labelled to prompt relative maintainer to abide it.
TABLE OF CONTENTS:
Chinese 110cc Atv Service Repair Manual
Content I
Chapter I General description 1
Section 1 Description 1
Section 2 Special tools, instruments & meters 2
(I) Special tools 2
(II) Instruments & tools 3
Section 3 Identification code, label of model and engine No 4
Section 4 Points for attention in maintenance 4
Section 5 Specification 8
I How to use conversion table of unit 8
(1)How to use conversion table 8
(2)Definition of unit 8
II Basic specification 9
III ATV body 10
V Maintenance specification of engine 11
Section 6 Wiring diagram of ATV 14
Section 7 Requirements for torque of fastener 15
Section 8 Lubrication 16
Section 9 Lubrication point and type of lubricants 17
(1) Lubrication point and type of lubricants(ATV body) 17
(2) Lubrication point and type of lubricants(Engine) 18
Chapter II Maintenance and adjustment of vehicle 19
Section 1 Periodic maintenance/ lubrication 19
Section 2 Disassembly and assembly of cushion, fender and fuel tank 20
(I) Cushion 20
(II) Rear fender 20
(III) Front fender 22
(IV)Fuel tank 23
Section 3 Maintenance and adjustment of vehicle body 26
(I) Wear inspection of front and rear brake 26
(II) Adjustment of front brake 26
(III)Adjustment of free clearance of left lever and rear brake pedal 27
(IV) Inspection of steering system 29
(V) Adjustment of toe-in of front wheel 30
(VI) Adjustment of rear shock absorber 31
(VII)Inspection of tire 32
(VIII) Inspection of rim 33
Section 4 Maintenance and adjustment of electrical appliance34
(I) Inspection of battery 34
(II) Inspection of fuse 35
Section 5 Maintenance and adjustment of engine 36
(I) Adjustment of clutch 36
(II) Clean of air filter 36
(III) Inspection of spark plug 37
(IV) Adjustment of idle speed 38
(V) Adjustment of free clearance of throttle grip 38
(VI) Adjustment of speed limitator 39
(VII) Adjustment of valve clearance 39
(VII) Inspection of ignition timing 41
(IX) Measuring of compressive force 42
(X) Inspection oil quantity of engine 43
(XI) Replacement of engine oil and inspection of oil flow 44
Chapter III Repair and maintenance of vehicle body 46
Section 1 Rear driving gearcase and driving shaft 46
(I) Disassembly 46
(II) Inspecting procedures 48
(III) Installation procedure 51
Section 2 Rear wheel/Rear brake/Rear wheel axle54
(I) Removal steps 54
(II) Inspection steps 55
Section 3 Steering operation system 57
(I) Removal steps of steering bar 57
(II) Removal steps of steering vertical column welding58
(III) Inspection content 59
(IV) Installment steps60
(V) Installation steps of steering bar 63
Section 4 Front shock absorber and front wheel fork 64
(I) Disassembly 64
(II) Inspection steps 65
(III) Installment steps66
Section 5 Rear shock absorber and rear wheel fork69
Chapter IV Electric appliance 70
Section 1 Inspect switch 70
(I) Inspect switch 70
Section 2 check lamp(headlight) 71
Section 3 Troubleshooting the ignition system failure 75
Section 4 Troublshooting electric starting system 76
Section 5 Check starting motor 79
Section 6 No charging in the battery 81
Section 7 Troubleshooting 83
Section 8 Inspection of lighting system 85
Chapter V Engine 86
Section 1 Disassembly of engine 86
(I) Remove the engine from finished ATV 86
(II) Disassembly of engine 88
section 2 Inspection and maintenance of engine 96
Chapter VI Vecicle ordinary trouble and its judgement 116
(I) Starting trouble/difficulty 116
(II) Poor idle speed performance 117
(III) Poor middle and high speed performance 117
(IV) Shifting troubler 117
(V) Clutch slips 118
(VI) Clutch is locked 118
(VII) Engine is overheat 118
(VIII) Brake trouble 118
(IX) Shock absorber failure/improper operation 118
(X) Lighting system 119
PLEASE NOTE:
This is not a physical manual but a digital manual – meaning no physical copy will be couriered to you. The manual can be yours in the next 2 mins as once you make the payment, you will be directed to the download page IMMEDIATELY.
This is the same manual used by the dealers inorder to diagnose your vehicle of its faults.
Require some other service manual or have any queries: please WRITE to us at [email protected]