CAT Continuous Haulage DBT 25M2 PARTS Manual – PDF DOWNLOAD
FILE DETAILS:
CAT Continuous Haulage DBT 25M2 PARTS Manual – PDF DOWNLOAD
Language : English
Pages :302
Downloadable : Yes
File Type : PDF
Size:1.80 MB
TABLE OF CONTENTS:
CAT Continuous Haulage DBT 25M2 PARTS Manual – PDF DOWNLOAD
GENERAL ARRANGEMENT 25M2
ZONE SHEET
. CABLE OUTLINE FP LC MH V3 TD BR CT M-WL
SCH DIA FP OE BB BR LC V3 CT MH TB AC
SCHEMATIC LEGEND
COMMON PARTS PUMP C-SPLINE & TRAM MOTOR
MOTOR, PUMP, 950/550, 60HZ, W/C-SPLINE
MOTOR, 55HP, DC TRAM 460VDC W/R H20
MOTOR CUTTERHEAD 250 HP
KIT, MOTOR & GLAND GATHERlNG HEAD 950V
MOTOR40HP 950/550V60H2 GATHERJNG HEAD
COMMON PARTS TRAM & E-STOP SWITCH
SWITCH TRAM ISC 2480/2810/900
SWITCH E-STOP W/BOOT
TRAILING CABLE ENTRANCE GLAND KIT
CABLE ASS'Y I S TRAM
OPTION CONN BOX IN-LINE F/TLC
CONNECTION BOX ASSEMBLY
OPT FP RADIO FORCED POTATO W/AUX SW
RADIO FP PART SUMMARY FORCED POTATO
INST DIAG CSE 140B-LD-IR W/O XP
wD CSE 140B/140B-LD-IR W/O XP F/POWER SU
LIGHTING SYSTEM OCENCO 3+3
HEADLIGHT-HE50
LIGHTING FIXTURE ARlOO
LOW OIL OPTION-LO
SCH WD LOW OIL CIRCUIT
MA TRIX MAIN LC 250L RL V3 FPBB BR SC AC HM
STANDARD ASSEMBLY, MAIN CONTROLLER CASE
WD MAIN-BB BR V3 RL 25C FP 2B LC AC MH W/O CT3
RADIO FP PART SUMMARY FORCED POTATO
PANEL ASSEMBLY, PUMP & CUTTERHEAD
ASSEMBLY SWING PANEL
OPT OVERLOAD F/25
OPT FP-BB AUX W/BATTERY BACK UP
1410603 OPT V3 SCRUBBER VACUUM 30HP
1410524 MAIN CASE OPT-LC LOW OIL W/ TD SHUTDOWN
4T0464 NIAlJ:'\ICUNTKOr::I:ER-CASE–=-cs
1410463 MAIN CONTROLLER CASE – RL
1410914 MAIN CONTROLLER CASE RUN CKT OPT MH
MATRIX OPER-OE FPBB SR 2BS BR2 TD AC HM
5040240 STANDARD ASSEMBLY, OPERATORS CONTROL CASE
334697 WD OPER-FP OE SR 2B BR NC EB MH AC
1090261 PUSHBUTTON OPERATOR ASSEMBLY
60246564 COVER ASSEMBLY
1410466 OPERATOR CONTROLLER – OE
1410508 OPT FP OPERATOR CASE FORCED POTATO
1410469 OPERATOR CONTROLLER- SR
1410473 OPT BR2 OPERATOR CASE
1410926 OPT 2B STRAIGHT GLAND OPER CASE
1410476 OPTION TD TRAM DEADMAN OPERA TOR CASE
1410913 OPTION MH HAULAGE TO MINER SHUT DOWN
*1150077 BREAKER, MAr.N, CBI, AUXILLARY CB2
4 – ELECTRICAL – TRAM CASE (RIGHT SIDE)
MA TRIX TRAM RL FP TBR CM CT El
STANDARD ASSY TRAM W/BREAKER-123
WD TRAM El RL FP TB CT
RADIO FP PART SUMMARY FORCED POTATO
TROUBLE SHOOTING
TRAM DRIVE, EIMCO
CABLE ASSEMBLY LS. TRAM
OPT CM COVER & METER
TRAM CASE – RL
OPT CT CUTTER MOTOR FEED BACK
OPT FP FORCE POTATO TRAM CASE
OPT TBR TRAM BREAKER RESET
OPT El EIMCO DRIVE TRAM CASE
DRAWING NO
HYDRAULIC SCHEMA TIC 25M2
VAL VE BANK, 5 SECTION, XP
INLET ASSEMBLY
SECTION, SHEAR
SECTION, GATHERING HEAD
SECTION, CONVEYOR LIFT
SECTION, CONVEYOR SWING
SECTION, STABILIZER
OUTLET ASSEMBLY
SOLENOID VAL VE COMPLETE
HYDRAULIC PILOT VAL VE ASSEMBLY
PILOT OIL FILTER
ELEMENT, FILTER
RETURN FILTER
ELEMENT, FILTER (10 MICRON) F/49300080
POWER FILL PUMP
INSERT REMOVAL TOOL (CK. F/GREASE FITTING)
PUMP, 32-5, B MOUNT, C SHAFT
FILTER PILOT CIRCUIT 10 MICRON
SHEAR CYLINDER
OVER CENTER VAL VE SPECIFICATION
GATHERING HEAD LIFT CYLINDER
CONVEYOR LIFT CYLINDER
CONVEYOR SWING CYLINDER
STABILIZER CYLINDER
HYDRAULIC CIRCUIT
TRACTION FRAME ASSEMBLY
INSTL, COVERS & GRDS TOP LGTS
INSTALLATION BREATHER
INSTALLATION, DIP STICK
TFFINALFAB
ASSY/INSTL,HYD COMP RH REAR NON.OPER
INSTL., RUB RAILS
INSTL TOP COVERS
PIN INSTALLATION
BUSHING INSTALLATION
TRAM GROUP
TRAM DRIVE ASSEMBLY R.H.
TRAM DRIVE ASSEMBLY L.H.
PRIMARY PLANETARY ASSEMBLY
SECONDARY PLANETARY ASSEMBLY
TRACK BELT ASSEMBLY
IDLER ASSEMBLY
TRACK TAKE-UP ASSEMBLY
TAKE-UP CYLINDER
SHIM PACKAGE-FROND IDLER
STABILIZERASSEMBLY
INSTL, COVERS RH REAR
LACING 41 IN DIA. 2-3/4 DSB 3-1/2 BG
DRUM DRIVE ASSEMBLY R.H.
DRUM DRIVE ASSEMBLY L.H.
CUTTERHEAD ASSEMBLY
BOOM ASSEMBLY
CUTTER BOOM MACHINING
INSTALLATION, SHEAR JACK GUARD
INSTALL BOOM STOP DRUMS
G.H. FINAL ASSEMBLY
FOOTSHAFT ASSEMBLY
GATHERING HEAD GEAR CASE ASSEMBLY L.H.
GATHERING HEAD GEAR CASE ASSEMBLY R.H.
CONVEYOR ASSEMBLY 6 IN. FRONT & TAIL
ROLLER ASSEMBLY
FLIGHT SECTION
CONVEYOR SWING CYLINDER
WATER SCHEMA TIC COOLING,DUST,FIRE
BALL VALVE (1″), 2 WAY
BALL VALVE (1/2″),
VAL VE-PRESSURE REDUCING 1/2 IN
WATER VAL VE, HYDRAULIC PILOT
FIRE SUPPRESSION VAL VE
INSTL PAN SPRAYS
ASY SCRUBBER
SCRUBBER FAN
MIST ELIMINATOR (DEMISTER)
SCRUBBERSCREEN30MESH
INSTL DEMISTER & COVERS
INS TL SCRUBBER INT AKE DUCTS
LUBRICATION DIAGRAM
LUBRICATION PACKAGE
GEAR LUBRICANT, EP
HYDRAULIC OIL
MULTI-PURPOSE GREASE
POL YUREA GREASE
TOOLKIT
IMAGES PREVIEW OF THE MANUAL: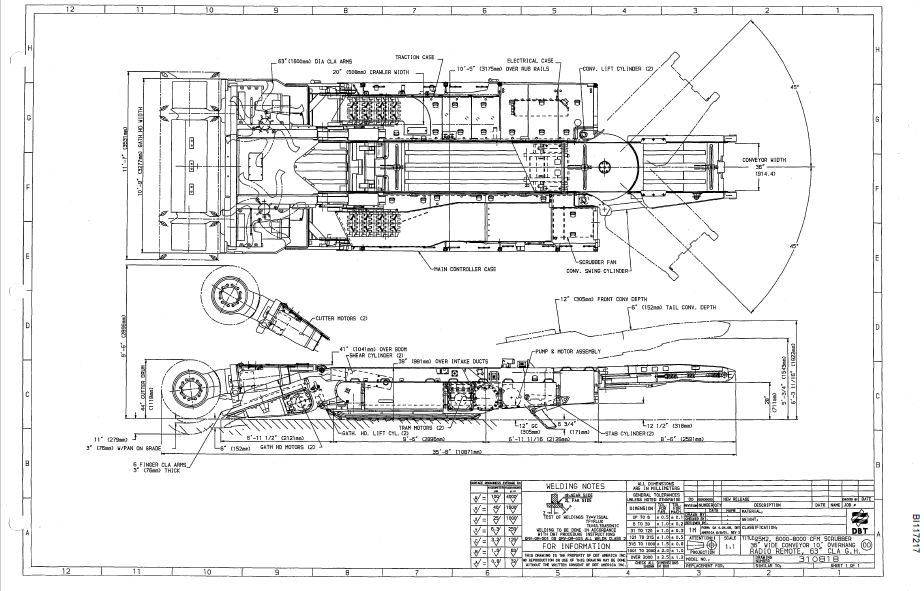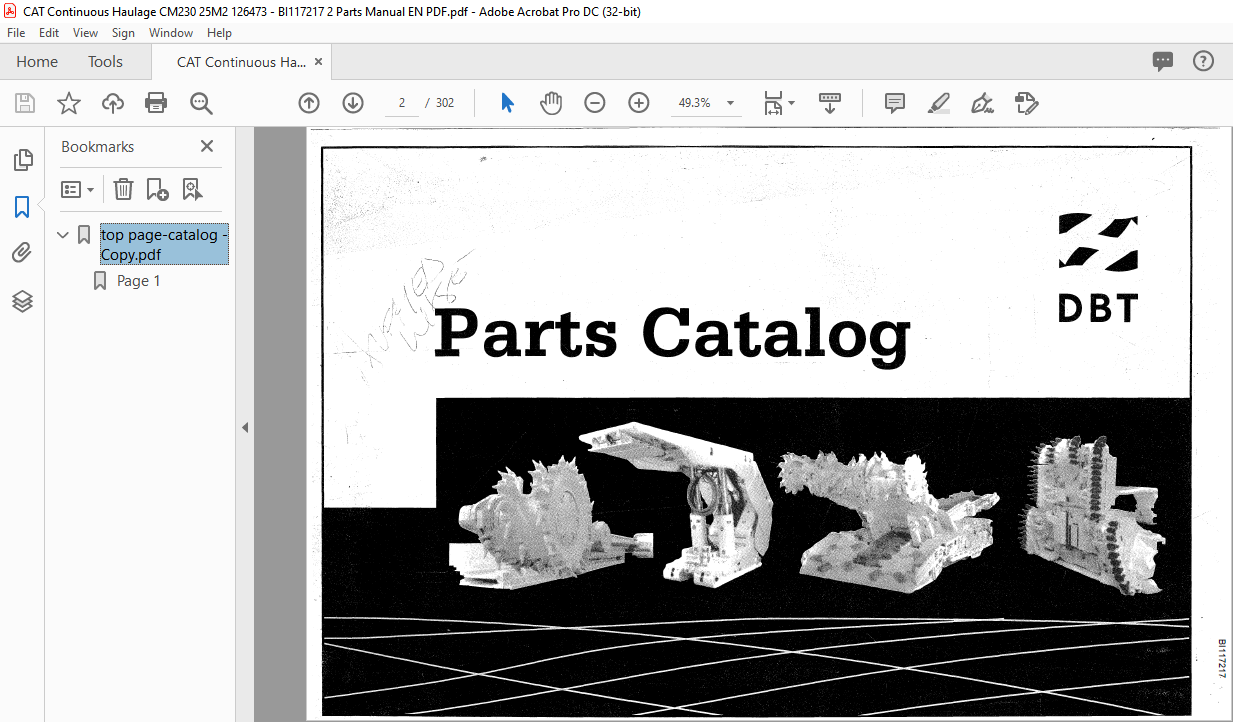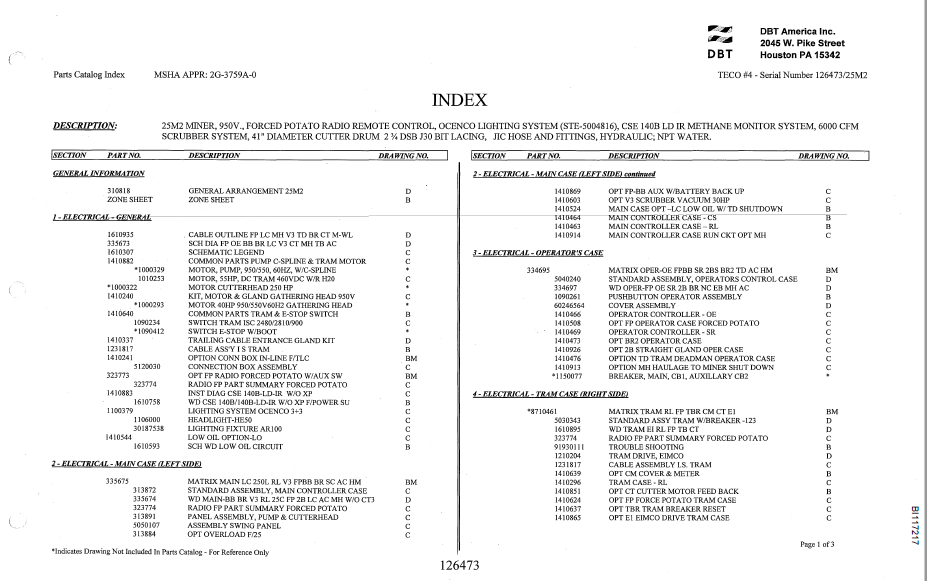 VIDEO PREVIEW OF THE MANUAL:
PLEASE NOTE:
This is the SAME manual used by the dealers to troubleshoot any faults in your vehicle. This can be yours in 2 minutes after the payment is made.
Contact us at [email protected] should you have any queries before your purchase or that you need any other service / repair / parts operators manual.
S.M