Cat BUCYRUS 49RIII BLAST HOLE DRILL OPERATOR'S MANUAL BI616875 – PDF DOWNLOAD
FILE DETAILS:
Cat BUCYRUS 49RIII BLAST HOLE DRILL OPERATOR'S MANUAL BI616875 – PDF DOWNLOAD
Language : English
Pages :110
Downloadable : Yes
File Type : PDF

DESCRIPTION:
Cat BUCYRUS 49RIII BLAST HOLE DRILL OPERATOR'S MANUAL BI616875 – PDF DOWNLOAD
GENERAL INFORMATION
 This manual is designed to assist the owner in the operation and maintenance of this machine. By following easy to understand step-by-step procedures the operators and maintenance personnel can perform all tasks in a safe manner. When a systematic and thorough maintenance/service procedure is used for this machine, a minimum of unplanned downtime and more reliable operation will result.
THIS MANUAL IS NOT THE PARTS BOOK, and cannot be used as reference material to order parts. A separate, detailed parts book has been supplied. Please carefully read the instructions in it. All parts are listed by group and/or product code numbers with the associated item/part numbers for THIS SPECIFIC MACHINE. Order parts in the exact quantity needed. RIGHT and LEFT refer to machine locations as viewed by the operator sitting in the operator's seat in the cab. Please state the correct machine SERIAL NUMBER when corresponding or contacting the factory service or parts departments. Records on each machine are filed by serial number and when given this number, your machine's specific design and original equipment is accessed quickly by the Bucyrus International parts representative.
Periodic additions or revisions may be made to this manual. These can be ordered and will be mailed directly from the factory. Should you require additional information or factory service assistance contact your regional service representative or:
Bucyrus International, Inc. 1100 Milwaukee Avenue
P.O. Box 500
South Milwaukee, Wisconsin, USA     53172-0500 Telephone (414)-768-4000
It is Bucyrus International's policy to improve its products whenever possible and practical to do so. The company reserves the right to make changes or add improvements to its machines at any time. This will be without incurred obligations to install such changes on machines sold previously.
Due to this ongoing program of product research and development some procedures, specifications and parts may be altered in a constant effort to improve our machines.
IMAGES PREVIEW OF THE MANUAL: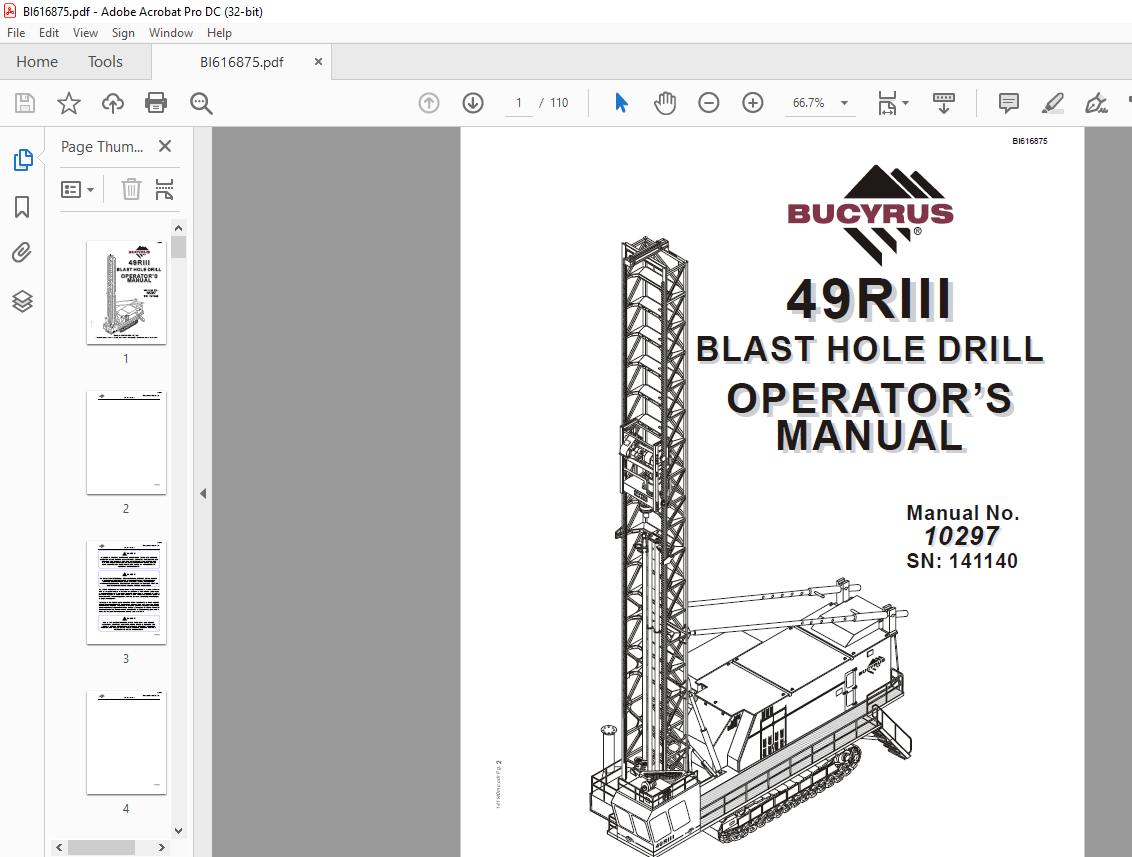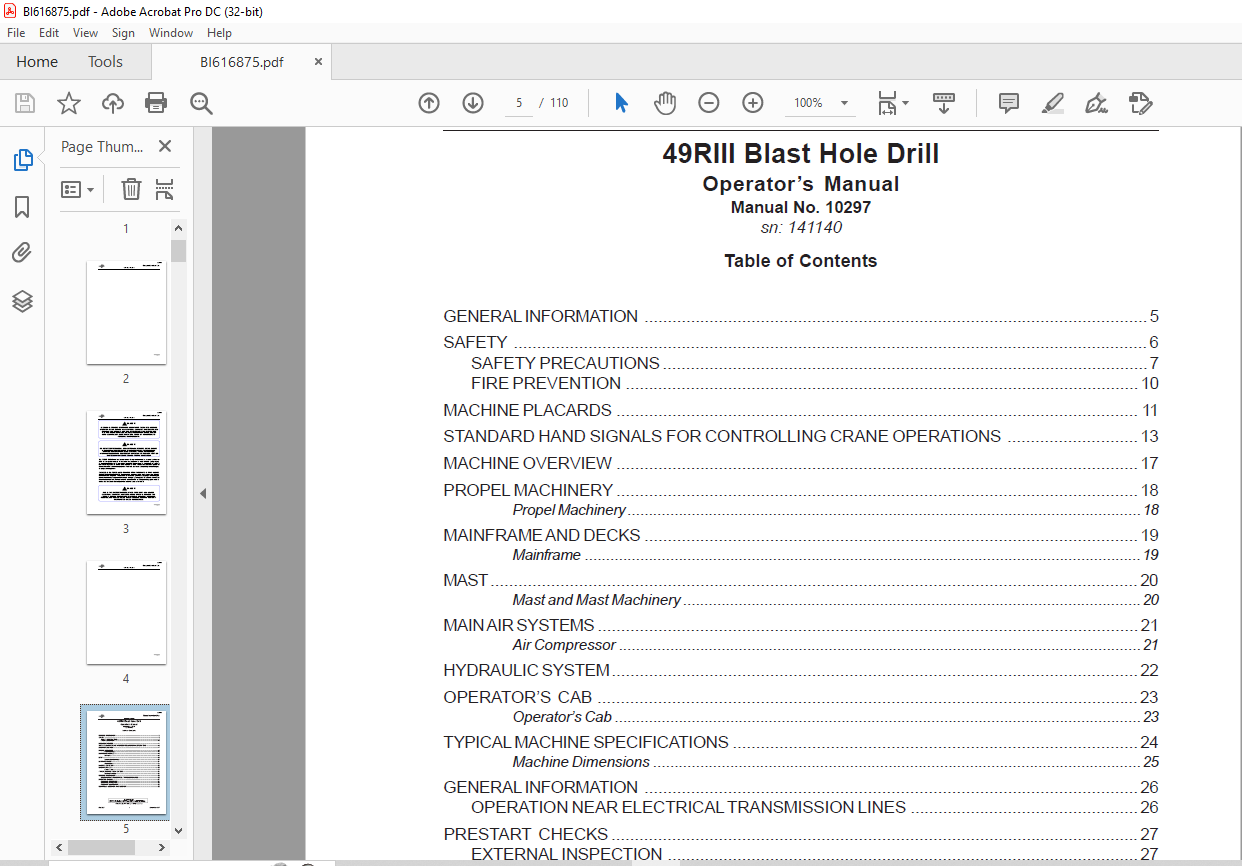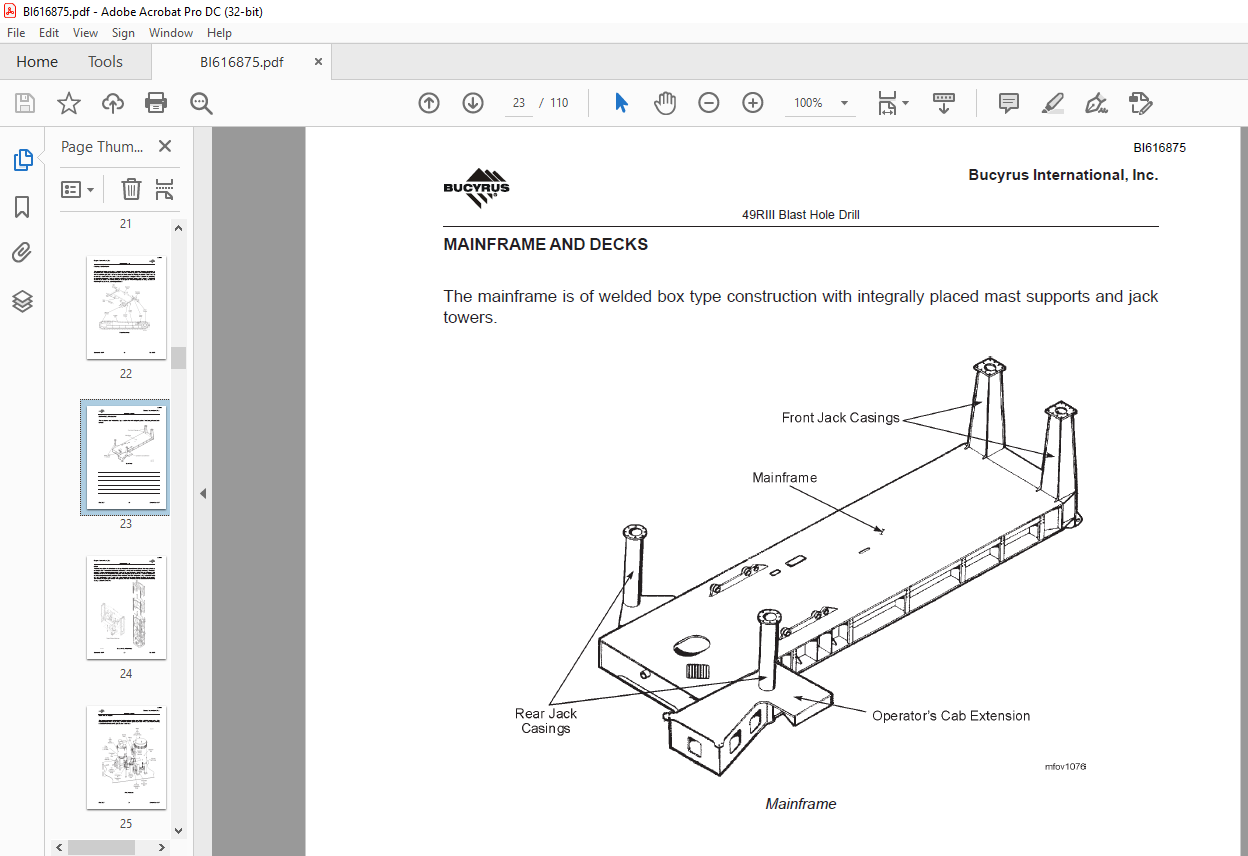 TABLE OF CONTENTS:
Cat BUCYRUS 49RIII BLAST HOLE DRILL OPERATOR'S MANUAL BI616875 – PDF DOWNLOAD
INFORMATION 5
SAFETY 6
SAFETY PRECAUTIONS 7
FIRE PREVENTION 10
MACHINE PLACARDS 11
STANDARD HAND SIGNALS FOR CONTROLLING CRANE OPERATIONS 13
MACHINE OVERVIEW 17
PROPEL MACHINERY 18
Propel Machinery 18
MAINFRAME AND DECKS 19
Mainframe 19
MAST 20
Mast and Mast Machinery 20
MAIN AIR SYSTEMS 21
Air Compressor 21
HYDRAULIC SYSTEM 22
OPERATOR'S CAB 23
Operator's Cab 23
TYPICAL MACHINE SPECIFICATIONS 24
Machine Dimensions 25
GENERAL INFORMATION 26
OPERATION NEAR ELECTRICAL TRANSMISSION LINES 26
PRESTART CHECKS 27
EXTERNAL INSPECTION 27
ONBOARD INSPECTION 30
PRESTART LUBRICATION 32
CONTROLS – LOCATION AND FUNCTION 33
OPERATOR'S CONTROL CONSOLE 33
MAIN CONTROL PANEL 34
HOIST/PULLDOWN RHEOSTAT 34
ROTARY RHEOSTAT 35
DRILL/PROPEL CONTROLS ON / OFF PUSH-BUTTON 35
HOIST/PULLDOWN SPEED SELECTOR SWITCH 35
ROTARY SPEED SELECTOR SWITCH 36
HOIST BRAKE SWITCH 36
PIPE RACK SELECTOR SWITCH 37
PIPE RACK JOYSTICK (LEFT CRAWLER PROPEL) 37
WINCH/MAST SELECTOR SWITCH 37
MAST/WINCH JOYSTICK (RIGHT CRAWLER PROPEL) 38
TOOL WRENCH SWITCH 38
DUST CURTAIN SWITCH 38
BIT VIEW HATCH SWITCH 39
PROPEL CONTROL PANEL 39
EMERGENCY STOP PUSH-BUTTON 39
PROPEL SPEED SELECTOR SWITCH 40
COMPRESSOR STOP PUSH-BUTTON 40
COMPRESSOR VENT/DRILL SWITCH 40
HEATER/VENT/AIR CONDITIONER CONTROLS 40
OPERATING MODE SELECTOR SWITCH 40
PROPEL JOYSTICKS 41
SELECTOR SWITCH PANEL 42
MAST BRACE LOCK SWITCH 42
MAST LOCK SWITCH 43
BOARDING STAIRS SWITCH 43
PEDESTAL HEATER SWITCH 43
FIRE SUPPRESSION SYSTEM INDICATORS 43
RADIO 43
LEVELING CONTROL PANEL 44
MANUAL LEVELING JOYSTICKS 44
AUTOMATIC LEVELING SWITCH 45
WATER INJECTION ON/OFF SWITCH (OPTIONAL) 45
WATER INJECTION FLOW CONTROL (OPTIONAL) 45
HORN PUSH-BUTTON 45
DEPTH INDICATOR RESET PUSH-BUTTON 46
PROGRAMMED DRILL CONTROL SWITCH 46
EMERGENCY STOP PUSH-BUTTON 46
OPERATOR'S DISPLAY TERMINAL 47
MACHINERY HOUSE CONTROLS 48
Lighting Load Center 48
Low Voltage Start Cabinet 48
Low Voltage Cabinet 49
Programmable Controller Cabinet 49
Hoist/Pulldown and Rotary Drive Control CABINETS 50
Air Compressor Controls 50
MISCELLANEOUS CONTROLS 51
Portable Remote Propel Station (Optional) 51
Hydraulic Reservoir Remote Fill Control Panel 51
Lube Control Panel 52
MACHINE START-UP 53
MACHINERY CHECK 53
BREAK-IN OF NEW COMPONENTS 54
ROTARY DRIVE UNIT BREAK-IN 54
HOIST/PULLDOWN GEARCASE BREAK-IN 54
ELECTRIC MOTOR BREAK-IN 54
MACHINE OPERATION 55
PROPELLING 55
Propel Controls 56
Propel – Forward or Reverse 57
Propel – Gradual Right Turn 58
Propel – Gradual Left Turn 58
Propel – Counter-Rotation Left Turn 59
Gradual Turns – 15° Increments 59
TOWING THE MACHINE 61
MACHINE LEVELING 62
Machine Orientation 62
Leveling Controls 64
MAST RAISING AND LOWERING 64
MAST RAISING 64
Mast Raising/Lowering Controls 65
MAST LOWERING 66
PULLDOWN MACHINERY OPERATION 68
Controls for Hoist/Pulldown 68
AUXILIARY WINCH OPERATION 69
Controls for Operating the Winch 69
PIPE RACK OPERATION 70
Controls for Operating the Pipe Racks 70
TOOL HANDLING 73
PIPE LOADING AND UNLOADING 73
DRILL TOOL STRING ASSEMBLY 74
Stabilizer Installation 76
Controls for Drill Pipe Installation 76
BREAKOUT WRENCH OPERATION 80
DRILL TOOL STRING DISASSEMBLY 81
ADDING ADDITIONAL DRILL PIPE 83
REMOVAL OF MULTIPLE SECTION DRILL PIPE 84
DUST SUPPRESSION SYSTEM OPERATION 85
Water Injection System 85
VERTICAL DRILLING 86
Controls for Drilling 86
STARTING THE HOLE (COLLARING) 87
NORMAL DRILLING 88
ENDING THE HOLE ~SINGLE PIPE SECTION 89
ENDING THE HOLE ~MULTIPLE PIPE SECTIONS 91
DRILLING DIFFICULT FORMATIONS 91
UNCONSOLIDATED MATERIALS 92
WET OR STICKY FORMATIONS 95
PROGRAMMED DRILL CONTROL DRILLING 96
Controls for Programmed Drill Control 96
PREPARING TO MOVE THE MACHINE 97
MACHINE SHUTDOWN 98
SHORT TERM STORAGE 99
LONG TERM STORAGE 100
ATTENDED LONG TERM STORAGE 101
UNATTENDED LONG TERM STORAGE 101
TOOL RECOVERY 102
Drill Stability Chart 104
Drill Stability Chart – Part 2 105
VIDEO PREVIEW OF THE MANUAL:
PLEASE NOTE:
This is the SAME exact manual used by your dealers to fix your vehicle.
The same can be yours in the next 2-3 mins as you will be directed to the download page immediately after paying for the manual.
Any queries / doubts regarding your purchase, please feel free to contact [email protected]
S.M