Cat Bucyrus 49HR Blast Hole Drill Maintenance & Operation Manual SN 141378 – PDF DOWNLOAD
FILE DETAILS:
Cat Bucyrus 49HR Blast Hole Drill Maintenance & Operation Manual SN 141378 – PDF DOWNLOAD
Language : English
Pages : 421
Downloadable : Yes
File Type : PDF
DESCRIPTION:
Cat Bucyrus 49HR Blast Hole Drill Maintenance & Operation Manual SN 141378 – PDF DOWNLOAD
Introduction:
GENERAL INFORMATION:
This manual is designed to assist the owner in the operation and maintenance of this machine. By
following easy to understand step-by-step procedures the operators and maintenance personnel can
perform all tasks in a safe manner. When a systematic and thorough maintenance/service procedure
is used for this machine, a minimum of unplanned downtime and more reliable operation will result.
THIS MANUAL IS NOT THE PARTS BOOK, and cannot be used as reference material to order parts. A
separate, detailed parts book has been supplied. Please carefully read the instructions in it. All
parts are listed by group and/or product code numbers with the associated item/part numbers for
THIS SPECIFIC MACHINE. Order parts in the exact quantity needed. RIGHT and LEFT refer to machine
locations as viewed by the operator sitting in the operator's seat in the cab. Please state the
correct machine SERIAL NUMBER when corresponding or contacting the factory service or parts
departments. Records on each machine are filed by serial number and when given this number, your
machine's specific design and original equipment is accessed quickly by the Bucyrus International
parts representative. Periodic additions or revisions may be made to this manual.
SAFETY PRECAUTIONS:
General Precautions:
• The employment of qualified maintenance personnel, through a scheduled maintenance
program, is the best way to minimize machine downtime and maximize productivity of
equipment.
• Keep hands, feet, and clothing away from rotating parts.
• Wear a hard hat, safety shoes and protective lenses at all times.
• Replace any and all safety and warning placards if they are defaced or removed from the machine.
• Think before you act. Carelessness is one luxury the service man cannot afford.
• Excessive or repeated skin contact with sealants or solvents may cause skin irritation. In case
of skin contact refer to the Material Safety Data Sheet (MSDS) for that material and the suggested
method of cleanup.
• Inspect safety catches (keepers) on all hoist hooks. Do not take a chance, the load could slip
off of the hook if they are not functioning properly.
• If a heavy item begins to fall, let it fall, don't try to catch it.
• Keep your work area organized and clean. Wipe up oil or spills of any kind immediately. Keep
tools and parts off of the ground. Eliminate the possibility of a fall, slipping or tripping.
• Floors, walkways and stairways must be clean and dry. After fluid draining operations be sure
all spillage is cleaned up.
• Electrical cords and wet metal floors make a dangerous combination.
• Regularly inspect for any loose bolts or locking devices and properly secure them.
• Use extreme caution while working near any electrical lines or equipment whether it be high or
low voltage. Never attempt electrical repairs unless you are qualified.
• Check limit switches for proper operation.
• After servicing, be sure all tools, parts or servicing equipment are removed from the machine
and secured in an appropriate storage area.
• Mechanical Brakes are designed for use as static holding brakes only. Use as a motion (dynamic)
brake in emergency situations only.
• Use proper interior and exterior lighting.
• Install and maintain proper grounding and ground fault protection systems.
• Perform functional tests of all safety circuits.
• Allow electrical inspection and maintenance to be performed only by a qualified electrician.
• Use extreme caution when working around drilled holes.
IMAGES PREVIEW OF THE MANUAL: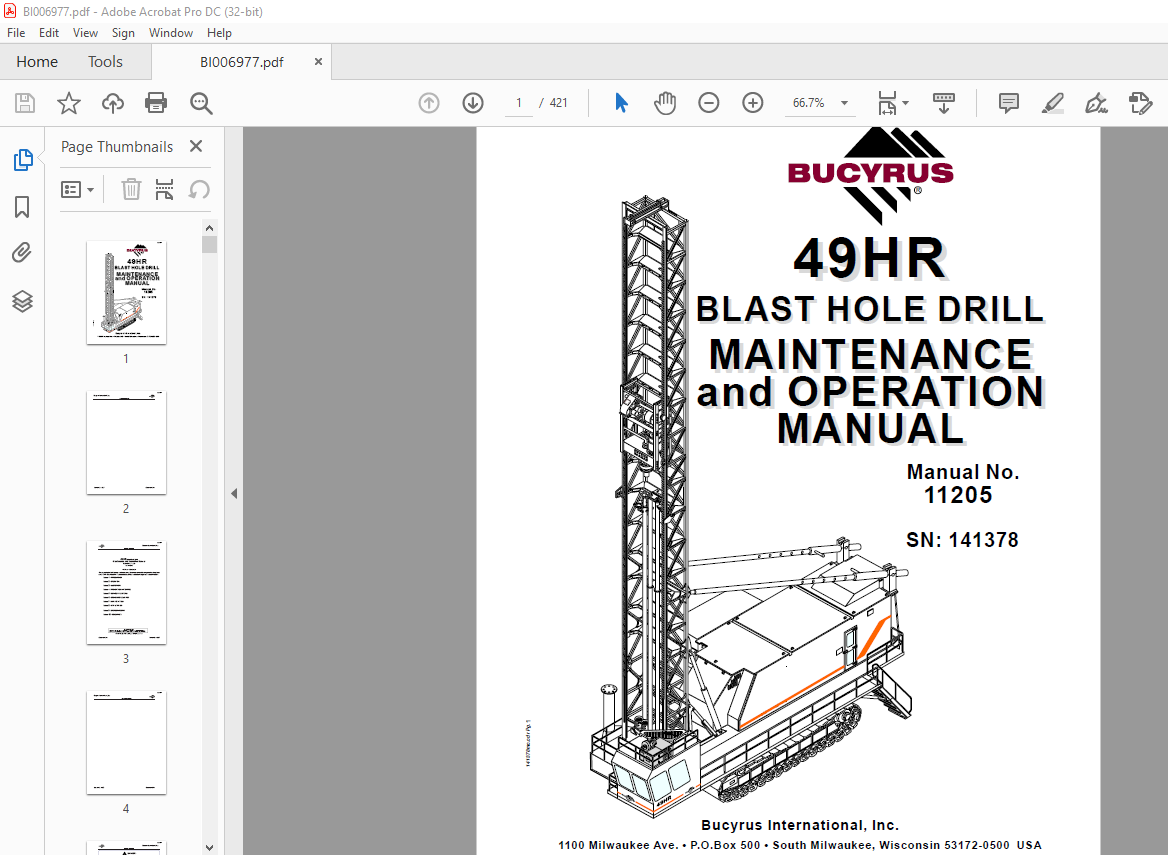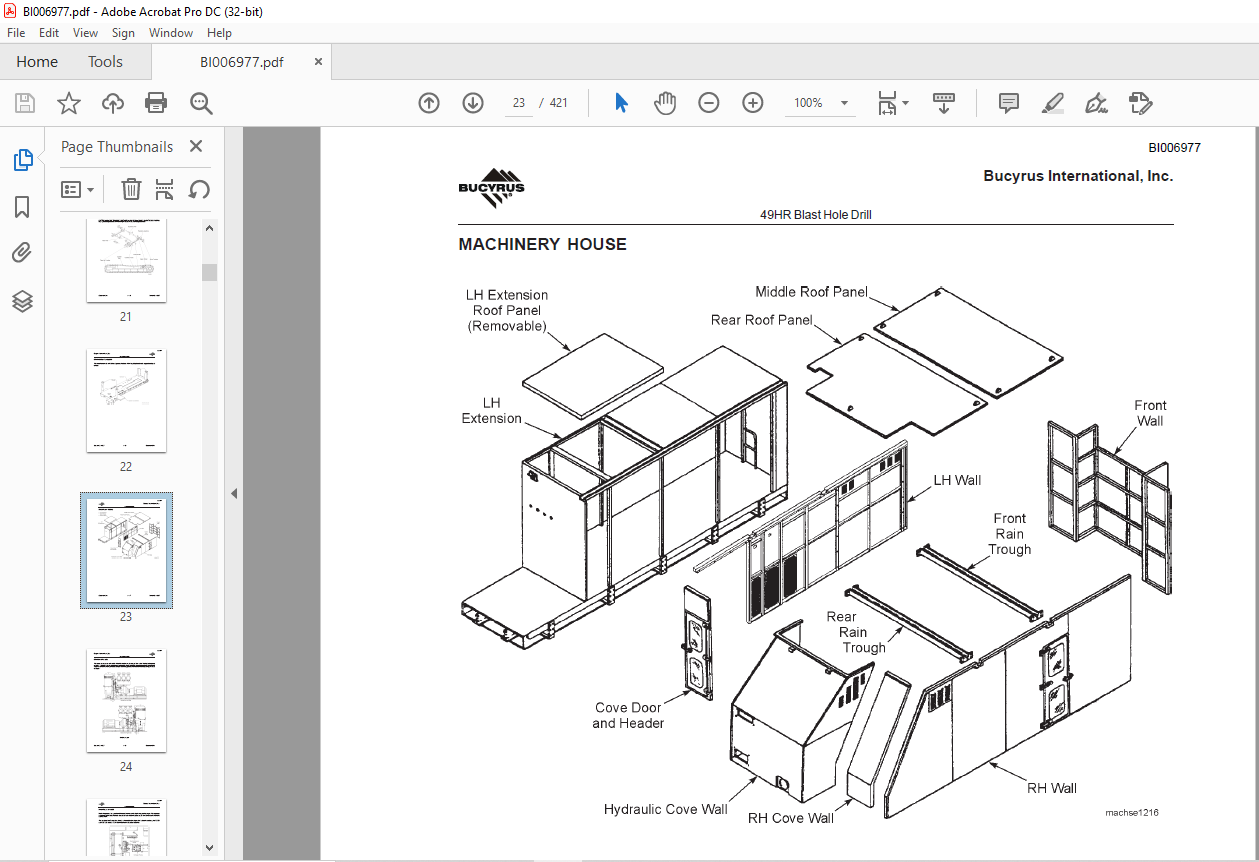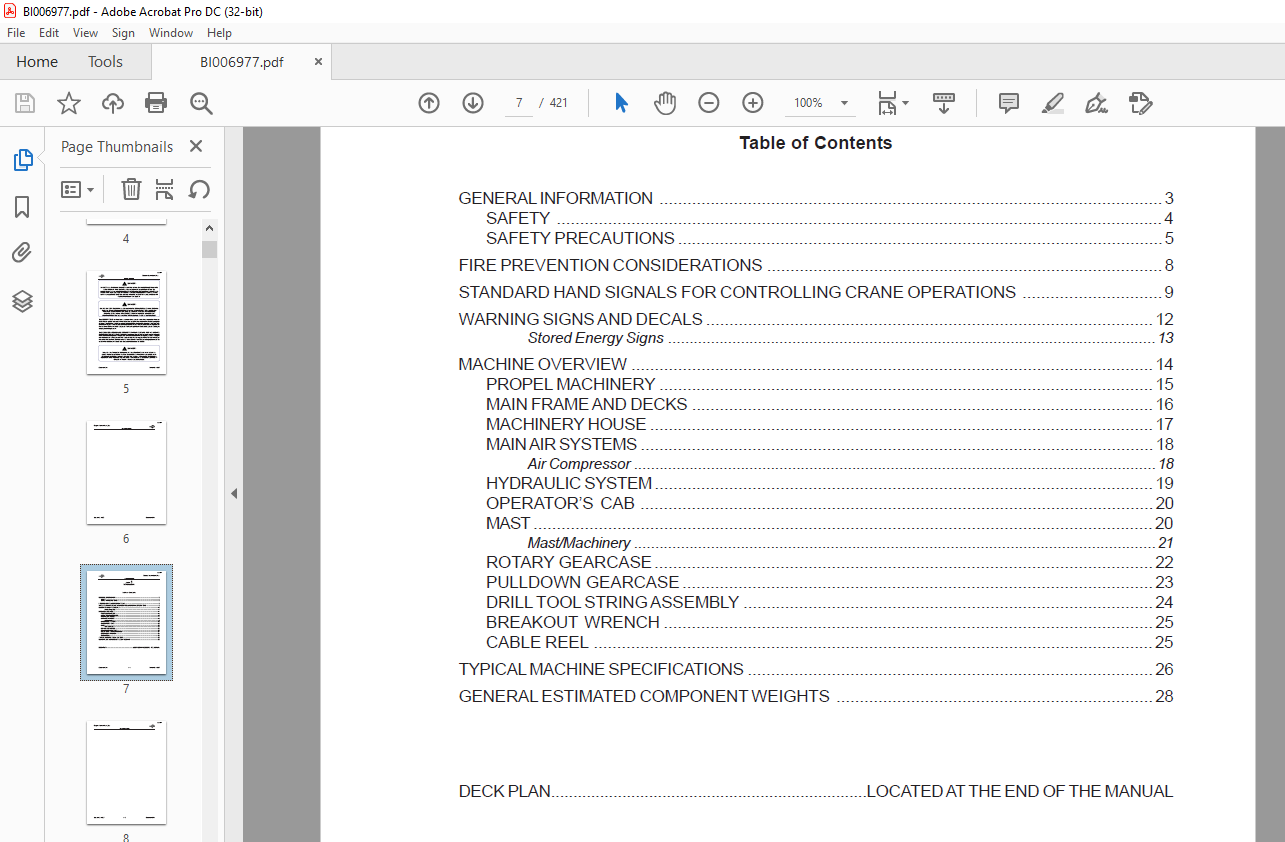 TABLE OF CONTENTS:
Cat Bucyrus 49HR Blast Hole Drill Maintenance & Operation Manual SN 141378 – PDF DOWNLOAD
Section 1 – INTRODUCTION
Section 2 – OPERATION
Section 3 – LUBRICATION
Section 4 – PREVENTIVE MAINTENANCE
Section 5 – SERVICE PROCEDURES
Section 6 – BRAKES AND COUPLINGS
Section 7 – MAIN AIR SYSTEM
Section 8 – AIR FILTRATION
Section 9 – ENGINEERING DATA
Section 10 – SCHEMATICS
VIDEO PREVIEW OF THE MANUAL:
PLEASE NOTE:
This is the SAME manual used by the dealers to troubleshoot any faults in your vehicle. This can be yours in 2 minutes after the payment is made.
Contact us at [email protected] should you have any queries before your purchase or that you need any other service / repair / parts operators manual.
S.V