Cat 72H PIPELAYER Operation and Maintenance Manual
FILE DETAILS:
Cat 72H PIPELAYER Operation and Maintenance Manual 
Language: English
Size: 6.77 MB
Pages:  232
Format: PDF
Downloadable: YES
DESCRIPTION:
Cat 72H PIPELAYER Operation and Maintenance Manual 
FOREWORD:
Literature Information:
This manual should be stored in the operator's compartment in the literature holder or seat back literature storage area. This manual contains safety information, operation instructions, transportation information, lubrication information and maintenance information. The information contained in the section entitled "Pipelayer Attachment Kit" of this manual is limited to the pipelayer attachment and specific modifications made to the tractor unit. Refer to the section entitled "D6T LGP (OEM)" for complete information regarding the tractor unit.
Some photographs or illustrations in this publication show details or attachments that can be different from your machine. Guards and covers might have been removed for illustrative purposes. Continuing improvement and advancement of product design might have caused changes to your machine which are not included in this publication.
Read, study and keep this manual with the machine. Whenever a question arises regarding your machine, or this publication, please consult PipeLine Machinery International for the latest available information.
Machine Description :
The sideboom equipment is attached to a Caterpillar D6T LGP tractor. The primary use of this machine is for petroleum-product pipeline-construction in the 20″ to 30″ (510 to 765 mm) pipeline range. The operator should read, understand, and follow both the tractor and the pipelayer operating and maintenance instructions. The operator must comply with all pipelayer procedures, regulations, and safety precautions. This equipment is to be operated by qualified personnel only. The daily service/inspection procedure should be performed before start-up. Operate all pipelayer controls with no load, until familiar with machine operation.
TABLE OF CONTENTS:
Cat 72H PIPELAYER Operation and Maintenance Manual 
Safety Section (D6T LGP (OEM))
Safety Messages 6
Additional Messages 14
General Hazard Information 17
Crushing Prevention and Cutting Prevention 19
Burn Prevention 20
Fire Prevention and Explosion Prevention 21
Fire Safety 24
Fire Extinguisher Location 24
Track Information 24
Electrical Storm Injury Prevention 25
Before Starting Engine 25
Engine Starting 25
Before Operation 25
Visibility Information 25
Restricted Visibility 26
Operation 26
Parking 28
Slope Operation 28
Engine Stopping 29
Equipment Lowering with Engine Stopped 29
Sound Information and Vibration Information 29
Operator Station 32
Guards 32
Product Information Section (D6T LGP (OEM))
General Information34
Identification Information36
Operation Section (D6T LGP (OEM))
Before Operation42
Machine Operation44
Engine Starting97
Adjustments100
Parking101
Transportation Information104
Towing Information106
Engine Starting (Alternate Methods)111
Maintenance Section (D6T LGP (OEM))
Lubricant Viscosities and Refill Capacities113
Maintenance Support121
Maintenance Interval Schedule 123
Warranty Section (D6T LGP (OEM))
Warranty Information177
Reference Information Section (D6T LGP (OEM))
Reference Materials178
Safety Section (Pipelayer Attachment Kit)
Safety Messages – 72H Pipelayer 180
Before Operation 187
Visibility Information 187
Operation 189
Parking 190
Slope Operation 190
Equipment Lowering with Engine Stopped 191
Sound Information and Vibration Information 191
Guards 192
Product Information Section (Pipelayer Attachment Kit)
General Information193
Operation Section (Pipelayer Attachment Kit)
Before Operation197
Maintenance and Lubrication Section (Pipelayer Attachment Kit)
Lubricant Viscosities210
Maintenance Interval Schedule (MIS) 212
Index 227
VIDEO PREVIEW OF THE MANUAL:
IMAGES PREVIEW OF THE MANUAL: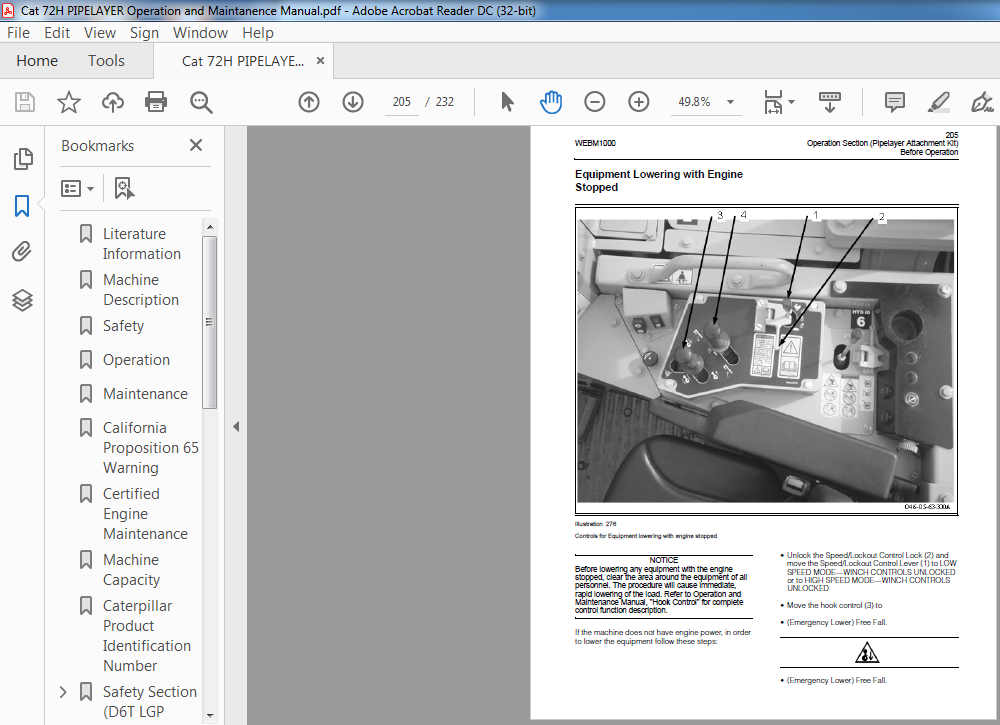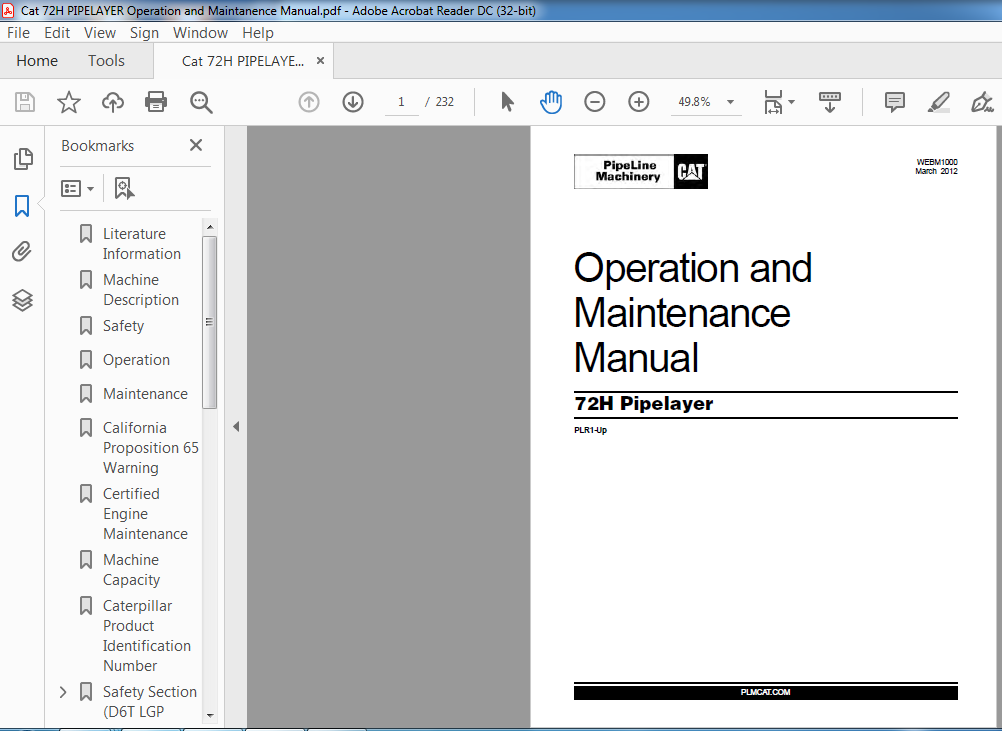 PLEASE NOTE:72h
This is not a physical manual but a digital manual – meaning no physical copy will be couriered to you. The manual can be yours in the next 2 mins as once you make the payment, you will be directed to the download page IMMEDIATELY.
This is the same manual used by the dealers inorder to diagnose your vehicle of its faults.
Require some other service manual or have any queries: please WRITE to us at [email protected]