Cat 6050 FS Hydraulic Shovel Spare Parts Manual BI015759 – PDF DOWNLOAD
FILE DETAILS:
Cat 6050 FS Hydraulic Shovel Spare Parts Manual BI015759 – PDF DOWNLOAD
Language : English
Pages : 528
Downloadable : Yes
File Type : PDF

DESCRIPTION:
Cat 6050 FS Hydraulic Shovel Spare Parts Manual BI015759 – PDF DOWNLOAD
Foreword
How to Use the Spare Parts Catalog
This Spare Parts Cata log is valid for a specific machine. The serial number of this machine is indicated on the title label of the ring binder and in the header of the spare parts list page. The Spare Parts Catalog is available in printed as well as in electronic version. Information given here with respect to layout and content are valid for both versions. The electronic version offers additional features for displaying information and for creating order lists. These features are explained in the chapter "Additional features in the electronic version of the Spare Parts Catalogs" below. (see page 4 – 19).
Table of Contents
This foreword is followed by the "Assembly Groups Overview". This overview represents the central table of contents of spare parts catalog. Here you can find a list of all assembly groups together with their assembly group numbers. For fast orientation you find these lists in a graphical presentation (icons) as well as in numerical respectively alphabetical order. The superordinate assembly groups "Lower carriage", "Upper carriage", "Attachment" and "Options" include type-specific general outline illustrations and machine-specific lists of assembly groups. These give references to further assembly groups here included. Large assembly groups may contain other outline illustrations and lists of assembly groups.
Spare Parts Catalog Layout
The Spare Parts Cata log consists of many assembly groups. Each assembly group displays the spare parts of an area on the machine, whose parts work together. The assembly groups are sorted in ascending order. An assembly group consists of a spare parts illustration and a spare parts list both referred by item numbers. Both the illustration and the parts list are identified by the same assembly group number and an ID number.
In the example (see next page), the "Boom Bottom Mounting Parts" assembly group contains
• assembly group number 60 011 [A] and
• ID number 3 669 682 with revision index 000 [B].
IMAGES PREVIEW OF THE MANUAL: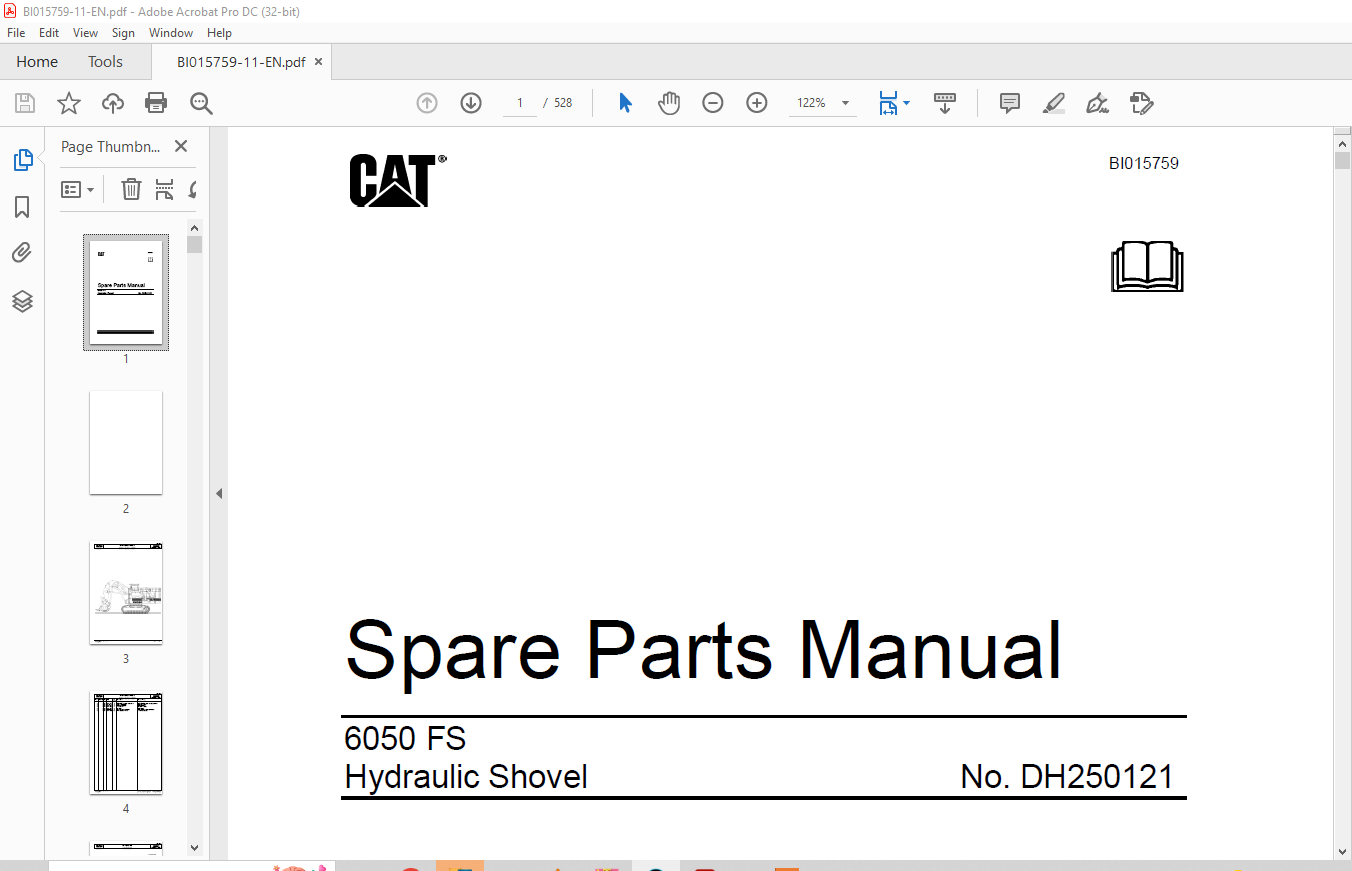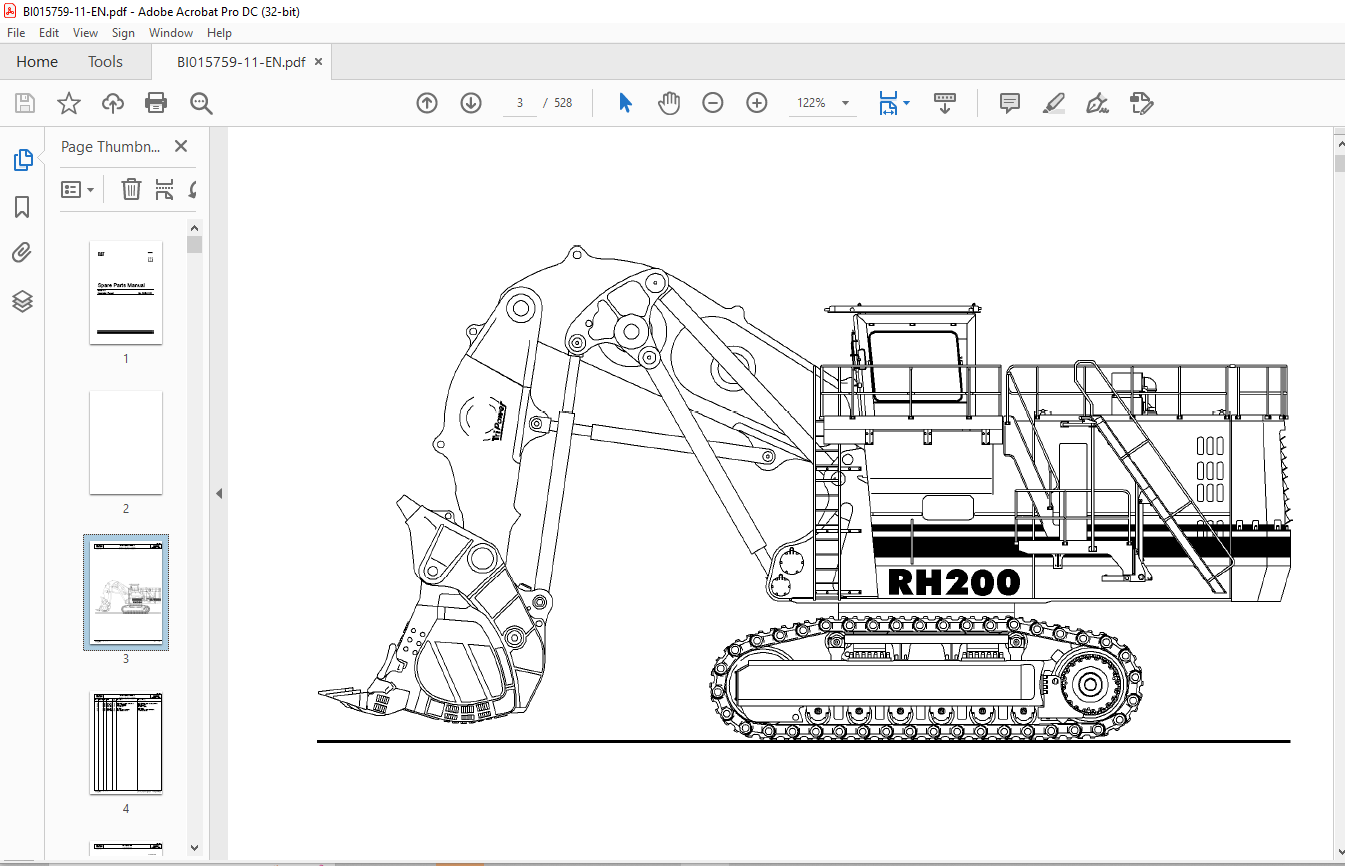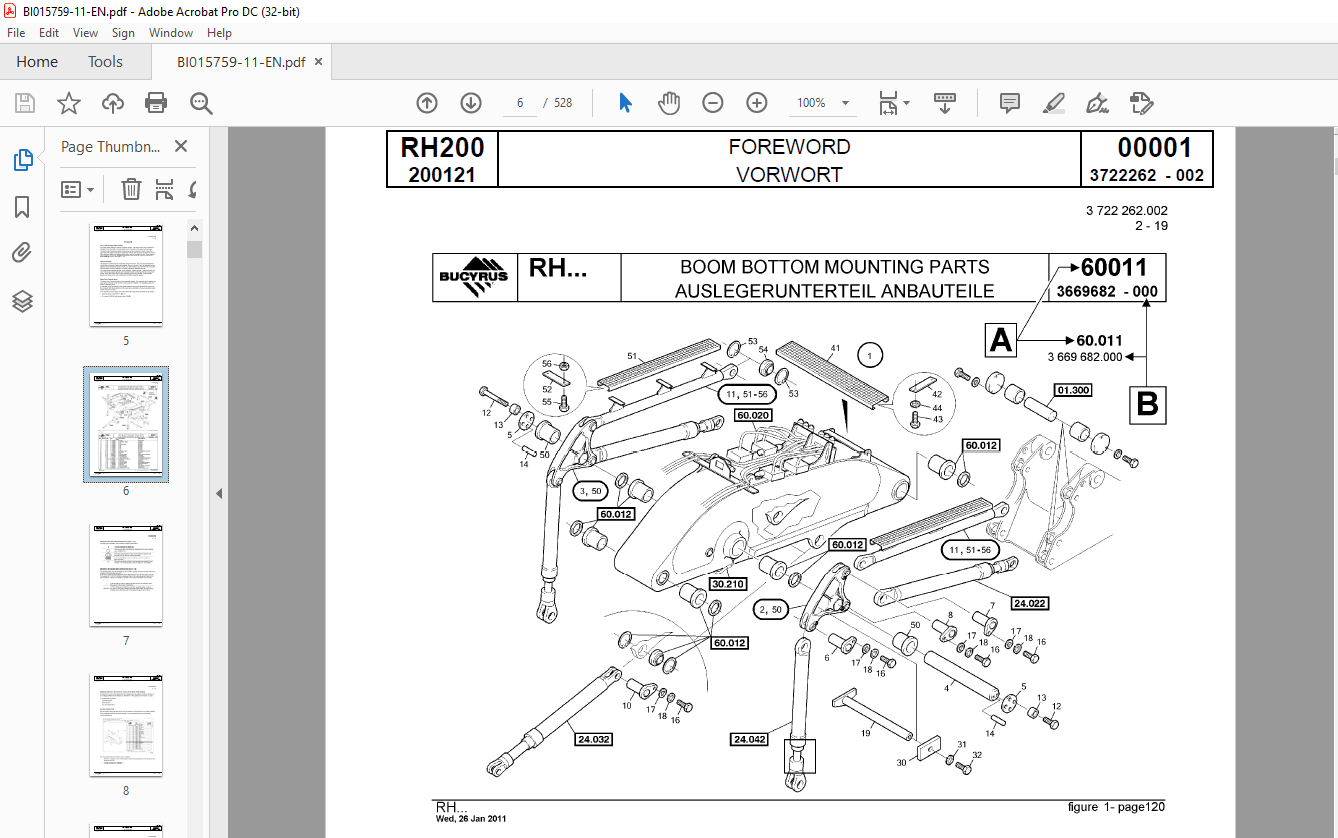 TABLE OF CONTENTS:
Cat 6050 FS Hydraulic Shovel Spare Parts Manual BI015759 – PDF DOWNLOAD
TITLEPAGE-EN-preview-Spare-Parts 200121...........  1
RH200 (200121) 3102920-REV11 EN...................  3
how_to_use_cross_reference_list_EN_3842001-003....421
Cross Reference 200121-11.........................423
BI Back Cover.....................................527
Leere Seite.......................................420

VIDEO PREVIEW OF THE MANUAL:
This is the SAME exact manual used by your dealers to fix your vehicle.
The same can be yours in the next 2-3 mins as you will be directed to the download page immediately after paying for the manual.
Any queries / doubts regarding your purchase, please feel free to contact [email protected]
S.M