Case IH Tractor CS78, CS78a, CS86a, CS94a Operator's Manua
FILE DETAILS:
Brand: Case IH
Model: CS78, CS78a, CS86a, CS94a CS78, CS86, CS94 TRACTOR Operator`s Manual
Language: English
Format: PDF
Product line: Tractors
Publication type: Operator's Manual
DESCRIPTION:
How to use this manual This manual must be read before starting up the engine or working with you tractor. Call your retailer for further information. This manual contains important information concerning working, setting up and maintaining your Case Steyr tractor safely. This manual is divided into individual chapters corresponding to the contents so that you can easily find information. Information concerning the tractor is divided into 4 chapters:
1. INSTRUMENTS AND CONTROLS – The layout of all controls is shown here.
2. WORK NOTES – General notes on daily work with the tractor e.g. starting up/turning off the tractor, operating the transmission etc.
3. OPERATIONAL USE – This chapter contains notes on various work uses, specifically for use with implements, e.g. three-point linkage, rear PTO etc.
4. TYRES/WHEELS/TRACK WIDTHS/BALLASTING – Settings for various tractor working scenarios are described here, e.g. tyre pressures, track widths etc.
Tractor maintenance is divided into two chapters: 1. LUBRICATION/MAINTENANCE – Regular maintenance intervals. 2. ELECTRICAL LAYOUT – General maintenance notes on electrics.
IMPORTANT: See the alphabetical index at the end of the manual in order to find a particular item in the manual concerning your machine. Position descriptions such as in front, behind, right and left are understood to be as seen from the tractor's seat, facing in a forward direction. Do NOT allow yourself or anyone else to drive the machine or carry out maintenance work without having read the manual.
Only employ trained drivers who have shown their ability to correctly and safely work and maintain the machine. With its standard equipment and licensed fittings, this tractor is intended for use in agriculture etc. Do NOT use the machine for any other purpose other than those described in the manual. Get in touch with an authorized retailer or the Case Steyr Company concerning changes, additions or modifications which could be necessary for your machine to fulfill the relevant national guidelines and safety requirements. Release or approval from the manufacturer is required in the case of special bodies. Unapproved changes render product liability void.
IMAGES: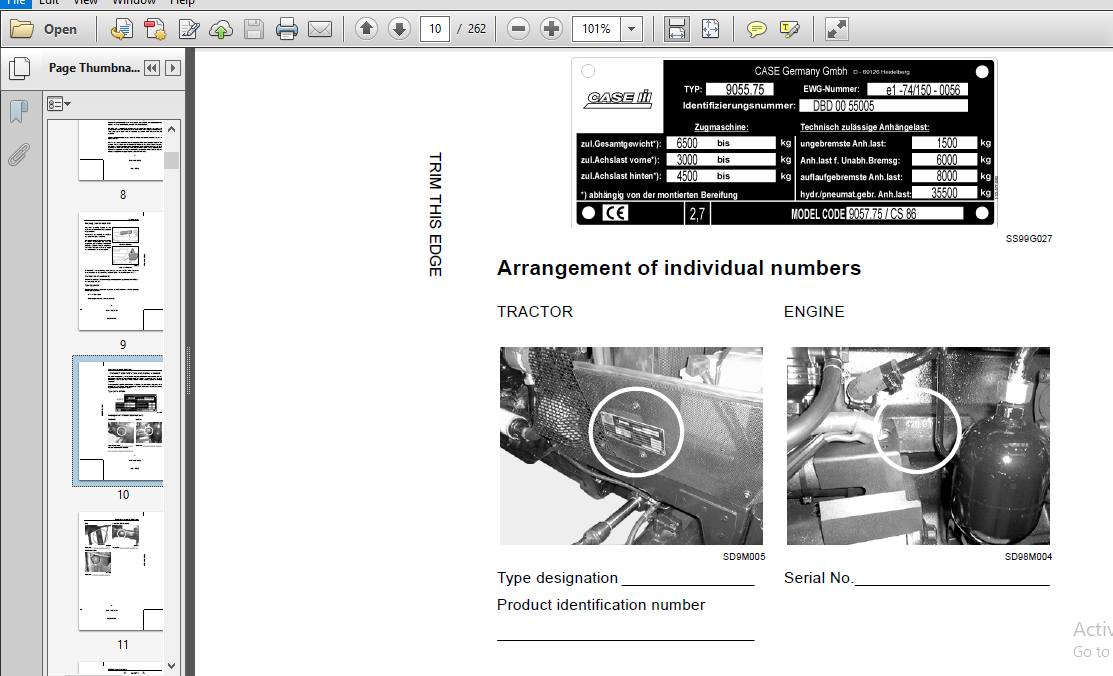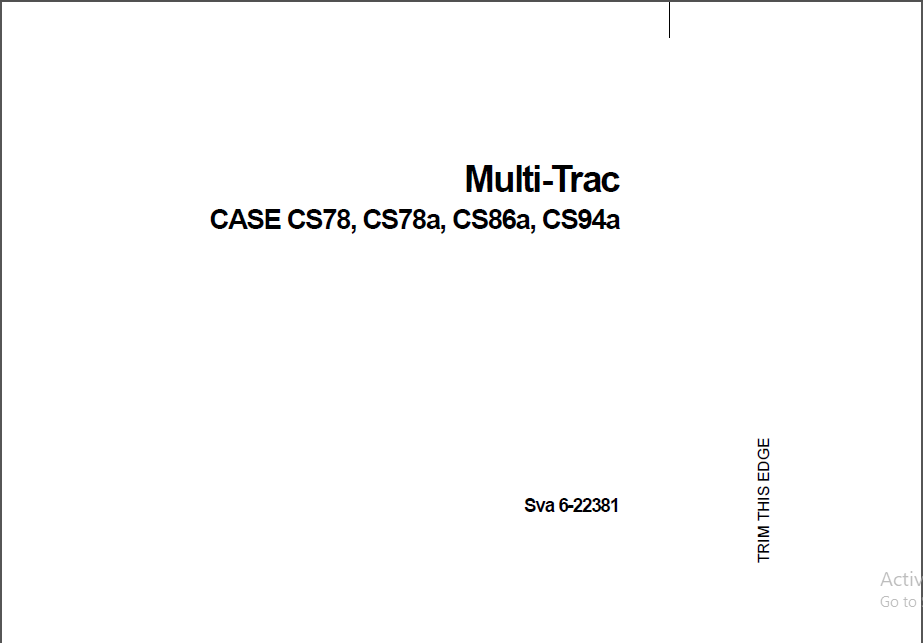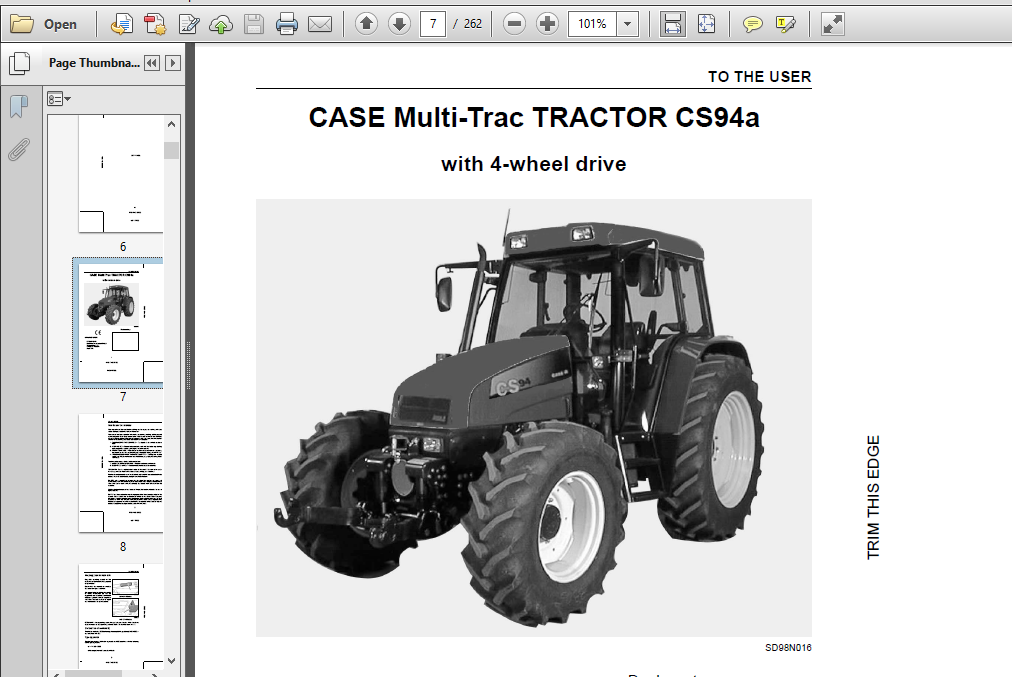 VIDEO PREVIEW:
TABLE OF CONTENTS:
Case IH Tractor Multi-Trac CS78, CS78a, CS86a, CS94a Operator's Manual
CONTENTS
TO THE USER 1
AGGREGATE/SERIAL NUMBERS 4
PRODUCT IDENTIFICATION AND SERIAL NUMBER 4
SAFETY 6
CORRECT USAGE 6
SAFETY/SAFETY PLATES 6
GENERAL RULES FOR SAFETY AND FOR THE PREVENTION
OF ACCIDENTS 7
CARRIAGE OF PASSENGERS 7
DRIVING 8
LEAVING THE TRACTOR 8
ATTACHMENTS 8
PTO SHAFT OPERATION 8
MAINTENANCE AND OTHER WORK 9
DANGEROUS CHEMICALS 9
BASIC RULES 9
SAFETY LABELS 10
INSTRUMENTS/OPERATING CONTROLS 17
CLIMBING ONTO THE TRACTOR 17
DRIVER'S SEAT 18
INSTRUMENT PANEL 29
OPERATING CONTROLS 36
BEFORE STARTING THE ENGINE 60
DRIVING 60
BATTERY MASTER SWITCH
(if fitted) 61
SAFETY SWITCH 61
INDICATOR LAMPS AND COMBINATION INSTRUMENT
FOR OPERATING STATUS 62
STANDARD STARTING PROCEDURE 63
OPERATING THE TRACTOR AT LOW TEMPERATURES
(WINTER OPERATION) 65
HINTS FOR DRIVING 68
OPERATING THE TRANSMISSION 70
STOPPING THE TRACTOR AND STOPPING THE ENGINE 75
CAB VENTILATION/HEATING 77
II
TRIM THIS EDGE TRIM THIS EDGE
LEFT PAGE
Template Name: OM_1_col
Template Date: 1994_05_26
Alt= to hide template information
Alt+ to display template information
ADJUSTABLE TOWBAR 81
HEIGHT-ADJUSTABLE TOWBAR
(if fitted) 85
AUTO HITCH WITH HOOK AND ADJUSTABLE TOWBAR
(if fitted) 89
ADIMENSIONS FOR TRAILER/
ATTACHMENT TOWBARS 93
CONNECTIONS FOR TRAILER BRAKE LINES
(if fitted) 94
ADDITIONAL ELECTRICAL SOCKET 96
TRACTOR WARNING LAMPS 99
TOWING AWAY 101
TRANSPORTING THE TRACTOR 102
OPERATIONAL USE 103
REAR POWER TAKE OFF (PTO) SHAFT 104
OPERATING THE STEYR FRONT PTO
(if fitted) 113
PREPARING THE REAR THREE-POINT LINKAGE 115
OPERATING THE LIFTING GEAR 126
STEYR FRONT END LIFTING GEAR
(if fitted) 137
AUXILIARY CONTROL UNITS 141
OPERATING THE AUXILIARY CONTROL UNITS 145
DIFFERENTIAL LOCK 152
OPERATING THE 4-WHEEL DRIVE
(if fitted) 155
FASTENING BRACKET FOR EXTERNAL
LEVERS AND DEVICES 157
DIGITAL TRACTOR METER SPEED CALIBRATION 160
TYRES/WHEELS/TRACK WIDTHS/BALLAST 161
ADJUSTING THE FRONT AXLE AND THE FRONT AXLE TRACK 163
ADJUSTING THE FRONT AXLE TRACK 164
ADJUSTING THE REAR AXLE TRACK WIDTH 170
4-WHEEL DRIVE – TYRE COMBINATIONS 174
FRONT WHEEL MUDGUARD – 4-WHEEL DRIVE TRACTOR
(if fitted) 176
TRACTOR BALLAST 177
III
TRIM THIS EDGE
TRIM THIS EDGE
RIGHT PAGE
Template Name: OM_1_col
Template Date: 1994_05_26
Alt= to hide template information
Alt+ to display template information
LUBRICATION/MAINTENANCE 179
ENVIRONMENT 179
PLASTIC AND FIBRE-GLASS RE-INFORCED PARTS 179
TOOL BOX 179
OPERATING HOURS COUNTER 180
ENGINE HOOD 181
LUBRICATION AND FILLING LEVELS 182
LUBRICATION/MAINTENANCE PLAN 187
ENGINE MAINTENANCE 195
POWER UNIT MAINTENANCE 205
HYDRAULICS/STEERING MAINTENANCE 206
FRONT AXLE MAINTENANCE 208
FRONT PTO-SHAFT MAINTENANCE 210
BRAKE MAINTENANCE 211
TOWBAR MAINTENANCE 212
ELECTRICAL MAINTENANCE 213
FRONT HYDRAULIC MAINTENANCE 214
GENERAL MAINTENANCE 215
BATTERY 218
ELECTRICAL SYSTEM 218
REPLACING BULBS AND LAMPS 221
FUSES 229
TECHNICAL DATA 236
ELECTRICAL SYSTEM 238
GENERAL VEHICLE DATA 239
DRIVING SPEEDS 244
VEHICLE WEIGHTS 250
VEHICLE DIMENSIONS 251
iNDEX 253
INDEX DETAILS:
Case IH Tractor Multi-Trac CS78, CS78a, CS86a, CS94a Operator's Manual
Additional electrical socket
Power socket 97
Signal socket 98
Trailer socket 96
Adjustable limit 47
Adjustable towbar 81, 82
Connecting an implement 84
Preparation 82
Adjusting the clutch pedal 204
Air nozzles 56
Ash tray 56
Auto Hitch 89
Change hook/adjustable
towbar 92
Connecting an implement 90
Auxiliary control units 141
Latching devices 147
Lifting and Pressure Device 144
Open System 142
Operating the electrical
auxiliary control units 148
Operating the mechanical
auxiliary control units 146
Operation 145
Pressure-free return 151
Axle loads 250
B
Battery
Fitting and removing 219
Battery maintenance 213
Battery master switch 61
Brakes
Automatic transmission 72
C
Cab
Air conditioning 79
Cab filter 77
Heating 77
Rear window 59
Side windows 59
Windscreen can be opened up 59
Changing the hydraulic filter
cartridge 206
Charging indicator
Defective 215
Check and clean cab air filter –
inlet filter 217
Check coolant level 193
Check the engine oil level 192
Cigarette lighter 56
Cleaning the radiator grill 204
Clutch
Operating 72
Clutch pedal 72
Combined instrument 35
Control console "EHR"
Lifting switch 49
Crawler gear mode 103
D
Declaration of conformity 3
Differential lock 152
without management 152
Digital clock 56
Digital tractor meter 34
Dimensions
Trailer/Attachment towbars 93
Driving seat
with mechanical suspension 18
with pneumatic suspension 21
Driving speeds 244
Dry-air filter
Maintenance 199
Maintenance indicator 201
E
EGE operating console
Lever switch 52
Rotary switch 52
EHR
Auxiliary switch 132
Lift Limiting 133
Lifting switch 130
Lowering Speed 133
Operation 128
Position/Traction Power
Control 132
Rear operating position 45
Safety switch 129
Spring-loaded switch for operating
the lifting gear 133
Using the Rear Lifting Gear
Operating Position 134
INDEX
254
TRIM THIS EDGE TRIM THIS EDGE
LEFT PAGE
Template Name: OM_1_col
Template Date: 1994_05_26
Alt= to hide template information
Alt+ to display template information
Working with Pulling
Power Control 136
Working with the
Position Control 135
EHR console lighting 55
"EHR" operating console with
multi-controller 49
"EMERGENCY STOP" button 49
"Lower lifting gear" button 49
"Raise lifting gear" button 49
Adjustment wheel for position/
traction power control 49
Nominal value adjusting wheel 49
Quick retraction 49
Electronic front lifting gear
load relief "EGE" 158
Engine
Check air inlet 198
Coolant change 203
Maintenance points 195
Oil and filter change 195
F
Filter for ventilation/heating 77
Fixing bracket for external levers 157
4-wheel drive
Operation 155
with Management 156
without management 155
Front axle
Change planetary oil 209
Changing the differential oil 208
Front axle track width
for a rigid front axle 164
for an adjustable front axle 165
Front axle track widths
with adjustable wheels 168
with fixed wheels 167
Front ballast weights 177
Front differential lock 153
Front PTO 113
Electrical operation 114
Maintenance 210
Mechanical operation 114
Front wheel mudguard 176
Front wheels
Tightening torque 171
Front-End Lifting Gear 137
Lower linkage version 138
Operating using the External
Pushbuttons 140
Operation 139
Fuel 190
Filter change 197
Fuses 229
Central electrics print 230
Engine electrics component
carrier 233
Roof electrics component
carrier (normal roof) 235
Roof electrics print (high roof) 234
G
Gear levers in the cab 41
Ground speed PTO shaft 110
H
Hints for driving 68
Hydraulic plug-in connection 150
I
Instrument panel
Centralised warning system 32
Indicator lamps 30
Operating lever on 42
Switch layout 36
with digital tractormeter 29
Interior lighting 55
L
Lifting Gear
Adjusting the lower linkages 116
Ball Sockets 121
Connecting and
Disconnecting 122
General Operating Notes 124
Intermediate sleeves for Cat I 121
Linkage 116
Quick Adjustment Between
Cat I and Cat II 120
Rear operating position 45, 134
Upper linkage adjustment 123
Low temperatures, starting 67
Lubrication and filling levels 182
Lubrication points 189
Lubrication/Maintenance plan 187
255
TRIM THIS EDGE
TRIM THIS EDGE
RIGHT PAGE
Template Name: OM_1_col
Template Date: 1994_05_26
Alt= to hide template information
Alt+ to display template information
M
Manual
Safekeeping 3
MHR
Rear operating position 45
Multi-Controller 51
Function of the individual
buttons 51
O
Oil quality and viscosity table 184
Opening the bonnet 181
Operating console for "MHR"
and auxiliary hydraulics 47
Front wheel differential switch 48
Lowering throttle 48
Operating lever "I" or Joystick
lever 48
Operating lever "II" 48
Rocker switch for electrically
operated control units 48
Safety switch 48
System lever 47
Operating controls
Cabin roof 53
Operating the transmission 73
P
Parking brake 40
Pedals 38
Piton Fix 88
PTO shaft protective cap 111
PTO-shaft
Safe Operation 112
R
Radio 58
Rear axle track widths
with adjustable wheels 171
with fixed wheels 170
Rear PTO shaft
Adjusting the support struts 104
Electro-hydraulic operation 107
Mechanical operation 105
Operation 105
Rear operating position 46
Rear wheels
Tightening torque 172
Rear-view mirror
standard 58
telescopic 58
Recovery 101
Engine not running 101
Engine running 101
Relays
Central electrics print 232
Engine electrics component
carrier 233
Roof electrics component
carrier (normal roof) 235
Roof electrics print (high roof) 234
Replacing bulbs and lamps 221
Cab interior lighting 228
EHR – Spot 227
Headlight, reserve
headlight 221, 222
Instrument panel indication
lamps 226
Rear searchlights 223
Reverse, brake, indicator
lamps 224
Side and front traffic
indicator lamps 225
Rocker switch
on the control panel 57
Roof hatch 58
S
Safety 6
Basic Rules 9
Carriage of passengers 7
Correct usage 6
Driving 8
General Safety 7
Maintenance 9
Safety labels 10
Safety switch 61
Speed calibration 160
Stationary tractor operation 76
Steering column combination switch
Headlight flasher 43
Windscreen wipers/washers 44
Steering wheel adjustment 44
Sun blind 55
256
TRIM THIS EDGE TRIM THIS EDGE
LEFT PAGE
Template Name: OM_1_col
Template Date: 1994_05_26
Alt= to hide template information
Alt+ to display template information
T
Tachometer 34
Technical Data
Auxiliary control units 240
Brakes 239
Differential lock, rear 239
Differential on the
4-wheel drive axle 239
Electrical System 238
Engine 236
Front axles 239
Front PTO 241
Front-end hydraulics 241
Hydraulic lifting gear 240
Hydraulic system 240
Hydrostatic steering 239
Rear PTO shaft 241
Towbars 242
Transmission 240
Three-point Linkage
Connecting and
Disconnecting 122
Towbar
Automatic Version 86
Cleaning and maintenance 212
Manual Version 85
Traffic indicators 43
Trailer brakes
Compressed air 94
Hydraulic 95
Transmission
Gear shifting with the
power shift group 74
Gear shifting with the tractor
at a standstill 73
Transmission Unit
Change the filter cartridge 206
Fluid filling regulations 205
Oil change 205
Transporting the tractor 102
Type plate 4
Tyre combinations 174
V
V-belt tension 202
Vehicle dimensions 251
W
Warning lamps 99
Rotating beacon 100
Yellow hazard warning lamps 99
Wheel chocks 76
Wheel exchange 173
PLEASE NOTE:
⦁ This is not a physical manual but a digital manual – meaning no physical copy will be couriered to you. The manual can be yours in the next 2 mins as once you make the payment, you will be directed to the download page IMMEDIATELY.
⦁ This is the same manual used by the dealers inorder to diagnose your vehicle of its faults.
⦁ Require some other service manual or have any queries: please WRITE to us at [email protected]