Case IH Tractor DX21 DX24 Compact Operator's Manual
FILE DETAILS:
Case IH Tractor DX21 DX24 Compact Operator's Manual_87300158
Size : 5.33 MB
Format : PDF
Language : English
Number of Pages : 108 pages
Brand: Case IH
Type of machine: Tractor
Type of document: Operator's Manual
Model: DX21, DX24 Compact
Part No: 87300158
DESCRIPTION:
This manual contains information concerning the adjustment and maintenance of your Case IH DX21 and DX24 tractors. You have purchased a dependable machine, but only by proper care and operation can you expect to receive the performance and long service built into this tractor.
Please have all operators read this manual carefully and keep it available for ready reference. This machine was designed to power and propel itself. It is intended to pull or carry tractor attachments or load and move materials when equipped with a front end loader with a variety of buckets. Only attachments recommended and approved by Case IH should be used with your tractor.
Your Case IH dealer will instruct you in the general operation of your tractor. (Refer to the "Delivery Report" at the back of this manual.) Your dealer's staff of factory-trained service technicians will be glad to answer any questions that may arise regarding the operation of your tractor.
Your Case IH dealer carries a complete line of genuine Case IH service parts. These parts are manufactured and carefully inspected to insure high quality and accurate fitting of any necessary replacement parts. Be prepared to give your dealer the model and product identification number of the tractor, when ordering parts.
Locate these numbers now and record them below. Refer to the "General Information" section of this manual for the location of the model and product identification numbers of your tractor.
The new model year, class of diesel engine, and emission application determination for your engine are identified on the emission control information label affixed to the top of your engine's rocker arm cover. Thewarranty period begins on the date the new equipment is sold to the first retail purchaser.
Any emission control systemparts which are proven defective during normal usewill be repaired or replaced during the warranty period. The warranty repairs and servicewill be performed by any authorized Case IHdealer at the dealer's place of business, with no charge for parts or labor (including diagnosis).
As the engine owner, you are responsible to perform all the required maintenance listed in your owner's manual. Case IH will not deny an emission warranty claim solely because you have no record of maintenance; however, a claim may be denied if your failure to perform maintenance resulted in the failure of a warranted part.
Receipts covering regularmaintenance should be retained in the event of questions and these receipts should be passed on to each subsequent owner of the engine. It is recommendedreplacement parts used formaintenance or repairs beCase IHServiceParts tomaintainthe quality originally designedinto your emission certified engine.
The use of non-Case IH parts does not invalidate the warranty on other components unless the use of such parts causes damage to warranted parts. Case IH wishes to assure the emission control systems warranty is being properly administered. If you believe you have not received the service entitled to under this warranty, you should contact the nearest Case IH Branch Office for assistance.
IMAGES: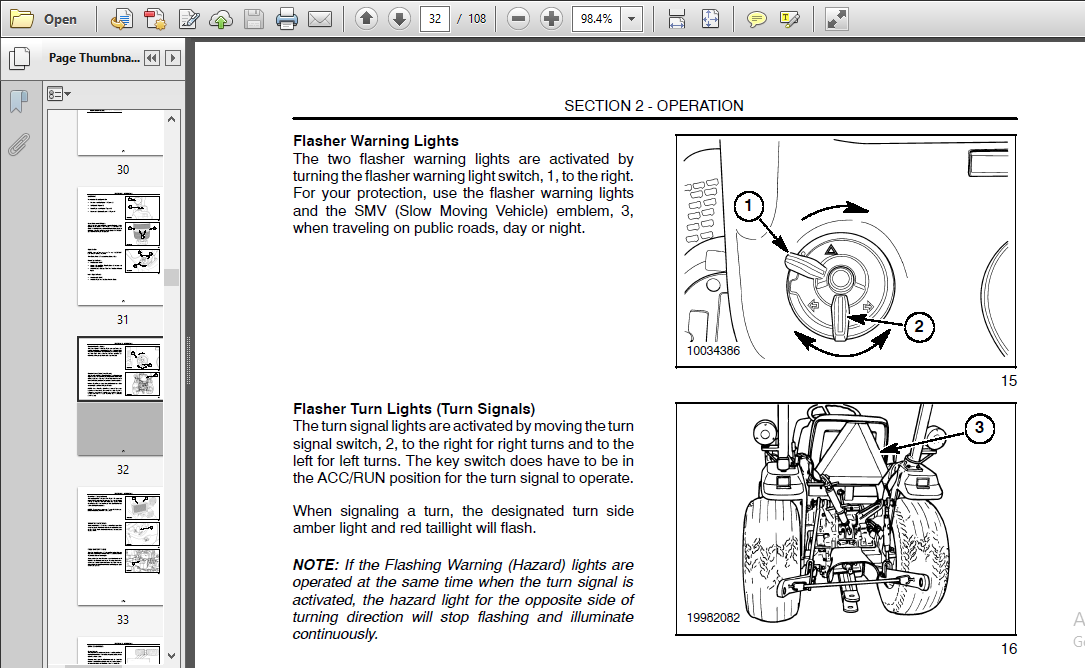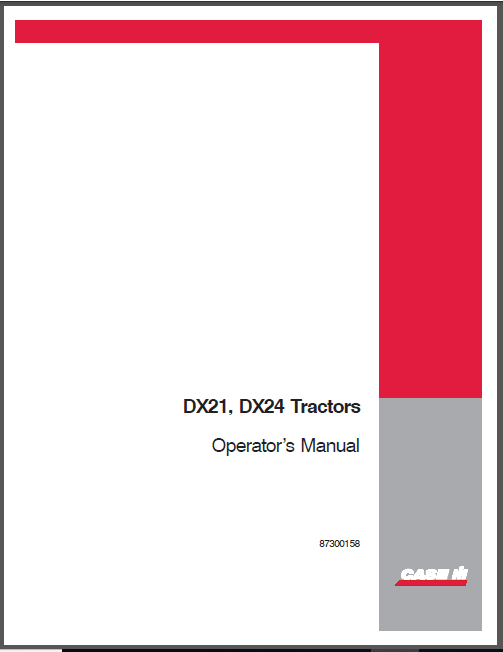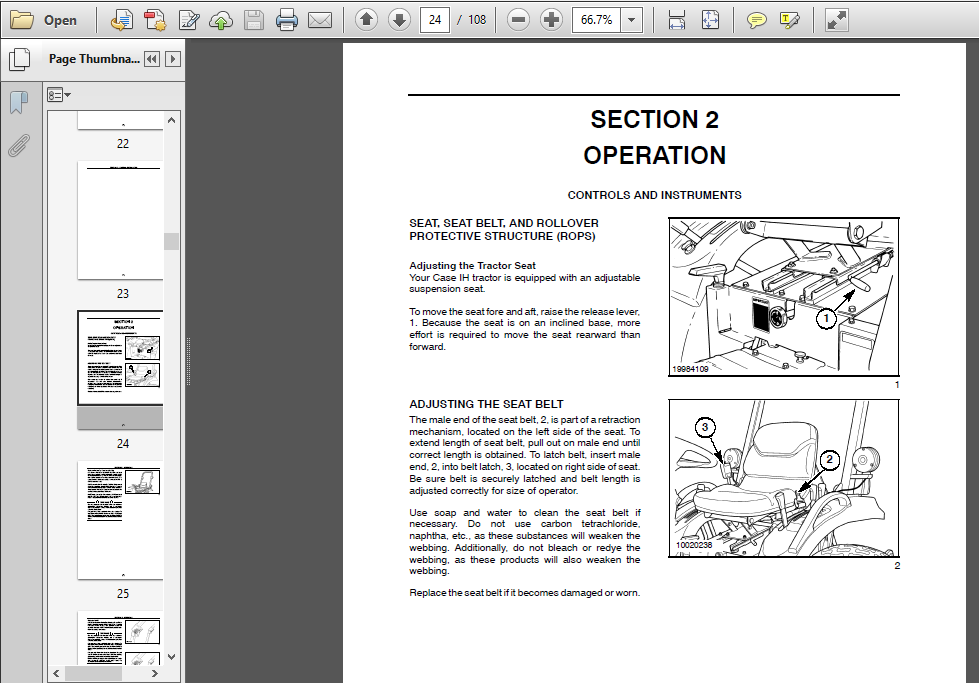 VIDEO PREVIEW:
TABLE OF CONTENTS:
Case IH Tractor DX21 DX24 Compact Operator's Manual
SAFETY 0-7
GENERAL INFORMATION1-1
OPERATION2-1
LUBRICATION AND MAINTENANCE 3-1
SPECIFICATIONS 4-1
INDEX4-9
PREDELIVERY REPORT
INDEX DETAILS:
Case IH Tractor DX21 DX24 Compact Operator's Manual
Adjusting the seat belt 2-1
Adjustment procedure2-21
Air cleaner3-10
Air cleaner inner safety element 3-12
Air cleaner primary element 3-11
Alternator3-22
Auxiliary electrical power socket 2-24
Battery 3-21
Bleeding the fuel system 3-8
Bleeding the injector lines 3-10
Brake adjustment3-29
Brake controls2-11
Brake pedal lock2-11
Brake pedals 2-11
Break-in procedures2-7
California Emission Control Warranty
Statement 0-4
Cast iron weights (optional) 2-29
Changing the transmission, rear axle,
and hydraulic system oil3-14
Checking the coolant level3-16
Checking the electrolyte level 3-21
Changing the front axle differential case
and final reduction gear case oil 3-31
Checking the front axle differential case
and final reduction gear case oil level 3-30
Checking the transmission, rear axle,
and hydraulic system oil level 3-14
Clutch pedal2-13
Clutch pedal adjustment3-29
Controls and instruments2-1
Cooling system3-16
Diesel fuel 0-9, 3-4
Differential control 2-14
Draining and flushing the cooling system3-17
Driving the tractor 0-8, 2-26
Ecology and the environment 0-16
Electrical wiring diagram3-36
Engine oil, changing3-6
Engine oil, checking3-6
Fan belt3-18
Federal Emissions Warranty 0-3
Fixed/clevis drawbar 2-17
Flasher turn lights (turn signals)2-9
Flasher warning lights2-9, 3-25
Front axle differential case and final
reduction gear cases 3-30
Front axle pivot/standard FWD axle3-32
Front end weights 2-29
Front tire inflation pressures 2-30
Front wheel drive2-12, 3-30
Front wheel settings 2-27
Front wheel toe-in 3-28
Fuel and lubricant service procedures 3-6
Fuel filter, changing 3-8
Fuel filter, draining3-7
Fuel shutoff valve2-10
Fuel usage safety3-4
Fuse block 3-23
Gear transmission 2-12
General information 1-1
General maintenance3-16
Grille guard #719849066 (optional) 2-31
HST foot pedal2-12
HST range lever 2-13
HST speed control 2-13
HST System oil filter3-15
Head lamp 3-24
Headlights and taillights 2-8
Hood latch2-18
HPL drop rate control valve 2-22
Hydraulic lift rocker2-22
Hydraulic manifold block/diverter valve 2-22
Hydraulic power lift (HPL) 2-20
Hydraulic system oil filter 3-15
Hydrostatic transmission (HST) model2-12
Instruction decals0-13
Instrument lights 3-25
Instrument panel 2-4
International symbols0-18
Key switch 2-5
Lighting 2-8
Linkage adjustments 2-21
Liquid ballast (optional) 2-30
Lubricants 3-1
Lubrication and maintenance 3-1
Lubrication and maintenance chart3-3
Lubrication fittings3-4
Main fuse3-23
Maintenance and inspection of the
rollover protective structure (ROPS)3-19
Minimum hardware tightening torques 1-2
Operating the PTO 0-9
Operating the tractor0-8
Operation 2-1
Operation of the power take-off (PTO)2-16
Optional attachments2-31
Parking brake control2-11
Personal safety0-6
Position control2-20
Possible damage to the ROPS3-20
Pre-heating the system2-5
Precautionary statements0-6
Predelivery service4-11
PTO lever control2-15
PTO shield and cap2-15
Rear PTO operation (without operator in seat) 2-16
Rear remote control valve (optional)2-23
Rear tire inflation pressures 2-30
Rear wheel settings2-27
Rear wheel weights2-29
Rear work light (optional) 2-10
Recommended oils 3-7
Refueling the tractor3-5
Safety0-7
Safety decals 0-10
Safety frame (ROPS) 0-9
Seat, seat belt, and rollover protective
structure (ROPS) 2-1
Servicing the tractor0-7
Single-lever position adjustments2-21
Specifications4-1
Starting the engine 2-6
Starting the tractor with jumper cables 2-7
Stopping the engine 2-7
Taillight3-24
Thermostat 3-18
Three-point linkage2-19
Throttle controls 2-10
Tire pressure 2-30
Tires 3-26
Toolbox2-24
To the owner 0-1
Touch-up paint3-34
Towing the tractor 2-17
Tractor hydraulics 2-20
Tractor storage3-32
Tractor weighting2-28
Transmission main shift lever and
range lever 2-12
Transmission, rear axle, and
hydraulic system3-13
Two-spool control valve (optional)2-25
Weighting for stability2-28
Weighting limitations 2-28
Wheel bolt torque3-27
Wheel tread settings 2-27
PLEASE NOTE:
⦁ This is the SAME MANUAL used by the dealerships to diagnose your vehicle
⦁ No waiting for couriers / posts as this is a PDF manual and you can download it within 2 minutes time once you make the payment.
⦁ Your payment is all safe and the delivery of the manual is INSTANT – You will be taken to the DOWNLOAD PAGE.
⦁ So have no hesitations whatsoever and write to us about any queries you may have : heydownloadss @gmail.com