Case IH Tractor Drum Overhaul Cotton Picker Service Manual
FILE DETAILS:
Case IH Tractor Drum Overhaul Cotton Picker Service Manual_GSS1077C
Size : 24.7 MB
Format : PDF
Language : English
Number of Pages : 51 pages
Brand: Case IH
Type of machine: Tractor
Type of document: Service Manual
Model: Drum Overhaul Cotton Picker
Part No: GSS1077C
DESCRIPTION:
FOREWORD:
The instructions and special tools shown in this Blue Ribbon Service Manual are for use by International Harvester Dealers and their factory trained servicemen.
The specifications as listed in this manual are current as of the printing date. Due to changes and improvements in our products, dealers are periodically issued service bulletins to keep this manual up-to-date. We suggest you refer to the most recent information when performing service work on this equipment.
DESCRIPTION AND PRINCIPLES OF OPERATION:
International Harvester Factory Trained servicemen are best qualified to service I.H. equipment. This manual covers the servicing procedures for the components of Cotton Picker Drums.
The various points to be covered and procedures outlined in this manual are a guide for complete overhaul. If you are performing emergency field or shop service. you will use only the steps that are applicable to the problem at hand. Review the "Contents" and determine which steps will be required.
But remember. it is better to do extra work than not to do enough. McCormick one and two row cotton pickers are designed so that. as they move down the row. they pick from both sides of the plants.
While being picked, the plants are compressed and held against the spindles by spring actuated compression sheets. The cotton picking unit consists of a sturdy steel drum box for each row. See Illust.
1. Each picking drum contains two rotors, one for each side of the plant. Each rotor has cam-actuated vertical bars hold- ing the spindles. which are driven by bevel gears on a shaft enclosed in the picker bar.
The equipment is designed so that the pickers will get a high percentage of the open cotton and allow room for the green unopened bolls to pass through without damage to the plant.
This is accomplished by the spacing of the spindles and the synchronization of the speed at which the rotor assembly turns relative to the tractor travel speed. or in the case of the self- propelled picker, to the forward travel of the picker through the field. See Illust.
2. A spindle moistening system is incor— porated in each rotor to clean the spindles and to provide maximum efficiency of pick- ing. Finncd type rubber moistener pads clean the spindles and apply a film of water to each spindle just before it penetrates the plant to pick the cotton from the open bolls. See Illust.
2. After the cotton is picked it is carried to the doffers which remove it from the spindles. The picked cotton drops at the entrance of the air conveyor system lo— cated at the drum doors.
IMAGES: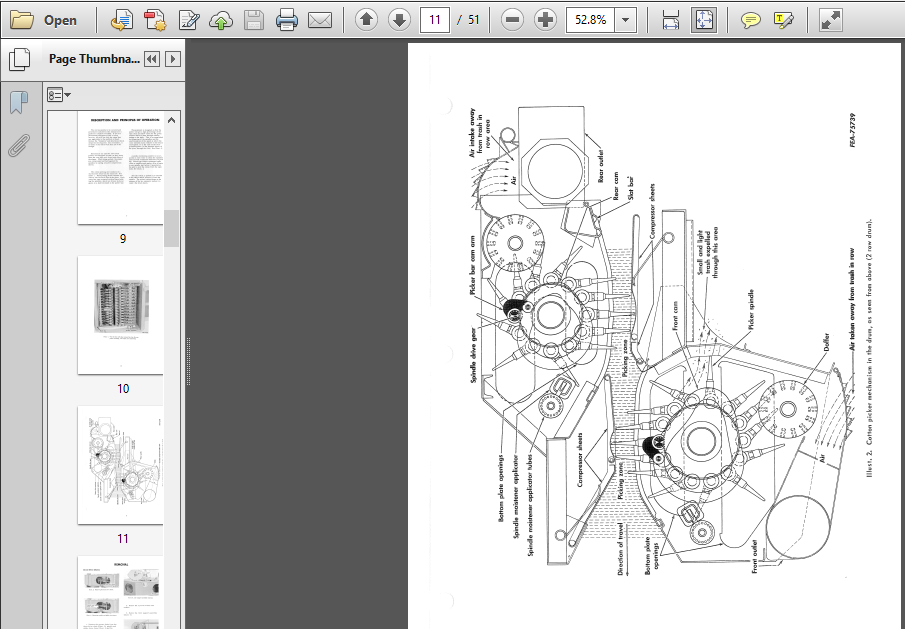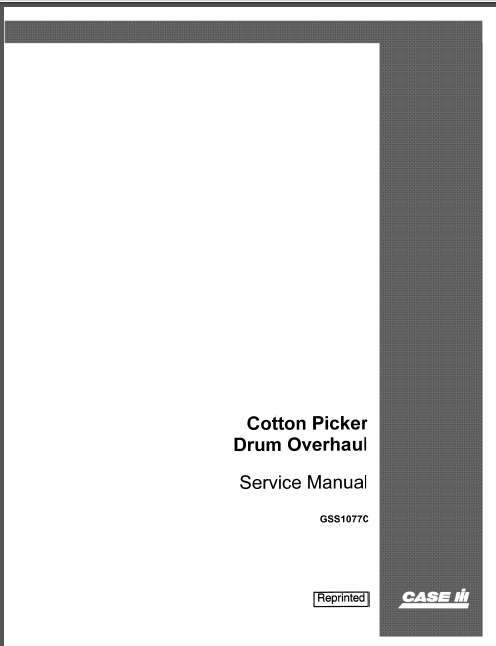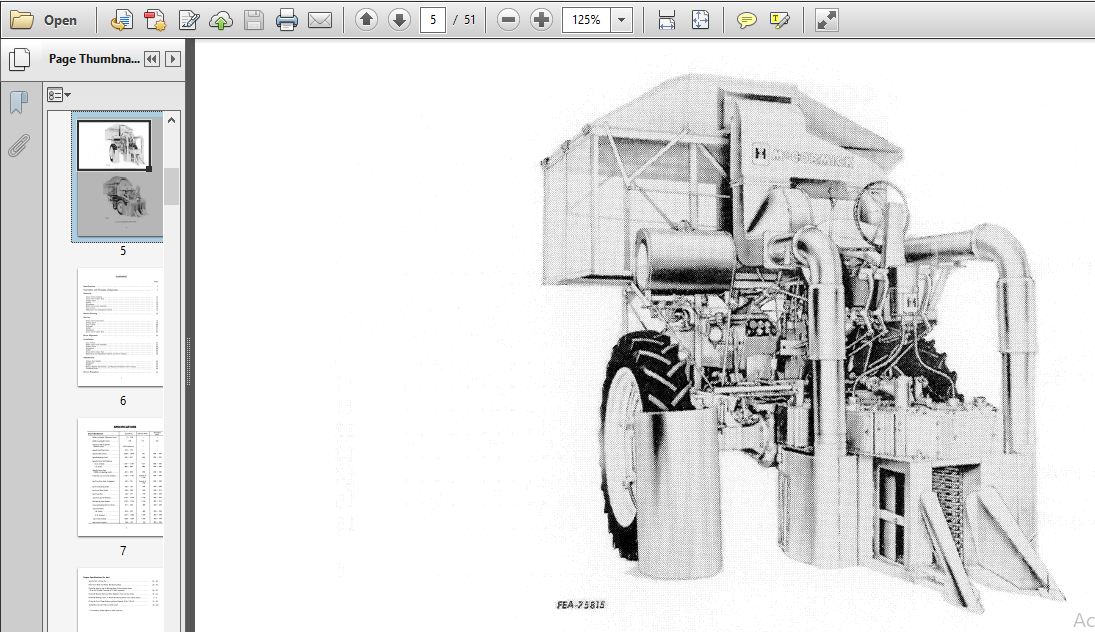 VIDEO PREVIEW:
TABLE OF CONTENTS:
Case IH Tractor Drum Overhaul Cotton Picker Service Manual
Specifications
Description and Principles of Operation
Removal
Drum Drtve Cheins
Drum Drich car Box
Pickor Bars
Defier
IIoistener
Rumr Drive and hdesml
smuanarymdrtdjustableldlers
Steam Cleaning
Service
Rotor Driveand Head
Picker-Bare
Pedestal
Doiter
Moistener
Dmm Drive Gear Box
Drum Alignment
Installation
Cam'l'rack
Rotor Driveand Pedesml
Picker Bers
Moistencr
Dotfcr
Dmm Drive gear Box
Stationary and Adjustable idlersandbrtve Chalns
Adiustments
Plcker Bariicigi'It
Moistener
Rotor, Spindle and Butler, and Spindle Moistcncr Drive Chains
Flushing Drum
PLEASE NOTE:
⦁ This is not a physical manual but a digital manual – meaning no physical copy will be couriered to you. The manual can be yours in the next 2 mins as once you make the payment, you will be directed to the download page IMMEDIATELY.
⦁ This is the same manual used by the dealers inorder to diagnose your vehicle of its faults.
⦁ Require some other service manual or have any queries: please WRITE to us at [email protected]