Case IH Tractor Cross Flow CF 80 Combine Service Manual CF80
FILE DETAILS:
Case IH Tractor Cross-Flow CF 80 Combine Service Manual_CF80
Size : 27.6 MB
Format : PDF
Language : English
Number of Pages : 552 pages
Brand: Case IH
Type of machine: Tractor
Type of document: Service Manual
Model: Case Cross-Flow CF 80 Combine
Part No: CF80
SAMPLE PAGE FROM THE MANUAL:
The Header
Dividing devices are attached to both side walls of the header. The reel guides the threshed crops to the auger, which has a multiple-finger auger starting at 6.6 m. The knife cuts the crop with the heads attached. Guide plates, as an option, increase the flow of goods when there are crops with short stalks. The auger brings the crops to the center of the trough after the cutting.
Forced-control prongs take over the transport of the threshed crops to the sloped belt conveyor there at the center portion of the auger; the sloped belt conveyor delivers it to the threshing drum. The header can be shut off, independently of the threshing unit, with a quick stop key. The header is available in two different designs of the field tracker. In the case of Design P (electrical – mechanical), the header is guided with adjustable slip heels.
The pan pressure of the header is set by means of two adjustable pre-loaded springs. It tracks cross-wise and lengthwise to the direction of the work. An automatic system takes over the readjustment of the shaft if an end position of the longitudinal tracking is reached. An automatic cutting-height control is available for lodged grain.
In the case of Design Q (electrical – hydraulic), the ground profile is sampled by means of 4 probe skids and a pressure sensor in the hydraulic line of the shaft. An electronic subassembly then controls the guidance of the header in a cross-wise direction and the readjustment of the shaft. Many setting variations are possible because of the electronic control unit.
TABLE OF CONTENTS:
Case IH Tractor Cross Flow CF 80 Combine Service Manual CF80
1 General Issues
2 Engine
3 Fuel System
4 Electrical System
5 Steering and Machine Frame
6 Ground Drive
7 Brakes
8 Hydraulics
9A Header and Feeder
9B Threshing Unit
9C Cleaning Unit
9D Elevators and Belt Drives
9E Grain Tank
9F Chaff-Cuttern and
Chaff Distributer
9G Cab
10 Accesory Equipment
VIDEO PREVIEW:

SCREENSHOT OF THE MANUAL: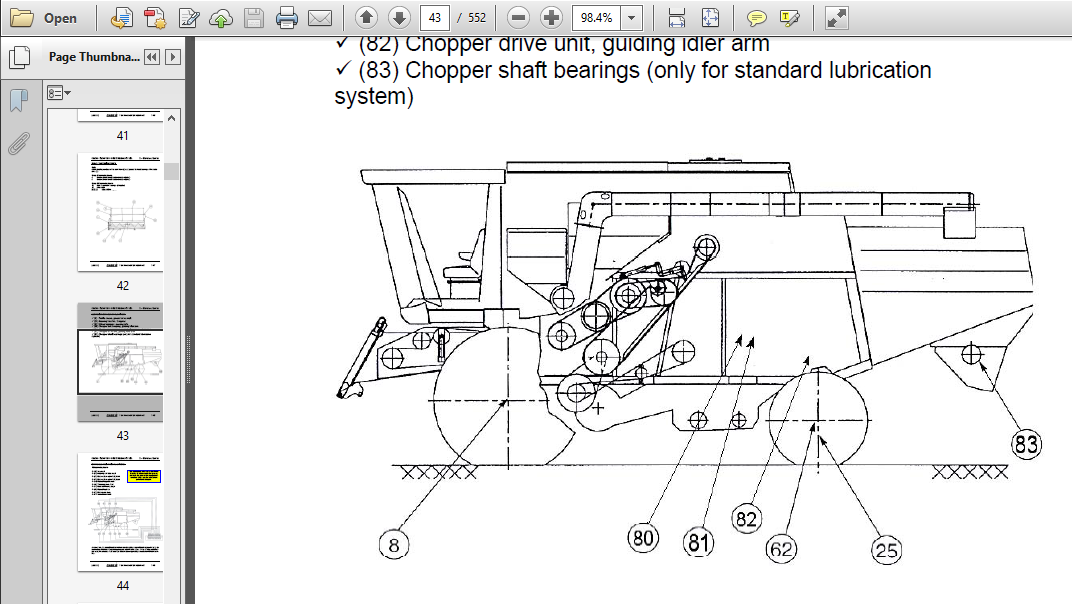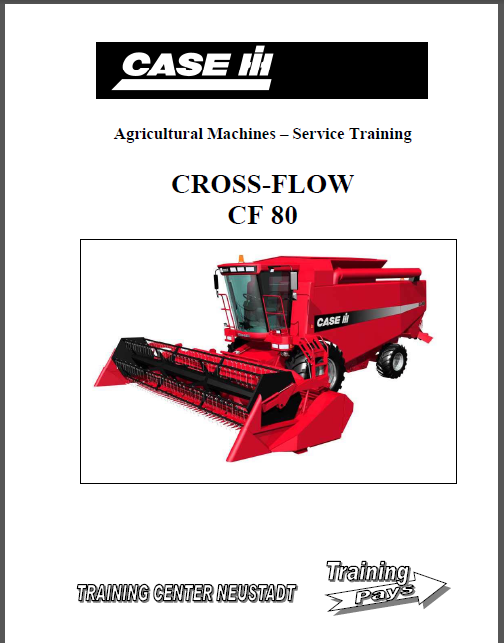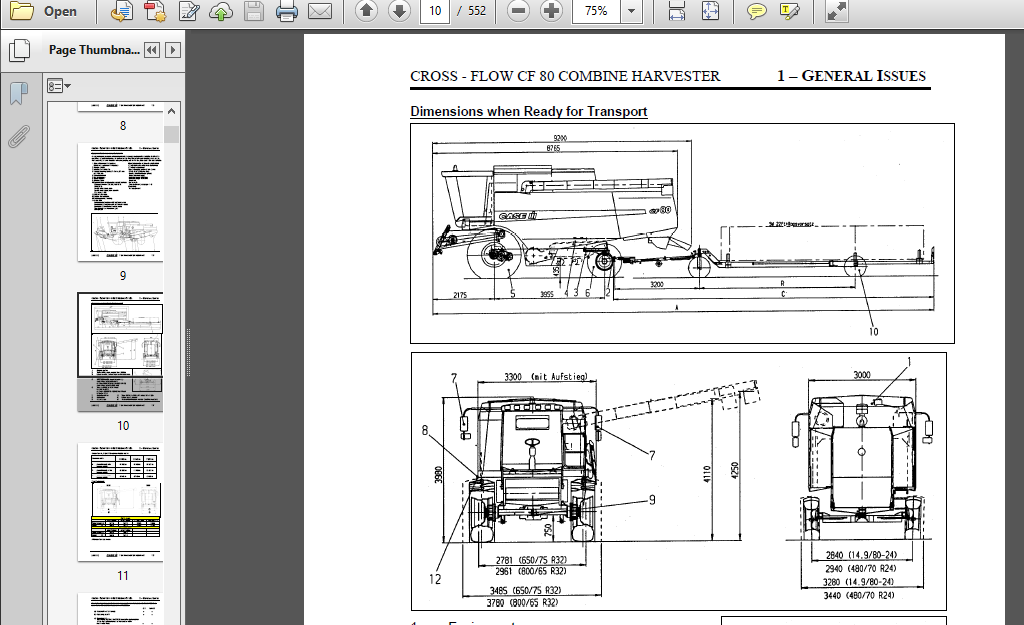 PLEASE NOTE:
⦁ This is the SAME MANUAL used by the dealerships to diagnose your vehicle
⦁ No waiting for couriers / posts as this is a PDF manual and you can download it within 2 minutes time once you make the payment.
⦁ Your payment is all safe and the delivery of the manual is INSTANT – You will be taken to the DOWNLOAD PAGE.
⦁ So have no hesitations whatsoever and write to us about any queries you may have : heydownloadss @gmail.com