Case IH Tractor Chassis B-275 Service Manual GSS1241
FILE DETAILS:
Case IH Tractor Chassis B-275 Service Manual_GSS1241
Size : 7.02 MB
Format : PDF
Language : English
Number of Pages: 30 pages
Brand: Case IH
Type of machine: Tractor
Type of document: Service Manual
Model: Tractor Chassis B-275
Part Number: GSS1241
SAMPLE PAGE FROM THE MANUAL:
Steering Mechanism:
The cam and lever type steering gear is enclosed in a gray iron housing. A steel tube, pressed into the housing, encloses the steering shaft which is supported by a felt bushing at the upper end of the tube. The lower end of the steering shaft serves as the cam and is supported by two ball bearings, one on either side of the cam. A rocker shaft, in the form of a crank, is set at 90 degrees to the cam and is supported by two bronze replaceable bushings. The outer end of the rocker shaft is splined to accept the drop arm which is retained by means of nut and spring washer.
The steering wheel is keyed to the steering shaft and retained by a nut. The complete assembly is doweled and bolted to the upper machined face of the clutch housing. The rocker shaft engages the cam by means of a peg. The cam is in effect a helical groove on the steering shaft and rotates when the steering wheel is turned. The peg, engaging in the groove, travels up and down the groove rotating the drop arm depending on the direction the steering wheel is turned.
Front Axle:
The heavy duty wide thread front axle is of tubular steel construction. The center of the axle pivots on a pin. This pin passes through the front of the axle support, the pivot pin sleeve, and the rear of the axle support. The pivot pin is held in position by a groove pin which passes through the front of the axle support and the pivot pin. The pivot pin sleeves are replaceable bush- ings and turn on the stationary pivot pin. The steering knuckle shafts also turn in replaceable bushings.
The steering is of single drop arm design. The steering tie rod is provided with one threaded end for gaining the correct toe-in, while the other end is adjustable to correspond to 4-inch increment increases when the front axle is extended. The indexing of the tie-rod corresponding to the extensions of the front axle removes the need to recheck the toe-in.
TABLE OF CONTENTS:
Case IH Tractor Chassis B-275 Service Manual GSS1241
Specifications
General Description
Steering Mechanism
Wheels
FrontAxle
Rear-Axle
Trouble Shooting Chart
Checks and Adjustments
CareofTires
Wheel Alignment
Track Width Alignment
Steering Mechanism Service
Removal
Disassembly
Inspection and Repair
Reassembly
Installation
WheelServtce
Removal
Disassembly
Inspection and Repair
Reassembly
Installation
AxleServlce
Removal
Disassembly
Inspection and Repair
Reassembly
Installation
VIDEO PREVIEW:

SCREENSHOT OF THE MANUAL: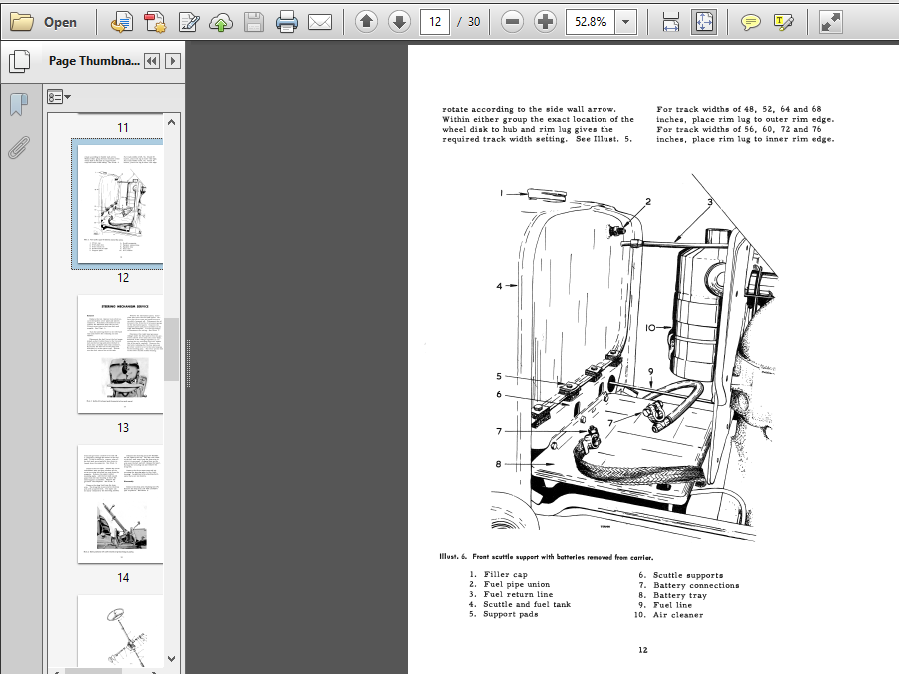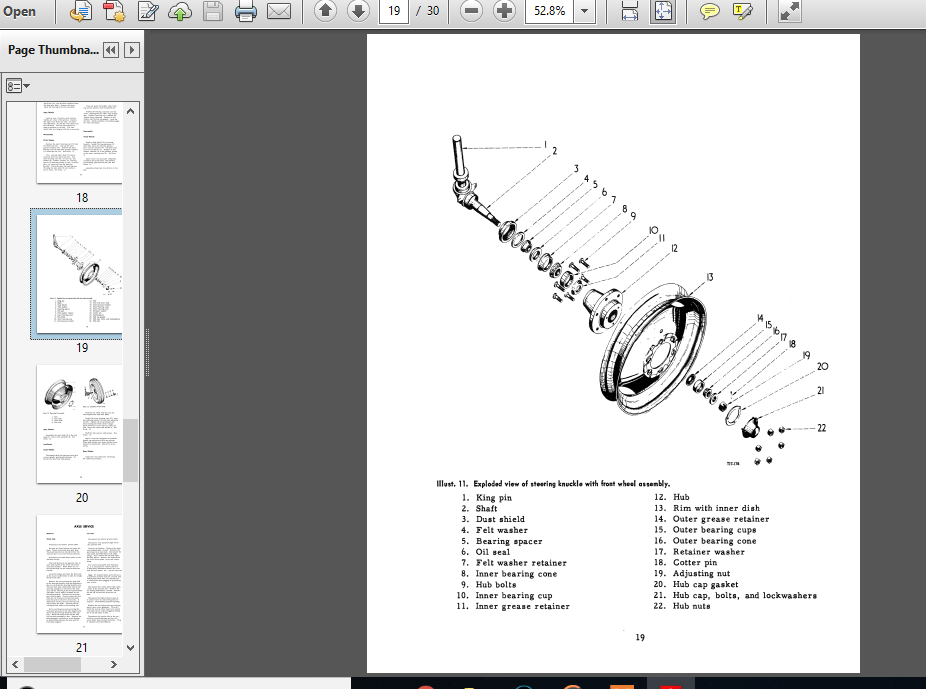 PLEASE NOTE:
⦁ This is the SAME MANUAL used by the dealerships to diagnose your vehicle
⦁ No waiting for couriers / posts as this is a PDF manual and you can download it within 2 minutes time once you make the payment.
⦁ Your payment is all safe and the delivery of the manual is INSTANT – You will be taken to the DOWNLOAD PAGE.
⦁ So have no hesitations whatsoever and write to us about any queries you may have : heydownloadss @gmail.com