Case IH Tractor Analyzing Diesel Engine Performance Service Manual GSS -1482
FILE DETAILS:
Case IH Tractor Analyzing Diesel Engine Performance Service Manual GSS -1482
Size : 15.6 MB
Format : PDF
Language : English
Number of Pages : 62 pages
Brand: Case IH
Type of machine: Tractor
Type of document: Service Manual
Model: Analyzing Diesel Engine Performance
Part No: GSS-1482
DESCRIPTION:
Due to a continuous program of research and development, some procedures, specification and parts may be altered in a constant effort to'improve our products. When changes and improvements are made in our products, periodic revisions may be made to this manual to keep it up-to-date. It is suggested that customers contact their dealer for information on the latest revision. .
LIBRARY FILING INFORMATION :
1. File this manual after Divider Tab SSS-1482.
2. In the Service Manual Index, print or preferably type in the manual description and form number on page 1 of the General Section under the sub title "Fuel System".
Operating Instructions:
1. Clean the area of the injection pump where the transducer is to be installed. The transducer is to be installed at the pump in the following locations:
a. 3 cylinder engines #1 injection line.
b. 4 cylinder engine #1 or #4 injection line.
c. 6 or 8 cylinder engines #1 or #6 injection line.
2. Install the transducer shown in the "Transducer Application Chart" at the pump as follows:
a. When installing the inline transducer, remove the fuel line. Install the transducer and torque it to 20-27 N-m (15—20 lbf—ft. ). Install a modified fuel ine which is bent to allow for the extra length of the transducer. b. Connect the transducer cord to the transducer.
3. Mark the "TDC" dot on the crankshaft pulley and the front cover pointer with white paint or similar product for ease of viewing.
4. Connect the power leads to any 12 or 24 volt negative ground electrical system. The power leads are color coded. Connect red clip leads to the plus (+) side of the battery and the black clip lead to a good ground. Connect the plug end of the cable to the threaded plug on the panel. Connect the trans- ducer cord to the push—turn plug on the panel.
TABLE OF CONTENTS:
Case IH Tractor Analyzing Diesel Engine Performance Service Manual GSS -1482
Safe work Rules
Metric Conversion Tables
Measuring Horsepower
Test Equipment
Engine Performance Tests
Interpreting The Test
Results
VIDEO PREVIEW:

SCREENSHOT OF THE MANUAL: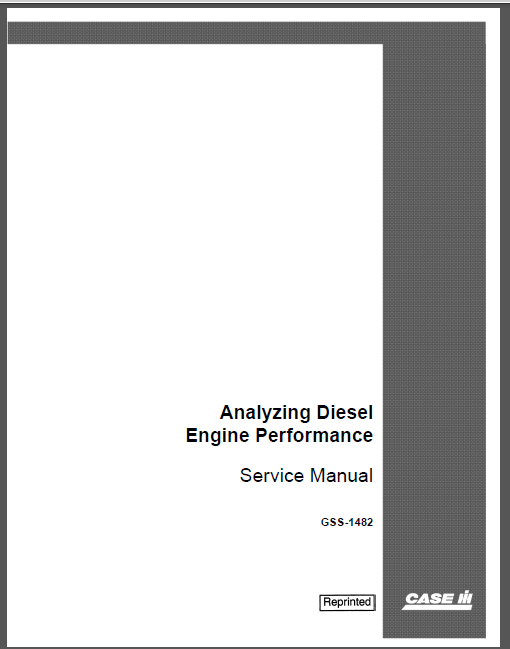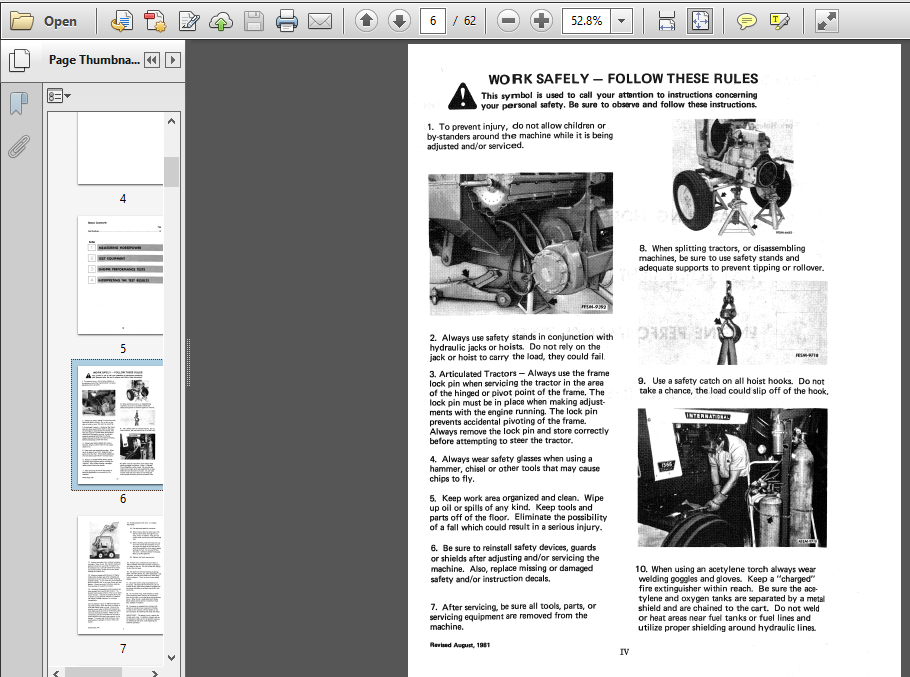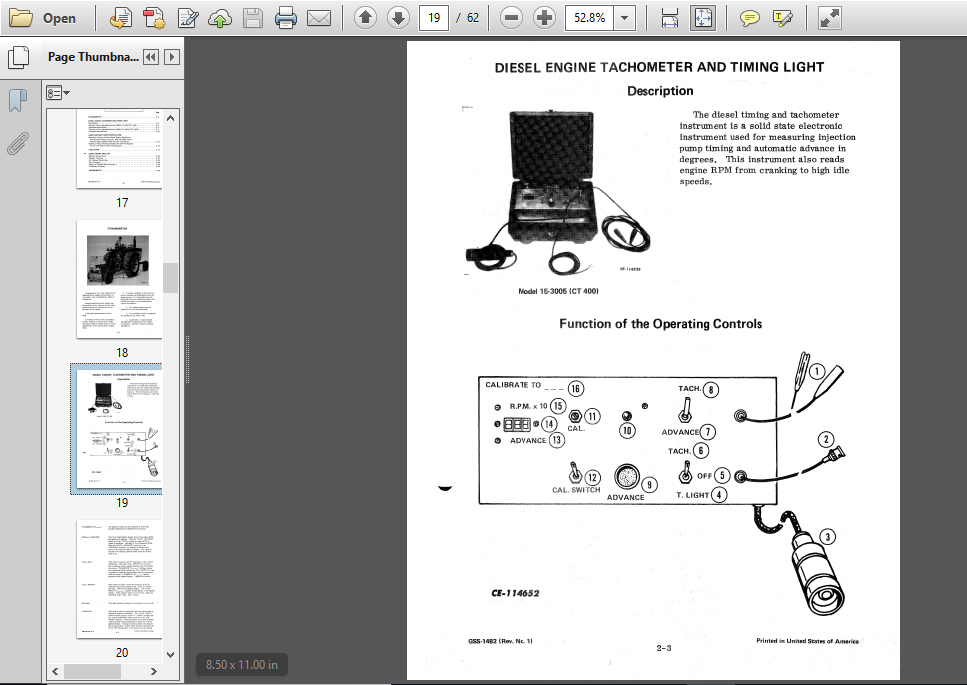 PLEASE NOTE:
⦁ This is the SAME exact manual used by your dealers to fix your vehicle.
⦁ The same can be yours in the next 2-3 mins as you will be directed to the download page immediately after paying for the manual.
⦁ Any queries / doubts regarding your purchase, please feel free to contact [email protected]