Case IH PUMA 165 180 195 210 Tractors Operators Manual
DESCRIPTION:
This Manual has been prepared to assist you in the correct procedure for running–in, driving and operating and for the maintenance of your new tractor. Read this Manual carefully. Your tractor is intended for use in normal and customary agricultural applications. If at any time you require advice concerning your tractor, do not hesitate to contact your authorised dealer.
He has factory trained personnel, genuine manufacturers' parts and the necessary equipment to carry out all your service requirements.
Your tractor has been designed and built to give maximum performance, economy and ease of operation under a wide variety of operating conditions. Prior to delivery, the tractor was carefully inspected, both at the factory and by your dealer to ensure that it reaches you in optimum condition.
To maintain this condition and ensure trouble–free operation, it is important that the routine services, as specified in Section 4 of this Manual, are carried out at the recommended intervals.
IMAGES: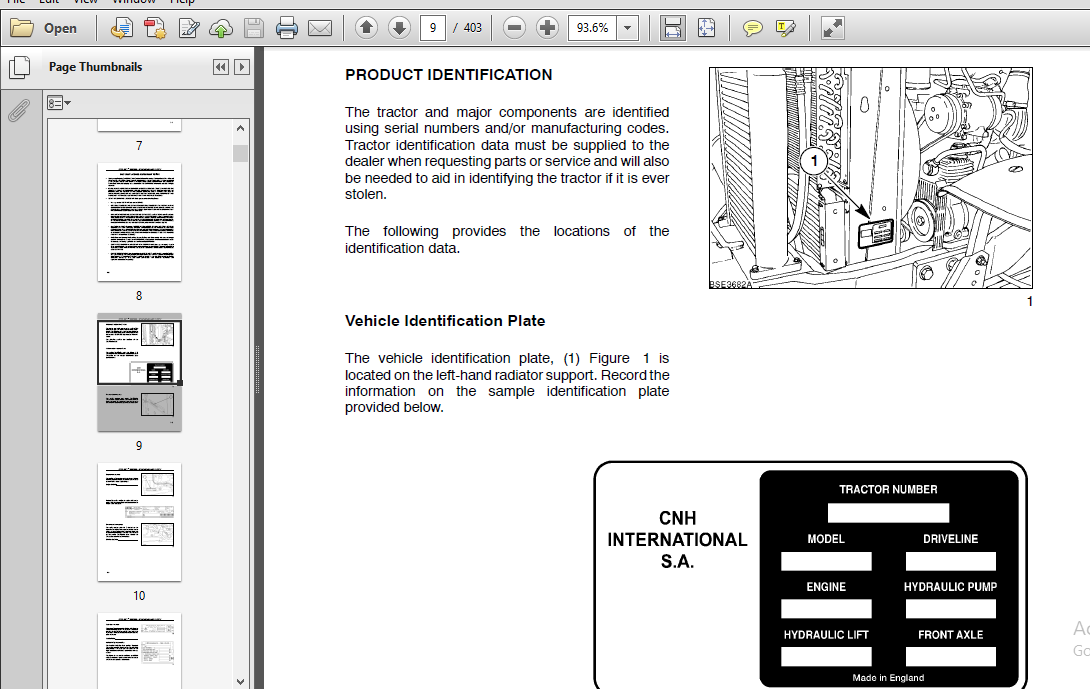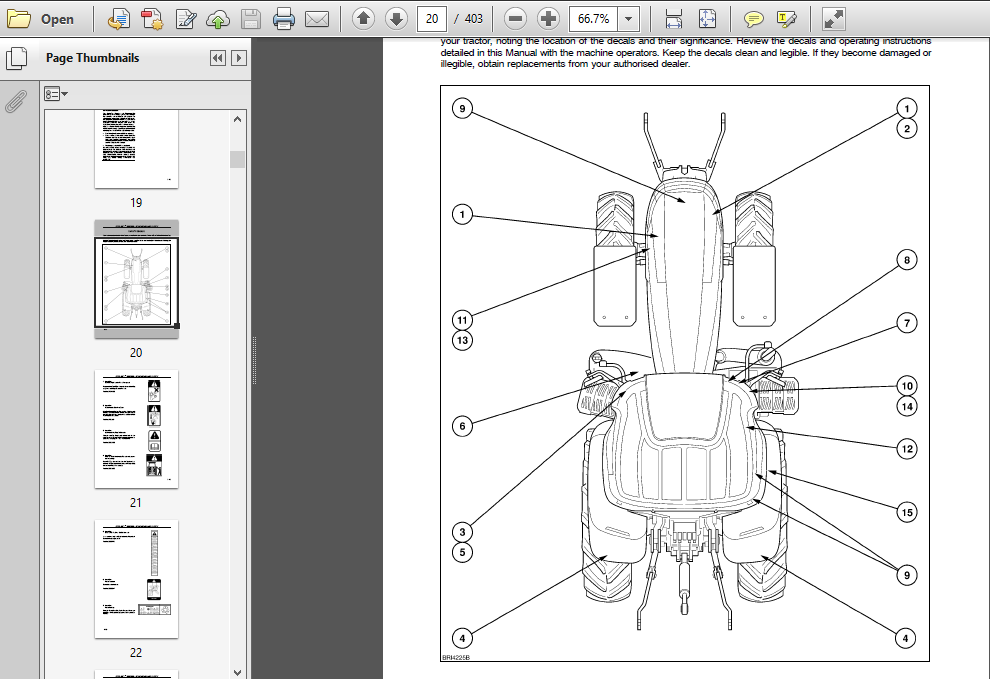 VIDEO PREVIEW:
TABLE OF CONTENTS:
Section 1 — General Information and Safety
To the Owner 1–1
End User License Agreement1–2
Product Identification 1–3
Ecology and the Environment1–6
Safety Precautions1–7
Safety Decals 1–14
International Symbols1–19
Airborne Noise Emission1–20
Section 2 — Controls, Instruments and Operation
Cab 2–4
Electrical Power Sockets2–20
Seats 2–23
Handbrake, Throttle and Foot Controls2–31
Instrument Console 2–33
Analogue/Digital Instruments2–36
Full Powershift Transmission2–77
Differential Lock and Four Wheel Drive2–97
Section 3 — Field Operation
Important Information 3–2
Boosting the Tractor Battery 3–4
Starting the Engine3–5
Stopping the Engine 3–8
Power Management 3–10
Constant Engine Speed 3–11
Headland Management Control 3–13
Turn Assist3–24
Rear Power Take–Off3–26
Front Power Take–Off and Hydraulic Lift 3–40
Electronic Hitch Control 3–57
Remote Control Valves 3–69
Electro–Hydraulic Remote Control Valves 3–75
Three–point Hitch3–93
Quick Hitch3–99
Linkage Stabilisers 3–101
Drawbars and Towing Attachments 3–106
Trailer Braking Systems3–119
Front Wheel Track Adjustment3–126
Rear Wheel Track Adjustment 3–134
Ballasting and Tyres3–144
Section 4 — Lubrication and Maintenance
General Information4–1
Guard Removal4–5
Lubrication and Maintenance Chart4–10
Servicing: When Warning Lights Illuminate4–11
10–hour/daily service4–15
50–hour service 4–17
100–hour service 4–30
300–hour service 4–29
600–hour service 4–33
1200–hour/12 month service4–40
1200–hour/24 month service4–46
Every 3 years 4–54
General Maintenance — as required4–55
Storing the Tractor4–73
Section 5 — Fault Finding
Introduction 5–1
Engine 5–4
Transmission 5–7
Hydraulics 5–8
3-point Hitch5–9
Brakes 5–10
Cab5–10
Electrical 5–11
Section 6 — Accessories
AFS 200 Monitor 6–2
Engine Coolant Immersion Heater 6–3
Transmission Oil Heater 6–3
Rotating Beacon 6–4
Auxiliary Headlights6–4
40 Amp Socket and Cable6–5
Battery Isolator Switch6–6
Dynamic Front Fenders 6–7
Section 7 — Specification
General Dimensions 7–2
Vehicle Weights NO TAG
Lubricant and Fluid Capacities 7–6
Engine 7–7
Fuel System7–7
Cooling System7–8
Transmission Options 7–8
Maximum Operating Angle7–9
Rear Power Take-Off 7–9
Front Power Take-Off 7–9
Hydraulic System 7–10
Rear 3-Point Hitch7–10
Remote control valves NO TAG
Front 3–Point Hitch 7–14
Front Remote Valves 7–14
Brakes 7–15
Steering7–15
Electrical Equipment 7–16
Hardware Torque Tables 7–17
Section 8 — First 50–hour Service Forms8–1
Section 9 — Index
FILE DETAILS:
LANGUAGE:ENGLISH
PAGES:403
FILE TYPPE:PDF
DOWNLOADABLE:YES
PLEASE NOTE:
⦁ This is the SAME manual used by the dealers to troubleshoot any faults in your vehicle. This can be yours in 2 minutes after the payment is made.
⦁ Contact us at [email protected] should you have any queries before your purchase or that you need any other service / repair / parts operators manual.