Case IH Magnum 235 260 290 315 340 Tractors Operators Manual
DESCRIPTION:
Magnum series tractors with standard equipment and authorized attachments, are intended to be used for customary farming, land leveling and related agriculture operations (intended use). Installation of utility (dozer) blades, tile plows, or push bars on the tractor is not recommended. Any tractor damage resulting from the installation and/or use of such equipment is not covered by the tractor warranty.
Consult an authorized dealer or CNH America LLC on changes, additions or modifications that can be required for this machine to comply with various regulations and safety requirements. Unauthorized modifications will cause serious injury or death. Anyone making such unauthorized modifications is responsible for the consequences.
IMAGES: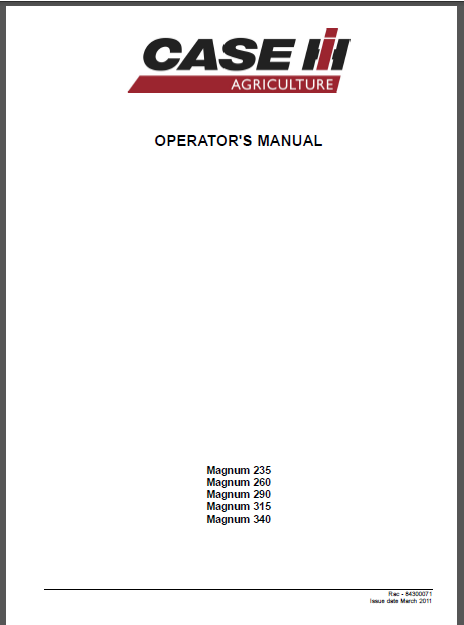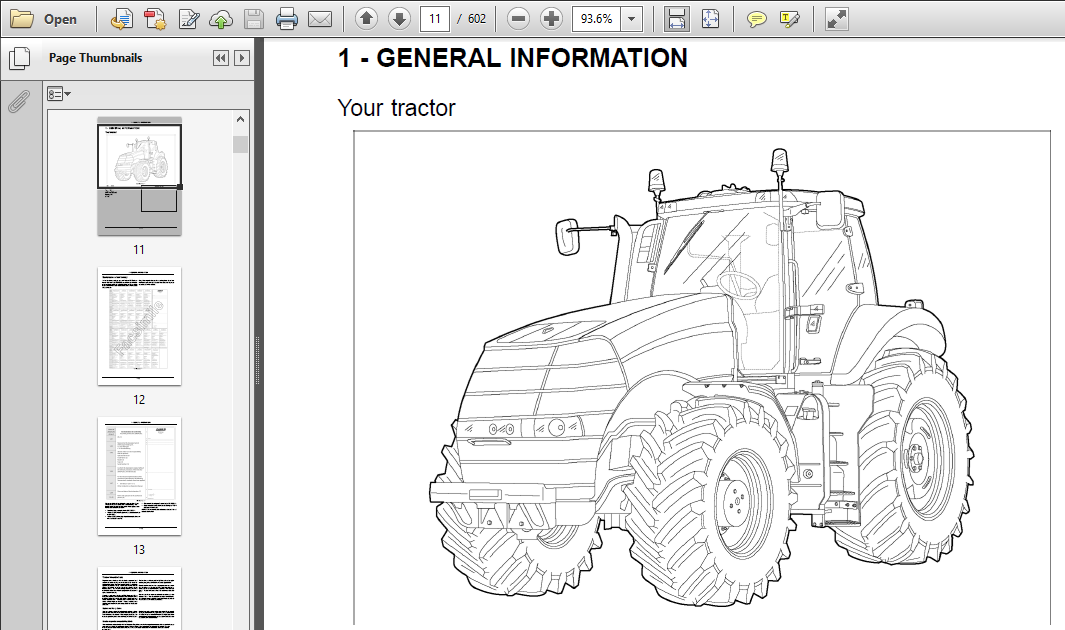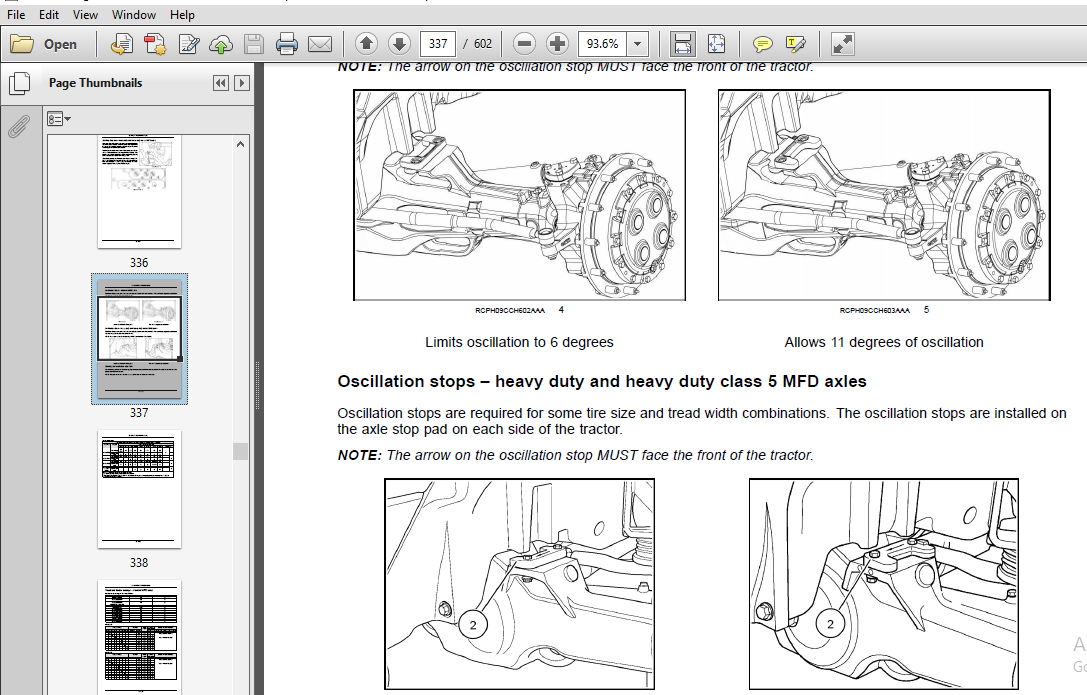 VIDEO PREVIEW:
TABLE OF CONTENTS:
1 GENERAL INFORMATION
Your tractor 1-1
Declaration of conformity 1-2
Tractor intended use1-4
Manual storage1-6
Product identification1-7
Machine orientation 1-9
Component location1-10
2 SAFETY INFORMATION
Safety rules and signal word definitions 2-1
Read the Operators Manual 2-2
Safety rules – General 2-2
Safety rules – Air conditioning system2-3
Safety rules – Basic operating 2-3
Safety rules – Battery 2-4
Safety rules – Driving on public roads 2-4
Safety rules – Electrical storm safety 2-4
Safety rules – Fire prevention 2-5
Safety rules – General maintenance 2-5
Safety rules – Hazardous chemicals 2-6
Safety rules – Implements, tools and trailers2-7
Safety rules – Instructional seat 2-7
Safety rules – Mounting and dismounting 2-8
Safety rules – Operator presence system 2-8
Safety rules – PTO operation 2-8
Safety rules – Roll over and tip over 2-9
Safety rules – Utility power lines2-9
Safety rules – Vehicle vibration 2-10
Safety rules – Wheels and tires2-10
Roll over protective structure (ROPS)2-12
FOPS 2-13
Noise levels 2-14
Vehicle vibration levels 2-15
Fire extinguisher 2-16
Emergency exit 2-16
Wheel wedges 2-17
Safety decals 2-18
Selective catalytic reduction (SCR) decal 2-28
Ecology and the environment 2-29
3 CONTROLS/INSTRUMENTS
ACCESS TO OPERATOR'S PLATFORM
Tractor access 3-1
OPERATOR'S SEAT
Overview 3-2
Control identification 3-3
INSTRUCTOR'S SEAT
Overview 3-6
FORWARD CONTROLS
Steering column 3-7
Front console 3-10
Pedal controls 3-12
LEFT-HAND SIDE CONTROLS
Emergency brake lever 3-14
RIGHT-HAND SIDE CONTROLS
Armrest console3-15
Multi function handle 3-16
Control panel 3-20
Remote valve controls 3-30
Joystick 3-31
Armrest compartment3-33
Adjusting the armrest console 3-35
REARWARD CONTROLS
Fender console 3-36
Automatic temperature controls 3-39
Automatic temperature control system 3-42
Ventilation3-43
OVERHEAD CONTROLS
Interior lamps 3-45
EXTERIOR CONTROLS
Rear fender controls 3-46
Front hitch3-47
INSTRUMENT CLUSTER
Overview 3-48
Gauges 3-48
Status and warning icons 3-50
Upper display 3-53
Lower display 3-55
Keypad 3-57
Keypad 3-59
Setup menu 3-61
Rear tire radius chart 3-67
Adjust menu 3-68
Performance instrumentation 3-75
Performance instrumentation 3-83
4 OPERATING INSTRUCTIONS
COMMISSIONING THE UNIT
Before starting the engine 4-1
STARTING THE UNIT
Normal engine starting4-4
Cold starting aids4-7
Cold temperature operation 4-9
STOPPING THE UNIT
Stopping the engine 4-11
MOVING THE UNIT
Powershift transmission 4-12
Best practices for prolonged transmission life 4-13
Inching pedal and throttle 4-14
Transmission controls4-15
Upper display 4-18
Driving the vehicle 4-20
Setting default gears 4-25
Automatic productivity management (APM) 4-27
Selective catalytic reduction (SCR) system 4-32
Mechanical front drive (MFD) 4-37
Differential lock system 4-41
Suspended axle4-44
Ride control 4-52
Electronic end of row system 4-54
5 TRANSPORT OPERATIONS
ROAD TRANSPORT
Tractor warning lamps 5-1
Tractor warning lamps 5-2
Safe transport speed 5-3
SHIPPING TRANSPORT
Securing the tractor for shipping 5-4
RECOVERY TRANSPORT
Safety rules5-5
Towing the tractor 5-6
6 WORKING OPERATIONS
GENERAL INFORMATION
Product overview6-1
REAR PTO
Safety rules 6-2
Connecting the PTO 6-6
Interchangeable PTO shaft 6-7
Reversible PTO shaft 6-13
Rear PTO operation 6-15
PTO fender switch operation 6-19
Auto PTO operation 6-20
FRONT PTO
Overview 6-23
Front PTO operation 6-24
REAR HITCH
Identification6-27
Link adjustment 6-28
Hitch high clearance adjustment 6-32
Hydraulic links 6-35
Sway limiter adjustment6-37
Lower link block adjustment 6-38
Mechanical float adjustment 6-40
Hitch operation 6-41
Hitch remote switch operation6-46
Position control operation 6-47
Load control operation 6-49
Slip control operation 6-51
Hitch set point 6-53
FRONT HITCH
Overview 6-55
Front hitch operation 6-56
DRAWBARS AND TOWING ATTACHMENTS
Rear towing – Safety rules 6-61
Drawbar capacity/position 6-62
Adjusting the drawbar 6-64
TRAILER HITCHES
Clevis and special drawbars 6-66
Automatic trailer hitch 6-68
Auto pickup hitch operation 6-71
Manual trailer hitch 6-73
AUXILIARY POWER CONNECTIONS
Auxiliary power and lighting 6-75
Cab power connections6-76
HYDRAULIC REMOTE CONTROL VALVES
Valve couplers and connections 6-78
Motor return circuit 6-81
Power beyond circuit 6-82
Flow capacity 6-82
Hydraulic transport lock6-84
Operating the controls 6-85
Remote valve display screens 6-89
Remote hydraulic auto mode 6-93
Auto depth control6-95
Joystick operation6-97
BALLASTING THE TRACTOR
Guidelines 6-102
Tire load and inflation charts6-106
Weights, cast metal and liquid 6-107
Wheel slip and power hop performance6-115
MECHANICAL FRONT DRIVE (MFD) AXLES
Tire combinations and tread positions 6-118
Steering and oscillation stops 6-123
Tread and fender settings – standard MFD axles 6-127
Tread and fender settings – heavy duty MFD axles 6-132
Tread and fender settings – heavy duty class 5 MFD axles 6-139
Tread and fender settings – heavy duty class 5 suspended MFD axles 6-147
REAR AXLE
Rear wheel installation6-155
Rear wheel tread settings 6-157
7 MAINTENANCE
GENERAL INFORMATION
Safety rules7-1
Opening the hood 7-2
Closing the hood7-3
Filling the fuel tank 7-4
Filling the DEF/AdBlue® tank 7-5
Battery disconnect switch 7-6
Battery access and service 7-7
Tire and rim service 7-9
Tractor jacking points 7-11
Capacities7-13
Consumables – Engine oil 7-15
Consumables – Diesel fuel 7-17
Consumables – Biodiesel fuel 7-18
Consumables – Diesel exhaust fluid (DEF)/AdBlue® 7-20
Consumables – Coolant solutions7-22
Electrical component location 7-23
Lamps and bulbs 7-28
Maintenance chart notes 7-29
MAINTENANCE CHART
Maintenance Chart 7-30
At warning message display
Air filter service icon/message 7-32
Fuel filter water separator 7-33
Transmission oil filter switch 7-34
Hydraulic oil filter switch 7-37
First 10 to 50 hours
Differential and planetary oil7-40
Wheel bolt torque 7-41
Weight bolt torque 7-42
Every 10 hours or daily
Engine oil level 7-43
Transmission oil level7-44
Engine coolant level 7-45
Engine auxiliary fuel filter 7-46
Air reservoir 7-47
Rear hitch and front axle 7-48
Every 50 hours or weekly
Engine fuel pre-filter 7-49
Every 100 hours
Front hitch7-50
Every 300 hours
Battery water level (Note E)7-52
Engine air intake hoses 7-54
Engine coolant level – deaeration tank 7-56
Wheel bolt torque 7-57
Weight bolt torque 7-57
Front axle (Note A) 7-58
Rear hitch (Note A) 7-67
Fuel tank 7-69
Differential and planetary oil level (Note B) 7-70
Transmission oil pressure 7-72
Reversible 1000 RPM PTO shaft (Note D) 7-73
Front PTO oil level 7-74
Every 400 hours
Cab air filter 7-75
Every 600 hours
Engine oil and filter 7-78
Engine coolant antifreeze protection 7-80
Engine coolant hoses and clamps 7-80
Engine primary fuel filter 7-82
Engine fuel pre-filter 7-85
Fuel system bleeding 7-88
Changeable PTO internal splines7-90
DEF/AdBlue® in-line filter 7-91
Front PTO oil and filter 7-93
Every 1200 hours or annually
Differential and planetary oil7-94
Engine air filters7-99
Engine air precleaner 7-103
Every 1500 hours
Transmission oil 7-105
Transmission oil filter7-107
Regulated transmission filter 7-108
Engine crankcase filter 7-109
Every 1800 hours
DEF/AdBlue® supply module filter 7-113
Every 2000 hours
Engine coolant7-114
Engine valve adjustment (Note C) 7-117
Every 3000 hours
Engine vibration damper (Note C) 7-118
Emergency steering system 7-119
Every 5000 hours
Fuel injector nozzles (Note C) 7-121
As required
Vehicle fire prevention 7-122
Engine primary air filter 7-123
Grille screen and radiator area 7-126
Fuel tank vent filter 7-128
Transmission clutch and accumulator 7-128
Tire pressure 7-128
Fan belt 7-129
Cab suspension, if equipped 7-133
Remote valve collection bottle 7-134
Emergency brake lever 7-135
Engine auxiliary fuel filter 7-136
Cab fabric and carpet 7-138
Seat belt 7-138
STORAGE
Tractor storage 7-139
Removal from storage 7-140
ELECTRICAL SYSTEM
Radio or audio system 7-141
Battery removal and installation 7-142
Auxiliary battery connections 7-144
Head light – Replace7-145
Flood and work light 7-148
Fender tail light and warning light 7-150
Roof front warning and work light 7-152
Rear roof warning light 7-155
High intensity work light 7-157
Side turn indicator light 7-159
Rotating beacon light7-161
Number plate light 7-162
Interior light – Replace 7-163
8 TROUBLESHOOTING
ALARM(S)
Display warnings overview 8-1
Display warnings – Level 1 8-2
Display warnings – Level 2 8-5
Display warnings – Level 3 8-8
Display warnings – Level 4 8-10
SYMPTOM(S)
Engine symptoms8-12
Transmission symptoms 8-14
Hydraulic symptoms 8-15
Hitch symptoms 8-16
Brake symptoms 8-17
Cab environment symptoms 8-18
Electrical power system symptoms8-19
9 SPECIFICATIONS
Engine specifications9-1
Power train specifications 9-2
Operating speeds 9-5
Vehicle dimensions and shipping weight 9-12
Maximum operating weight 9-15
10 ACCESSORIES
Front wheel fenders10-1
Farming system displays 10-7
Chemical tank mounting 10-8
Loader connection and operation 10-10
Trailer brake connections 10-11
General accessories
FILE DETAILS:
LANGUAGE:ENGLISH
PAGES:602
FILE TYPPE:PDF
DOWNLOADABLE:YES
PLEASE NOTE:
⦁ This is the same manual used by the DEALERSHIPS to SERVICE your vehicle.
⦁ The manual can be all yours – Once payment is complete, you will be taken to the download page from where you can download the manual. All in 2-5 minutes time!!
⦁ Need any other service / repair / parts manual, please feel free to contact us at heydownloadss @gmail.com . We may surprise you with a nice offer