Case IH JXU 75 85 95 105 Operator Manual
DESCRIPTION:
This Use and Maintenance Manual provides a guide for the user with regard to running-in, use and maintenance of the tractor. Read this manual carefully and keep in a convenient place for future reference. Do not hesitate to contact your local dealer for any queries concerning your tractor. The dealer can provide skilled personnel, trained by the manufacturer, original service parts and all tools and equipment necessary for your service requirements.
The tractor is designed as a power generator and drive-propulsion unit for use in normal and traditional agricultural conditions. The tractor is also designed to provide maximum performance, economic running and easy use over a wide range of operations. Prior to delivery, all machines are carefully inspected (by both the Manufacturer and your local authorised dealer), to make sure that they reach the user in perfect condition. To maintain the tractor in this condition and ensure troublefree operation, the routine maintenance described in Section 3 of this manual must be carried out at the specified intervals.
IMAGES: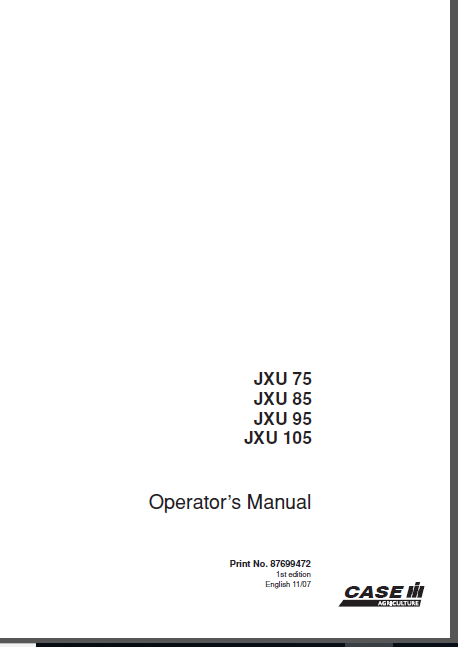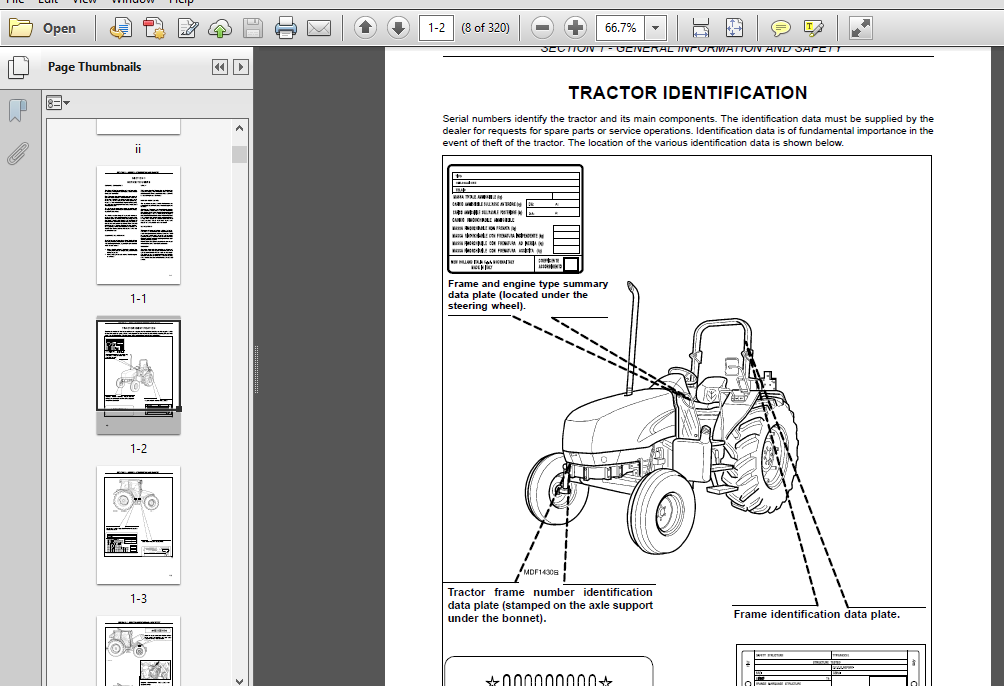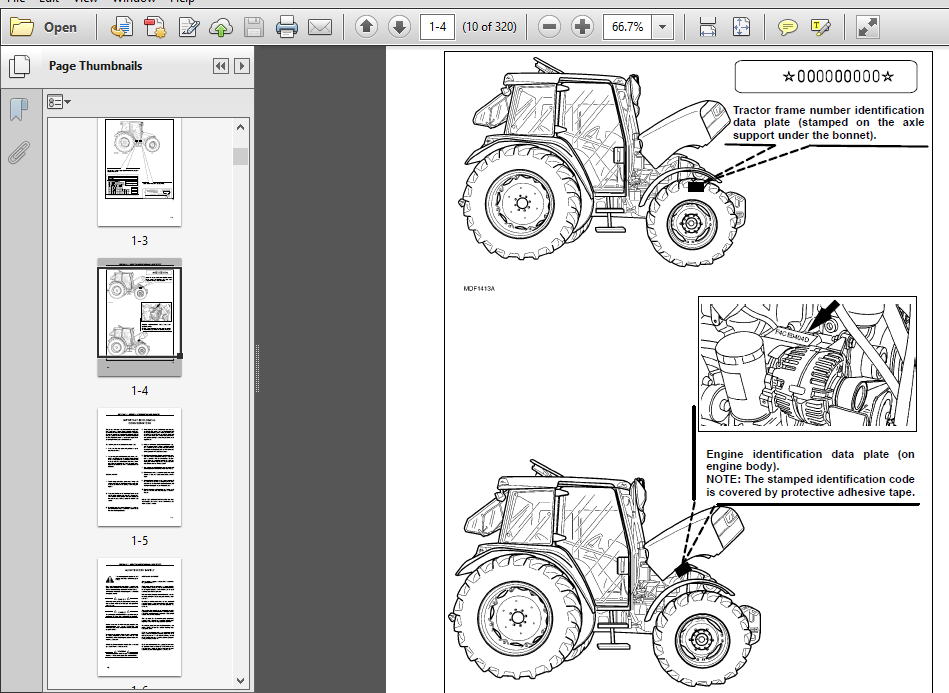 VIDEO PREVIEW:
TABLE OF CONTENTS:
SECTION 1 General information and safety
Notices to users1-1
Tractor identification 1-2
Important ecological considerations 1-5
Always work safely1-6
Working safely 1-7
Safety Decals 1-13
Standard symbols1-18
Tractor noise level information sheet 1-19
SECTION 2 Controls, instruments and operation
Control panel 2-2
Control panel 2-3
Programming keypad2-25
Operating controls2-42
Seat adjustment 2-45
Cab2-50
Air-conditioned cab 2-59
Instructions for use – air conditioning system 2-59
Transmission with range gear and shuttle – 1864 mph (30 km/h) (12F + 12R – Synchro Shuttle)2 -63
Transmission with range gear and shuttle – 1864/2485 mph (30/40 km/h)
(12F + 12R – Power Shuttle) 2-65
Transmission with creeper and shuttle – 1864/2485 mph (30/40 km/h)
(20F + 12R – Synchro Shuttle)2-67
Transmission with Dual Command (2 Speed Power Shift) – 1864 or 2485 mph (30 or 40 km/h)
(24F + 12R – Dual Command (2 Speed Power Shift)) 2-69
Transmission with electrohydraulic Dual Command (2 Speed Power Shift) / Power-Shuttle
and clutch 30/40 km/h (24F + 24R)2-70
Fast transmissions 40 km/h 2-77
SECTION 3 Field operation
Starting and stopping 3-2
Starting with low outside temperatures 3-3
Electrohydraulically controlled four-wheel drive3-6
Rear differential lock 3-8
Front and rear differential lock3-9
Brakes 3-11
Power take-off3-17
Hydraulic lift 3-25
Electronically controlled hydraulic lift 3-29
Three-point linkage 3-43
Implement connection points3-48
Remote control valves 3-52
Remote control valves (de luxe)3-56
Wheel track adjustment 3-59
Steering angle adjustment 3-63
Tyres 3-68
Tyre pressures3-75
Tyre combinations3-79
Ballast 3-81
Maximum permitted weights3-86
SECTION 4 Lubrication and Maintenance
Access for inspection and maintenance4-7
Lubrication and maintenance table 4-8
Flexible maintenance4-11
Instrument panel warning lights 4-17
Every 10 hours of work 4-20
Every 50 hours of work 4-22
Every 100 hours of work 4-25
Every 300 hours of work 4-27
Every 600 hours of work 4-32
Every 1200 hours or every year4-35
Every 1200 hours of work or every 2 years4-36
Every 1800 hours of work 4-41
Electrical System 4-42
Consumables 4-67
SECTION 5 Troubleshooting
SECTION 6 Tractor storage
SECTION 7 Accessories
Quick fit implement linkage 7-2
Towing equipment 7-4
Fold-down roll bar7-12
Joystick for auxiliary control valves (optional) 7-13
Front loader prearrangement7-15
Control valve for trailer hydraulic brakes 7-16
SECTION 8 Specifications and data
SECTION 9 First 50 hour Service Forms
SECTION 10 Alphabetical index
FILE DETAILS:
Case IH Tractor JXU 75,JXU 85,JXU 95,JXU 105 Operator's Manual_87699472
Size : 5.9 MB
Format : PDF
Language : English
Number of Pages : 320 pages
Brand: Case IH
Type of machine: Tractor
Type of document: Operator's Manual
Model: JXU 75,JXU 85,JXU 95,JXU 105
Part No: 87699472
PLEASE NOTE:
⦁ This is not a physical manual but a digital manual – meaning no physical copy will be couriered to you. The manual can be yours in the next 2 mins as once you make the payment, you will be directed to the download page IMMEDIATELY.
⦁ This is the same manual used by the dealers inorder to diagnose your vehicle of its faults.
⦁ Require some other service manual or have any queries: please WRITE to us at [email protected]