Case IH CS85 95 105 PRO Tier3 Operators Manual
DESCRIPTION:
Read the manual before starting to use your tractor. Consult your dealer if you require any further information. This manual contains important information about how to work safely with your Case tractor, and about how to set it up and maintain it for reliable operation. To make this information easy for you to find, this manual is subdivided into separate chapters, as shown in the table of contents. The information about the tractor is arranged into four chapters:
1. INSTRUMENTS AND OPERATING ELEMENTS – This illustrates the layout of all the operating elements. 2. WORKING INSTRUCTIONS – General tips for daily work with the tractor, e.g. starting/stopping the tractor, operation of the transmission etc. 3. FIELD WORK – This chapter contains tips about various working applications, specifically involving the use of equipment, e.g. three-point linkage, rear PTO shaft etc. 4. TYRES/WHEELS/TRACK WIDTHS/BALLASTING – This section lists settings for various different tractor applications, e.g. tyre pressures, track widths etc. Tractor maintenance is divided into two chapters: 1. LUBRICATION/MAINTENANCE – Regular maintenance intervals. 2. ELECTRICAL SYSTEM – General maintenance instructions for the electrical system.
IMAGES: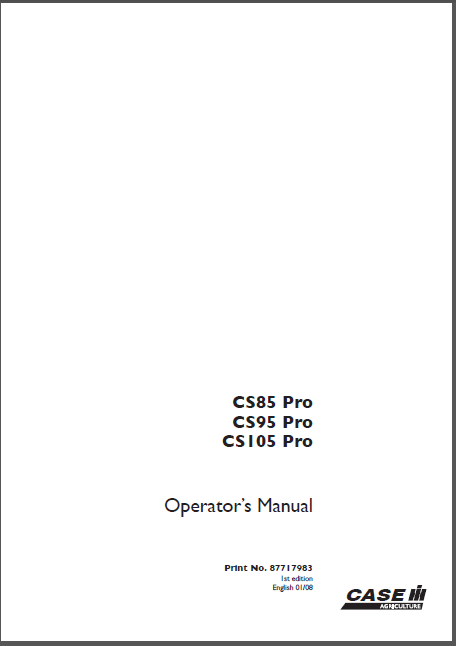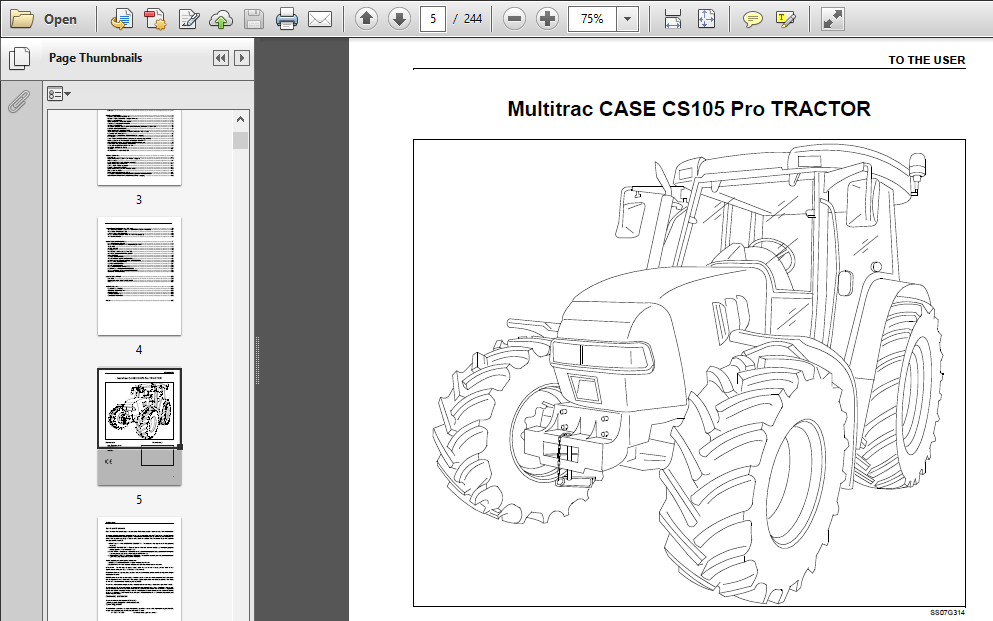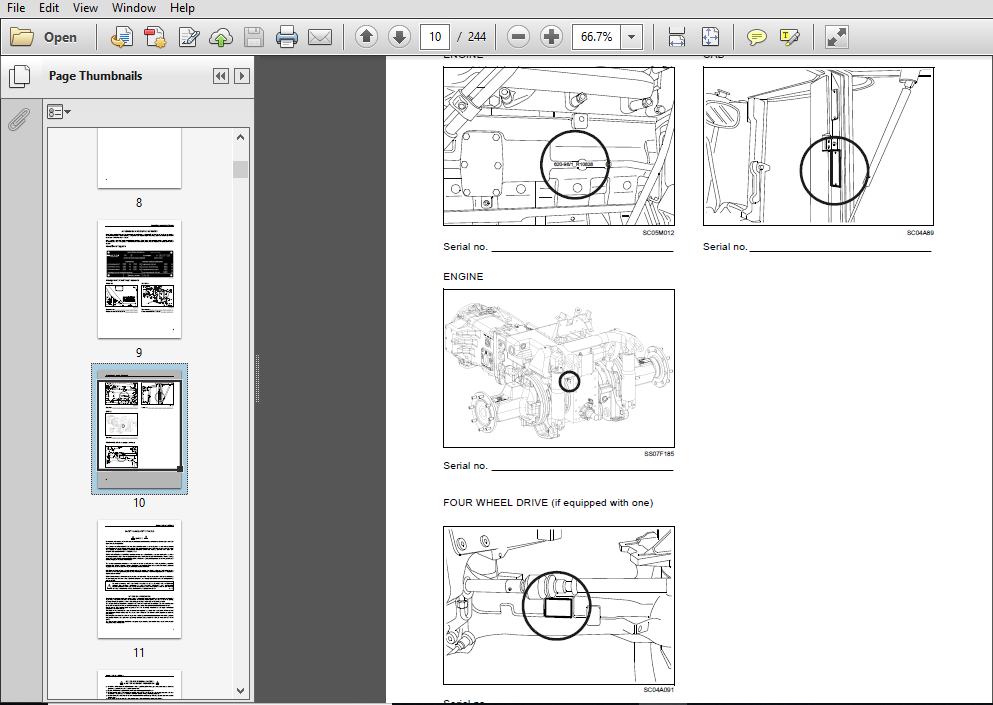 VIDEO PREVIEW:
TABLE OF CONTENTS:
ASSEMBLIES/SERIAL NUMBERS 5
ASSEMBLIES AND SERIAL NUMBERS 5
SAFETY/SAFETY PANELS 7
SAFETY AND SAFETY PANELS7
FITTINGS/OPERATING ELEMENTS 15
DRIVER'S SEAT 16
ANALOGUE/DIGITAL – INSTRUMENT CONTROL (ADIC) 28
FUNCTION BUTTONS 35
WARNING AND INDICATOR LIGHTS38
PROGRAMMING THE DISPLAYS 39
CONTROL ELEMENTS43
SWITCH ARRANGEMENT ON INSTRUMENT PANEL 43
PEDALS 44
DRIVING OPERATION 63
BEFORE STARTING THE ENGINE 63
MAIN BATTERY SWITCH (if equipped with one) 64
HYDRAULIC MASTER 64
OPERATION OF ACTUATOR LEVER65
ACTUATING THE CLUTCH PEDAL 66
STARTING PROCESS 67
TRACTOR OPERATION AT LOW TEMPERATURES (WINTER OPERATION) 69
DRIVING CONSIDERATIONS70
OPERATING THE TRANSMISSION71
STOPPING THE TRACTOR AND SWITCHING OFF THE ENGINE 75
CAB VENTILATION/HEATING 78
VERTICALLY ADJUSTABLE TOW HITCHES (if equipped) 81
DRAWBAR84
AUTO PICK UP HITCH WITH HOOK hydraulically extending (if fitted)89
MEASUREMENTS FOR TRAILER/IMPLEMENT MOUNTING 92
LINE CONNECTIONS FOR TRAILER BRAKES (if equipped) 93
COMBINED 1/2 LINE/TRAILER AIR BRAKEs 93
AUXILIARY ELECTRICAL CONNECTOR95
TRACTOR WARNING LIGHTS 99
TOWING 101
TRANSPORTING THE TRACTOR 102
OPERATIONAL USE 103
REAR PTO 103
OPERATING THE CASE FRONT PTO (if equipped) 112
HYDRAULICS114
PREPARING THE REAR 3-POINT LINKAGE 114
OPERATING THE POWER LIFT 123
CASE-FRONT PTO (if equipped) 132
REMOTE CONTROL VALVES135
OPERATING THE REMOTE VALVES (AUX) 142
DIFFERENTIAL LOCK148
OPERATING FOUR-WHEEL DRIVE 151
FASTENING CONSOLE FOR EXTERNAL LEVERS AND EQUIPMENT152
ELECTRONIC FRONT HITCH CONTROL EFH (if equipped) 153
TABLE OF CONTENTS
TYRES/WHEELS/WHEELBASE/BALLAST159
SETTING THE FRONT AXLE AND THE FRONT AXLE WHEELBASE 161
REAR AXLE TREAD SETTING 164
4WD WHEEL COMBINATIONS 168
FRONT WHEEL FENDER – 4WD TRACTOR (if equipped) 169
TRACTOR BALLAST 170
LUBRICATION/MAINTENANCE 171
ENVIRONMENTAL ISSUES 171
PLASTICS AND GLASS FIBRE REINFORCED PARTS171
TOOL BOX171
PROOF METER 172
ENGINE HOOD173
LUBRICANTS AND FILL QUANTITIES 174
LUBRICATION/MAINTENANCE CHART 177
DAILY CHECKS 179
ENGINE MAINTENANCE 184
TRANSMISSION UNIT MAINTENANCE194
HYDRAULICS SYSTEM/STEERING MAINTENANCE 198
FRONT AXLE MAINTENANCE 200
ENGINE MAINTENANCE 201
BRAKE MAINTENANCE 202
REAR TOW HITCH MAINTENANCE203
ELECTRICAL SYSTEMS MAINTENANCE 204
FRONT HYDRAULIC SYSTEM MAINTENANCE 205
GENERAL MAINTENANCE 206
ELECTRICAL SYSTEM 209
BATTERY 209
CHANGING LIGHT BULBS AND LAMPS212
FUSES 221
TECHNICAL DATA 227
ELECTRICAL SYSTEM 229
GENERAL MACHINE DATA230
ROAD SPEEDS235
VEHICLE WEIGHTS236
VEHICLE DIMENSIONS
PLEASE NOTE:
⦁ This is the SAME manual used by the dealers to troubleshoot any faults in your vehicle. This can be yours in 2 minutes after the payment is made.
⦁ Contact us at [email protected] should you have any queries before your purchase or that you need any other service / repair / parts operators manual.