CASE CX40B, CX50B HYDRAULIC EXCAVATOR SERVICE REPAIR MANUAL DOWNLOAD
This Original Factory Manual Includes Detailed Service Repair Information for the Case CX40B, CX50B Hydraulic Excavator. It contains guidance on repair, operation and diagnostics, special instructions for repair and maintenance, instructions for installation and adjustment, assembly and disassembly instructions, step by step instructions, technical specifications, illustrations, detailed schematics and diagrams, troubleshoot and any additional information for Case CX40B, CX50B Hydraulic Excavator. 
Models Covered: 
=============
Case CX40B Hydraulic Excavator 
Case CX50B Hydraulic Excavator 
Contents as Follows: 
================ 
1.  SPECIFICATIONS 
2.  MAINTENANCE 
3.  SYSTEM 
4.  DISASSEMBLING 
5.  TROUBLESHOOTING 
6.  ENGINE 
7.  INSTALLATION PROCEDURES FOR OPTIONAL ATTACHMENT 
8. SUPPORTING DATA 
Original Factory Case CX40B, CX50B Hydraulic Excavator Service Repair Manual is a Complete Informational Book. It will give you everything you need to do the job. Save time and money by DO-IT-YOURSELF! 
This manual comes in PDF format. It is printable, without restrictions, contains searchable text, bookmarks, cross links for easy navigation. It can be viewed and zoomed on any computer, you can easily copy, save, and print the information you need. If necessary, you can print pages, pictures, charts, or the entire manual completely. We recommend to use Adobe PDF Reader, to be sure all images / graphics will display correctly.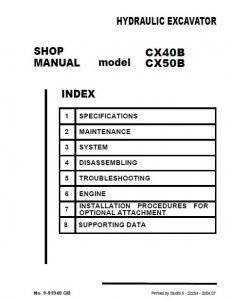 ** Model Specification: Case CX40B, CX50B Hydraulic Excavator 
** Total Pages: 780 
** Language: English 
** File Format: PDF 
** Requirements: Adobe PDF Reader 
** Compatible: All Versions of Windows & Mac
**Instant Download!!