Case CX250C Tier 4 CX250C LR Tier 4 Crawler Excavator Service Manual 84392030B – PDF DOWNLOAD
PREVIEW IMAGES OF THE MANUAL: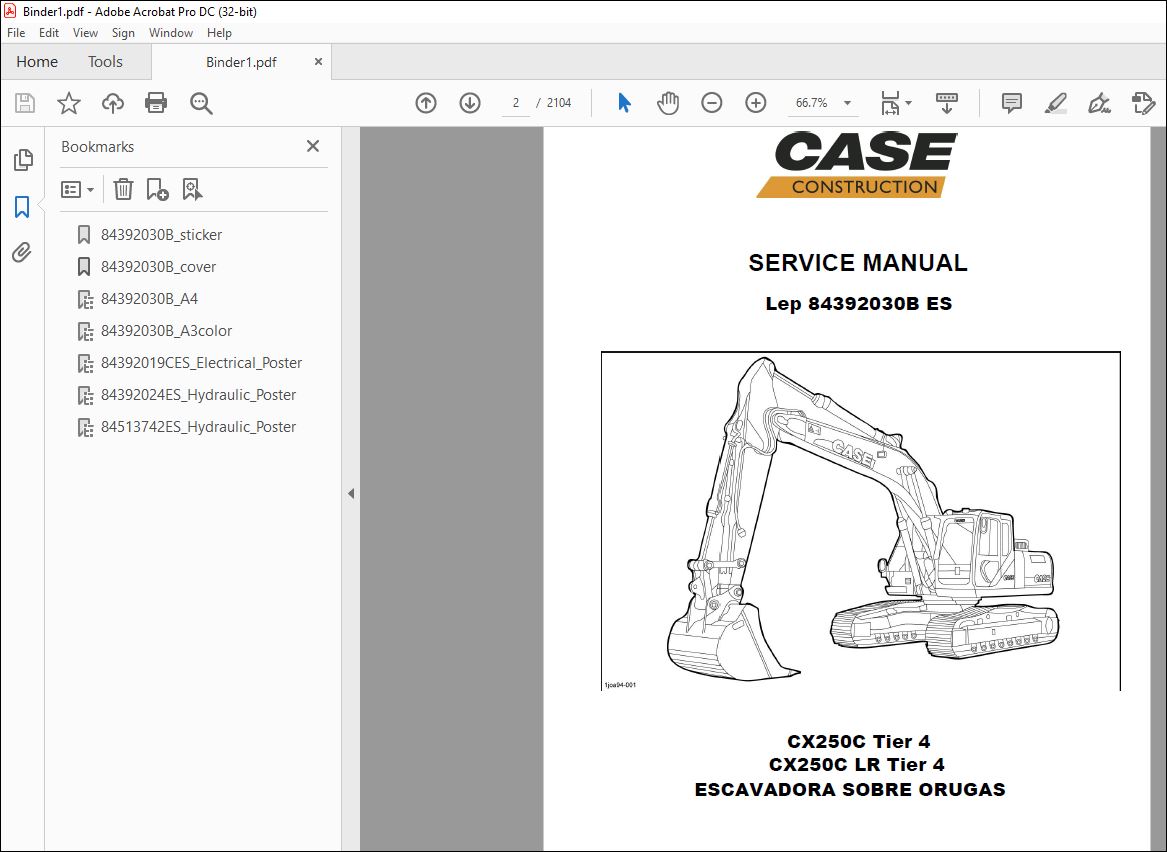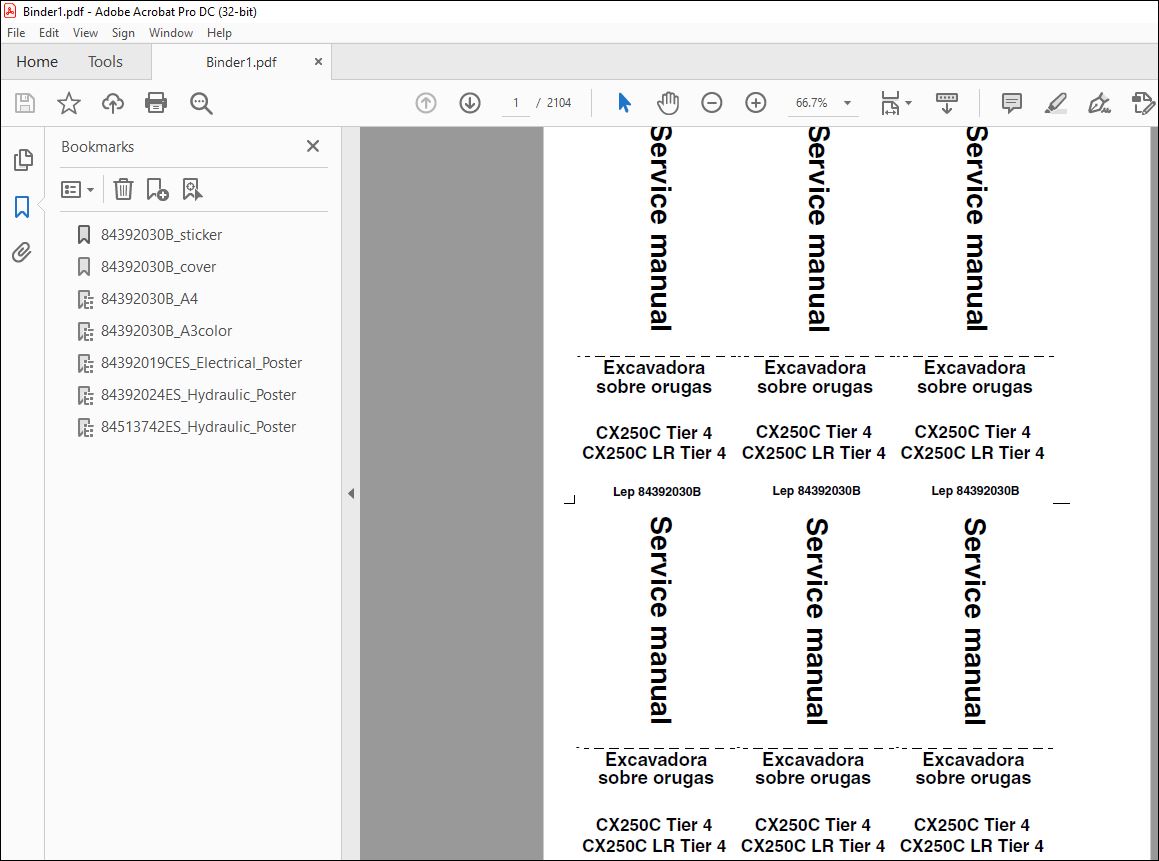 DESCRIPTION:
Case CX250C Tier 4 CX250C LR Tier 4 Crawler Excavator Service Manual 84392030B – PDF DOWNLOAD
GENERAL INFORMATION:
CLEANING:
Clean all metal parts except the bearings, with a suitable solvent or steam.
Do not use caustic soda when steam cleaning.
After cleaning, dry and oil all parts.
Clean the oil passages with compressed air.
Clean the bearings with a suitable cleaning solvent,
dry the bearings thoroughly and oil them.
CHECK:
Check all parts after disassembly.
Replace all parts with significant wear or damage.
Small scratches or grooves can be removed with a grinding wheel or emery cloth.
Complete a visual inspection to detect wear, erosion and change the necessary parts to avoid
early failures.
BEARINGS:
Check the bearings, they should roll smoothly.
If the bearings are too loose or seized, replace them.
Wash the bearings with the appropriate solvent and air dry.
DO NOT DRY BEARINGS WITH COMPRESSED AIR.
NEEDLE BEARINGS:
Before pressing a needle bearing into a bore, always remove any metal protrusion from the bore
or rim.
Before pressing a bearing into its bore, put petroleum jelly on the inside and outside diameter of the bearing
GEARS:
Check for wear or damage to the gears.
Replace worn or damaged gears.
Oil seals, O-rings and gaskets.
Always install new oil seals, o-rings and gaskets.
Put Vaseline on the gaskets and O-rings.
AXLES:
Check all axles for wear or damage.
Check the surfaces where there are bearings or oil seals on the shafts for damage.
REPLACEMENT PARTS:
Always use genuine Case replacement parts.
When ordering, refer to
the Parts Catalog to indicate the correct part number for the original Case replacement item.
Failures due to the use of parts other than original Case parts are not covered by the warranty.
LUBRICATION:
Use only the oils and lubricants specified in the Operator and Maintenance Manuals.
Failures due to the use of non-specified oils and lubricants are not covered by warranty.
TABLE OF CONTENTS:
Case CX250C Tier 4 CX250C LR Tier 4 Crawler Excavator Service Manual 84392030B – PDF DOWNLOAD
1 INFORMACIONES GENERALES
Informaciones de seguridad, generales y pares de apriete estándar 1001
Especificaciones 1002A
Cuadro del equipo principal 1002B
Peso de la unidad principal 1002C
Directivas de mantenimiento 1002D
Tabla de dimensión de los pernos y de pares 1002E
Vista global 1002F
Cuadro de estimación del rendimiento de una máquina nueva 1002G
Lista de herramientas especiales 1003
Fluidos Y Lubricantes 1004
Tabla de conversión 1005
Abreviaciones 1900
2 MOTOR
Desmontaje y remontaje del conjunto motor 2000
Desmontaje y remontaje del refrigerador de combustible, refrigerador intermedio del motor,
radiador y refrigerador de aceite 2001
Desmontaje y remontaje del turbocompresor 2004
Desmontaje y remontaje de la válvula EGR 2005
Desmontaje y remontaje del capó del motor 2006
Desmontaje y remontaje del silenciador 2007
Especificaciones primarias 2401
Desmontaje y remontaje de la culata 2415
Desmontaje y remontaje del bloque de cilindros 2425
Sistema de lubricación 2445
Sistema de refrigeración 2455
Desmontaje e instalación del múltiple de escape 2465
Desmontaje , retirada y remontaje del conjunto DPD 2470
3 SISTEMA DE COMBUSTIBLE
Desmontaje y remontaje del depósito de combustible 3001
Desmontaje y remontaje de la bomba de alimentación de combustible 3004A
Desmontaje y remontaje del conjunto common rail 3004B
Desmontaje y remontaje del inyector 3005
4 SISTEMA ELÉCTRICO
Funciones básicas eléctricas y del motor 4001A
Asistencia al Mantenimiento 4001B
Funcionamiento, estructura, funciones 4001C
Síntoma 4001E
Inspección funcional 4001F
Motor, Precauciones de mantenimiento de la electrónica y la programación 4001G
Desmontaje y remontaje del motor de arranque 4004
Desmontaje y remontaje del alternador 4005
Sistema de precalentamiento 4008
Esquema de montaje del equipo eléctrico 4020A
Disposición de los contactos de los conectores 4020B
Esquema de circuitos secuenciales 4020C
Lista DTC lado motor 4021
Lista DTC lado unidad principal 4022
Introducción a la detección de averías 4023B
Sistema de control del motor 4023D
Lep 84392030B ES Edición 05-2011
ÍNDICE
DIVISIÓN/SECCIÓN Nº DE SECCIÓN
Lado motor Problema 4023G
Unidad lateral principal Problemas 4023H
Valores de referencia de datos 4023K
Esquema de cableado de los conectores eléctricos 4040
5 CHASIS PORTADOR
Desmontaje y remontaje del conjunto zapata 5001A
Desmontaje y remontaje de la placa de zapata 5001B
Desmontaje y remontaje del rodillo superior 5003A
Montaje y desmontaje del rodillo superior 5003B
Desmontaje y remontaje del rodillo inferior 5003C
Montaje y desmontaje del rodillo inferior 5003D
Desmontaje y remontaje de la rueda dentada 5004
Desmontaje y remontaje del rodillo tractor 5005A
Desmontaje y remontaje del rodillo tractor 5005B
Desmontaje y remontaje del cilindro de grasa 5005C
Desmontaje y montaje del amortiguador de tensión 5005D
6 SISTEMA DE TRANSMISIÓN
Desmontaje y remontaje del motor de desplazamiento 6001
Desmontaje y remontaje del motor de rotación 6002
Desmontaje e instalación de la unidad de rotación 6003
Desmontaje y remontaje de la unidad de rotación 6004
7 SISTEMA HIDRÁULICO DEL CHASIS PORTADOR
8 SISTEMA HIDRÁULICO DE LA TORRETA
Visión general 8001A
Esquema del orificio 8001B
Esquema de bomba P-Q 8001C
Procedimiento de medición y ajuste de presión 8001D
Procedimiento de medición del caudal de la bomba hidráulica 8001E
Procedimiento de medición del volumen de drenaje 8001F
Procedimiento purgado de aire 8001G
Desmontaje y remontaje del depósito de aceite hidráulico 8002
Desmontaje y remontaje de la bomba hidráulica 8003
Desmontaje y remontaje de la válvula de control 8004
Desmontaje y remontaje del cilindro de la cuchara 8005A
Desmontaje y remontaje del cilindro de balancín 8005B
Desmontaje y remontaje del cilindro de la pluma 8005C
Desmontaje y remontaje de la articulación central 8006
Desmontaje y remontaje de la válvula de control remoto de desplazamiento 8007A
Desmontaje y remontaje de la válvula de control remoto de funcionamiento 8007B
Desmontaje y remontaje de la electroválvula de 5 vías 8007C
Desmontaje e instalación de la válvula amortiguadora 8007D
Procedimientos para el montaje y el desmontaje de la unidad principal de la bomba hidráulica 8008
Normas de mantenimiento de la unidad principal de la bomba 8010
Procedimiento de desmontaje y remontaje de la válvula de control 8011
Procedimientos para operación/montaje y desmontaje del cilindro hidráulico (fabricado por KYB) 8012
Procedimiento de desmontaje y remontaje de la válvula de control remoto de operación 8013
Procedimiento de desmontaje y remontaje de la válvula de control remoto de desplazamiento 8014
Montaje y desmontaje de la válvula de amortiguación 8016
Desmontaje y remontaje de la HBCV del balancín 8017A
Desmontaje y remontaje de la pluma HBCV 8017B
Montaje y desmontaje de la junta central 8018
Desmontaje y remontaje del motor de rotación 8019
Explicación del funcionamiento de los circuitos hidráulicos (modelo estándar) 8020A
Explicación del funcionamiento de los circuitos hidráulicos (opción) 8020B
Lep 84392030B ES Copyright © 2011 CNH France
Mayo 2011 Impreso en Francia
ÍNDICE
DIVISIÓN/SECCIÓN Nº DE SECCIÓN
Estructura y explicación de operación de la bomba hidráulica 8030A
Estructura y explicación de operación del motor de desplazamiento 8030B
Estructura y explicación de operación del motor de rotación 8030C
Estructura y explicación de operación de la válvula de control 8030D
Explicación de la operación de la electroválvula de 5 vías 8030E
Explicación de la estructura y operación de la válvula piloto superior (válvula de control remoto) 8030F
Explicación de la estructura y operación de la válvula piloto
de desplazamiento (válvula de control remoto) 8030G
Explicación de la estructura y operación de la válvula de amortiguación 8030H
9 TORRETA
Desmontaje y remontaje del contrapeso 9002
Desmontaje y remontaje de la cuchara 9003A
Desmontaje y remontaje de la articulación de la cuchara 9003B
Desmontaje y remontaje del balancín 9003C
Desmontaje y remontaje de la pluma 9003D
Desmontaje y remontaje del asiento del operador 9004
Desmontaje y remontaje del conjunto cabina 9005A
Desmontaje y remontaje del limpiaparabrisas 9005B
Desmontaje y remontaje del controlador del limpiaparabrisas 9005C
Desmontaje y remontaje del motor del limpiaparabrisas 9005D
Desmontaje y remontaje del monitor 9005E
Desmontaje y remontaje del cristal delantero de la cabina 9005F
Procedimientos de ajuste del bloqueo de la ventana 9005G
Par de apriete de ma cabina 9005H
Esquema general del aire acondicionado 9006
Desmontaje y remontaje de las unidades de acondicionamiento de aire 9007
Desmontaje y remontaje del compresor 9009
Desmontaje y remontaje del condensador 9010
Desmontaje y remontaje del depósito deshidratador 9011
Operaciones de vaciado de gas y llenado del aire acondicionado 9015
10 ESQUEMAS DE GRAN TAMAÑO
Esquemas hidráulicos de gran tamaño – CX250C 84392024ES
Esquemas hidráulicos de gran tamaño – CX250C LR 84513742ES
Esquemas eléctricos de gran tamaño 84392019CES
TENGA EN CUENTA:
Este es exactamente el MISMO manual utilizado por sus distribuidores para reparar su vehículo.
Lo mismo puede ser tuyo en los próximos 2-3 minutos, ya que serás dirigido a la página de descarga inmediatamente después de pagar el manual.
Cualquier consulta / duda con respecto a su compra, no dude en comunicarse con [email protected]
S.V