Case 621D Wheel Loader Operator's Manual 6-37861 – PDF DOWNLOAD
PREVIEW IMAGES OF THE MANUAL: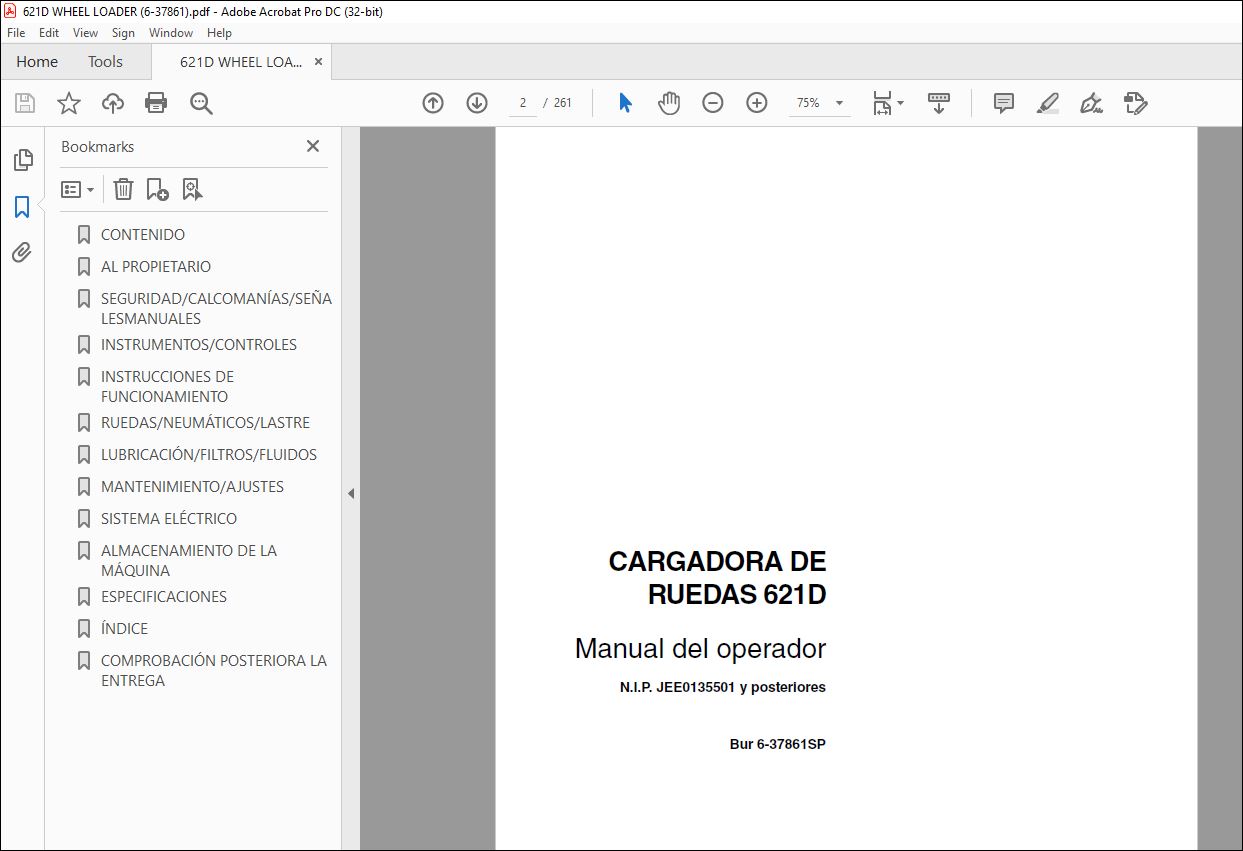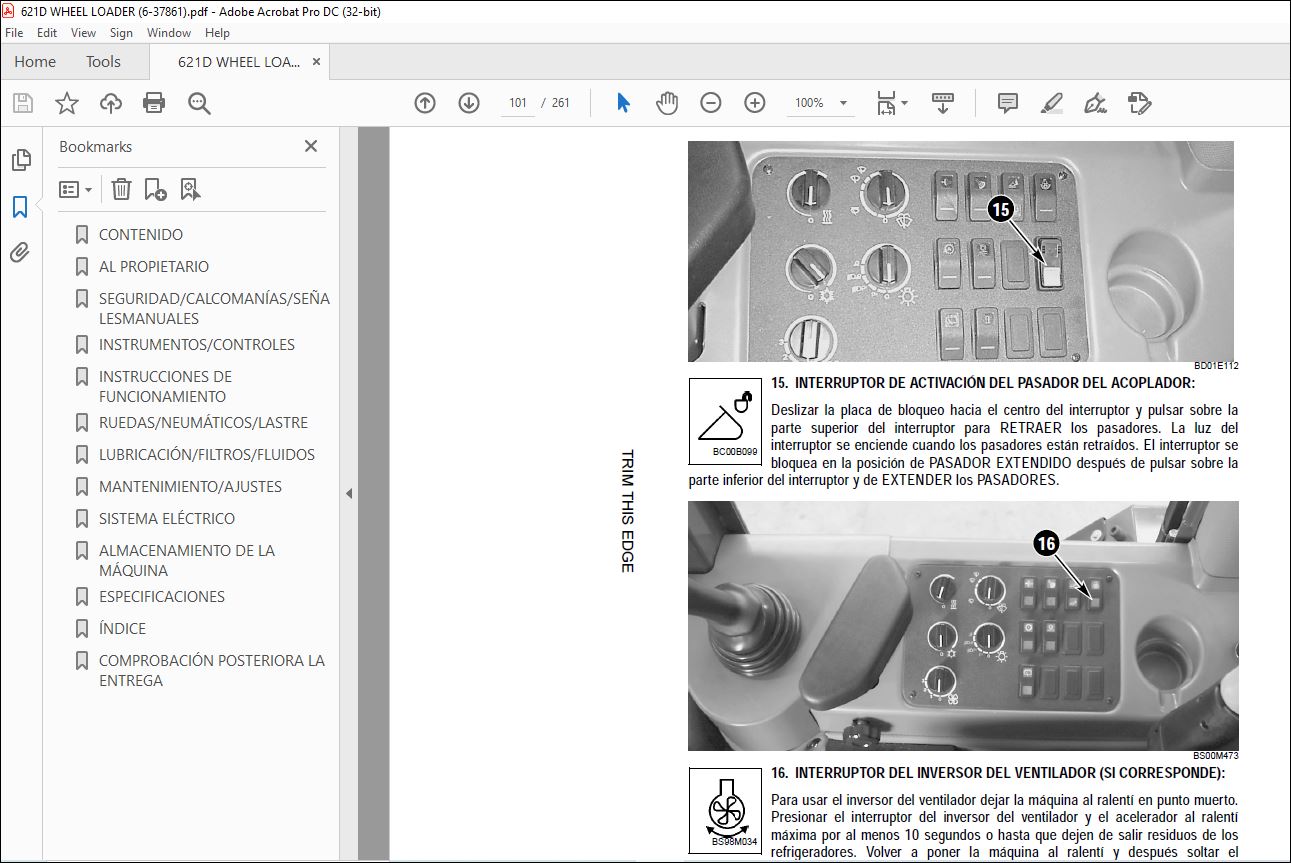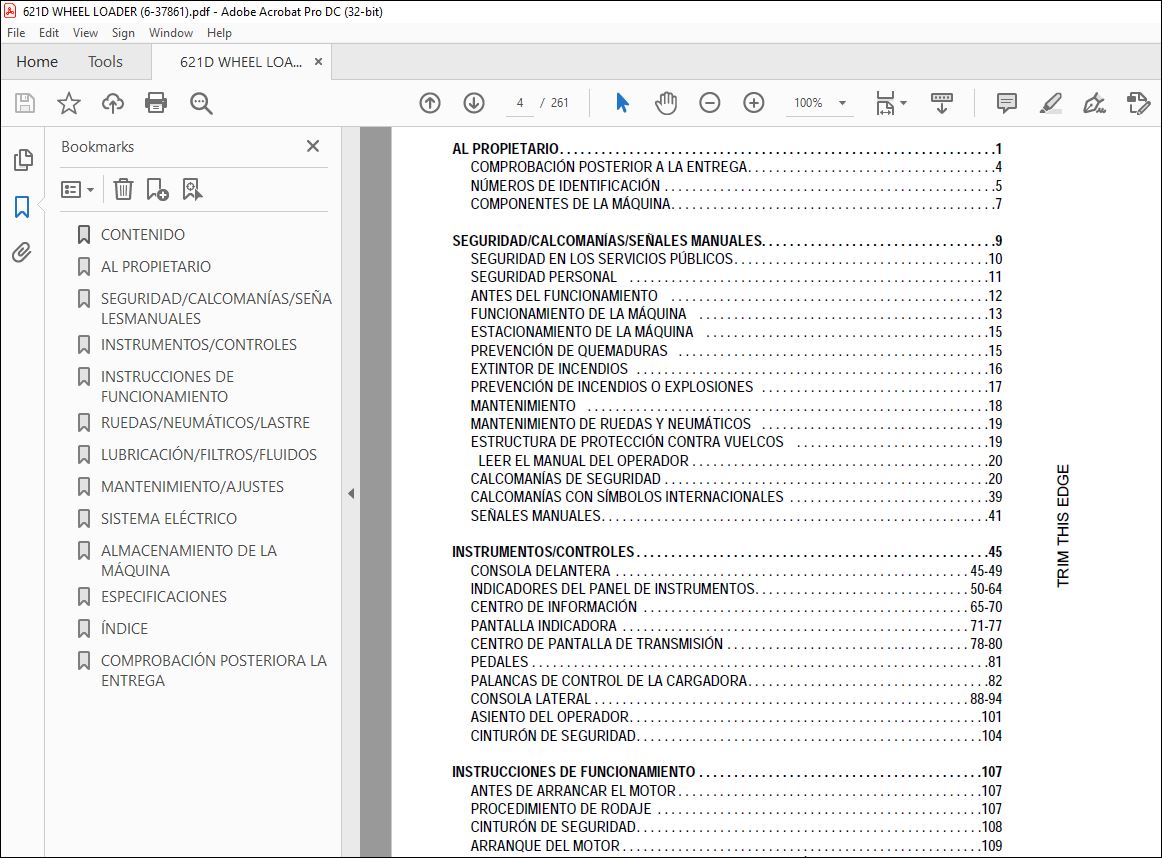 DESCRIPTION:
Case 621D Wheel Loader Operator's Manual 6-37861 – PDF DOWNLOAD
N.I.P. JEE0135501 y posteriores
TO THE OWNER:
Read this manual before starting the engine or using the machine.

If more




information is needed, consult your dealer.

Your dealer can provide Case, LLC approved replacement parts.

It also has specially trained technicians who know the best

repair and maintenance




methods for the machine.

Use this manual as a guide.

The wheel loader will continue to be a




useful work tool as long as it is properly maintained and kept in good




working order.

DO NOT use this machine or allow anyone else to do so without reading and understanding the




safety, operating and maintenance instructions in this manual.

Use




only trained operators who have demonstrated the skill necessary to




properly and safely operate and maintain this machine.

This wheel loader, with standard equipment and attachments, was designed for




above ground excavation and earthmoving such as




land grading, truck loading and material handling.

This machine is not designed




to lift other objects or to transport loads at high speed.

DO NOT use this machine for any application or purpose other than that described in this manual.




If the loader is to be used in any task involving attachments or special equipment,




such as forestry, etc., see an authorized dealer or Case, LLC.

Consult an authorized dealer or Case, LLC regarding additions or modifications that




may be required to the machine to comply with the different regulations and




safety requirements of each country.

Unauthorized modifications can cause serious injury




or death.

Whoever makes unauthorized modifications will be responsible for the




consequences.

Este manual del operador debe almacenarse en el compartimento para manuales de la
máquina. Verificar que esté completo y en buenas condiciones. Ponerse en contacto con el
concesionario para la adquisición de manuales adicionales. Ponerse en contacto con el concesionario
para obtener mayor información y asistencia sobre la máquina. Su concesionario
posee los repuestos aprobados por Case, LLC. El concesionario cuenta con técnicos con formación
especial que conocen los mejores métodos de reparación y mantenimiento de la cargadora
de ruedas.
Antes de autorizar el uso de la máquina a un nuevo operador, asegurarse de que:
1. Haya recibido el entrenamiento necesario sobre cómo utilizar la máquina correctamente y
con seguridad.
2. El operador haya leído y comprendido las instrucciones descritas en este manual.
TABLA DE CONTENIDO:
Case 621D Cargadora de Ruedas Manual del Operador 6-37861SP – PDF DOWNLOAD
AL PROPIETARIO 1
COMPROBACIÓN POSTERIOR A LA ENTREGA 4
NÚMEROS DE IDENTIFICACIÓN 5
COMPONENTES DE LA MÁQUINA 7
SEGURIDAD/CALCOMANÍAS/SEÑALES MANUALES 9
SEGURIDAD EN LOS SERVICIOS PÚBLICOS 10
SEGURIDAD PERSONAL 11
ANTES DEL FUNCIONAMIENTO 12
FUNCIONAMIENTO DE LA MÁQUINA 13
ESTACIONAMIENTO DE LA MÁQUINA 15
PREVENCIÓN DE QUEMADURAS 15
EXTINTOR DE INCENDIOS 16
PREVENCIÓN DE INCENDIOS O EXPLOSIONES 17
MANTENIMIENTO 18
MANTENIMIENTO DE RUEDAS Y NEUMÁTICOS 19
ESTRUCTURA DE PROTECCIÓN CONTRA VUELCOS 19
LEER EL MANUAL DEL OPERADOR 20
CALCOMANÍAS DE SEGURIDAD 20
CALCOMANÍAS CON SÍMBOLOS INTERNACIONALES 39
SEÑALES MANUALES 41
INSTRUMENTOS/CONTROLES 45
CONSOLA DELANTERA 45-49
INDICADORES DEL PANEL DE INSTRUMENTOS 50-64
CENTRO DE INFORMACIÓN 65-70
PANTALLA INDICADORA 71-77
CENTRO DE PANTALLA DE TRANSMISIÓN 78-80
PEDALES 81
PALANCAS DE CONTROL DE LA CARGADORA 82
CONSOLA LATERAL 88-94
ASIENTO DEL OPERADOR 101
CINTURÓN DE SEGURIDAD 104
INSTRUCCIONES DE FUNCIONAMIENTO 107
ANTES DE ARRANCAR EL MOTOR 107
PROCEDIMIENTO DE RODAJE 107
CINTURÓN DE SEGURIDAD 108
ARRANQUE DEL MOTOR 109
APAGADO DEL MOTOR Y ESTACIONAMIENTO DE LA MÁQUINA 111
ANTES DEL FUNCIONAMIENTO 115
FUNCIONAMIENTO DE LA MÁQUINA 118
CONTENIDO
PALANCAS DE CONTROL 121
INTERRUPTORES DE FUNCIÓN DE LA CARGADORA 128
CONTROLES DE LA CARGADORA 130
ACUMULADORES DE FRENO 131
DESEMBRAGUE 131
INDICADOR DE NIVEL DEL CUCHARÓN 132
CONEXIÓN HIDRÁULICA AUXILIAR (SI CORRESPONDE) 132
FARO GIRATORIO (SI CORRESPONDE) 133
CONTROL DE DESPLAZAMIENTO (SI CORRESPONDE) 133
ACTIVACIÓN DEL PASADOR DEL ACOPLADOR (SI CORRESPONDE) 134
CONSEJOS PARA EL FUNCIONAMIENTO DE LA CARGADORA 135
REMOLQUE DE LA MÁQUINA 137
TRANSPORTE DE LA MÁQUINA 138
FUNCIONAMIENTO A BAJAS TEMPERATURAS 140
FUNCIONAMIENTO A TEMPERATURAS ALTAS 142
RUEDAS/NEUMÁTICOS/LASTRE 143
TABLA DE PRESIÓN DEL NEUMÁTICO 147
LUBRICACIÓN/FILTROS/FLUIDOS 149
NORMAS GENERALES DE SEGURIDAD ANTES DE REALIZAR
EL MANTENIMIENTO 149
PUNTAL DE APOYO PARA LOS BRAZOS DE ELEVACIÓN DE LA CARGADORA 150
ARTICULACIÓN DE TRANSPORTE/MANTENIMIENTO 151
PROGRAMA DE ANÁLISIS DE LUBRICACIÓN SYSTEMGARD 152
PIEZAS DE PLÁSTICO Y DE RESINA 152
CAPÓ DEL MOTOR 153
HORÓMETRO DEL MOTOR 154
FLUIDOS Y LUBRICANTES – 621D 155
TABLA DE LUBRICACIÓN/MANTENIMIENTO 156-158
PUERTAS DE ACCESO 159
PUNTOS DE ENGRASE – 50 HORAS 160
PUNTOS DE ENGRASE – 100 HORAS 161
PUNTOS DE ENGRASE – 1000 HORAS 162
PUNTOS DE ENGRASE – 50 HORAS 163
PUNTOS DE ENGRASE – 100 HORAS 164
NIVELES DE FLUIDOS 165
LUBRICACIÓN DEL MOTOR 169
SISTEMA DEL FILTRO DE AIRE 174
SISTEMA DE REFRIGERACIÓN DEL MOTOR 178
SISTEMA DEL COMBUSTIBLE DIESEL 181
SISTEMA DE LOS FRENOS/HIDRÁULICO 186
TRANSMISIÓN 191
EJES 194
FILTRO DE AIRE DE LA CABINA 197
MANTENIMIENTO/AJUSTES 201
MANTENIMIENTO DE LA CABINA 201
CALIBRACIÓN DEL EMBRAGUE DE LA TRANSMISIÓN 204
AJUSTE DEL DESEMBRAGUE 205
COMPROBACIÓN DE LA DIRECCIÓN SECUNDARIA 206
COMPROBACIÓN DEL FRENO DE ESTACIONAMIENTO 207
AJUSTES DE LA CARGADORA 209
AJUSTE MÍNIMO DEL CONTROL DE ALTURA DEL CUCHARÓN 215
ESTRUCTURA DE PROTECCIÓN CONTRA VUELCOS 216
ESPECIFICACIONES DEL PAR DE APRIETE PARA EL ASIENTO Y
LOS CINTURONES DE SEGURIDAD 219
CORREA DEL COMPRESOR DEL AIRE ACONDICIONADO Y DE
LA CORREA DEL ALTERNADOR 220
MONTAJE DEL EXTINTOR DE INCENDIOS (SI CORRESPONDE) 221
SISTEMA ELÉCTRICO 223
MANTENIMIENTO DE LA BATERÍA 223
FUSIBLES 226
REEMPLAZO DE FUSIBLES 227
CONECTOR ELÉCTRICO DE MANTENIMIENTO (SI CORRESPONDE) 228
SALIDA DE ALIMENTACIÓN AUXILIAR (SI CORRESPONDE) 228
UBICACIÓN DEL SOPORTE DE MONTAJE DEL EQUIPO
DE ALIMENTACIÓN AUXILIAR 229
BOMBILLAS DE REPUESTO 230
ALMACENAMIENTO DE LA MÁQUINA 231
ESPECIFICACIONES 233
DATOS DEL MOTOR 621D 233
DIMENSIONES Y DATOS DE FUNCIONAMIENTO 234-236
PARES DE APRIETE ESPECIALES DE LOS PERNOS 240
INDEX 241
POST-DELIVERY CHECK 249-251
KEEP IN MIND:
This is the EXACT SAME manual used by your dealers to repair your vehicle.

The same can be yours in the next 2-3 minutes, as you will be directed to the download page immediately after paying for the manual.

Any questions/doubts regarding your purchase, feel free to contact [email protected]
SV