Case 580C Loader Backhoe Service Manual – PDF Download !!
IMAGES PREVIEW: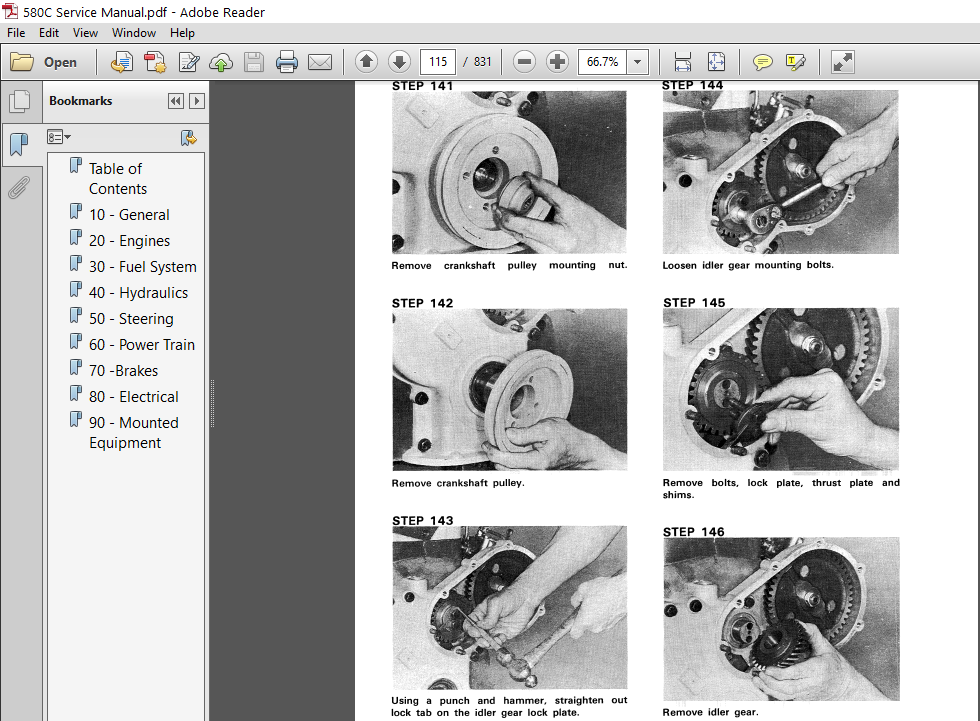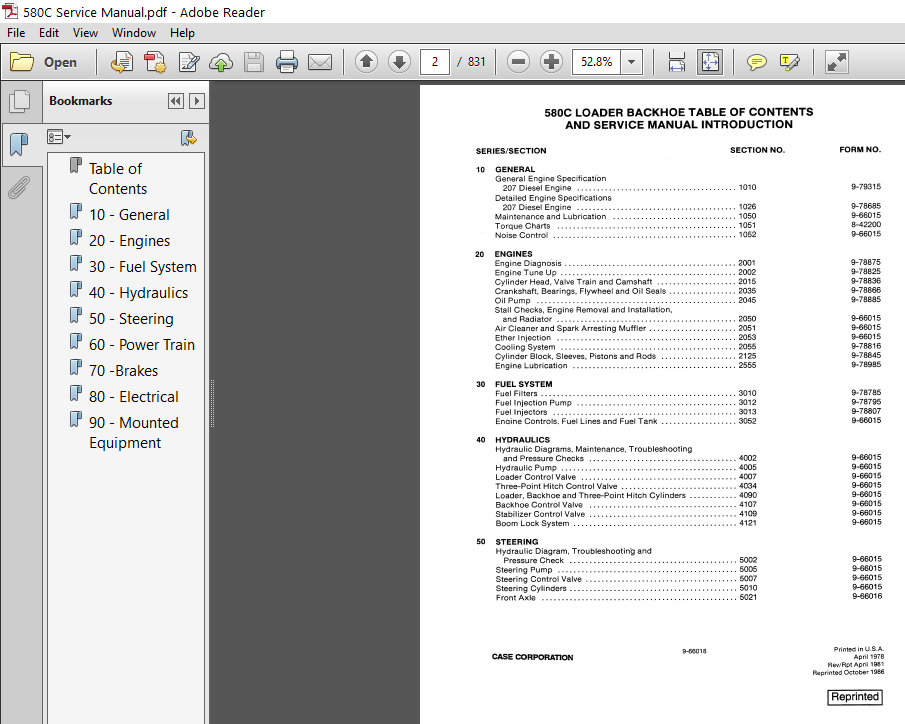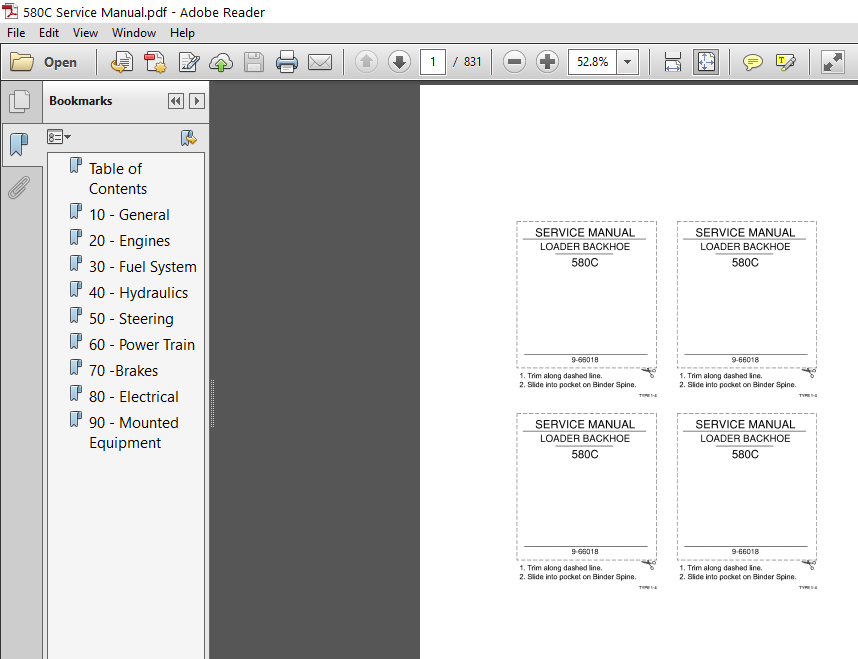 VIDEO PREVIEW:
DESCRIPTION:
Before making any repairs or adjustments on an engine, a mechanic or technician must properly diagnose the trouble. Locating the trouble and repairing it is only part of the job. a technician must find and eliminate the cause of the trouble as well. Too many repairs are made with no thought to removing the causes that made the repair necessary. For any engine to start or perform properly, three main requirements must be present: 1.FUEL 2.COMPRESSION 3.COMBUSTION
When any of these requirements are not pre- sent or limited by some mechanical reason. the engine will not start and will fail to operate properly throughout the power range. FUEL. Fuel system problems can be present anywhere from the fuel tank. through the fil- ters and injection pump as well as the injec- tors. Correct injection pump timing is impor- tant in the overall fuel system performance.
COMPRESSION. Compression on an engine is related to the "breathing function". Proper compression is affected by the air cleaner condition, muffler restriction, valve condition and operation including proper valve adjust- ment, cylinder head gaskets, condition of sle- eves. rings, pistons. camshaft, and camshaft timing.
COMBUSTION. Combustion is the result of ade- quate compression to develop enough heat in the air charge on the compression stroke to fire the fuel being injected into the engine cylinders. PrOper spray pattern and atomization of the fuel by the injector is very important. Timing the fuel injection pump to the engine to a pre- cise degree BTDC is a vital requirement for proper combustion.
The engine diagnosis contained in the follow- ing pages covers many trouble symptoms. the causes, and what will be necessary to repair or eliminate the problem. Under each symp- tom are listed the most common and reoccur- ing problems progessing to the not so com- mon problems. Locate your problem symp- tom in the diagnosis chart and refer to the pages listed for the probable causes and re- medies. .
TABLE OF CONTENTS:
Case 580C Loader Backhoe Service Manual – PDF Download !! Publication Number: 9-66018
GENERAL
General Engine Specification
207DieseiEngine
Detailed Engine Specifications
207Diesel Engine
Maintenance and Lubrication
Torque Charts
Noise Control
ENGINES
Engine Diagnosis
Engine Tune Up
Cylinder Head, Valve Train and Camshaft
Crankshaft Bearings Fly wheel and Oil Seals
Stall Checks Engine Removal and Installation, and Radiator
Air Cleaner and Spark Arresting Muffler
Ether lnjection
Cooling System
Cylinder Block, Sleeves, Pistons and Rods
Engine Lubrication
FUEL SYSTEM
FueI Filters
Fuel injection Pump
Fuel lnjectors
Engine Controls Fuel Lines and Fuel Tank
HYDRAULICS
Hydraulic Diagrams, Maintenance, Troubleshooting and Pressure Checks
Hydraulic Pump
Loader ControI Valve
Three-Point Hitch Control Valve
Loader Backhoe and Three Point Hitch Cylinders
Backhoe Control Valve
Stabilizer Control Valve
BoomLockSystem
STEERING
Hydraulic Diagram Troubleshooting and
Pressure Check
Steering Pump
Steering Control Valve
Steering Cylinders
Front Axle
POWER TRAIN
Power Shuttle Operation Oil Flow Diagrams
Troubleshooting and Maintenance
Power Shuttle and Torque Converter
Shuttle Controls (Power and Mechanical)
Transaxle Removal and Installation
Transaxle and Differential Lock
DriveShaft
WheelsandTires
CIutchandPressurePlate
Two Speed Mechanical Shuttle
BRAKES
Brakes (Pedals to Transaxle)
Self Adjusting Differential Brakes
ELECTRICAL
Troubleshooting
WiringDiagrams
Instrument Panel and Instrument Cluster
Battery
Starterand StarterSolenoid
NippondensoStarter
Alternator
ElectricalAccessories
MOUNTED EQUIPMENT
Loader
Three-Pointi-Iitch
ROPSCabandCanopy
Backhoe
SAMPLE PAGE:
Listed below are checks that must be performed to insure continuing noise protection
 Check that all exterior parts and sheet metal fasteners are tight. All rattles close to the operator's area must be eliminated. .
 Check that 'all sealing and barrier ma- terials are whole and intact. A small hole can admit a large amount of noise.
 Check noise isolators such as engine mounts, rubber shock mounts, hydraulic tube isolators, etc. Replace if defective.
 Check that the full throttle – no load engine speed is checked with an ac- curate tachometer. The engine speed must be within the limits as listed in Section 1010.
 Check the full range of engine speed for resonance (loud, undampened vibra- tion). To check, increase the engine speed from low idle to full throttle slowly.
If excessive resonance is found. eliminate the vibration of the suspected part.
PLEASE NOTE: 
⦁ This is the same manual used by the dealers to diagnose and troubleshoot your vehicle.
⦁ You will be directed to the download page as soon as the purchase is completed. The whole payment and downloading process will take anywhere between 2-5 minutes.
⦁ Need any other service / repair / parts manual, please feel free to contact [email protected] . We still have 50,000 manuals unlisted.