Bomag Multi-purpose compactor BMP 851 Operating instructions Manual – PDF DOWNLOAD
IMAGES PREVIEW OF THE MANUAL: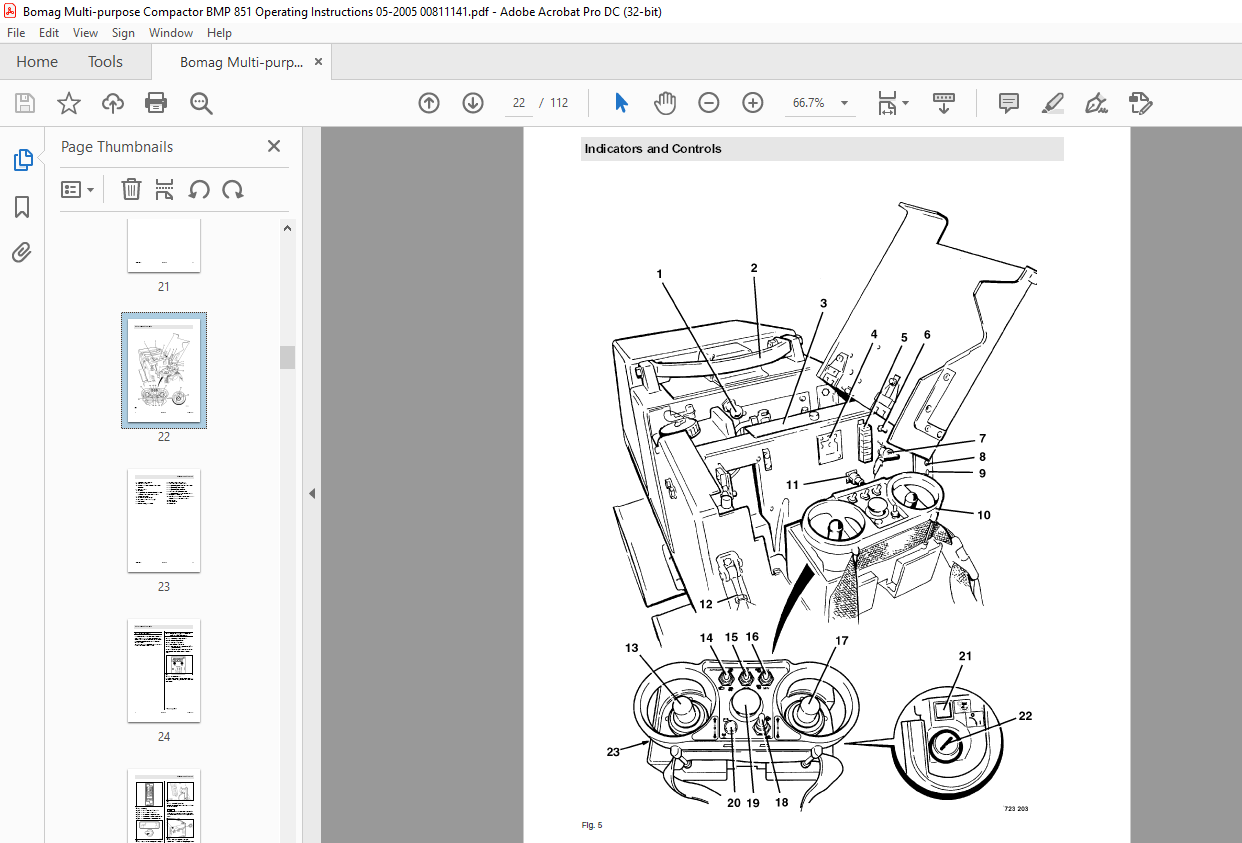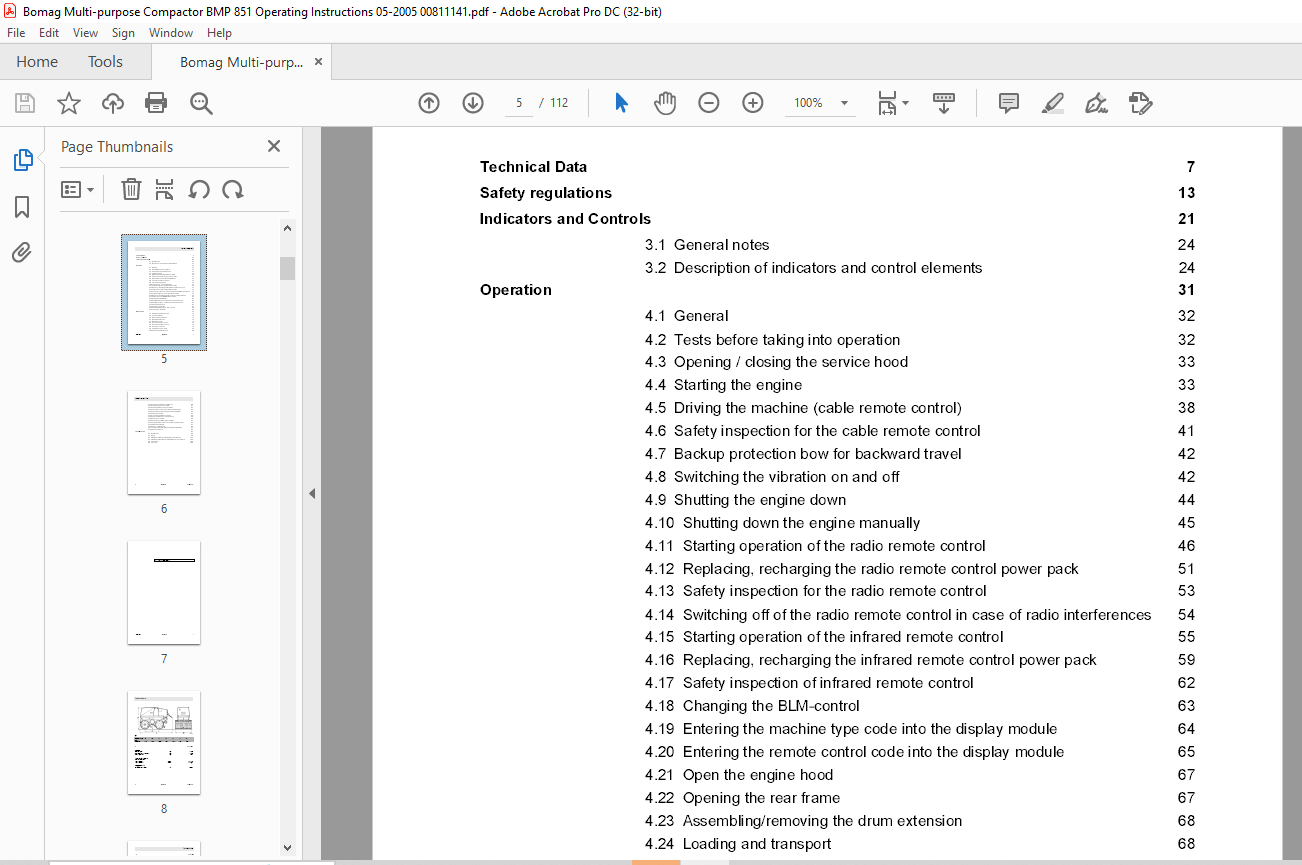 FILE DETAILS:
Bomag Multi-purpose compactor BMP 851 Operating instructions Manual – PDF DOWNLOAD
Language : English
Pages :112
Downloadable : Yes
File Type : PDF
Size:1:39 MB
DESCRIPTION:
Bomag Multi-purpose compactor BMP 851 Operating instructions Manual – PDF DOWNLOAD
S/N 101 720 04 …. 101 720 05 ….
Foreword:
Foreword: BOMAG machines are products from the wide range of BOMAG compaction equipment. BOMAG's vast experience, together with the most up-to-date production and testing methods, including service life tests of all important components and highest quality demands, guarantees maximum reliability of your machine.
These instructions comprise:
Safety regulations
Operating instructions
Maintenance instructions
Troubleshooting
Using these instructions will:
Help you to get to know the machine.
Avoid malfunctions caused by unexpert operation.
Compliance with the maintenance instructions will:
Increase the reliability of your machine on the site.
Increase the service life of the machine.
Reduce repair costs and downtimes.
BOMAG shall not assume liability for safe functioning of the machine:
If it is handled in a way which does not comply with the usual modes of use.
If it is used for purposes other than those mentioned in the instructions.
No warranty claims can be lodged for damage resulting from:
Operating errors.
Insufficient maintenance.
Wrong fuels and lubricants.
Please note!
This manual has been written for the operator and the service personnel at the site. Keep this manual always close at hand, e.g. in the tool compartment of the machine or in the container provided. You should only operate the machine if you are fully familiar with the contents of these instructions. You must also observe all applicable safety regulations.
Please observe also the guidelines of the Civil Engineering Liability Association "Safety Regulations for the Operation of Road Rollers and Soil Compactors" and the applicable accident prevention instructions.
For your own safety, you should only use BOMAG spare parts. We reserve the right for technical modifications without prior notification.
These operating and maintenance instructions are also available in other languages. A spare part catalogue can be obtained from your BOMAG dealer when giving him the serial number of your machine. Information about the correct use of our machines in earthwork and for asphalt applications can be obtained from your BOMAG dealer.
The above points do not constitute an extension of the warranty and liability conditions specified in the general terms of business of BOMAG.
We wish you much success with your BOMAG machines.
TABLE OF CONTENTS:
Bomag Multi-purpose compactor BMP 851 Operating instructions Manual – PDF DOWNLOAD
Technical Data 7
Safety regulations 13
Indicators and Controls 21
3.1 General notes 24
3.2 Description of indicators and control elements 24
Operation 31
4.1 General 32
4.2 Tests before taking into operation 32
4.3 Opening / closing the service hood 33
4.4 Starting the engine 33
4.5 Driving the machine (cable remote control) 38
4.6 Safety inspection for the cable remote control 41
4.7 Backup protection bow for backward travel 42
4.8 Switching the vibration on and off 42
4.9 Shutting the engine down 44
4.10 Shutting down the engine manually 45
4.11 Starting operation of the radio remote control 46
4.12 Replacing, recharging the radio remote control power pack 51
4.13 Safety inspection for the radio remote control 53
4.14 Switching off of the radio remote control in case of radio interferences 54
4.15 Starting operation of the infrared remote control 55
4.16 Replacing, recharging the infrared remote control power pack 59
4.17 Safety inspection of infrared remote control 62
4.18 Changing the BLM-control 63
4.19 Entering the machine type code into the display module 64
4.20 Entering the remote control code into the display module 65
4.21 Open the engine hood 67
4.22 Opening the rear frame 67
4.23 Assembling/removing the drum extension 68
4.24 Loading and transport 68
Maintenance 71
5.1 General notes on maintenance 72
5.2 Fuels and lubricants 73
5.3 Table of fuels and lubricants 75
5.4 Running-in instructions 76
5.5 Maintenance chart 77
5.6 Checking the engine oil level 78
5.7 Checking the hydraulic oil level 78
5.8 Checking the fuel level 79
5.9 Fuel filter, draining off water 79
5.10 Checking the air intake hose 80
Table of Contents
6 BOMAG BMP 851
5.11 Cleaning cooling fins/cooling air blower 80
5.12 Changing engine oil and oil filter 81
5.13 Checking, adjusting the valve clearance 83
5.14 Checking the oil level in the vibration bearing housings 84
5.15 Checking, cleaning, changing the combustion air filter 85
5.16 Servicing the battery 87
5.17 Drain the sludge from the fuel tank 88
5.18 Check the pretension of the engine hood 88
5.19 Replacing the fuel filter 90
5.20 Changing the oil for the vibrator bearings 91
5.21 Changing hydraulic oil, hydraulic oil filter and breather filter 92
5.22 Adjusting the scrapers 94
5.23 Bleeding the fuel system 94
5.24 Tightening torques for screws with metric unified thread 95
5.25 Engine conservation 95
Trouble shooting 97
6.1 General notes 98
6.2 Engine 99
6.3 Problems with remote control Hetronic with spiral cable 101
6.4 Problems with radio remote control Hetronic in radio operation 106
6.5 Fault indicator 108
6.6 Fault code 109
VIDEO PREVIEW OF THE MANUAL:
PLEASE NOTE:
This is the SAME MANUAL used by the dealerships to diagnose your vehicle
No waiting for couriers / posts as this is a PDF manual and you can download it within 2 minutes time once you make the payment.
Your payment is all safe and the delivery of the manual is INSTANT – You will be taken to the DOWNLOAD PAGE.
So have no hesitations whatsoever and write to us about any queries you may have : heydownloadss @gmail.com
S.M