Bomag Mph 362 364-2 Recycler And Stabilizer Workshop Service Repair Manual
FILE DETAILS:
LANGUAGE:ENGLISH
PAGES:297
DOWNLOADABLE:YES
FILE TYPE:PDF
VIDEO PREVIEW OF THE MANUAL:
IMAGES PREVIEW OF THE MANUAL: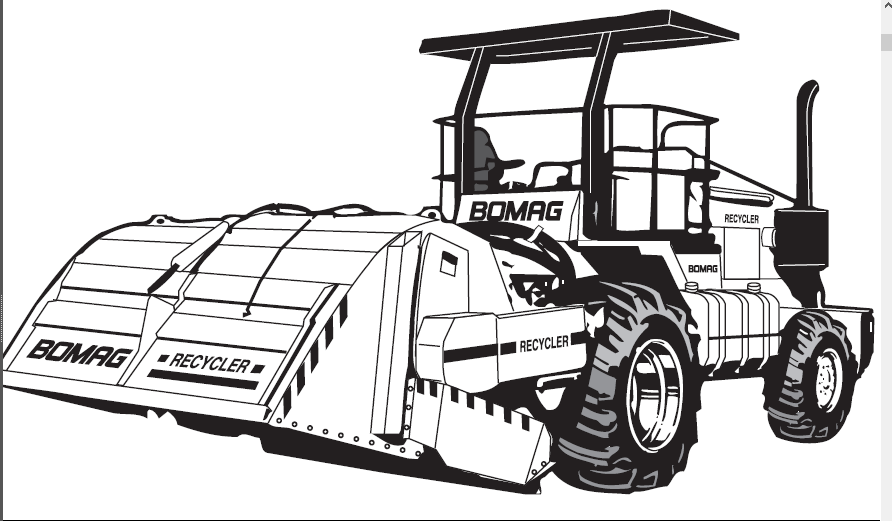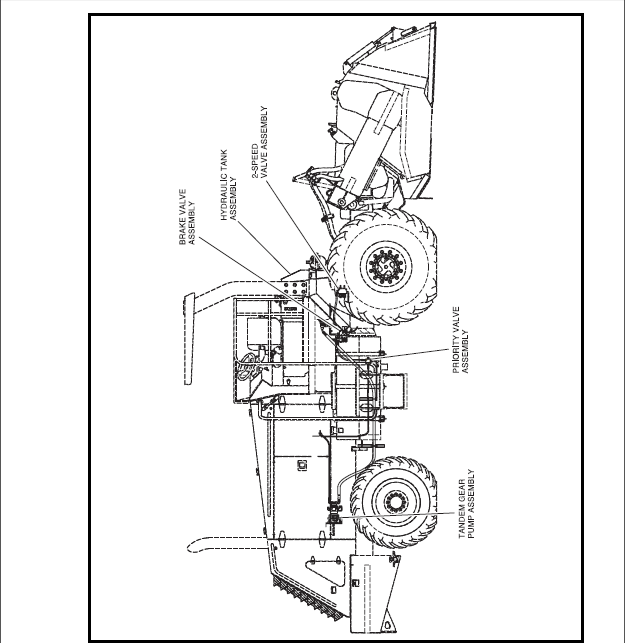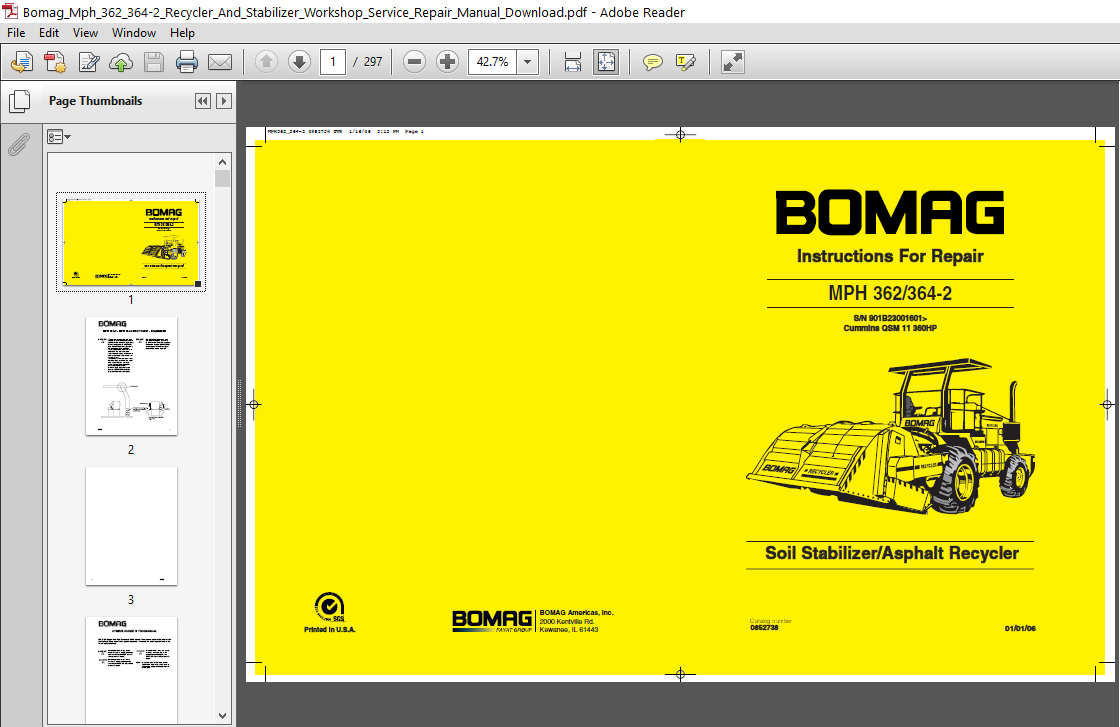 DESCRIPTION:
Bomag Mph 362 364-2 Recycler And Stabilizer Workshop Service Repair Manual
INTRODUCTION
The following safety regulations apply to all personnel engaged in the operation, maintenance or repair of this machine.
Intended Use
The machine is available in both Recycler and Stabilizer configurations. As a Recycler, the machine is intended for use in recycling bituminous surfaced roadways and paved surfaces using recycling teeth mounted on the rotor. When configured as a Stabilizer the machine is intended to stabilize soil, using paddles mounted on the rotor.
Only authorized and trained personnel can operate this machine. The potential for damage to the machine or injury to personnel exists if this machine is used for purposes other than those for which it was designed, or if it is used by personnel not familiar with information contained in this manual.
General
• Make certain you are familiar with all controls and accessories on the machine.
• Do not operate the machine unless you are trained on all operating and control features and know how the machine functions.
• Familiarize yourself with the work area including surface and subsurface conditions, vegetation, water tables and other indications of conditions that may be encountered during operation.
• Use the machine only for the purpose for which it is intended.
• Wear protective clothing such as safety helmet, protective shoes, noise protection and eye protection.
• Original parts and accessories have been specifically designed for this machine. Unauthorized conversions and alterations to the machine or its component parts or assemblies are prohibited as they may endanger safe operation.
TABLE OF CONTENTS:
Bomag Mph 362 364-2 Recycler And Stabilizer Workshop Service Repair Manual
GENERAL INFORMATION 1-2
TECHNICAL DATA 1-2
SPECIFICATIONS1-3
OPERATING INSTRUCTIONS1-3
MAINTENANCE PROCEDURES 1-3
NAMEPLATE 1-3
SERIAL NUMBER1-4
GENERAL INFORMATION 2-2
TABLE 2-1 ENGINE SPECIFICATIONS 2-2
TABLE 2-2 ENGINE INLET AIR FILTRATION SPECIFICATIONS 2-3
TABLE 2-3 ELECTRICAL SPECIFICATIONS 2-3
TABLE 2-4 TRANSMISSION AND FINAL DRIVE SYSTEM SPECIFICATIONS2-4
TABLE 2-5 BRAKE SYSTEM SPECIFICATIONS 2-5
TABLE 2-6 STEERING SYSTEM SPECIFICATIONS 2-5
TABLE 2-7 ROTOR SYSTEM SPECIFICATIONS 2-6
TABLE 2-8 DIMENSION SPECIFICATIONS2-8
TABLE 2-9 WEIGHT SPECIFICATIONS2-9
TABLE 2-10 CAPACITY SPECIFICATIONS 2-9
OPERATING FEATURES AND CONTROLS3-3
GENERAL INFORMATION 3-3
MACHINE INSPECTION UPON RECEIPT FROM CARRIER 3-4
MANUAL CODE DESIGNATIONS3-4
SAFETY PRECAUTIONS3-4
PERSONAL SAFETY INFORMATION 3-4
CONTROLS 3-5
CONSOLE MOUNTED CONTROLS 3-5
SWITCH PANEL 3-7
IGNITION PANEL3-11
ALARM PANEL 3-17
OPERATOR CONTROL PANEL 3-18
STEERING WHEEL ADJUSTMENT 3-20
AUXILIARY PANEL 3-20
BACKUP TRAVEL CONTROL (FNR) SYSTEM 3-22
TRAVEL/LOAD CONTROLLER LED STATUS OR ERROR LIGHTS 3-23
CHECKS WITH THE ENGINE STOPPED 3-24
PREPARING THE MACHINE FOR STARTING 3-24
MOUNTING AND DISMOUNTING 3-24
STARTING THE ENGINE 3-25
POWERVIEW MULTIFUNCTION MONITORING SYSTEM – SUPPORTED
INFORMATION ACCESS AND NAVIGATION WITHIN THE SYSTEM 3-25
POWERVIEW OPERATION 3-26
POWERVIEW MENUS3-26
FIRST TIME STARTUP 3-26
MAIN MENU NAVIGATION 3-26
STORED FAULT CODES 3-27
ENGINE CONFIGURATION DATA 3-27
FAULTS AND WARNINGS3-28
AUXILIARY GAUGE FAULT 3-28
ACTIVE FAULT CODES 3-29
SHUTDOWN CODES 3-29
BACK LIGHT ADJUSTMENT3-30
CONTRAST ADJUSTMENT 3-31
SELECT UNITS 3-31
SETUP 1-UP DISPLAY 3-32
USE DEFAULTS 3-32
CUSTOM SETUP 3-33
AUTOMATIC SCAN 3-33
SETUP 4-UP DISPLAY 3-34
UTILITIES (INFORMATION AND TROUBLESHOOTING 3-35
(continued)
TABLE OF CONTENTS
Section 3
OPERATIONS
Section 3
OPERATIONS
3-2 08/05
PAGE
CHECKS WITH ENGINE RUNNING3-37
OPERATING PRECAUTIONS 3-37
PREPARATION FOR WORK OPERATIONS 3-39
STARTING TRACTION (TRANSPORT OPERATION) 3-39
STOPPING TRACTION 3-40
ASPHALT PULVERIZATION INFORMATION 3-40
OPERATING INSTRUCTIONS 3-40
WORK OPERATION3-40
STARTING ROTOR 3-43
BASIC OPERATION INFORMATION AND GUIDELINES 3-43
ZERO ADJUSTMENT OF DEPTH INDICATOR 3-45
CALIBRATION OF THE DEPTH INDICATOR 3-45
STOPPING ROTOR 3-46
BRAKING SYSTEMS3-46
PRIMARY BRAKE3-46
SECONDARY(EMERGENCY/PARKING) BRAKE 3-46
STEER BRAKING3-46
PARKING AND STORAGE 3-47
STOPPING THE ENGINE 3-47
BACKUP TRAVEL CONTROL SYSTEM 3-47
TOWING INSTRUCTIONS 3-48
TRANSPORTATION DATA 3-50
GENERAL INFORMATION 4-4
MAINTENANCE SCHEDULE4-5
MAINTENANCE 4-12
GENERAL INFORMATION 4-12
PREVENTIVE MAINTENANCE SERVICES4-12
PREVENTIVE MAINTENANCE OF MAJOR COMPONENTS 4-12
REPAIR MAINTENANCE4-12
GENERAL INFORMATION 4-12
ENGINE MAINTENANCE4-14
HYDRAULIC FILTERS 4-14
MAINTENANCE PROCEDURES4-14
GENERAL INFORMATION 4-14
ENGINE LUBRICATION OIL4-14
CHECKING ENGINE LUBRICATION OIL LEVEL4-14
CHANGING ENGINE LUBRICATION OIL4-15
CHANGING ENGINE LUBRICATION OIL FILTER 4-15
FUEL SYSTEM 4-16
ENGINE FUEL FILTERS 4-16
DAILY FUEL FILTER MAINTENANCE4-16
CHANGING ENGINE FUEL FILTERS4-17
FUEL LEVEL 4-17
ADDING FUEL 4-17
ENGINE AIR FILTRATION 4-18
ENGINE INLET AIR FILTER 4-19
CHANGING THE PRIMARY AIR FILTER ELEMENT4-18
CHANGING THE SECONDARY AIR FILTER ELEMENT4-19
ENGINE COOLING SYSTEM4-19
CHECKING COOLANT LEVEL 4-20
ADDING COOLANT 4-20
ENGINE COOLANT FILTER 4-21
CHANGING ENGINE COOLANT FILTER4-21
CLEANING ENGINE RADIATOR, HYDRAULIC OIL AND CHARGE AIR COOLERS 4-22
HYDRAULIC SYSTEM OIL 4-23
CHECKING HYDRAULIC SYSTEM OIL LEVEL 4-23
ADDING HYDRAULIC SYSTEM OIL 4-23
SAMPLING AND ANALYZING HYDRAULIC SYSTEM OIL 4-23
CHANGING OIL IN HYDRAULIC SYSTEM TANK 4-23
HYDRAULIC TANK BREATHER FILTER4-24
TRAVEL, STEERING/AUXILIARY AND ROTOR SYSTEMS HYDRAULIC OIL FILTERS 4-24
CHANGING THE STEERING/AUXILIARY SYSTEMS HYDRAULIC OIL FILTER 4-25
CHANGING THE ROTOR SYSTEM HYDRAULIC OIL FILTER 4-25
CHANGING THE TRAVEL SYSTEM HYDRAULIC OIL FILTER4-26
ALTERNATOR AND FAN DRIVE BELTS4-26
CHECKING BELTS 4-26
CHECKING AND TIGHTENING THE ENGINE COOLING FAN 4-26
(continued)
TABLE OF CONTENTS
Section 4
MAINTENANCE
Section 4
MAINTENANCE
4-2 08/05
PAGE
BATTERIES 4-26
CHECKING ELECTROLYTE LEVEL 4-27
CLEANING BATTERIES AND CABLE CONNECTORS 4-27
CHECKING AND TIGHTENING HOLD-DOWN CLAMPS4-28
FRONT TIRES4-28
CHECKING FRONT TIRE PRESSURE 4-28
APPLYING TORQUE TO FRONT WHEEL MOUNTING NUTS 4-28
REAR TIRES 4-29
CHECKING REAR TIRE PRESSURE4-29
APPLYING TORQUE TO REAR WHEEL MOUNTING NUTS4-30
SAFETY DECALS4-30
SEAT BELT 4-30
BELT REPLACEMENT PROCEDURE 4-30
ROLL OVER OR ROLL OVER / FALLING OBJECT PROTECTION STRUCTURE4-31
CHECKING MOUNTING FASTENERS TORQUE4-31
INSPECTING FOR CRACKS, RUST AND WEAR 4-31
DISPLAY PANEL AND GAUGES4-31
TEST PROCEDURE 4-31
CHECKING OPERATION 4-31
REPAIR 4-31
LUBRICATION POINTS 4-32
LUBRICATION4-32
DYNAMIC BRAKES (SERVICE BRAKE)4-33
CHECKING OPERATION 4-33
REPAIR 4-33
PARKING BRAKE4-34
CHECKING OPERATION 4-34
REPAIR 4-34
STEERING 4-34
CHECKING OPERATION 4-34
REPAIR 4-34
BACKUP ALARM4-35
CHECKING OPERATION 4-35
REPAIR 4-35
ROTOR SYSTEM ACCUMULATOR 4-35
PLANETARY WHEEL ENDS OIL4-35
CHECKING PLANETARY WHEEL ENDS OIL LEVEL 4-35
ADDING OIL TO PLANETARY WHEEL ENDS 4-36
FUEL TANK BREATHER CAPS4-36
CHANGING FUEL TANK BREATHER CAPS4-36
(continued)
TABLE OF CONTENTS (continued)
Section 4
MAINTENANCE
08/05 4-3
PAGE
ELECTRICAL SYSTEM MAINTENANCE4-36
FUSE ASSIGNMENTS AND SPECIFICATIONS 4-37
ELECTRICAL RELAYS 4-38
RELAY ASSIGNMENT4-38
ELECTRICAL OPTIONS 4-39
HEADLIGHTS / PARKING LIGHTS / WORKING LIGHTS OPTION 4-39
TURN SIGNALS AND FOUR WAY HAZARD LIGHTS OPTION 4-39
STOP LIGHTS4-39
MISCELLANEOUS INFORMATION 4-39
ROTOR HOOD PITCH ADJUSTMENT PROCEDURE 4-39
RECOMMEND FIELD WELDING PROCEDURES FOR ONE PIECE SOCKET TO RECYCLER
ROTOR TUBE – MPH 362-2R AND MPH 364-2R4-40
WELDING INSTRUCTIONS – RECYCLER END SEGMENTS SOCKETS TO MILD STEEL
(MPH 362-2 AND MPH 364-2 RECYCLERS) 4-41
RECOMMENDED FIELD WELDING PROCEDURES TO TINE PLATE AND/OR SOCKET TO
STABILIZER ROTOR TUBE 4-42
WINTERIZATION PROCEDURES 4-43
PREPARING THE MACHINE FOR STORAGE 4-43
ENGINE4-43
COOLING SYSTEM 4-43
BATTERIES4-43
FUEL TANKS 4-43
AIR CLEANER, EXHAUST AND OTHER OPENINGS4-43
TIRES 4-43
EXPOSED COMPONENT RUST PREVENTION 4-44
REFERENCE 4-44
TORQUE SPECIFICATIONS FOR METRIC FASTENERS 4-44
TORQUE SPECIFICATIONS FOR STANDARD INCH FASTENERS4-45
STANDARD INCH FASTENERS 4-46
GENERAL INFORMATION 6-2
EXHAUST SYSTEM 6-2
REMOVAL6-2
INSTALLATION 6-2
FUEL SYSTEM6-4
RIGHT SIDE FUEL TANK6-4
REMOVAL6-4
INSTALLATION 6-5
LEFT SIDE FUEL TANK 6-5
REMOVAL6-5
INSTALLATION 6-5
THROTTLE CONTROL 6-8
REMOVAL6-8
INSTALLATION 6-8
CHARGE AIR COOLING SYSTEM 6-9
COOLING SYSTEM 6-10
RADIATOR/OIL COOLING ASSEMBLY6-10
REMOVAL 6-10
INSTALLATION 6-11
ENGINE 6-12
REMOVAL 6-12
INSTALLING ENGINE 6-18
ENGINE INSTALLATION6-18
GENERAL INFORMATION 7-4
ELECTRICAL SYSTEM MAJOR COMPONENT DESCRIPTION7-4
BATTERY 7-4
STARTER MOTOR7-4
ALTERNATOR7-4
BATTERY DISCONNECT 7-4
SWITCHES7-4
KEY SWITCH (IGNITION SWITCH) 7-4
FOUR WHEEL DRIVE SELECT FRONT ASSIST SWITCH 7-4
ENGINE LOAD CONTROL MAN/AUTO SWITCH7-5
2-SPEED LOW/HIGH SWITCH7-5
EMERGENCY STOP SWITCH7-5
BRAKE SWITCH 7-5
ROTOR ON/OFF SWITCH7-6
ROTOR SPEED SWITCH7-6
THROTTLE SWITCH 7-6
TRAVEL DIRECTION (FNR) AND SPEED CONTROL LEVER 7-6
LEFT/RIGHT INDEPENDENT BRAKE SWITCH 7-6
ROTOR LIFT SWITCH7-6
REAR ROTOR DOOR SWITCH 7-6
BACKUP TRAVEL CONTROL (FNR)7-7
TRAVEL PUMP THRESHOLD CALIBRATION PUSHBUTTON SWITCH 7-7
FNR OVERRIDE CONTROL ON/OFF SWITCH 7-7
ENGINE LOAD CONTROL SETPOINT POTENTIOMETER 7-7
WORK LIGHTS SWITCH 7-7
HEADLIGHTS/PARKING LIGHTS OFF/PARK/ON SWITCH7-7
TRACTION CONTROL SWITCH 7-8
FOUR-WAY FLASH/HAZARD SWITCH 7-8
TURN SIGNAL SWITCH 7-8
HORN PUSHBUTTON SWITCH 7-8
FUSES AND FUSIBLE LINKS7-8
RELAYS 7-9
IGNITION POWER RELAY K17-9
START RELAY K3 7-9
FLASHER RELAY K4 – OPTIONAL 7-9
STOP LIGHT RELAY K6 – OPTIONAL7-9
RIGHT-HAND BRAKE RELAY K77-9
ROTOR RELAY K87-9
LEFT-HAND BRAKE RELAY K9 7-9
CAB RELAY K10 – OPTIONAL7-9
(continued)
TABLE OF CONTENTS
Section 7
ELECTRICAL
Section 7
ELECTRICAL
7-2 08/05
PAGE
SOLENOIDS 7-9
FRONT ASSIST SOLENOID 7-9
TWO-SPEED SHIFT SOLENOID 7-9
RIGHT-HAND BRAKE SOLENOID 7-10
LEFT-HAND BRAKE SOLENOID7-10
ROTOR LIFT SOLENOID7-10
REAR ROTOR DOOR SOLENOID 7-10
SENDING UNITS AND PRESSURE SWITCHES 7-10
COOLANT TEMPERATURE SENDER 7-10
COOLANT LEVEL SWITCH 7-10
OIL PRESSURE SWITCH7-10
OIL PRESSURE SENDER 7-10
THROTTLE SWITCH7-10
FUEL LEVEL SENDER 7-11
STEERING/AUX RETURN FILTER SWITCH7-11
TRAVEL PUMP FILTER SWITCH7-11
ROTOR PUMP FILTER SWITCH7-11
AIR FILTER RESTRICTION SWITCH7-11
HYDRAULIC OIL TEMPERATURE SENDER7-11
LOW ROTOR CHARGE PRESSURE SWITCH 7-11
MACHINE TRAVEL SPEED SENSOR 7-11
POWERVIEW MONITORING SYSTEM 7-12
POWERVIEW DISPLAY 7-12
FUEL LEVEL 7-12
ENGINE HOURS 7-12
CHARGE VOLTAGE 7-12
ENGINE COOLANT TEMPERATURE 7-12
HYDRAULIC SYSTEM OIL TEMPERATURE7-12
ENGINE OIL PRESSURE7-12
ROTOR SYSTEM CHARGE FILTER7-12
TRAVEL SYSTEM CHARGE FILTER7-12
STEERING/AUX RETURN FILTER 7-13
ENGINE INLET AIR FLOW RESTRICTION 7-13
LOW ROTOR CHARGE PRESSURE7-13
MACHINE TRAVEL SPEED 7-13
ENGINE SPEED 7-13
GAUGES7-13
ROTOR PRESSURE 7-13
TRAVEL PRESSURE7-13
4-LIGHT DIAGNOSTIC GAUGE 7-13
WARNING ALARM 7-14
(continued)
Section 7
ELECTRICAL
08/05 7-3
PAGE
EXTERNAL LIGHTS7-14
STOP LIGHT 7-14
HEADLIGHTS7-14
PARKING LIGHTS 7-14
TURN/HAZARD LIGHTS – OPTIONAL 7-14
WORKLIGHTS 7-14
HORN7-14
BACKUP ALARM7-14
CABLES AND WIRES 7-15
CABLES 7-15
WIRES 7-15
COMPUTER TRAVEL AND LOAD CONTROLLER COMPUTER SYSTEM AND
MANUAL CONTROL7-15
ROTOR SPEED 7-15
TRAVEL SPEED7-15
AUTO CONTROL7-15
GENERAL TROUBLE ANALYSIS INFORMATION AND PROCEDURES 7-16
VOLTAGE MEASUREMENTS 7-17
CONTINUITY (RESISTANCE) MEASUREMENTS 7-17
CURRENT MEASUREMENTS 7-17
TRAVEL SYSTEM FAULTS 7-18
TROUBLESHOOTING CHART 7-19
GENERAL INFORMATION 8-2
DESCRIPTION8-2
HYDRAULIC SUPPLY AND RETURN SYSTEM 8-2
CLEANLINESS8-2
CASE MANIFOLD8-4
REMOVAL 8-4
INSTALLATION8-4
TANK MANIFOLD8-5
REMOVAL 8-5
INSTALLATION8-5
THERMAL BYPASS ASSEMBLIES 8-6
REMOVAL 8-6
INSTALLATION8-7
HYDRAULIC TANK 8-8
REMOVAL 8-8
INSTALLATION 8-10
HYDRAULIC DRIVE TRAVEL SYSTEM8-11
TRAVEL CHARGE FILTER ASSEMBLY8-12
REMOVAL8-12
INSTALLATION 8-12
TRAVEL MOTORS 8-13
REAR TRAVEL MOTOR8-13
REMOVAL8-13
INSTALLATION 8-14
FRONT TRAVEL MOTOR 8-15
REMOVAL8-15
INSTALLATION 8-15
TRAVEL PUMP ASSEMBLY8-16
REMOVAL8-16
INSTALLATION 8-17
INSPECTION AND PRESSURE CHECK PROCEDURE 8-18
SCHEMATICS 8-23
GENERAL INFORMATION 9-2
CLEANLINESS 9-2
COUNTERBALANCE VALVE9-5
REMOVAL9-5
INSTALLATION 9-5
AUXILIARY FUNCTION(S) – DOUBLE SPOOL VALVE9-6
REMOVAL9-6
INSTALLATION 9-6
ROTOR LIFT CYLINDER9-7
REMOVAL9-7
INSTALLATION 9-8
DISASSEMBLY9-9
SEAL REMOVAL AND INSTALLATION 9-9
ASSEMBLY9-9
REAR DOOR CYLINDER 9-11
REMOVAL 9-11
INSTALLATION 9-11
DISASSEMBLY 9-12
SEAL REMOVAL AND INSTALLATION9-12
ASSEMBLY 9-13
AUXILIARY HYDRAULICS PRESSURE CHECKS 9-14
GENERAL 10-2
CLEANLINESS 10-2
REAR DRIVE AXLE ASSEMBLY 10-2
REMOVAL 10-2
INSTALLATION 10-5
FRONT STEERING AXLE ASSEMBLY10-6
WITHOUT FRONT WHEEL ASSIST [MPH 362]10-6
REMOVAL10-6
INSTALLATION 10-8
WITH FRONT WHEEL ASSIST [MPH 364-2] 10-9
REMOVAL10-9
INSTALLATION 10-11
WHEELS AND TIRES 10-12
FRONT WHEEL10-12
REMOVAL 10-12
INSTALLATION 10-12
REAR WHEEL 10-13
REMOVAL 10-13
INSTALLATION 10-13
DESCRIPTION 11-2
BRAKE SYSTEM11-2
TWO-SPEED SYSTEM 11-2
CLEANLINESS 11-2
BRAKE VALVE ASSEMBLY11-6
REMOVAL 11-6
INSTALLATION 11-6
2-SPEED VALVE ASSEMBLY 11-7
REMOVAL 11-7
INSTALLATION 11-7
GENERAL 12-2
DESCRIPTION 12-2
SYSTEM OPERATION 12-2
CLEANLINESS 12-2
PRIORITY VALVE ASSEMBLY 12-5
REMOVAL 12-5
INSTALLATION 12-6
STEERING CONTROL ASSEMBLY12-6
REMOVAL 12-6
INSTALLATION 12-7
FILTER ASSEMBLY12-8
REMOVAL 12-8
INSTALLATION 12-9
STEERING CYLINDER 12-9
REMOVAL 12-9
INSTALLATION12-10
DISASSEMBLY 12-10
SEAL REMOVAL 12-11
ASSEMBLY 12-12
TANDEM GEAR-PUMP12-12
REMOVAL 12-12
INSTALLATION12-13
STEERING WHEEL 12-13
STEERING COLUMN 12-13
HYDRAULIC TANK12-13
STEERING SYSTEM PRESSURE CHECKS 12-13
TROUBLESHOOTING 12-13
GENERAL INFORMATION 13-2
DESCRIPTION 13-2
CLEANLINESS 13-2
ROTOR CHARGE FILTER 13-4
REMOVAL 13-4
INSTALLATION 13-4
FLUSHING VALVE 13-5
REMOVAL 13-5
INSTALLATION 13-6
ROTOR PUMP 13-7
REMOVAL 13-7
INSTALLATION 13-8
GENERAL 14-2
DESCRIPTION 14-2
CLEANLINESS 14-2
ROTOR HOOD 14-4
REMOVAL 14-4
INSTALLATION 14-5
ROTOR LIFT CYLINDER 14-8
REAR DOOR (TAILGATE) CYLINDER14-8
ROTOR AND ARMS14-8
ROTOR REMOVAL 14-8
REMOVAL14-8
INSTALLATION 14-12
ROTOR DOOR AND DEPTH INDICATOR14-13
REAR DOOR INDICATORS14-13
REMOVAL 14-13
INSTALLATION 14-14
DEPTH INDICATOR 14-16
DISASSEMBLY 14-16
ASSEMBLY 14-16
ROTOR DEPTH PIVOT SHAFT 14-16
REMOVAL 14-16
INSTALLATION14-16
WATER SYSTEM15-2
SYSTEM DESCRIPTION15-2
WATER SYSTEM FEATURES 15-2
OPERATION 15-2
MPH ALPS 40 SYSTEM15-5
SYSTEM DESCRIPTION15-5
MPH ALPS 40 SYSTEM FEATURES 15-5
PLEASE NOTE:
This is the same manual used by the DEALERSHIPS to SERVICE your vehicle.
The manual can be all yours – Once payment is complete, you will be taken to the download page from where you can download the manual. All in 2-5 minutes time!!
Need any other service / repair / parts manual, please feel free to contact us at heydownloadss @gmail.com . We may surprise you with a nice offer