Bomag BW 177 179 DH PDH-4 Single Drum Roller Service Training Manual 00809992 – PDF DOWNLOAD
FILE DETAILS:
Bomag BW 177 179 DH PDH-4 Single Drum Roller Service Training Manual 00809992 – PDF DOWNLOAD
Language : English
Pages : 201
Downloadable : Yes
File Type : PDF
Size: 6.49 MB
DESCRIPTION:
Bomag BW 177 179 DH PDH-4 Single Drum Roller Service Training Manual 00809992 – PDF DOWNLOAD
Foreword and novelties:
Reliable construction equipment is of greatest advantage for all parties involved:
• for the customer/user it is a basis for an exact calculation of utilization periods and the completion of
projects as scheduled.
• in the rental business it means that the equipment can be reliably used and planned without having
to stock a large number of stand-by machines.
• for the manufacturer it means that customers are satisfied, provides him with a good image and gives
him a feeling of confidence.
It is BOMAG's philosophy to design and produce the machines with highest possible reliability. This
aspect of simple and easy maintenance was one of the key issues when developing and designing the
machine:
• the location of components in the machine eases maintenance work,
• the high quality standard of BOMAG is the basis for the considerable extension of the service and
maintenance intervals.
• the After Sales Service of BOMAG, including excellent operating and maintenance instruction
manuals, high quality training courses and on-site machine demonstrations helps the customer to
maintain their machines in good condition over a long period of time.
Permanent training of BOMAG's own service personnel as well as the service personnel of BOMAG
Profit Centres and dealers is therefore a general prerequisite for BOMAG's excellent world-wide service.
This program of permanent training is only possible with appropriate and up-to-date training material for
trainers as well as persons attending the training courses.
This training manual has not only been written as a support for the professional work of the trainer, but
also for the trainees attending these training courses.
The different levels of product training demand, that the training performed by BOMAG, its Profit Centres
or its dealers reflects the high quality of the training conducted at the Training Centre at BOMAG in
Boppard. For this reason we invested a lot of time in the preparation of these materials .
The structure of this training manual enables us to change or up-date individual chapters in case of
alterations to the machine.
IMAGES PREVIEW OF THE MANUAL: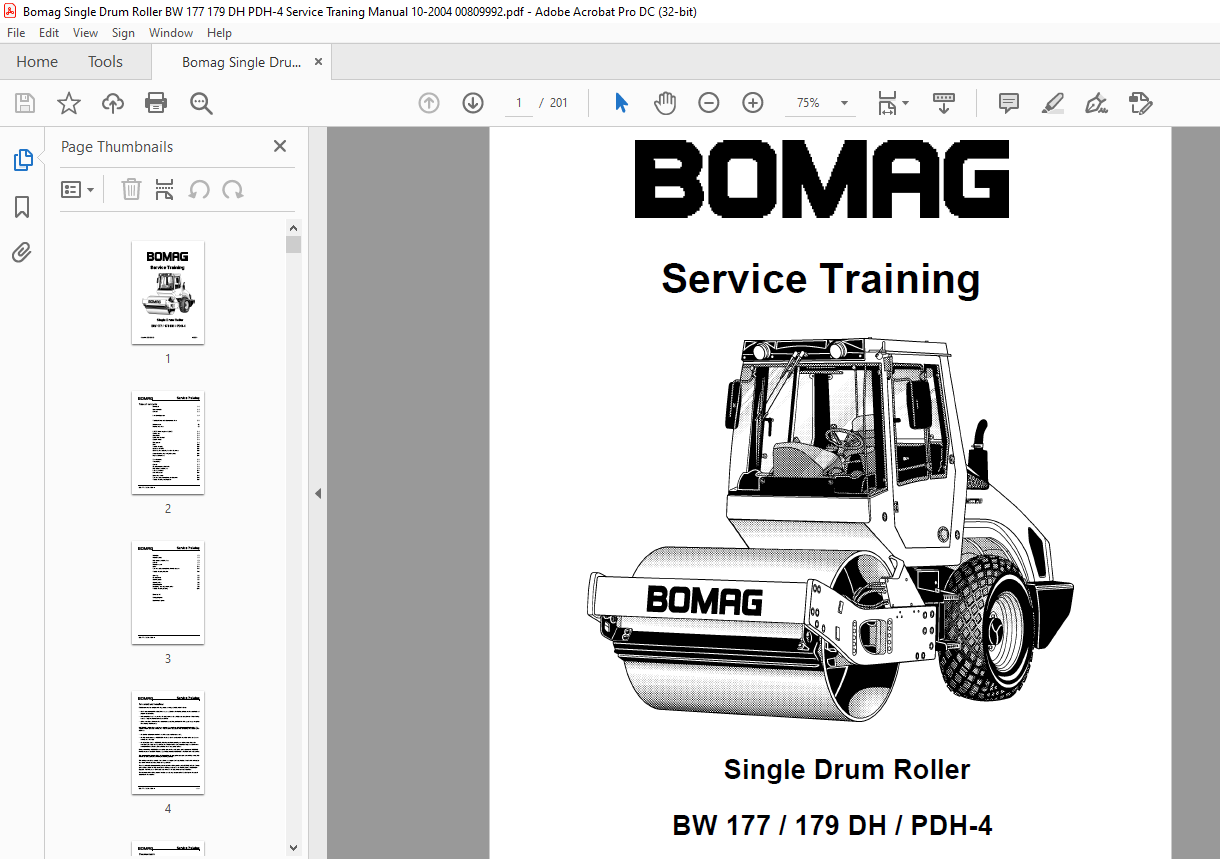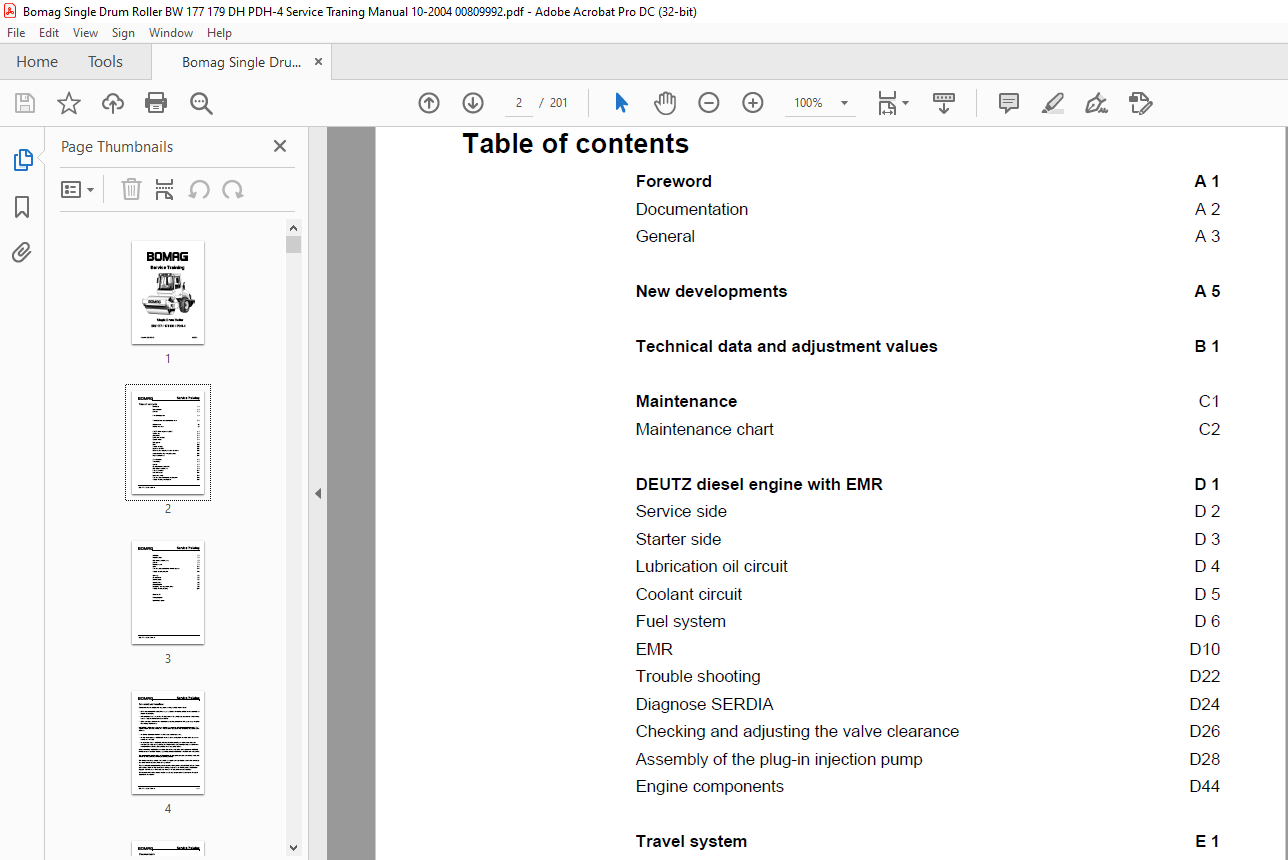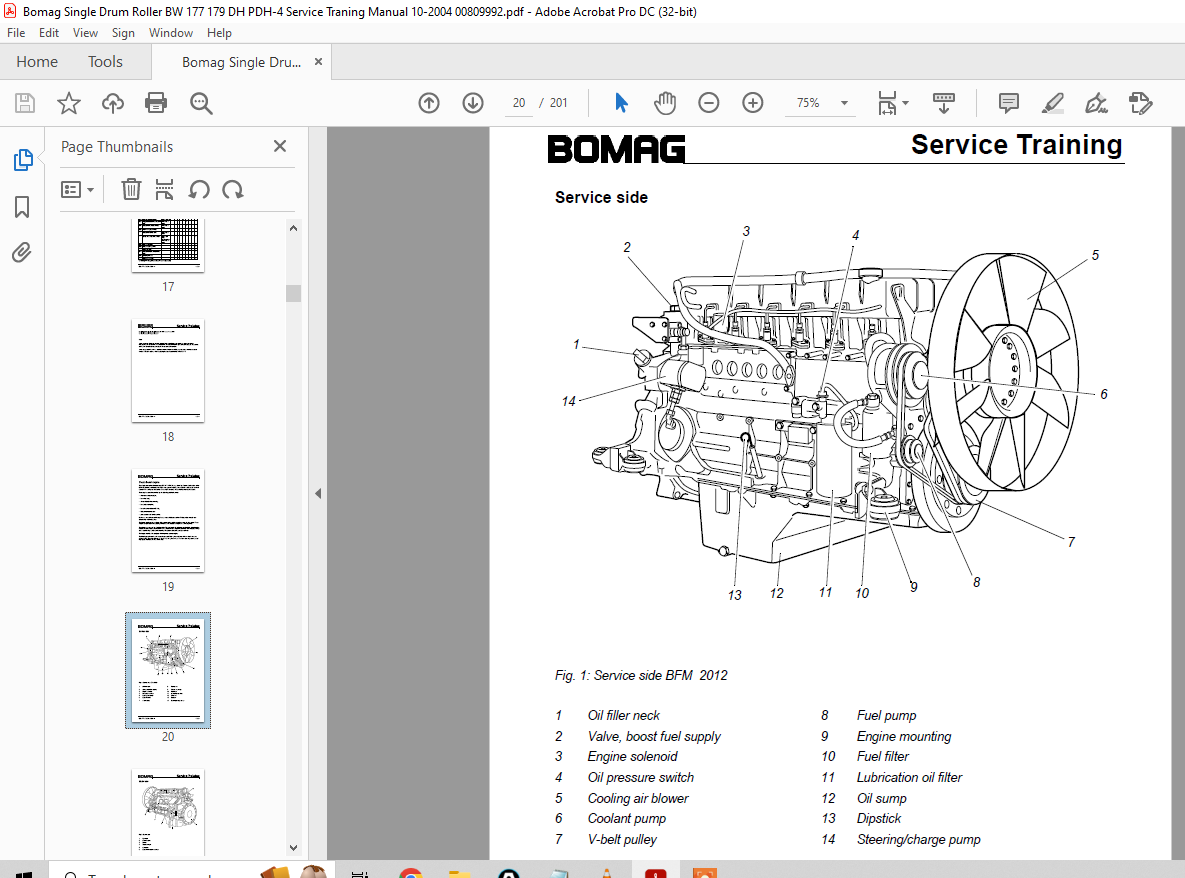 TABLE OF CONTENTS:
Bomag BW 177 179 DH PDH-4 Single Drum Roller Service Training Manual 00809992 – PDF DOWNLOAD
Foreword A 1
Documentation A 2
General A 3
New developments A 5
Technical data and adjustment values B 1
Maintenance C1
Maintenance chart C2
DEUTZ diesel engine with EMR D 1
Service side D 2
Starter side D 3
Lubrication oil circuit D 4
Coolant circuit D 5
Fuel system D 6
EMR D10
Trouble shooting D22
Diagnose SERDIA D24
Checking and adjusting the valve clearance D26
Assembly of the plug-in injection pump D28
Engine components D44
Travel system E 1
Travel pump E 3
Control E 7
Charge pressure relief valve E 8
High pressure relief valve E 9
Pressure override E11
Axle drive motor E14
Drum drive motor E17
Test and adjustment points, travel system E19
Trouble shooting travel system E27
Service Training
Vibration F 1
Vibration pump F 3
High pressure relief valves F 6
Control F 7
Vibration motor F 8
Drum F11
Test and adjustment points, vibration system F13
Trouble shooting vibration F15
Steering G 1
Charge pump G 2
Steering pump G 3
Steering valve G 5
Articulated joint G 7
Measuring and adjustment points G 9
Trouble shooting steering G10
Electrics H1
Wiring diagram
Hydraulic diagram
VIDEO PREVIEW OF THE MANUAL:
PLEASE NOTE:
This is the SAME manual used by the dealers to troubleshoot any faults in your vehicle. This can be yours in 2 minutes after the payment is made.
Contact us at [email protected] should you have any queries before your purchase or that you need any other service / repair / parts operators manual.
S.V