BOMAG BW 125 ADH BW 135 AD BW138 AD BW138 AC SINGLE STANDEM VIBRATORY ROLLER OPERATING MAINTENANCE MANUAL
FILE DETAILS:
FILE TYPE:PDF
DOWNLOADABLE:YES
MANUAL LANGUAGE:ENGLISH
SIZE:2.22 MB
NUMBER OF PAGES:86 pages
DESCRIPTION:
This manual was written for operators and maintenance personnel on construction sites. Always keep this manual close at hand, e.g. in the tool compartment of the machine or in a specially provided container. These operating and maintenance instructions are part of the machine You should only operate the machine after you have been instructed and in compliance with these instructions. Strictly observe the safety regulations. Please observe also the guidelines of the Civil Engineering Liability Association "Safety Rules for the Operation of Road Rollers and Soil Compactors" and all relevant accident prevention regulations.
TABLE OF CONTENTS:
BOMAG BW 125 ADH BW 135 AD BW138 AD BW138 AC STANDEM VIBRATORY ROLLER OPERATING MAINTENANCE MANUAL
Technical Data 7
Safety regulations 15
Indicators and Controls 23
3.1 General notes 27
3.2 Description of indicators and control elements 27
Operation 35
4.1 General notes 36
4.2 Inspections before starting operation 36
4.3 Starting the engine 37
4.4 Starting with jump wires 39
4.5 Driving the machine 39
4.6 Stopping the machine / applying the brake 41
4.7 Switching the vibration on and off 41
4.8 Switching the vibration on or off 43
4.9 Switching the pressure sprinkler system on or off 44
4.10 Stopping the engine/machine 45
4.11 Adjusting the driver's seat 46
4.12 Towing 46
4.13 Loading and transport 48
4.14 Foldable roll over protection structure (ROPS) 49
Maintenance 51
5.1 General notes on maintenance 52
5.2 Fuels and lubricants 53
5.3 Table of fuels and lubricants 55
5.4 Running-in instructions 56
5.5 Maintenance chart 57
5.6 Check the engine oil level 59
5.7 Checking the dry air filter 59
5.8 Checking the hydraulic oil level 60
5.9 Checking the hydraulic oil filter element 60
5.10 Checking the fuel level 61
5.11 Checking the water level 61
5.12 Checking the emulsion oil level 62
5.13 Lubricating the articulated joint 62
5.14 Cleaning cooling fins and engine oil cooler 63
5.15 Cleaning the hydraulic oil cooler 64
5.16 Adjusting the scrapers 64
5.17 Checking the battery condition, greasing the poles 65
5.18 Draining the slurry from the fuel tank 66
5.19 Changing the engine oil 67
5.20 Change the engine oil filter cartridge 68
Table of Contents
6 BOMAG BW 125 ADH/ BW 135AD/138 AD/AC
5.21 Check, adjust the valve clearance 68
5.22 Checking, tensioning, changing the V-belt 70
5.23 Changing the fuel pre-filter 71
5.24 Change the fuel filter cartridge 72
5.25 Changing the hydraulic oil 73
5.26 Changing the hydraulic oil filter element 74
5.27 Checking the injection valves 75
5.28 Replacing the toothed belt 76
5.29 Checking the tire pressure 77
5.30 Cleaning, changing the dry air filter 77
5.31 Cleaning the water tank 78
5.32 Water sprinkler system, maintenance in the event of frost 79
5.33 Engine conservation 79
5.34 Tightening torques for screws with metric unified thread 80
Trouble shooting 81
6.1 General notes 82
6.2 Engine problems 83
VIDEO PREVIEW:

SCREENSHOT OF THE MANUAL: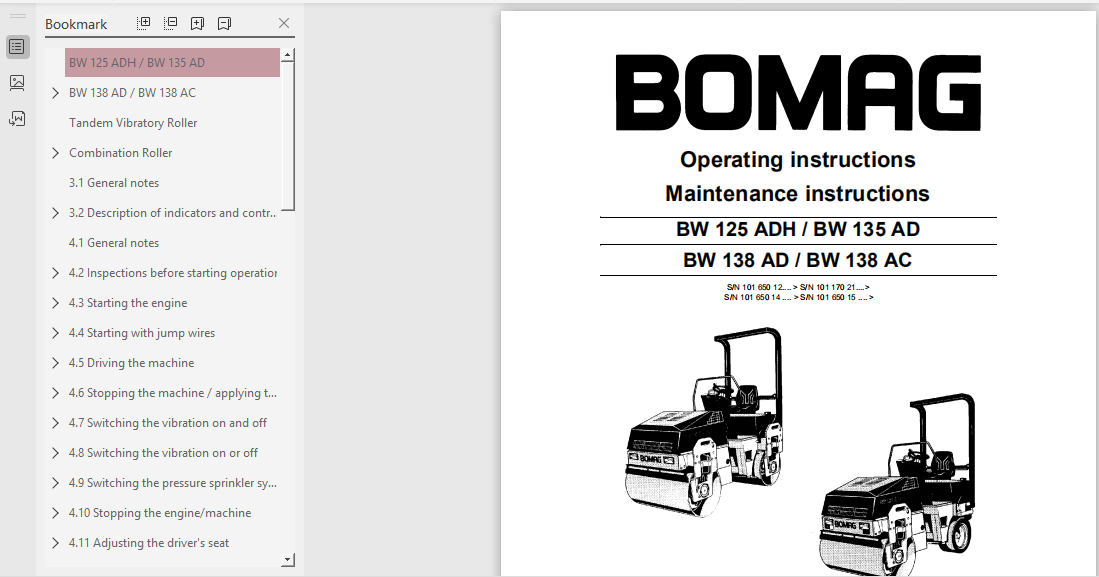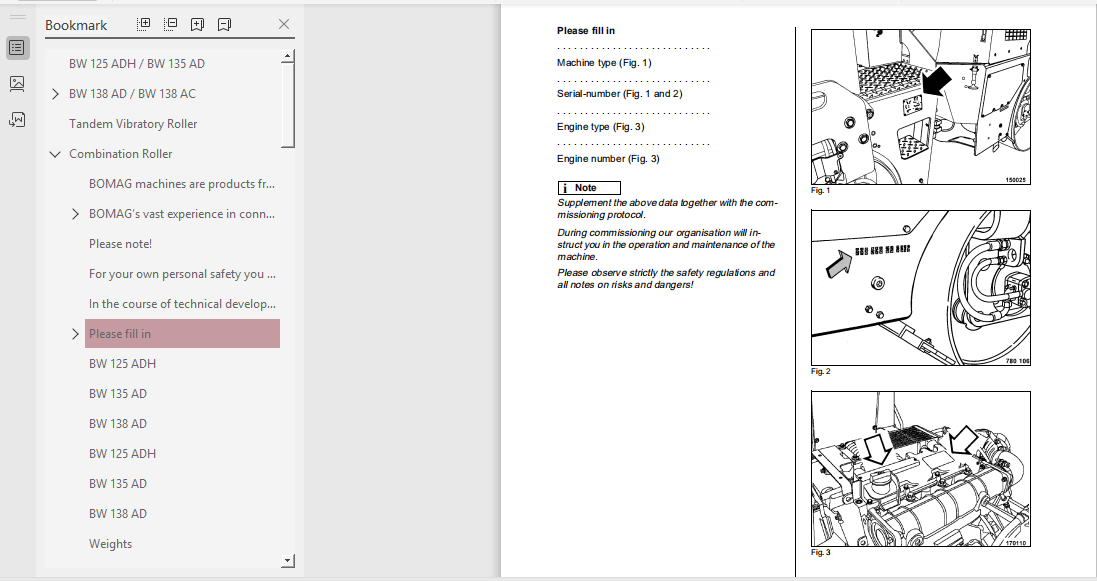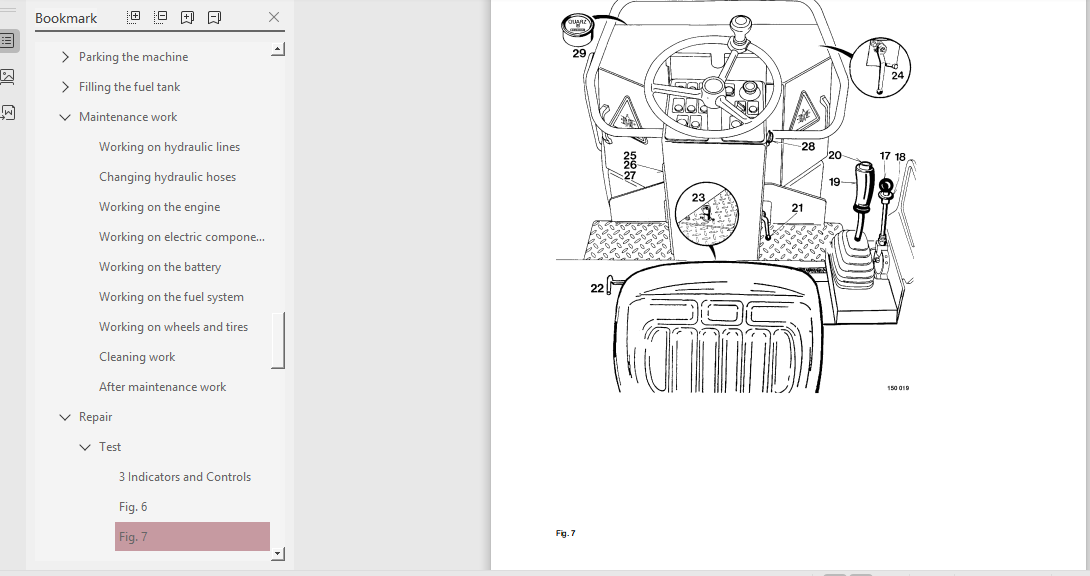 PLEASE NOTE:
⦁ This is the SAME MANUAL used by the dealerships to diagnose your vehicle
⦁ No waiting for couriers / posts as this is a PDF manual and you can download it within 2 minutes time once you make the payment.
⦁ Your payment is all safe and the delivery of the manual is INSTANT – You will be taken to the DOWNLOAD PAGE.
⦁ So have no hesitations whatsoever and write to us about any queries you may have : heydownloadss @gmail.com