Bomag BM 2000 60 Cold Milling Machine Service Manual 00891036 – PDF DOWNLOAD
FILE DETAILS:
Bomag BM 2000 60 Cold Milling Machine Service Manual 00891036 – PDF DOWNLOAD
Language : English
Pages : 792
Downloadable : Yes
File Type : PDF
Size: 56.5 MB
DESCRIPTION:
Bomag BM 2000 60 Cold Milling Machine Service Manual 00891036 – PDF DOWNLOAD
S/N 821 836 13
1.1Introduction:
This manual contain all necessary information for training and repair work.
The repair instructions describe the removal or dismantling and assembly of components and assembly groups.
The repair of disassembled assembly groups is described as far as this makes sense with respect to available tools and spare parts supply and as far as it can be understood by a skilled mechanic.
Spare parts needed for repairs can be taken from the spare parts catalogue for the machine.
Reliable construction equipment is of benefit for all parties involved:
lthey enable the customer/user to exactly calculate the running times and the completion of projects within the specified time.
lin the rental business machines can be reliably used and planned, so that the number of stock machines can be kept at a low level.
lfor the manufacturer satisfied customers provide a good image and give a feeling of confidence.
It is BOMAG's philosophy to design and produce the machines with highest possible reliability. This aspect of simple and easy maintenance was one of the key issues when developing and designing the machine:
lthe location of components in the machine eases maintenance work,
lthe high quality standard of BOMAG is the basis for the considerable extension of the service and maintenance intervals.
lthe After Sales Service of BOMAG, including excellent operating and maintenance instruction manuals, high quality training courses and on-site machine demonstrations helps the customer to maintain their machines in good condition over a long period of time.
Permanent training of BOMAG's own service personnel as well as the service personnel of BOMAG Profit Centres and dealers is therefore a general prerequisite for BOMAG's excellent world-wide service.
This program of permanent training is only possible with appropriate and up-to-date training material for trainers as well as persons attending the training courses.
This training manual has not only been written as a support for the professional work of the trainer, but also for the trainees attending these training courses.
The different levels of product training demand, that the training performed by BOMAG, its Profit Centres or its dealers reflects the high quality of the training conducted at the Training Centre at BOMAG in Boppard. For this reason we invested a lot of time in the preparation of these materials.
Documentation:
For the BOMAG machines described in this training manual the following documentation is additionally available:
1 Operating and maintenance instructions
2 Spare parts catalogue
3 Wiring diagram*
4 Hydraulic diagram*
5 Service Information
You should only use genuine BOMAG spare parts.
This manual is not subject of any updating service; we would therefore like to draw your
attention to the additionally published "technical service information".
In case of a new release all necessary changes will be included.
In the course of technical development we reserve the right for technical modifications without prior notification.
IMAGES PREVIEW OF THE MANUAL: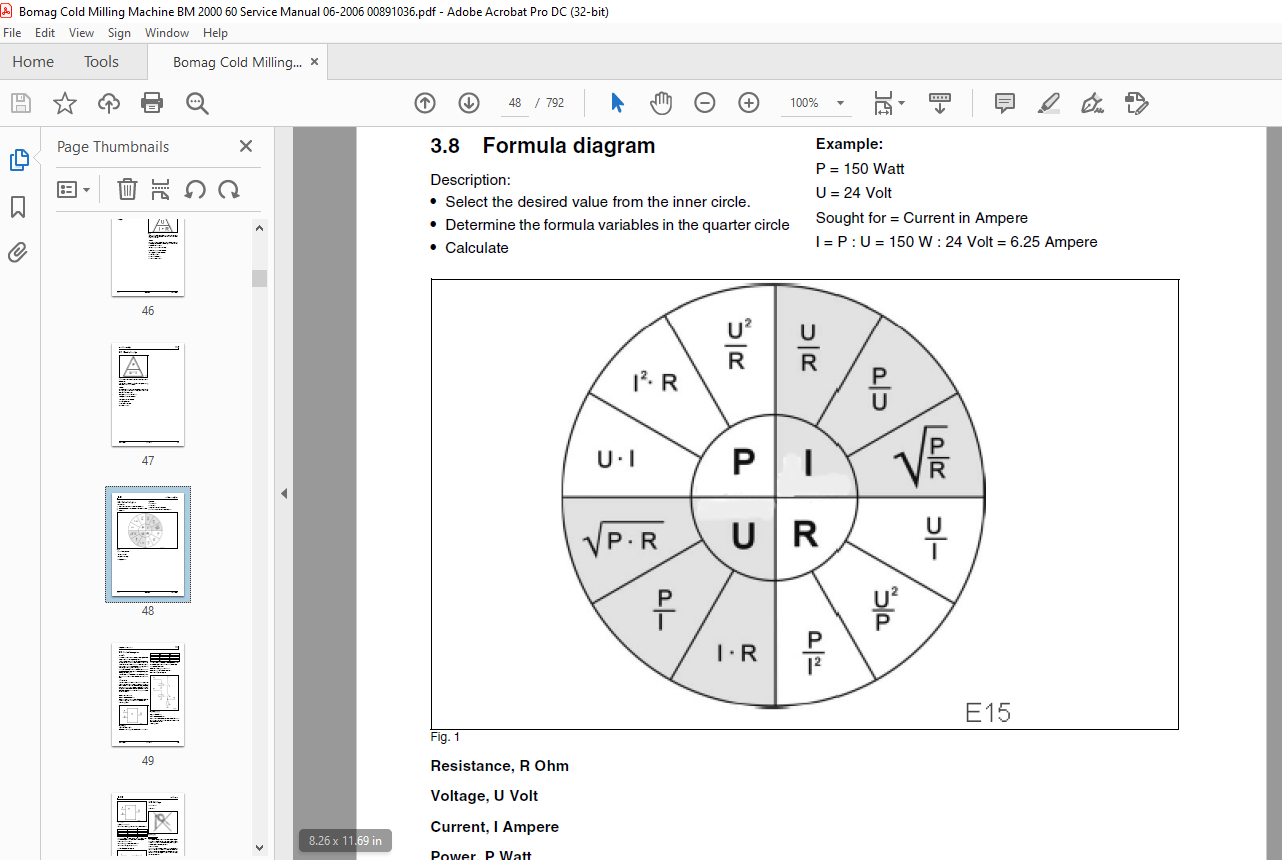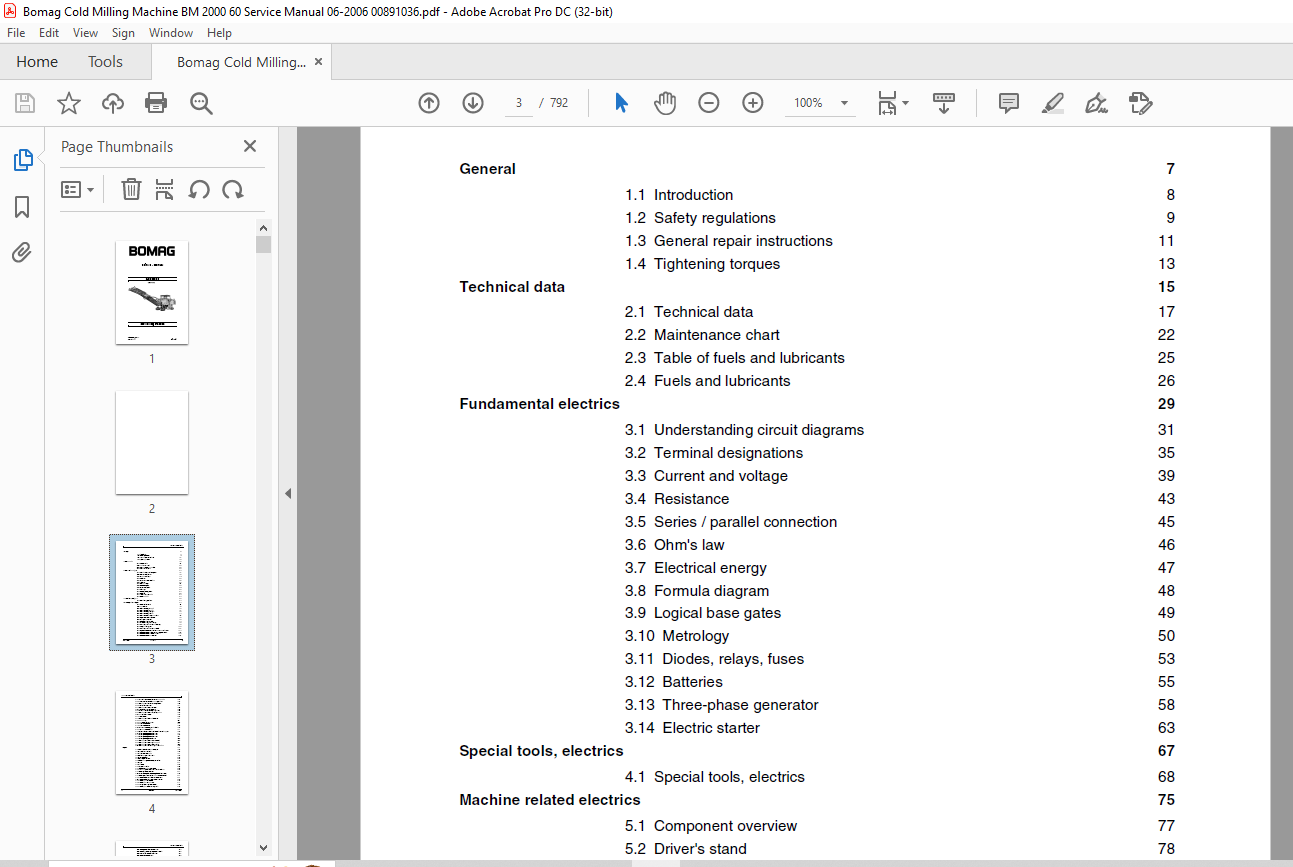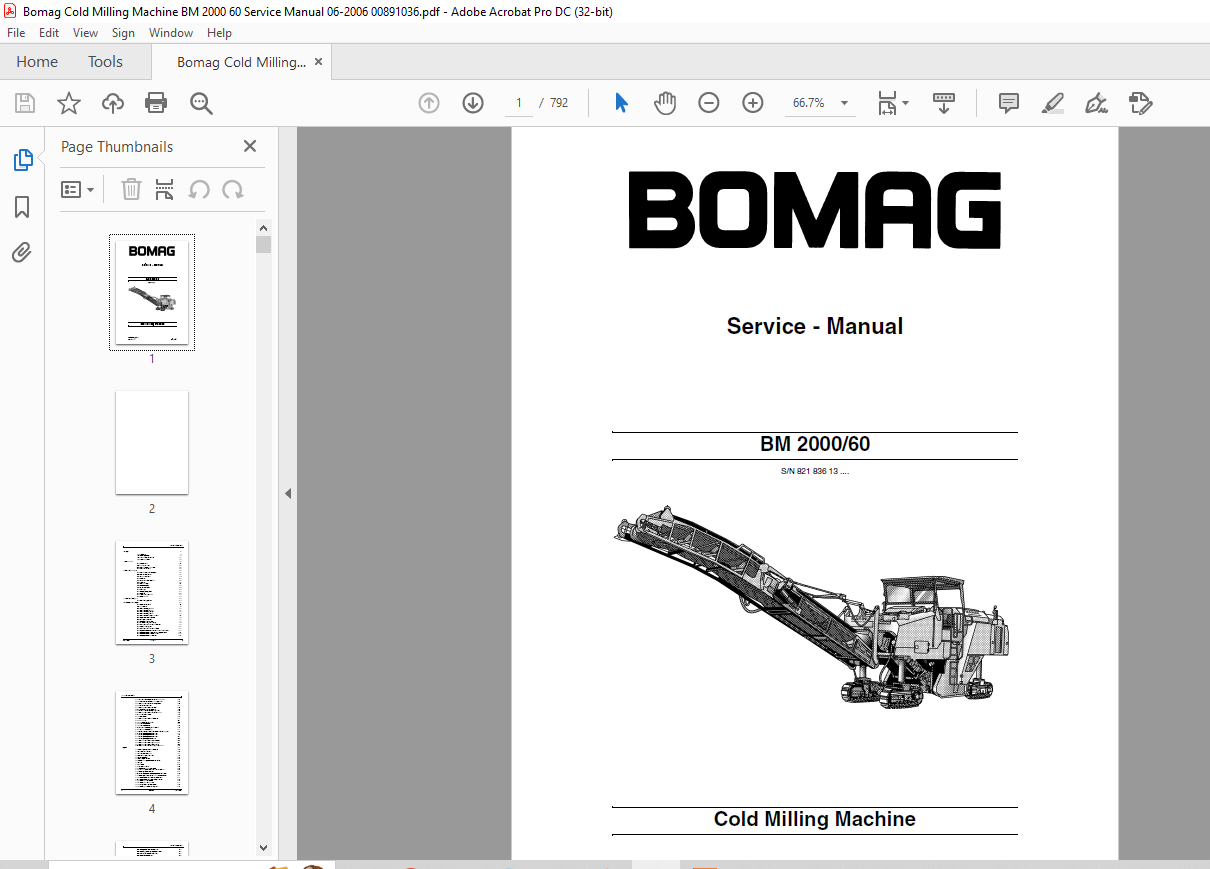 TABLE OF CONTENTS:
Bomag BM 2000 60 Cold Milling Machine Service Manual 00891036 – PDF DOWNLOAD
General 7
1.1 Introduction 8
1.2 Safety regulations 9
1.3 General repair instructions 11
1.4 Tightening torques 13
Technical data 15
2.1 Technical data 17
2.2 Maintenance chart 22
2.3 Table of fuels and lubricants 25
2.4 Fuels and lubricants 26
Fundamental electrics 29
3.1 Understanding circuit diagrams 31
3.2 Terminal designations 35
3.3 Current and voltage 39
3.4 Resistance 43
3.5 Series / parallel connection 45
3.6 Ohm's law 46
3.7 Electrical energy 47
3.8 Formula diagram 48
3.9 Logical base gates 49
3.10 Metrology 50
3.11 Diodes, relays, fuses 53
3.12 Batteries 55
3.13 Three-phase generator 58
3.14 Electric starter 63
Special tools, electrics 67
4.1 Special tools, electrics 68
Machine related electrics 75
5.1 Component overview 77
5.2 Driver's stand 78
5.3 Control console, rear right 80
5.4 Control console, rear left 81
5.5 Control console, front right 82
5.6 Control console, front left 83
5.7 Control console for auxiliary control 84
5.8 Engine hood control console 85
5.9 Loading conveyor belt 86
5.10 Steering limitation, front 88
5.11 Middle position, rear steering 90
5.12 Operating conditions for rear steering 92
5.13 Height limitation, rear 100
5.14 Operating conditions for rear posts 101
5.15 High pressure sensors for travel/conveyor belt pump 103
5.16 Pressure sensor for steering / working hydraulics 104
5.17 Pressure sensor for clutch pressure 106
5.18 Pressure sensor for fan circuit 107
Table of Contents
4 BOMAG 008 910 36
5.19 Differential pressure switch for hydraulic oil filter 108
5.20 Pressure switch for water sprinkling system 109
5.21 Operating condition for sprinkling system 110
5.22 Limit switch on scraper 111
5.23 Operating conditions for scraper 113
5.24 Rope sensors, height regulation 116
5.25 Inclination sensor for height regulation 119
5.26 Operating conditions for height regulation 120
5.27 Levelling control panel 128
5.28 Speed sensor 130
5.29 Operating conditions for travel drive 131
5.30 Terminal box 141
5.31 Pin assignment, ID4…..ID6 149
5.32 Battery compartment 161
5.33 Battery maintenance 162
5.34 Multi-function display, inputs/outputs 163
5.35 TUNING PID Parameter 164
5.36 Digital inputs and outputs in the electric circuit diagram 166
5.37 Switching states, COMPACT (ID4) 167
5.38 Switching states, COMPACT (ID5) 169
5.39 Switching states, COMPACT (ID6) 171
5.40 Switching states, CGC MATRIX 173
5.41 Operating conditions for conveyor belt 175
5.42 Operating conditions for gathering foot 177
5.43 Operating conditions for grade shoes 179
5.44 Operating condition for milling rotor operation 180
Engine 181
6.1 General information on diesel engine 183
6.2 Engine attachment parts 185
6.3 Lubrication oil schematic 187
6.4 Electronic engine control EMR 188
6.5 Sensor data EMR 202
6.6 Plug assignment EMR 203
6.7 Connection diagram EMR engine control 205
6.8 Engine 207
6.9 Fault lamp 209
6.10 Diagnostics button 210
6.11 Overview of fault flashing codes 212
6.12 Possible diagnostics with the SERIDA software 220
6.13 Checking the engine speed 221
6.14 Disassembling and assembling the injection valves 222
6.15 Checking and adjusting the start of commencement 224
6.16 Replacement of radial seal on flywheel side 227
6.17 Replacement of radial seal on pump carrier 229
6.18 Replacing the thermostats 230
6.19 Replacing the coolant pump 231
6.20 Sealing / replacing the oil cooler 232
6.21 Replacing the cylinder head gasket 233
Table of Contents
008 910 36 BOMAG 5
6.22 Check, adjust the valve clearance 238
6.23 Checking, replacing the generator V-belt 240
6.24 Service the combustion air filter 241
6.25 Check the coolant level 243
6.26 Change the coolant 244
6.27 Check the engine oil level 244
6.28 Changing engine oil and oil filter cartridges 245
6.29 Check fastening of engine / turbocharger / combustion air hoses 246
6.30 Engine conservation 247
6.31 Cleaning the engine 247
6.32 Fuel pre-filter / water separator (SEPAR filter) 248
6.33 Checking, cleaning the water separator 251
6.34 Changing the fuel prefilter element 251
6.35 Change the fuel filter cartridge 252
6.36 Special tools, Deutz engine (BF8M 1015C) 253
6.37 Explanation of symbols 256
Milling drive, mechanics 261
7.1 Milling drive 263
7.2 Checking, replacing the milling drum V-belt 277
7.3 Change the oil in the milling drum reduction gear 278
7.4 Oil change in milling drum bearing 278
7.5 Checking/replacing cutting tools, scraper 279
7.6 Replacing bases/holders 282
7.7 Lubricating the milling drum 283
7.8 Lubricating the dry clutch 283
7.9 Checking the wear of the friction lining 284
7.10 Friction lining / replacing the outer discs 284
Conveyor belts, mechanics 289
8.1 Conveyor belts 291
8.2 Checking, tightening the conveyor belts 295
8.3 Checking the safety ropes 296
8.4 Lubricating the conveyor belts 296
8.5 Folding / unfolding the loading conveyor belt 298
Travel drive, mechanics 299
9.1 Travel drive 301
9.2 Checking the track plates 305
9.3 Retightening the track shoe fastening screws 305
9.4 Checking the track drive 306
9.5 Lubricating the travel drive 308
9.6 Lubricating the steering system 308
9.7 Oil change in track drive gear 309
Pump transfer case 311
10.1 Transfer case 313
10.2 Check the oil level in the pump drive gear 316
10.3 Change the oil in the pump drive gear 316
Hydraulics 319
11.1 Service Training Hydraulics 321
Table of Contents
6 BOMAG 008 910 36
Hydraulic cylinder 413
12.1 Repairing hydraulic cylinders 415
Suppliers documentation 417
13.1 Steering and working pump A10V …… 419
13.2 Travel pump A4VG 71 … 180 449
13.3 Conveyor belt pump A10VG 28 … 56 511
13.4 Travel motor A6VM/VE 569
13.5 Travel gear 705C3H10C80 623
13.6 Conveyor belt motor OMT 693
13.7 Sprinkling pump 711
Circuit diagrams 735
14.1 Wiring diagram 737
14.2 Hydraulic diagram 787
VIDEO PREVIEW OF THE MANUAL:
PLEASE NOTE:
This is not a physical manual but a digital manual – meaning no physical copy will be couriered to you. The manual can be yours in the next 2 mins as once you make the payment, you will be directed to the download page IMMEDIATELY.
This is the same manual used by the dealers inorder to diagnose your vehicle of its faults.
Require some other service manual or have any queries: please WRITE to us at [email protected]
S.V