BOBCAT X 337 X 341 EXCAVATOR SERVICE REPAIR WORKSHOP MANUAL
VIDEO PREVIEW OF THE MANUAL:
IMAGES PREVIEW OF THE MANUAL: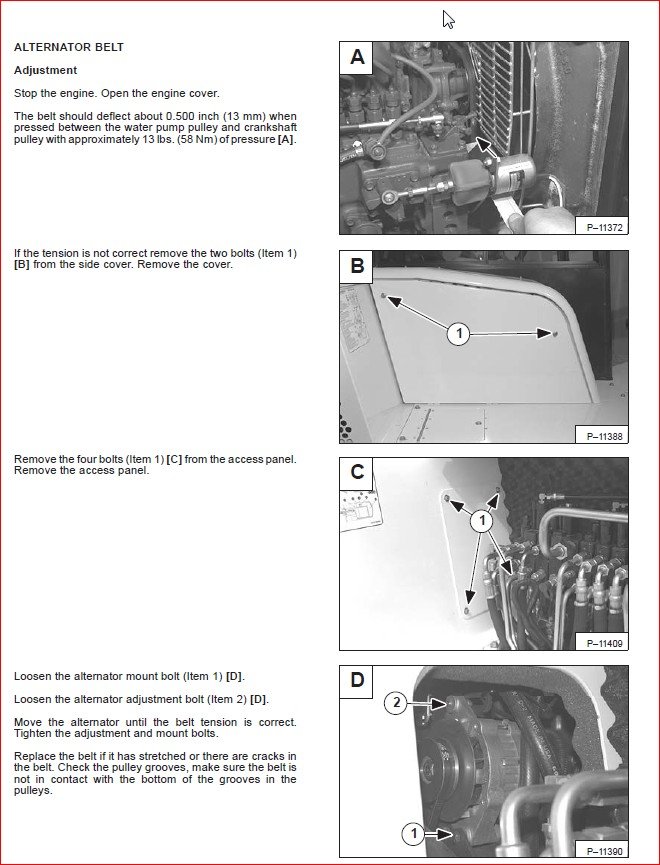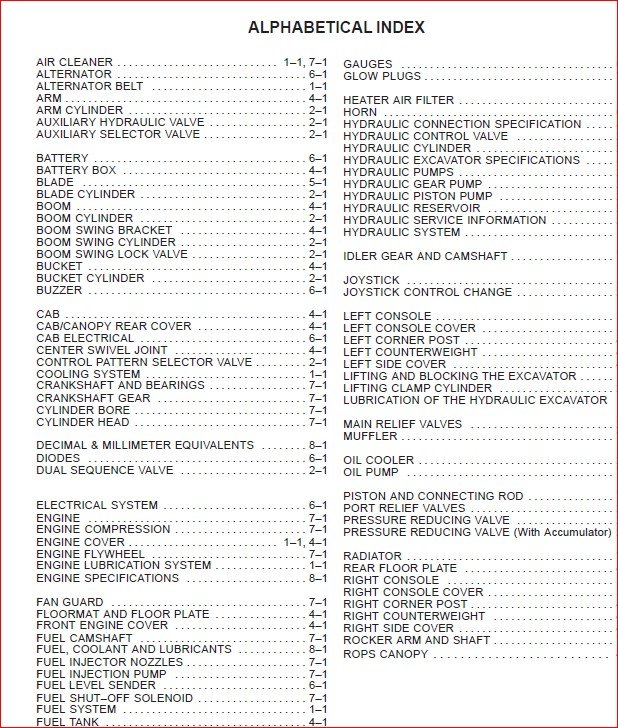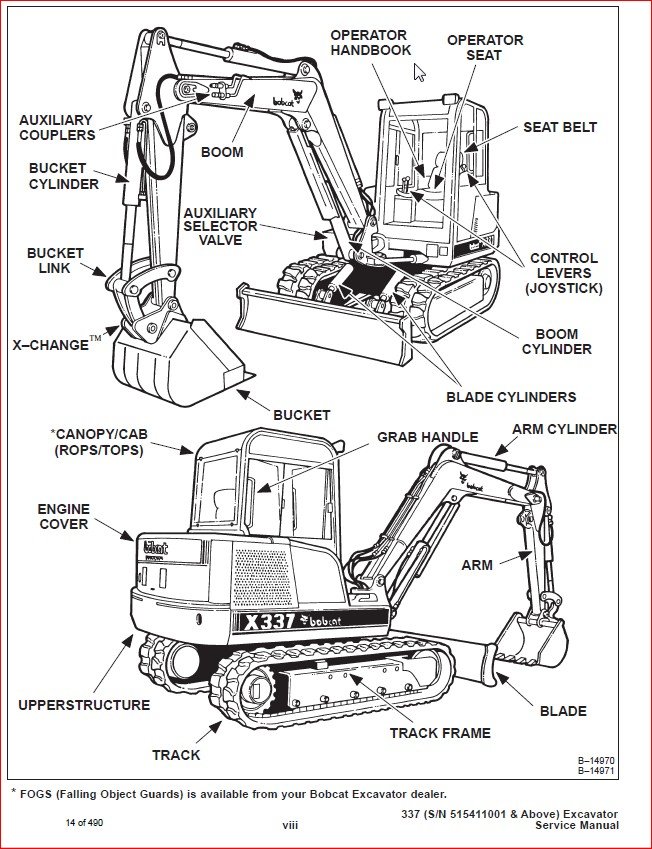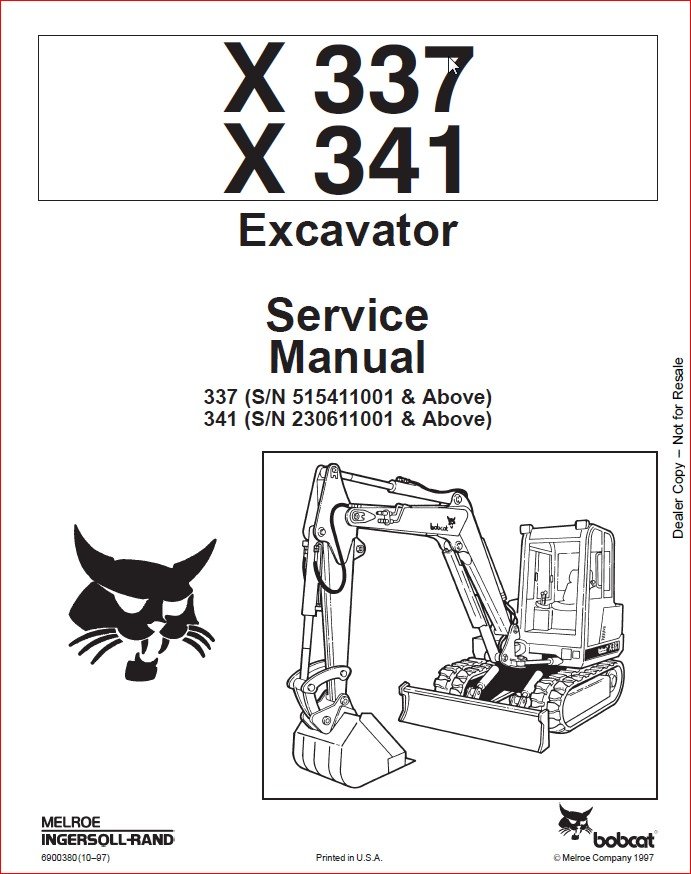 DESCRIPTION:
The machine and some attachments have components that are at high temperatures under normal operating conditions. The primary source of high temperatures is the engine and exhaust system.
The electrical system, if damaged or incorrectly maintained, can be a source of arcs or sparks. Flammable debris (leaves, straw, etc.) must be removed regularly.
If flammable debris is allowed to accumulate, it can cause a fire hazard. Clean often to avoid this accumulation. Flammable debris in the engine compartment is a potential fire hazard.
The operator's area, engine compartment and engine cooling system must be inspected every day and cleaned if necessary to prevent fire hazards and overheating.
TABLE OF CONTENTS:
ACCESSORY DRIVE BELT 10-01
AIR CLEANER 60-01
AIR CLEANER SERVICE 10-01
AIR CONDITIONING SYSTEM FLOW 70-01
ALTERNATOR 50-01
ANGLE BLADE 30-01
ANBLE BLADE ASSEMBLY 30-01
ANGLE BLADE CUTTING EDGE 30-01
ANGLE BLADE CYLINDER 20-01
ANGLE BLADE VALVE AIR CLEANER 10-01, 60-01
AIR CONDITIONING SERVICE 70-01
AIR CONDITIONING SYSTEM FLOW 70-01
ALTERNATOR 50-01
ANGLE BLADE 40-01
ANGLE BLADE ASSEMBLY 40-01
ANGLE BLADE CUTTING EDGE 40-01
ANGLE BLADE CYLINDER 20-01
ANGLE BLADE VALVE 20-01
ARM 40-01
ARM CYLINDER 20-01
BASIC TROUBLESHOOTING 70-01
BATTERY 50-01
BLADE 30-01
BLADE CONTROL 40-01
BLADE CYLINDER 20-01
BOOM 40-01
BOOM CYLINDER 20-01
BOOM SWING CYLINDER 20-01
BOOM SWING LOCK VALVE 20-01
BUCKET 40-01
BUCKET CYLINDER 20-01
BUILD UP VALVE 20-01
CAB 40-01
CASE DRAIN FILTER MOUNT 20-01
CLAMP 40-01
CLAMP CYLINDER 20-01
COMPONENTS 70-01
COMPRESSOR 70-01
CONDENSOR 70-01
CONTROL LINKAGE ASSEMBLY 40-01
CONTROL PATTERN SELECTOR VALVE 20-01
CONVERSIONS SPEC-01
COOLING SYSTEM 10-01
CROSSPORT RELIEF VALVE 20-01
DELUXE INSTRUMENT PANEL SETUP 50-01
DIAGNOSTICS SERVICE CODE 50-01
DIRECT TO TANK VALVE 20-01
DUAL SEQUENCE VALVE 20-01
ELECTRICAL SYSTEM INFORMATION 50-01
ENGINE 60-01
ENGINE ACCESSORY DRIVE BELT 10-01
ENGINE COMPONENTS AND TESTING 60-01
ENGINE FLYWHEEL 60-01
ENGINE LUBRICATION SYSTEM 10-01
ENGINE SPECIFICATIONS SPEC-01
ENGINE SPEED CONTROL 40-01
EVAPORATOR 70-01
EVAPORATOR/HEATER UNIT 70-01
EXPANSION VALVE 70-01
FLOORMAT AND FLOOR PLATE 40-01
FUEL, COOLANT AND LUBRICANTS SPEC-01
FUEL LEVEL SENDER 50-01
FUEL SYSTEM 10-01
FUEL TANK 40-01
GENERAL AIR CONDITIONING SERVICE
GUIDELINES 70-01
HEATER/AC FAN 70-01
HEATER AIR FILTER 10-01
HEATER COIL 70-01
HEATER VALVE 70-01
HORN 40-01
HYDRAULIC CONNECTION SPECIFICATIONS SPEC-01
HYDRAULIC CONTROL VALVE 20-01
HYDRAULIC FILTER MOUNT 20-01
HYDRAULIC FLUID SPECIFICATIONS SPEC-01
HYDRAULIC PUMP 20-01
HYDRAULIC RESERVOIR 20-01
HYDRAULIC SYSTEM 10-01
HYDRAULIC SYSTEM INFORMATION 20-01
HYDRAULIC X-CHANGE VALVE 20-01
LEFT CONSOLE 40-01
LEFT CONTROL LEVER (JOYSTICK) 20-01
LIFTING AND BLOCKING THE EXCAVATOR 10-01
LIFTING THE EXCAVATOR 10-01
LIGHTS 50-01
LUBRICATION OF THE EXCAVATOR 10-01
MAIN RELIEF VALVE 20-01
MANIFOLD ASSEMBLY/ACCUMULATOR 20-01
MUFFLER 60-01
OIL COOLER 20-01
OPERATOR CAB 10-01
PORT RELIEF VALVES 20-01
PRESSURE REDUCING VALVE 20-01
PRESSURE RELIEF VALVE 70-01
PRESSURE SWITCH 70-01
Continued On Next Page
337/341 Excavator
ALPHABETICAL INDEX (CONT'D)
RADIATOR 60-01
RECEIVER/DRYER 70-01
RECONDITIONING THE ENGINE 60-01
REGULAR MAINTENANCE 70-01
REMOVING AIR FROM HYDRAULIC SYSTEM 20-01
RIGHT CONSOLE 40-01
RIGHT CONTROL LEVER (JOYSTICK) 20-01
RIGHT PEDAL AND LINKAGE 40-01
RIGHT SIDE COVER 10-01
ROPS CANOPY 40-01
SAFETY 70-01
SEAT AND SEAT MOUNT 40-01
SEAT BELT 10-01
SERVICE SCHEDULE 10-01
SPARK ARRESTOR MUFFLER 10-01
SPECIFICATIONS SPEC-01
STARTER 50-01
SWING CIRCLE GEAR 30-01
SWING FRAME 40-01
SWING MOTOR 20-01
SWING MOTOR DRIVE CARRIER 20-01
SWIVEL JOINT 20-01
SYSTEM CHARGING AND RECLAMATION 70-01
SYSTEM TROUBLESHOOTING CHART 70-01
TAILGATE 10-01, 40-01
TEMPERATURE/PRESSURE 70-01
THERMOSTAT 70-01
TORQUE SPECIFICATIONS SPEC-01
TRACK DAMAGE IDENTIFICATION 30-01
TRACK FRAME 30-01
TRACK IDLER 30-01
TRACK ROLLER 30-01
TRACKS 30-01
TRANSPORTING THE EXCAVATOR 10-01
TRAVEL CONTROLS 40-01
TRAVEL CONTROL VALVE 20-01
TRAVEL MOTOR 10-01, 20-01
TROUBLESHOOTING 60-01
TWO SPEED SWITCH 50-01
UPPERSTRUCTURE 40-01
X-CHANGE 40-01
X-CHANGE (HYDRAULIC) 40-01 20-01
ARM 40-01
ARM CYLINDER 20-01
BATTERY 50-01
BLADE 30-01
BLADE CONTROL 40-01
BLADE CYLINDER 20-01
BLOWER FAN 70-01
BOOM 40-01
BOOM CYLINDER 20-01
BOOM SWING CYLINDER 20-01
BOOM SWING LOCK VALVE 20-01
BOOM SWING PEDAL 20-01
BUCKET 40-01
BUCKET CYLINDER 20-01
CAB 40-01
CAMSHAFT AND TIMING GEARS 60-01
CANOPY 40-01
CASE DRAIN FILTER 20-01
COMPRESSOR 70-01
CONDENSOR 70-01
CONVERSIONS SPEC-01
CONTROL PATTERN SELECTOR VALVE 20-01
CRANKSHAFT AND PISTONS 60-01
CROSS PORT RELIEF VALVES 20-01
CYLINDER HEAD 60-01
DIAGNOSTICS SERVICE CODES 50-01
DIRECT TO TANK VALVE 20-01
ELECTRICAL SYSTEM INFORMATION 50-01
ENGINE COOLING SYSTEM 10-01, 60-01
ENGINE INFORMATION 60-01
ENGINE LUBRICATION SYSTEM 10-01
ENGINE SPEED CONTROL 60-01
EVAPORATOR COIL 70-01
EVAPORATOR/HEATER UNIT 70-01
EVAPORATOR SPECIFICATIONS SPEC-01
EXCAVATOR STORAGE AND RETURN TO
SERVICE 10-01
EXPANSION VALVE 70-01
FAN 60-01
FLOORMAT AND FLOOR PANEL 40-01
FUEL LEVEL SENDER 50-01
FUEL SYSTEM 10-01, 60-01
FUEL TANK 40-01
FLYWHEEL AND HOUSING 60-01
HEATER COIL 70-01
HEATER VALVE 70-01
HORN 40-01
HYDRAULIC CONTROL VALVE 20-01
HYDRAULIC CONNECTION
SPECIFICATIONS SPEC-01
HYDRAULIC FLUID SPECIFICATIONS SPEC-01
HYDRAULIC FILTER 20-01
HYDRAULIC PUMP 20-01
HYDRAULIC PUMP START-UP 20-01
HYDRAULIC RESERVOIR 20-01
HYDRAULIC SYSTEM 10-01
HYDRAULIC SYSTEM INFORMATION 20-01
HYDRAULIC X-CHANGE VALVE 20-01
LEFT CONTROL LEVER (JOYSTICK) 20-01
LEFT CONSOLE 40-01
LIFTING AND BLOCKING THE EXCAVATOR 10-01
LIFTING THE EXCAVATOR 10-01
LIGHTS 50-01
LUBRICATING THE EXCAVATOR 10-01
LUBRICATION SYSTEM 60-01
MAGNETIC LOCKOUT SENSOR 50-01
MAIN RELIEF VALVE 20-01
MANIFOLD ASSEMBLY/ACCUMULATOR 20-01
OIL COOLER 20-01
OPERATOR CAB (ROPS/TOPS) 10-01
PIVOT PINS 10-01
PORT RELIEF VALVES 20-01
PRESSURE REDUCING VALVE 20-01
RECEIVER/DRIER 70-01
REGULAR MAINTENANCE 70-01
RIGHT CONTROL LEVER (JOYSTICK) 20-01
RIGHT CONSOLE 40-01
RIGHT SIDE COVER 10-01, 40-01
Continued On Next Page
335 Service Manual
ALPHABETICAL INDEX (CONT'D)
SAFETY 70-01
SEAT AND SEAT MOUNT 40-01
SEAT BELT 10-01
SERVICE SCHEDULE 10-01
SLEW LOCK VALVE 20-01
SPARK ARRESTOR MUFFLER 10-01, 60-01
STARTER 50-01
STOPPING THE ENGINE AND LEAVING THE
EXCAVATOR 10-01
SWING CIRCLE GEAR 30-01
SWING FRAME 40-01
SWING MOTOR 20-01
SWING MOTOR DRIVE CARRIER 20-01
SWIVEL JOINT 20-01
SYSTEM CHARGING AND RECLAMATION 70-01
TAILGATE 10-01, 40-01
THERMOSTAT 70-01
TORQUE SPECIFICATIONS FOR BOLTS SPEC-01
TRACK FRAME COMPONENTS 30-01
TRANSPORTING THE EXCAVATOR ON A
TRAILER 10-01
TRAVEL CONTROL VALVE 20-01
TRAVEL LEVER/PEDALS 40-01
TRAVEL MOTOR 10-01, 20-01
TROUBLESHOOTING 70-01
UPPERSTRUCTURE 40-01
UPPERSTRUCTURE SLEW LOCK 10-01, 40-01
X-CHANGE 40-01
X-CHANGE (HYDRAULIC) 40-01
PLEASE NOTE:
This is the SAME exact manual used by your dealers to fix your vehicle.
The same can be yours in the next 2-3 mins as you will be directed to the download page
immediately after paying for the manual.
Any queries / doubts regarding your purchase, please feel free to contact [email protected]