2016 Massey Ferguson EU Harvesting MF7340 Combine Operator's Manual – PDF DOWNLOAD
DESCRIPTION:
2016 Massey Ferguson EU Harvesting MF7340 Combine Operator's Manual – PDF DOWNLOAD
MF 7340- SIN=> 551200044
ZN205512x03000044
INTRODUCTION:
Your new self-propelled combine is manufactured for harvesting seed and cereal crops, for threshing, separating, cleaning and conveying the grain into the tank and depositing the straw on the ground. This Operator's Manual should be used as a practical reference guide: It contains all the necessary practical information for the operation, adjustment and maintenance of your new machine.
Your combine was designed and built to ensure optimum performance, comfort and ease-of-operation in a wide variety of crops and conditions. The combine has been thoroughly inspected prior to delivery both at the factory and by your Dealer, to ensure you receive it in perfect condition. To keep the combine in perfect condition and to ensure trouble-free performance, the periodical maintenance operations listed in this manual should be carried out at the recommended intervals.

Before operating and/or driving the combine, read this Operator's Manual carefully, paying particular attention to the section on safety rules. Always keep this manual on hand for further reference. The terms "left" and "right" are always used with reference to the machine travelling direction. Should you require further information about the machine, please do not hesitate to contact your authorised Dealer. Your Dealer provides specially trained personnel, genuine quality spare parts and the required tools to solve any problems that may arise.
SPARE PARTS AND ACCESSORIES:
The genuine spare parts and accessories have been specifically designed for this type of machine. Only genuine parts supplied by your authorised Dealer can guarantee correct operation and optimum performance. Never use non-genuine spare parts or accessories: Some accessories (e.g. PTO shafts, straw choppers, tables) require an EC certification, which can be provided only by the manufacturer or his qualified and recognised sub-suppliers.
Non-genuine spare parts have not been tested and are not authorised by the manufacturer. The fitting and/or use of such equipment may have a damaging effect on the design features of the machine and jeopardise operational safety. The manufacturer disclaims all liability in the event of loss or damage arising as a result of non-genuine parts, accessories or equipment being used. It is expressly prohibited to make any modification to the combine without the prior written authorisation by the manufacturer.
TABLE OF CONTENTS:
2016 Massey Ferguson EU Harvesting MF7340 Combine Operator's Manual – PDF DOWNLOAD
1 General Information 1 3
1 1 Information 15
1 1 1 Introduction 1 5
1 1 2 Company policy 1 5
1 1 3 Optional equipment 1 5
1 1 4 Spare parts and accessories 1 6
1 1 5 Warranty 1 6
1 1 6 Lubricants 1 6
1 2 Use 1a
1 2 1 Use of the combine 18
1 3 Identification 19
1 3 1 Combine identification 19
1 3 2 Engine Identification 20
1 3 3 Cutting table identification 2 1
1 3 4 Cab identification 2 1
1 3 5 Hydrostatic pump identification 2 2
1 3 6 Hydrostatic motor identification 2 2
1 3 7 Straw chopper identification (if fitted) 2 3
1 3 8 Chaff spreader identification (if fitted) 2 3
1 3 9 Trailer hitch identification (if fitted) 2 4
1 4 Identification form 25
1 4 1 Machine data 2 5
1 5 Conformity 26
1 5 1 EC Declaration of Conformity 2 6
1 6 Information 2 7
1 6 1 Ecology 27
1 6 2 Hydraulic systems: hoses 27
1 6 3 Scrapping and disposal 28
1 7 Weight 29
1 7 1 Weight distribution 29
2 Safety 31
2 1 Warning symbols and safety instructions 33
2 1 1 Warnings 3 3
2 2 Information for road transport 3 4
2 2 1 Road transport 3 4
2 3 Information for operations 37
2 3 1 Field Operations 37
2 4 Information for maintenance 4 1
2 4 1 Maintenance work 4 1
2 5 Information on the engine 45
2 5 1 Engine 4 5
2 6 Safety and function decals 49
2 6 1 Location of decals 49
2 6 2 Description of decals 54
2 7 Work on the battery 6 4
2 7 1 Battery 6 4
2 8 Safety devices 65
2 8 1 Emergency exit 6 5
Combines
MF 7340_EN_LA327436011
Table of contents
2 8 2 Operator presence device 6 6
2 8 3 Safety belts 6 7
2 8 4 Table safety stops 6 8
2 8 5 Safety guard for main crop elevator 6 9
2 8 6 Safety Stop 6 9
2 8 7 Sprags for wheels 7 0
2 8 8 Audible alarm for reversing 7 1
2 8 9 Reflectors for road transport 7 2
2 8 10 Safety Guards 7 3
2 8 11 Fall protection rails 7 3
2 8 1 2 Safety devices for operations to be carried out in the upper part of the machine 7 4
2 8 13 Straw chopper 7 5
2 8 14 Fire extinguisher 7 5
2 9 Trailer hitch 76
2 9 1 Automatic towing hooks 7 6
2 9 2 CUNA and CE trailer hitches 7 7
2 9 2 1 Procedure for attaching and removing 7 8
2 9 2 2 Drawbar coupling 7 9
2 9 3 Fixed trailer hitch (non-automatic – CUNA type) 7 9
2 10 Machine lifting 80
2 10 1 Attachment points 8 0
2 11 Towing 81
2 11 1 Towing the combine 8 1
2 12 Further information 82
2 1 2 1 Noise level in the cab 8 2
2 1 2 2 Vibrations in the cab 8 2
2 1 2 3 Statutory regulations 8 2
2 1 2 4 Electromagnetic emissions 8 3
2 13 Notes 84
2 13 1 Notes for road transport 8 4
3 Operation 87
3 1 Combine operation 89
3 1 1 Crop processing 8 9
3 2 Stage 1 90
3 2 1 Feeding 9 0
3 3 Stage 2 91
3 3 1 Threshing 9 1
3 4 Stage 3 92
3 4 1 Separation 9 2
3 5 Stage 4 93
3 5 1 Cleaning 9 3
3 6 Stage 5 94
3 6 1 Grain storage and unloading 9 4
4 Controls and Instruments 95
4 1 Steering column 97
4 1 1 Components and adjustments 9 7
4 2 Multifunction lever 98
4 2 1 Main components 9 8
4 3 Instrument panel 99
4 3 1 Front control panel 9 9
4 3 2 Rear control panel 101
4 3 3 Multiple light indicators 105
4 3 4 On-board Computer 106
Combines
MF 7340_EN_LA327436011
Table of contents
4 3 4 1 Graphical user interface 108
4 3 4 2 Day/night mode 110
4 3 4 3 Operational parameters 111
4 3 4 4 Auto-calibration 111
4 3 4 5 Hectare counter 112
4 3 4 6 No communication 112
4 3 4 7 Alarm statuses 113
4 3 5 Performance monitor (on request) 113
4 3 5 1 Using the monitor 114
4 3 5 2 Selecting the measurement range (straw walker, sieves or total) 114
4 3 5 3 Calibrating the bar cursor scale 115
4 3 5 4 Sensitivity adjustment 115
4 3 5 5 Shifting to forward speed monitoring 116
4 3 5 6 Summary of keyboard functions 116
4 4 Controls at the operator seat 1 1 7
4 4 1 Description 117
4 5 Cab 1 19
4 5 1 Cab controls (top right-hand side) 119
4 5 2 Operator seat 1 2 2
4 5 3 Preparation for radio installation 1 2 3
4 5 4 Rear Cab Window 1 2 3
4 5 5 Reading light 1 2 4
4 5 6 Document Pocket 1 2 4
4 5 7 Air conditioning i n the cab 1 25
4 5 7 1 Pressurization 126
4 5 8 Heating 127
4 6 Access to combine components 1 2 8
4 6 1 Access to the operator platform 128
4 6 2 Accessing and cleaning the front windscreen of the cab 129
4 6 3 Access to the engine compartment 13 0
4 6 4 Access to the grain tank 13 1
4 6 5 Access to the inside of the grain tank 13 2
4 7 Engine 1 33
4 7 1 Starting the engine 13 3
4 7 2 Useful advice 13 4
4 7 3 Stopping the engine 13 5
4 8 Road transport 1 36
4 8 1 Operations to be carried out before transportation 13 6
4 8 2 Position light and sidelight adjustment 13 7
4 9 Using the combine 1 38
4 9 1 Operations to be carried out before use 13 8
5 Field Operations 1 39
5 1 General Information 141
5 1 1 Notes 14 1
5 1 2 Before operating the machine in the field 14 1
5 2 Starting and Stopping the Combine 143
5 2 1 Procedure to follow 14 3
5 3 Cutting table 145
5 3 1 Attaching the cutting table 14 5
5 3 1 1 Adjustments for attaching the cutting table 14 7
5 3 2 Removing the table 14 8
5 3 3 Adjustment of cutting table ground clearance 14 9
5 4 Main Crop Elevator 150
5 4 1 Adjustments 15 0
5 4 1 1 Access to the main components 15 2
Combines
MF 7340_EN_LA327436011
Table of contents
5 4 2 Reverse drive system 1 5 3
5 5 Cylinder Housing 154
5 5 1 Components 1 5 4
5 5 2 Threshing drum 1 5 5
5 5 3 Wheat concave 1 5 6
5 5 3 1 Concave filler plates 1 57
5 5 3 2 Parallelism between the cylinder and concave 1 58
5 5 3 3 Unblocking the threshing drum 1 59
5 5 4 Sectional concave 1 60
5 5 4 1 Concave filler plates 1 6 1
5 5 4 2 Parallelism between the cylinder and concave 1 6 2
5 5 5 Universal wheat/maize concave 1 6 3
5 5 5 1 Basic concave settings 1 6 4
5 5 6 Spike-toothed Cylinder/Concave (for rice) 1 6 4
5 5 7 Rear beater 166
5 6 Straw walkers 16 7
5 6 1 Description and adjustments 1 67
5 7 Main Grain Pan 168
5 7 1 Description 168
5 7 2 Checking the main grain pan 169
5 7 3 Cleaning the main grain pan 170
5 7 4 Stone trap assembly removal/refitting 17 1
5 8 Fanning Mill 173
5 8 1 Description and adjustments 17 3
5 8 1 1 Fanning mill for threshing light seed crops 17 5
5 9 Top sieve 176
5 9 1 Adjustment 17 6
5 1 O Bottom sieve 180
5 10 1 Adjustment 180
5 11 Tailings 182
5 1 1 1 Description and adjustments 18 2
5 12 Grain tank 184
5 1 2 1 Description 18 4
5 1 2 1 1 Grain tank unloading auger 18 5
5 1 2 1 2 Sensor to measure tank filling 1 8 6
5 1 2 1 3 Grain tank control window 187
5 1 2 1 4 Doors for Grain Tank Maintenance and Cleaning 187
5 1 2 1 5 Vertical auger tank drain door 189
5 1 2 1 6 Tank bottom door 189
5 1 2 1 7 Grain Tank Cover 190
5 1 2 1 8 Basic Settings 19 1
6 Lubrication and Maintenance 193
6 1 General Information 195
6 1 1 Lubrication and Maintenance 19 5
6 2 Preliminary Service Inspection 196
6 2 1 After the first 50 working hours 196
6 3 Scheduled Service Inspection 197
6 3 1 When and where to carry it out 197
6 3 2 Interval – 10 hours 199
6 3 2 1 Cylinder variator ( 1) 199
6 3 2 2 Engine oil ( 2) 200
6 3 2 3 Coolant expansion tank ( 3) 20 1
6 3 2 4 Hydraulic and hydrostatic systems tank (4) 20 1
6 3 2 5 Prefilter/water separator ( 5) 20 2
6 3 2 6 Straw chopper rotor (if fitted) (6) 20 2
Combines
MF 7340_EN_LA327436011
6 4
Combines
Table of contents
6 3 3 Interval – 7 5 hours 203
6 3 3 1 Service brakes (11) 203
6 3 3 2 Main crop elevator lower shaft (1 2) 203
6 3 3 3 Main crop elevator belt tensioner (13) 204
6 3 3 4 Fanning mill variator (14) 204
6 3 3 5 Crop-unloading auger drive belt tensioner (15) 205
6 3 3 6 Coupling bushes of final drive shafts (16) 205
6 3 3 7 Rear axle support (17) 206
6 3 3 8 Rear axle king pins (18) 206
6 3 3 9 Rear straw-walker shaft supports (19) 207
6 3 3 10 Unloading auger bottom gearbox (20) 207
6 3 3 11 Unloading auger top gearbox (2 1) 208
6 3 3 1 2 Table drive-belt tensioner (2 2) 208
6 3 3 13 Track frames (23) 209
6 3 3 14 Cab air filters (2 4) 209
6 3 3 15 Evaporator (25) 2 10
6 3 3 16 Condenser (26) 211
6 3 3 17 Radiators and hydraulic oil (27) 212
6 3 3 18 Adjusting the rotary screen brushes and aspirator brushes 213
6 3 3 19 Chaff spreader drive (if fitted) (28) 214
6 3 4 Interval – 15 0 hours 2 15
6 3 4 1 Park brake (4 1) 2 15
6 3 4 2 Gearbox (4 2) 2 15
6 3 4 3 Final drives (4 3) 2 16
6 3 4 4 Unloading auger bottom gearbox (4 4) 2 16
6 3 4 5 Main crop elevator supports (4 5) 2 17
6 3 4 6 Reversing-belt tensioner-arm pin (4 6) 2 17
6 3 4 7 Main clutch (4 7) 2 18
6 3 4 8 Tailings-auger left support (4 8) 2 18
6 3 4 9 Windscreen wash fluid reservoir (4 9) 2 19
6 3 4 10 Threshing-mechanism belt tensioner (5 0) 2 19
6 3 4 11 Hydrostatic pump belt tensioner (5 1) 2 20
6 3 4 1 2 Unloading auger slewing ring (5 2) 2 20
6 3 4 13 Engine air filter (5 3) 2 2 1
6 3 4 14 Straw-chopper driven belt tensioner (5 4) 2 2 2
6 3 4 15 Straw chopper drive-belt tensioner (5 5) 2 2 2
6 3 4 16 Engine (5 6) 2 2 2
6 3 4 17 Straw chopper layshaft (5 7) 2 2 4
6 3 4 18 Return rotary-screen belt tensioner (5 8) 2 2 4
6 3 4 19 Rotary-screen belt tensioner (5 9) 2 25
6 3 4 20 Radiator-fan drive belt tensioner (6 0) 2 25
6 3 5 Interval – 2 25 hours 2 25
6 3 5 1 Engine oil and filters (7 1) 2 25
6 3 6 Interval – 4 5 0 hours 2 29
6 3 6 1 Battery (8 1) 2 29
6 3 6 2 Dehydrator filter (8 2) 23 0
6 3 6 3 Final drives (8 3) 23 1
6 3 6 4 Gearbox (8 4) 23 1
6 3 6 5 Hydraulic oil intake filter (8 5) 23 2
6 3 6 6 Hydrostatic transmission filter (8 6) 23 3
6 3 6 7 Hydraulic systems oil (8 7) 23 4
6 3 6 8 Hydraulic and hydrostatic system return filter (8 8) 23 5
6 3 6 9 Engine diesel-fuel filters (8 9) 23 6
6 3 6 10 Catalytic fluid filter (9 0) 23 7
Periodical maintenance operations 2 38
6 4 1 Description 23 8
6 4 1 1 Engine valves (1) 23 9
6 4 1 2 Coolant (2) 24 0
MF 7340_EN_LA327436011
Table of contents
6 4 1 3 Service brake circuit fluid (3) 24 1
6 4 1 4 Diesel fuel tank (4) 24 1
6 4 1 5 Turbocharger (5) 24 2
6 4 1 6 Hydraulic hoses (6) 24 2
6 4 1 7 Catalytic fluid tank (DEF) (7) 24 3
6 5 Lubrication 244
6 5 1 Summary table 24 4
7 Adjustments 245
7 1 Adjustments 247
7 1 1 Important information 2 4 7
7 2 Belt and chain adjustment 248
7 2 1 Belts and chains (left-hand side) 24 8
7 2 1 1 Feeder drive belt (1) 24 8
7 2 1 2 Threshing unit drive belt (2) 24 9
7 2 1 3 Unloading auger drive belt (3) 25 0
7 2 1 4 Hydrostatic pump drive belt (4) 25 1
7 2 1 5 Chaff spreader drive belt (if fitted) (5) 25 2
7 2 1 6 Reversing drive belt (6) 25 3
7 2 1 7 Main transmission belt (7) 25 3
7 2 1 8 Clean grain and tailings augers drive belt (8) 25 4
7 2 1 9 Straw walker drive belt (9) 25 4
7 2 1 10 Cutting table drive belt (1 OJ 25 5
7 2 1 11 Unloading auger chain (11) 25 5
7 2 1 1 2 Straw chopper drive belt (if fitted) (1 2) 25 6
7 2 1 13 Straw chopper drive belt (if fitted) (13) 25 7
7 2 2 Belts and chains (right-hand side) 25 8
7 2 2 1 Belt drive for rotary screen (2 1) 25 8
7 2 2 2 Counter drive for rotary screen (2 2) 25 9
7 2 2 3 Drive belt for alternator and engine coolant pump ( 2 3) 25 9
7 2 2 4 Radiator fan drive belt (2 4) 26 0
7 2 2 5 Belt drive for cylinder variator (25) 26 0
7 2 2 6 Belt drive for fanning mill variator (26) 26 1
7 2 2 7 Top chain drive for tailings auger (27) 26 2
7 2 2 8 Tailings elevator chain (28) 26 2
7 2 2 9 Tank filling auger drive chain (29) 26 3
7 2 2 10 Crop elevator chain (3 0) 26 3
7 2 2 11 Front crop-elevator chain (3 1) 26 4
7 2 2 1 2 Cab air-conditioning compressor drive belt (3 2) 26 5
7 2 2 13 Dust aspirator drive belt (3 3) 26 6
7 3 Slip clutches 267
7 3 1 Description 26 7
7 3 1 1 Clutch for main crop elevator upper shaft (1) 26 7
7 3 1 2 Clutch for shaker shoe counter drive (2) 26 7
7 3 1 3 Shear bolt for unloading auger counter drive (3) 26 8
7 4 Tires 269
7 4 1 Tire pressure 26 9
7 4 2 Replacement of Front Wheels 270
7 4 3 Replacement of Rear Wheels 27 1
7 4 4 Front wheel assembly 27 2
7 4 5 Rear wheel assembly 27 3
7 5 Brakes 274
7 5 1 Service brakes 27 4
7 5 2 Park brake 275
7 6 Rear axle 276
7 6 1 Toe-in setting 276
7 6 2 Steering ram ball joints 276
Combines
MF 7340_EN_LA327436011
Table of contents
7 6 3 Rear axle support 277
7 7 Battery 278
7 7 1 Battery Replacement 27 8
7 7 2 Suggestions regarding the battery 27 8
7 7 3 Indicator Light for Battery Charging 27 9
8 Systems 281
8 1 Safety Precautions 283
8 1 1 Notes 28 3
8 2 Engine supply system 284
8 2 1 Permitted fuels 28 4
8 2 2 Fuel Circuit 28 5
8 2 3 Bleeding the Fuel Supply Circuit 28 6
8 2 4 Catalytic fluid tank (DEF) 28 7
8 2 5 Injection system operation 28 9
8 3 Engine air intake and exhaust system 290
8 3 1 Operation 29 0
8 4 Engine cooling system 292
8 4 1 Coolant 29 2
8 4 2 Engine cooling system operation 29 3
8 5 Engine lubrication system 294
8 5 1 Operation 29 4
8 5 2 Oil vapor recovery system 29 5
8 6 SCR system 296
8 6 1 Operation 29 6
8 7 Hydraulics system 298
8 7 1 Pumps and fuel tank 29 8
8 7 2 Table positioning hydraulic circuits 29 9
8 7 2 1 Cutting table oleopneumatic shock absorber 3 00
8 7 2 2 Hose burst valve 3 00
8 7 2 3 Cutting table positioning pressure switch 3 01
8 7 3 Hydraulic steering system 3 0 2
8 7 4 Auxiliary hydraulics circuit 3 03
8 8 Hydrostatic transmission system 304
8 8 1 Front-wheel drive 3 04
8 9 Electrical system 305
8 9 1 Main components 3 05
8 9 2 Fuses 3 06
8 9 3 Additional fuses 3 09
8 9 4 Cab fuses 3 1 2
8 9 5 Relays 3 13
8 9 5 1 Additional relays 3 15
8 9 5 2 Various relays 3 16
8 9 6 Control units 3 17
8 9 6 1 Engine sensors and control unit 3 18
8 9 7 Connections for additional equipment 3 19
8 9 7 1 Electric connectors 3 19
8 9 8 Headlight adjustment 3 2 1
8 9 9 Unloading area light 3 2 2
8 9 10 Reversing area light 3 2 2
8 9 11 Light in grain tank 3 23
8 9 1 2 Engine access-ladder light 3 23
9 Troubleshooting 325
9 1 Description 327
9 1 1 Feeding 3 27
Combines
MF 7340_EN_LA327436011
Table of contents
9 1 2 Threshing 3 27
9 1 3 Separation and cleaning 3 29
9 1 4 Hydrostatic Transmission 3 3 2
9 1 5 Engine 3 3 3
9 1 6 Hydraulics system 3 3 5
9 1 7 Electrical system 3 3 6
9 1 8 Air conditioning circuit 3 3 7
9 1 9 Straw chopper 3 3 7
10 Off-Season Storage 341
10 1 Procedure to follow 343
10 1 1 Operations to be carried out after the harvest 3 4 3
10 1 2 Ordering spare parts 3 4 4
10 1 3 Operations to be carried out before the new season 3 4 4
11 Optional equipment 347
11 1 Information 349
11 1 1 General considerations 3 4 9
11 2 Optional equipment 350
11 2 1 Auxiliary table lifting ram 3 5 0
11 2 2 Camera 3 5 1
11 2 3 Additional rear view mirrors 3 5 1
11 2 4 Additional lights (for work) 3 5 2
11 2 5 Performance monitor 3 5 2
11 2 6 Windbreak 3 5 3
11 2 7 Additional fire extinguisher 3 5 3
11 2 8 Diesel fuel prefilter 3 5 4
11 2 9 Additional Portable Lamp 3 5 4
11 2 10 Weight and moisture control monitor 3 5 5
11 2 11 Trailer hitch 3 5 5
11 2 1 2 Refrigerator 3 5 6
11 2 13 Cylinder cover 3 5 6
11 2 14 Tailings cover plate 3 5 7
11 2 15 Top sieve 3 5 7
11 2 16 Bottom sieve 3 5 8
11 2 17 Electrically-operated sieves and returns sensors 3 5 9
11 2 18 Cutting height control 3 6 0
11 2 19 Hydraulic quick couplers 3 6 0
11 3 Equipment for threshing 36 1
11 3 1 Equipment for maize 3 6 1
11 3 2 Equipment for corn-cob 3 6 2
11 3 3 Equipment for rice 3 6 3
11 3 4 Equipment for light seed crops 3 6 3
11 3 5 Equipment for soya and peas 3 6 4
11 4 Ballast weights 365
11 4 1 Description 3 6 5
11 4 2 Ballast weights on rear axle 3 6 5
11 4 3 Ballast weights on the straw walker hood for machines without straw chopper 3 6 6
11 4 4 Ballast weights on the rear wheels with a liquid mix (for tubeless tires) 3 6 7
11 4 5 Filling tires with anti-freeze solutions 3 6 8
11 5 Straw chopper 369
11 5 1 Transport position 3 6 9
11 5 2 Working position 3 7 0
11 5 3 Operating the straw chopper 3 7 1
11 5 4 Disengaging the straw chopper 3 7 3
11 5 5 Access to the straw chopper rotor 3 7 3
11 5 6 Straw chopper rotor knives 3 7 3
Combines
MF 7340_EN_LA327436011
Table of contents
11 5 7 Counter-knives 3 7 4
11 5 8 Chopping quality 3 7 4
11 5 9 Use of straw chopper in maize 3 7 6
11 6 Chaff Spreader 378
11 6 1 Working and maintenance positions 3 7 8
11 6 2 Chaff spreader speed 3 8 0
11 6 3 Disengaging the chaff spreader 3 8 0
11 6 4 Chaff spreader belt tensioning 3 8 0
11 7 Tracks 381
11 7 1 Use and maintenance 3 8 1
11 7 2 Track chain tension 3 8 2
12 Technical Specifications 383
12 1 Wheels and tires 385
1 2 1 1 information 3 8 5
1 2 1 2 Wheel tightening torque 3 8 5
1 2 1 3 Tire capacity 3 8 5
1 2 1 4 Tire equipment- front axle 3 8 6
1 2 1 5 Tire equipment – rear axle 3 8 7
1 2 1 6 Tire equipment – Version with half-tracks on front axle 3 8 8
12 2 Dimensions 389
1 2 2 1 Combine dimensions 3 8 9
1 2 2 2 Tracks with runners 3 9 1
1 2 2 3 Clearance between unloading auger and table 3 9 2
1 2 2 4 Available cutting tables and weights 3 9 2
1 2 2 5 Clearance between unloading auger and ground 3 9 3
12 3 Technical specifications 394
1 2 3 1 Feeding unit 3 9 4
1 2 3 2 Threshing sys 3 9 4
1 2 3 3 Cleaning unit 3 9 6
1 2 3 4 Grain tank 3 9 7
1 2 3 5 Hydraulic system 3 9 8
1 2 3 6 Hydrostatic system 3 9 8
1 2 3 7 Engine 3 9 8
1 2 3 8 Electrical components 3 9 9
1 2 3 9 Transmission 3 9 9
1 2 3 10 Rear axle 4 00
1 2 3 11 Weight 4 00
13 Index 401
VIDEO PREVIEW OF THE MANUAL:
IMAGES PREVIEW OF THE MANUAL: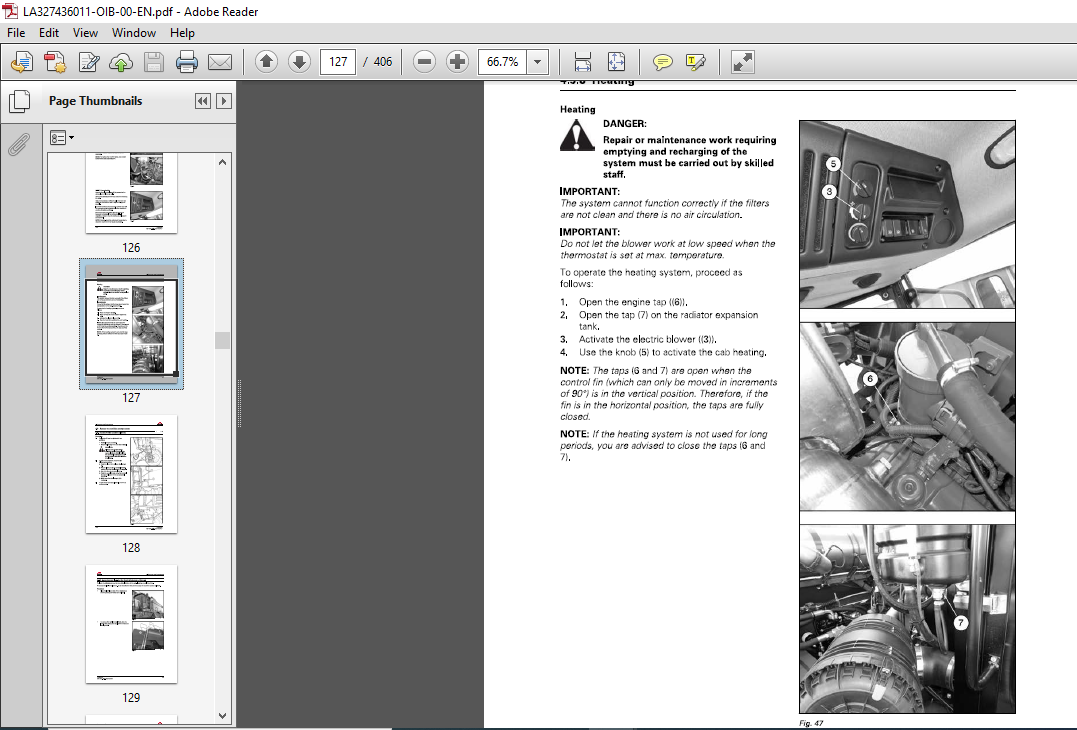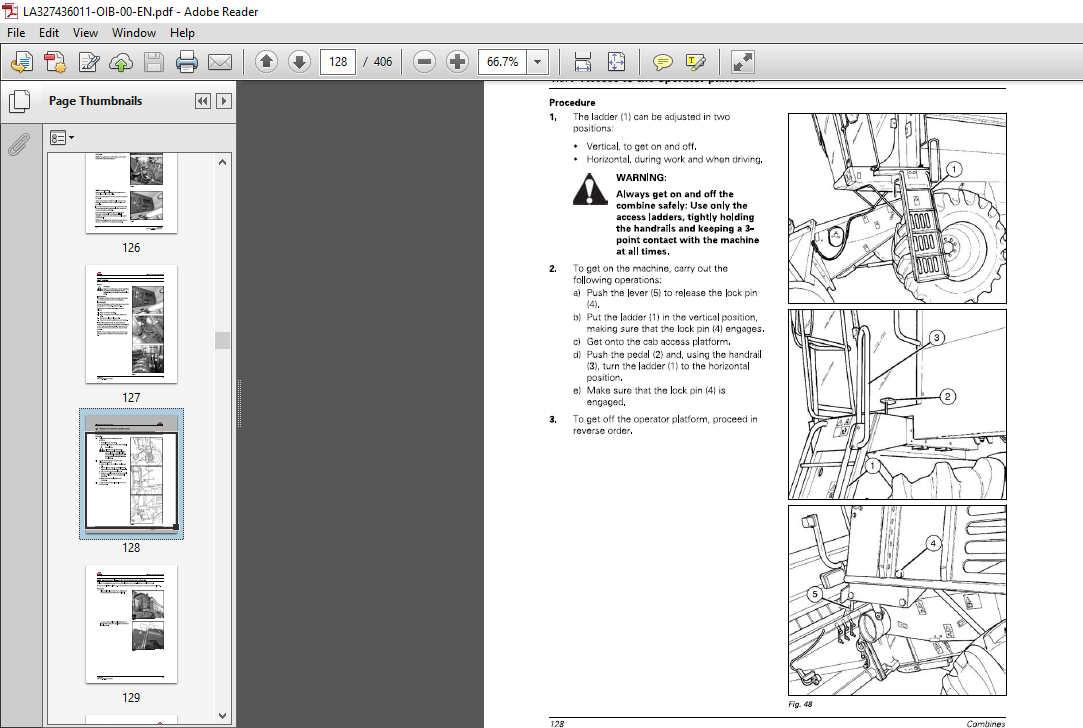 PLEASE NOTE:
This is the SAME MANUAL used by the dealerships to diagnose your vehicle
No waiting for couriers / posts as this is a PDF manual and you can download it within 2 minutes time once you make the payment.
Your payment is all safe and the delivery of the manual is INSTANT – You will be taken to the DOWNLOAD PAGE.
So have no hesitations whatsoever and write to us about any queries you may have : heydownloadss @gmail.com
S.V